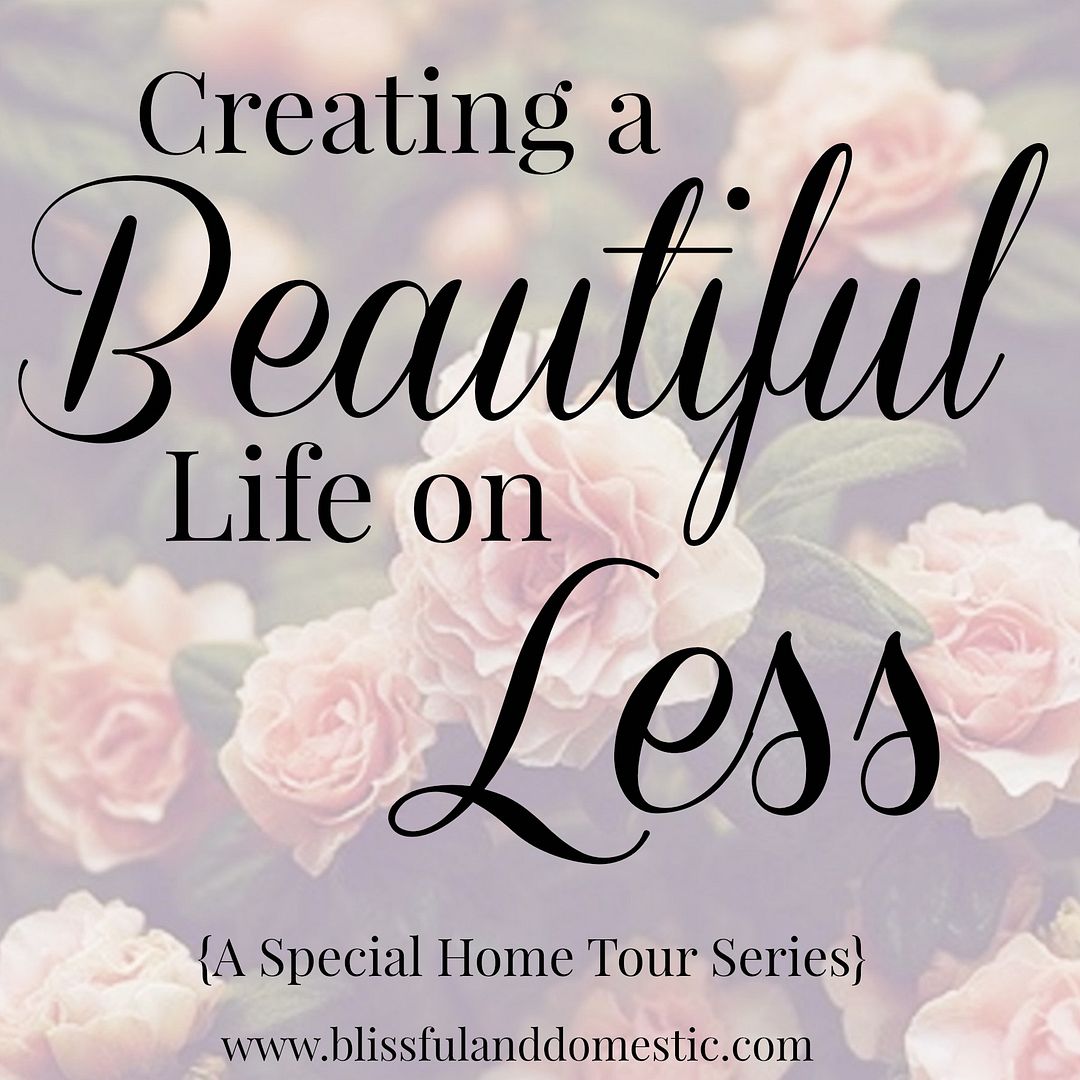 Today we welcome Meagan to the blog. She is a cute mama from Utah, who is here to share her tips and tricks for creating beautiful on less.
Let's get to it...
-----------------------------
Hi all. Danielle asked me to participate in her series "Creating a beautiful life on less" which I love. I think it's a great idea to share decorating tips, frugal finds and other fun ways to decorate your home. I'm a little nervous about sharing, as I feel the home is "half" done. The hard part (replacing all the flooring) is coming up soon. Also, upstairs is a mess so maybe we'll save that for another post! I also have my mother in law living with us for a few weeks so everyone's stuff is in different rooms and crazy.
Bit about me: My name is Meagan. I've been married to my husband, Chuck, for almost 9 years. We have two boys, 5 year old Mason and 2 year old Dylan. We moved to this house the very end of Feb 2014. So we are 6 months in. We moved from Las Vegas, NV where my husband lived his entire life and I lived for 20 years (previously from Alberta, Canada). We moved to Saratoga Springs, UT. It's between Provo and Salt Lake City. I transferred with my job since we had family move up in the last year or two and thought it would be a fun change. And a chance to get out of that crazy heat! It's fun to see "seasons". My husband about two years ago quit his job to stay home with our two boys while I work full time. It's not "typical" for a lot of families but works pretty well for right now. This is the third home we've owned together. The first one we bought when I was 20, so I've had my share of DIY fails. Bad fails. I like doing things on my own, its cheaper and I feel a sense of accomplishment from finishing a project. We sold our last house in Henderson, NV and made a bit of a profit off it since we bought when prices were low and they've gone up. Little did we know, the real estate market in Utah is quite a bit higher and their economy is better. More jobs, less unemployment, higher prices for everything. Which meant higher priced homes and we couldn't buy a bigger or newer home. We would have to find something and fix it up. We put some money from our earnings of selling our past house toward a down payment and kept some to redo some things in the home. This house is about the same size as our last, around 2,000 sq ft, 4 beds , 2.5 baths, 2 car garage but the fun part: a yard! In Henderson we had 3 ft of rocks for a yard. The kids have loved a backyard and grass and room for a trampoline, swing set, fire pit, sand box. We eat outside often. One day that will be redone, for now it's just all grass, which is awesome and stuff grows here!
Notice: WE BOUGHT THIS HOUSE WITHOUT EVER SEEING IT IN PERSON. Am I crazy? YUP. We had our poor real estate agent go to homes we picked from listings she sent and FaceTimed us to see them on a little iphone screen. We "bought" a couple homes before this one worked out. They kept falling through or some freak thing would come up in the paperwork. It was good though because this neighborhood is where we were meant to be. Our kids have friends are are neighbors are awesome. I was nervous since it was about time to leave Vegas (my transfer time was a month) and we were going to be living in my mom's basement if stuff kept not working out. Luckily, my mom asked our realtor about a house they drove by when she was viewing homes for us that was our realtor's listing. They were hesitant to show it since it was a rental and in pretty bad shape. Think broken old appliances (white, cracking), dirty carpet, unpainted grimy walls or very poorly painted (think dark brown all over the ceiling) and outdated kitchen (green formica counter tops) and electrical (the famous "boob" lights). This house is older than the newer one we had in Vegas so we were a little worried about repairs that may be needed. We were pretty desperate and just took it because we didn't want to be homeless and all. I wouldn't recommend purchasing a home without at least seeing it once, but had a good feeling about it. We are just a few minutes from my mom and a couple siblings, a new school was built down the road my oldest started Kindergarten at and there are fishing ponds and parks in our development that we love to go to. The lake is a stone's throw too so that's fun.
We had a painter come in before we closed, so luckily I never had the chance to see the gross white stained and finger-painted walls. We saw it the day we moved to Utah, and just started unloading. We actually rented it for the first couple weeks, with permission from the owner to start doing things to the home knowing we were closing. Then I had three weeks off before starting work in Salt Lake so we spent a lot of time fixing things up and basically what I've been doing after the kids go to bed and on the weekends is little projects or pieces of big projects while watching Netflix. In the middle of t-ball, soccer, church callings, family functions, work stuff, and other things we've managed to make it feel more like our home. I fear if I don't fix a house up right away, I'll leave it for years how it was. Hope you enjoy!
This was a plain white door on the kitchen pantry. Painted it in Annie Sloan chalk paint in Provence and outlined it in Behr brown paint. Vinyl letters from Etsy added. Door knob was changed out (it was brass) and the brass hinges I painted silver.
This frame was from the early 80's and silver. Chalk painted it in ASCP in Provence and distressed.
This key plaque my husband got me for Christmas, from Hobby Lobby. The sign was a few bucks from Ross. The table I found at a garage sale for a few bucks. ASCP in Aubusson Blue and Provence and the legs in Old White, filled in this random corner of space. For Christmas we will put the tree here.
This groupings of wall décor items were all at Hobby Lobby, 50% off.
My mom ordered us this burlap printed photo with our address. It has a key below and "est. 2014" printed. I hung it on a wall peg found at Home Goods for $5 and staple gunned some burlap to the back of the frame to hold it on the peg. It hangs just beside the front door and kept moving and being crooked and driving me nuts. Now it doesn't touch the wall and isn't crooked!
This is in the downstairs powder room above the toilet. Upcycled some old shelves and painted them in ASCP Aubbuson Blue. Little knick knacks I had bought for my Vegas office, or from Ikea or were from the old home were put on shelves.
This frame was from a mirror I had. Sadly it broke in the moving truck so I just hung the frame and had a smaller mirror from Ikea to hang in the middle.
I really want to frame this builder's stock mirror with wood. I think it will "finish it". The cabinets I will repaint probably white and the countertops… I don't know. Grin and bear it? The whole kitchen was this green formica. Maybe I can find a pedestal sink somewhere.
This shelf is my latest addition. I got it for a great price at Swiss Days, a big craft show held in Midway, UT once a year. A man from Idaho made it and it's beautiful. I carried that thing all the way back to the shuttle bus to get to our van to take it back to the hotel we were staying at for the weekend. And do not regret it. The bicycle plaque was on sale on Zulily.com. The other items I had, and the metal "s", the owl and the succulent plant I got at Smith's Marketplace. Of all places. 50% off.
The entry way. To the right, the bathroom, the left door is a closet. Linoleum will be ripped out one day. I love the ceiling pendant (it was a brass fixture). Got it at Home Depot. It was a "splurge" for me at around $80. I must have stared at it for an uncomfortable amount of time because my husband said "oh for crying out loud, just get it if you want it". Which was nice of him. I mean, I DO make the money, but I don't like spending too much on things "I" want because we are living on one income and have kids and knew we would be putting in money to the kitchen. However, I do not regret it and then the fixture matched the quatrefoil backsplash in the kitchen. Changed all the door knobs that were brass and painted all the hinges.
This was an awkward area. I just put an old bookshelf that used to be in our master to hold our kids' books and toys. There is a leather storage ottoman to the window to the right under it to hold more toys. I've gotten good at hiding the amounts of toys in areas around the house.
This hutch I got for $20 on an online yard sale site before we moved. (The Facebook 24/7 local ones). It was for one of the "other" homes we had purchased to fit perfectly in a spot. Then that house fell through and I was left with it. Found a little area to put it and it holds cake platters and serving ware and scentsy in the drawers. It was pine. Painted it, using ASCP in Provence and changed out all the knobs for ones found at Hobby Lobby using coupons.
A blue eyed boy that snuck in. He was not happy I was taking pictures.
These chairs were terrible. I think I got 6 chairs for $20 at a yard sale. They were pine and the fabric on the seats was ripped and stained. I sold my old counter height square table before moving, as I knew it wouldn't fit in this "dining room" that is really just a walk way in front of the stairs and between the living room and kitchen. I painted the chairs ASCP in Duck Egg Blue, waxed and then reupholstered the cushions using oilcloth (laminated cotton) found on Etsy. Now they are easy to clean and not such an eye sore.
Some of the kitchen. The cabinets were pine, old white appliances, green formica counters. Painted the cabinets, put in granite and new appliances.
The backslash is vinyl I found on Etsy. I didn't want to tile and wasn't sure what I wanted, so this was an inexpensive alternative while I decide if we want to do a permanent backslash or not. Easily removable. It also added some color to a white kitchen. After the green counter tops were gone and the pine was painted to white, it was a LOT of white so tried to add some color.
I love this sink. The granite people had me pick it out. There were some choices, this is called a 70/30 meaning its not split like a typical 50/50 sink. I like the smaller size for washing the kids sippy cups or washing fruits and veggies and the other side can hold a large pizza pan on the bottom. Got the faucet at Lowe's, on sale and used a coupon.
This is a "before" of the cabinets, this knotty alder pine. It's a big thing I guess in Utah. I don't know, it's everywhere. Because of the big knots in the wood, I knew the cabinets would have to have a 'distressed' look to go with the natural imperfections in the cabinets. This wood is in ALL the bathrooms AND the laundry room cabinets. Those eventually will all be painted. I just can't guys, I can't. If it was a log cabin or ski lodge look I was going for, they would be perf.
My favorite, painting the island in ASCP Duck Egg Blue. The cabinets didn't have any hardware, so found these inexpensive knobs in bulk pack at Wal-Mart. Easier for the kids to open and less fingerprints on the cabinets! Don't mind the key rack, dog door and Ikea shoe holder/purse station in the back. Its right by the garage door and where we grab shoes/keys/laptops/purses on the way out.
The granite was a good deal at a local shop. Small town, main street shop. Same guy has owned it for decades. I prefer to shop local when possible. They did a great job, sink was included.
So more of the table, this table was pine and really old, almost green. I sanded it. Painted the legs in the same paint as the chair and then used a wood stain in espresso for the top.
The kitchen had long florescent lights. We had a local electrician install 6 can lights in the kitchen and ran a hookup for a ceiling fan in the living room. Before it was darker, and only floor lamps could be used in the living room. Glad we did it and switched to energy saving systems. These old barstools were free from my dad. They had originally been an aqua color I painted from pine, but when I painted the island blue decided to make my own chalk paint in a brown to match the brown top of the table, the brown on the pantry door and other brown accents throughout the downstairs.
He was so not amused with me this day.
Close up of the painted cabinets.
Front the living room to the kitchen, I think when the floors are all hardwood it won't divide the eating space (half carpet, half vinyl) and will warm it up with a warm brown color. I also want to paint the ceiling a bright white, as these ceilings are low it seems and we had a water softener installed, and moving all the electrical there are several big patches we need to repair. But, who likes painting ceilings, right?
So with the flash on, you can see a dent in the fridge. That little dent made the fridge half off. So, we took the dent. Also, a cheap way to polish your stainless steel appliances: Baby Oil! Super cheap and it shines them, resists smudges and you can buff any marks out easily. I usually oil the appliances once a week.
Don't mind the cats. This is why we can't have carpet. Two kids, two cats and a dog.
The kitchen is probably my favorite area now. The valance I just found some old fabric I had and stapled it to the wall. I don't like it and will find something more neutral with a more subtle pattern but wanted something up until I have time to figure that out.
This is why the house can't stay clean…. While I typed this post this is the trouble these two boys got in to.
The front door was black, had gold fixtures and a metal "no soliciting sign". Updated all the hardware, painted the hinges, door knocker and house numbers silver, new door knob, lock and kick plate and peep hole, and painted it with a mix of Anne Sloan chalkpaint in duck egg blue and provence. Distressed it. Will repaint the shutters one day!
A cool Utah evening, crispness of Fall is here and I already started hoarding pumpkin. Mmm.
-Meagan
-----------------------------






Don't forget to subscribe to my YouTube Channel!