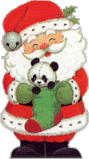 I didn't take pictures of our activities yesterday,so this cute little Santa will have to suffice. :> I did want to post and let you know what we did though. We did the letter H yesterday. It was for Ho!Ho!Ho! and this is what we did:
We watched
How the Grinch Stole Christmas
We sang Christmas songs and did some of these worksheets below.
For Math we did a
Tree dot dot to dot and shape counter
and made a
shape wreath
.
We also worked with our
addition tree
.
For Art we colored
this picture
and added cotton balls to his beard.
And then just because Bubba likes mazes we did
this one
.
Overall it was a simple fun day. I am loving doing these ABC's with my littles. If you want to catch up on what we have done so far click these links below.
Christmas ABC List
Letter A
Letter B
Letter C
Letter D
Letter E, F, G
Today we will be doing J is for Jesus and I is for icicles. It should be a fun day. I will let you know how it goes tomorrow
Have a Blessed Day!