Just a warning, this post has no real order. It is just a jumble of my thoughts from the day.
My kids are watching
Fred: The Movie
It is based off a character from iCarly!, which my littles and I think is so stinkin hilarious. It kind of reminds me a little of a not so nerdy Napoleon Dynamite, which by the way was an awesome movie. Who doesn't love a movie with a kick back to the 80's? Any-who they are watching this movie and their giggles just won't stop. It is cracking me up just listening to them crack up.
On another note I saw THE most adorable old lady on the side of the road today. What is it with woman over 60. They can really pull anything off, fashion wise. This lady was wearing a red Hawaiian print dress, white cardigan, sneakers and socks, Oh and a HUGE Hawaiian print sun hat. It was all so wrong, but so right at the same time. I love it! I am totally rocking kitty sweaters and "teacher sweaters" (I am sure you know which ones I mean) when I turn 60.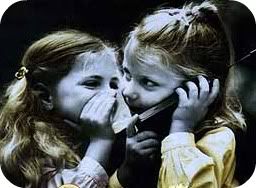 One embarrassing thing that happened today was when I was walking through the grocery store, with my littles, and my daughter points to an older lady, covers her mouth and loudly says "She is an old lady". I guess she thought I hadn't picked up on that fact. I then had to explain that sometimes people don't like it pointed out that they are old or fat.
I had 300 hits on Blissful and Domestic yesterday! I am so excited! now I just have to get the follower list numbers up, hopefully get you fabulous ladies coming back
I was thinking of maybe having a spotlight on Saturday or something for new followers. What do you think? I thought it would be a fun way for us all to get to know each other more and find out what other fellow crafters are doing.
My kids were playing outside, with all the other kids in the apartment complex, and I had begun working on our FHE lesson today. Well all the little girls saw me doing it and begged to help me color it. It wound up that I just sat and watched and all these sweet girls did the coloring and cutting for me. It was so sweet. Then they wanted me to tell them the story of Jesus, which the FHE was about. It was a very cool moment
Overall that is all my randomness for right now I literally can not stop watching that Fred movie. It is now cracking me up more than ever. Well hope you guys are having a fabulous Thursday!