I thought I would share a few last minute baking ideas for Easter.
We made all three of these recipes this past weekend and we were able to have plenty to share with friends.
Peanut Butter Crunchies (Nests)
from
In Between Laundry
I decided to posts the recipe here, since I changed it just a smidge.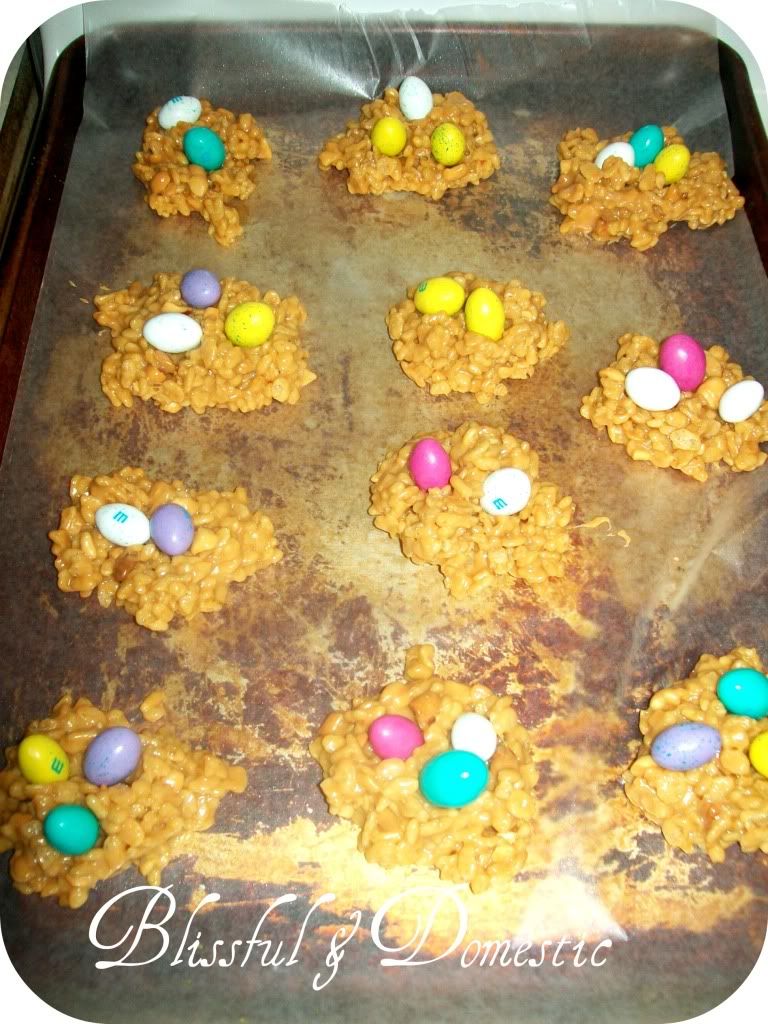 1 c. corn syrup
1/2 c. sugar
1 c. peanut butter
3 cups puffed rice cereal
Peanut M&M's
Bring syrup and sugar to a boil. Stir in peanut butter. Remove from heat. Add cereal. Drop by spoonfuls on waxed paper. Push the candies into the center to create little nests.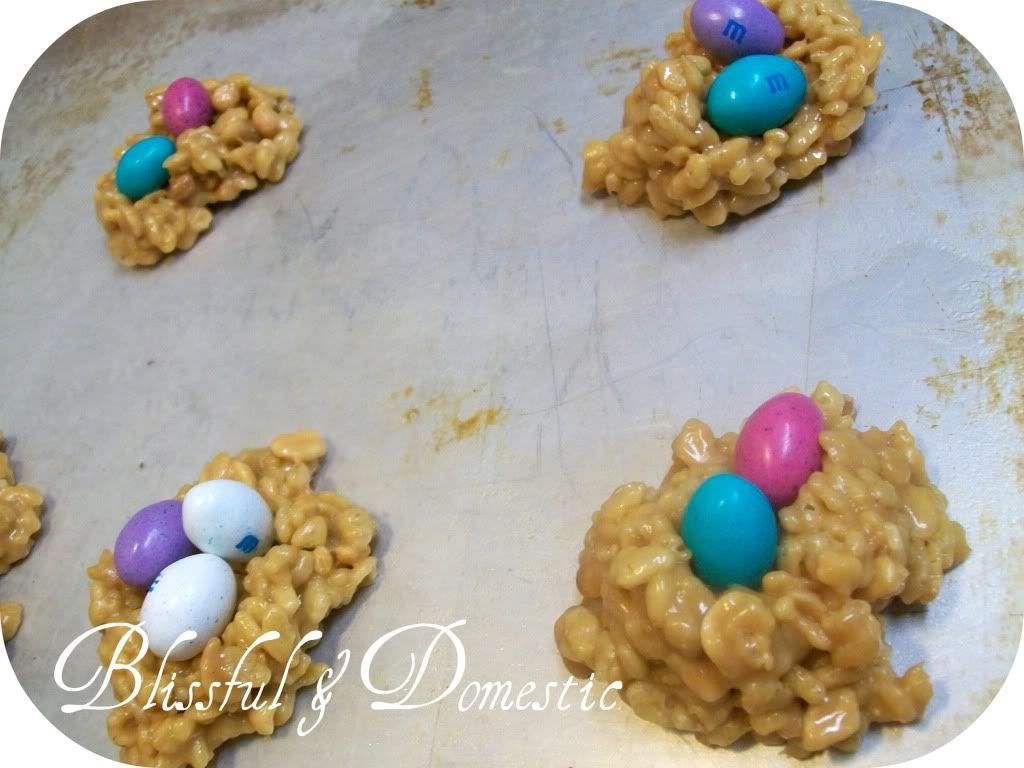 My littles loved this. Keagan even said he would love it without the candies.
I think next time we make these I will add raisins or craisins. They were so yummy!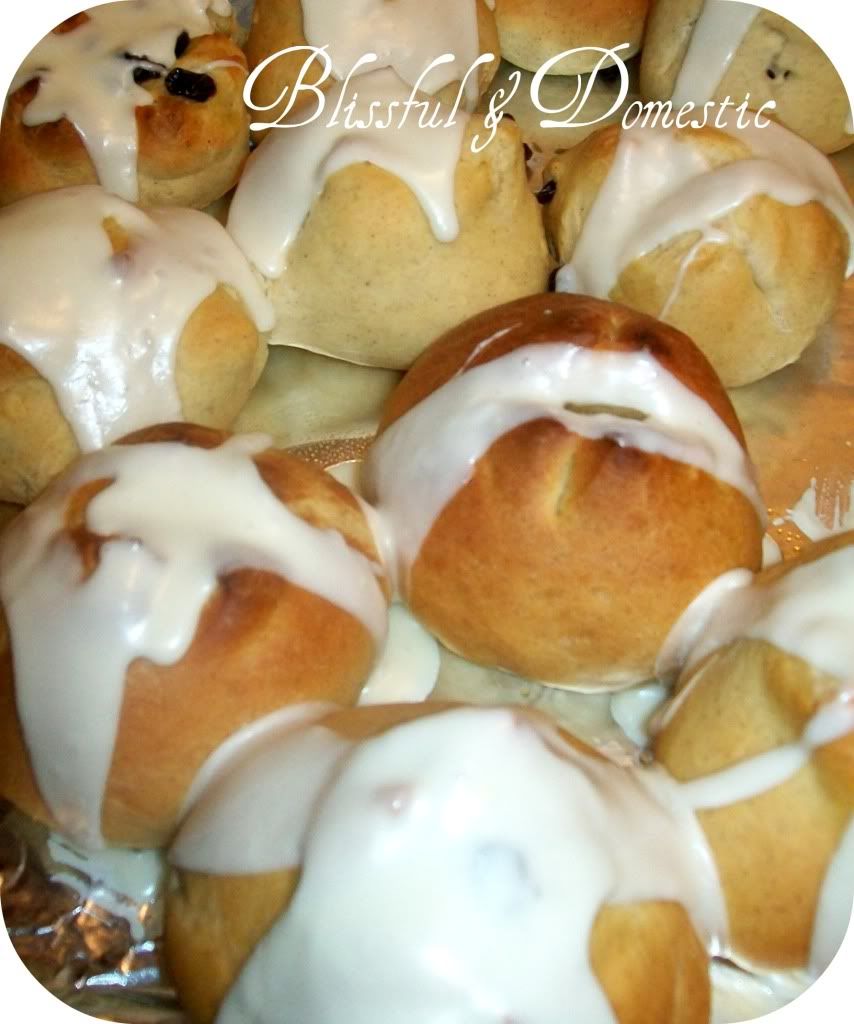 I got this recipe from
HERE
.
This recipe is for the bread maker.
Dough
2
eggs
1/2
cup butter or margarine, softened
4
cups Gold Medal® Better for Bread™ flour
3/4
teaspoon ground cinnamon
1/4
teaspoon ground nutmeg
1 1/2
teaspoons salt
2
tablespoons granulated sugar
1 1/2
teaspoons bread machine or quick active dry yeast
1/2
cup dark raisins
Icing
| | |
| --- | --- |
| 1 | cup powdered sugar |
| 1 | tablespoon milk or water |
| 1/2 | teaspoon vanilla, if desired |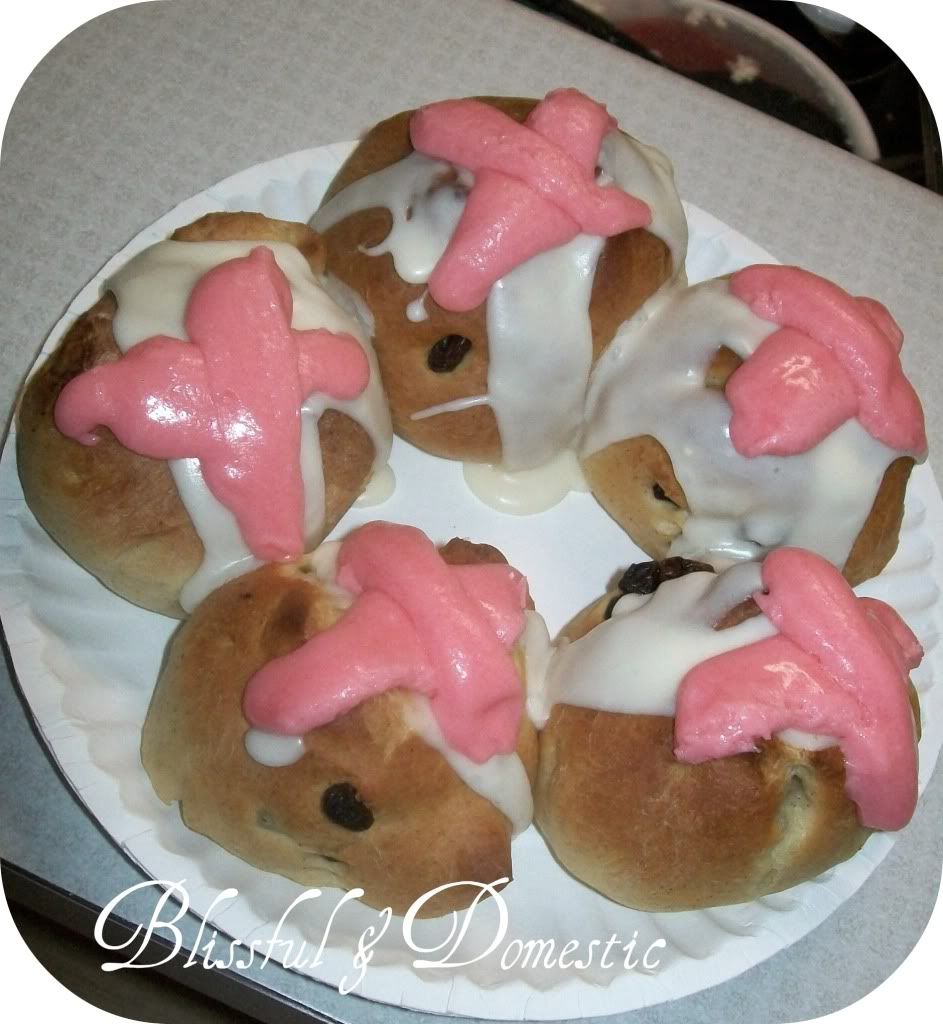 Break 2 eggs into 2-cup measuring cup. Add enough water to measure 1 1/3 cups. Measure carefully. Place egg mixture and remaining bun ingredients, except raisins, in the order recommended by the manufacturer. Add raisins at the Raisin/Nut signal or 5 to 10 minutes before last kneading cycle ends.
Select Dough/Manual cycle. Do not use delay cycle. (Total time will vary with appliance and setting.)
Remove dough from pan, using lightly floured hands.
Grease cookie sheet. Divide dough in half. Divide each half into 8 equal pieces. Shape each piece into a smooth ball. Place about 2 inches apart on cookie sheet. Snip a cross shape in top of each ball, using scissors. Top with a bad of butter on each roll. Let rise in warm place about 20 minutes.
Heat oven to 375°F. Bake 15 minutes or until golden brown. Remove from cookie sheet. Cool slightly.
For Icing
In medium bowl, mix all icing ingredients until well blended. Stir in additional milk, 1 teaspoon at a time, until smooth and spreadable. Make a cross on top of each bun with icing. I had a little trouble with this, but it absolutely did not affect the taste. They were very yummy! Serve them warm and Enjoy!
Easter Bunny Biscuits With Icing
This one we did for Sunday breakfast.
It is really simple and perfect for little hands.
Here is what you need:
1 tube of refrigerated biscuit dough
cinnamon, sugar, and
icing
Here is what you do:
use 3 biscuit rounds per bunny. 1 tube makes 3 bunnies.
Place 2 biscuit rounds on a greased baking sheet.
Cut the third one in half to make the ears.
Press dough together at the ends,
so all three buscuits are connected.
Sprinkle with sugar and cinnamon.
Bake at 400' for 8 minutes.
Once semi-cooled, drizzle with icing.