I just have to tell you how excited I am about hair week. I first talked about it
here
. The response to my little idea of a hair week was great! You guys totally rock my world with your sweet encouraging comments. I am also excited because there are going to be some awesome guest bloggers. I was a little nervous about finding guest bloggers, since this is my first Big blog thing I am doing, but I have lined up some fabulous ladies to inspire us.
Here is what I am planning for Hair week. Oh and hair week will run from June 6-June 11, so spread the word. We will be having a guest blogger each day and then I will also be posting a few hair ideas I have whipped up. I am also planning on doing a hair giveaway and end the week with a link up, so everyone can share their own fabulous hair ideas. If anyone has something they would like to giveaway, maybe from an etsy shop or something, let me know. We can spotlight your shop on here and then do the give away at the end of the week.
I think hair week is going to be a great way to kick start us with fun, cute summer hair. Let me know what ya'll think. And if I didn't mention it before. I am WAY excited!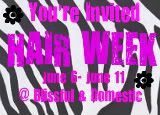 Oh and I whipped up a button to help spread the word about hair week.
It should be a fun party. Lets have everyone come join in the fun!
Oh and don't forget our fabulous give-away :>
Click HERE
to enter.