Hi everyone

!! I'm Sarah from
Scissors and a Whisk
, and I am so happy to be here today.
I started my blog almost a year ago, and I've enjoyed

every

bit of it. From the wonderful blogging friends I've made, the encouragement in comments, taking pictures more often, and having "me" time. My fiance Matt is very supportive of my blogging addiction.

It makes me happy

.
With that said,
Scissors and a Whisk
is about various things. Sometimes I envy those who blog about just one particular thing (like only cooking, crafts, decor, etc.), but at the same time, I like being able to blog about whatever I want. Keeps things spicy!

I love to bake...

(
Cresandwiches
)

(
Better-than-Brownies Cookies
)

(
Pumpkin Whoopie Pies
)

craft...

(
Christmas Advent Calendar
)

(
Fabric Covered Bulletin Board
)

and cook!

(
Slow Cooked Pulled Pork
)

(
Oatmeal Pancakes with Caramel Syrup
)
Besides having the amazing fiance I mentioned earlier, I have the cutest puppy. Her name is Lucy, and she's a four month old Yorkie. She keeps me on my toes (literally, I don't like stepping in a puddle of pee! Ha!), and she is an energetic little ball of happiness.


I figured I'm not the only one who is a crazy furbaby momma, and I created Sidekick Sunday where you can show off your wonderful pets! Check out Scissors and a Whisk every Sunday for
Sidekick Sunday
:)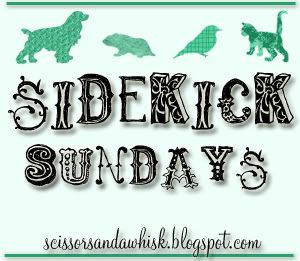 Well Blissful and Domestic readers, I hope you have a chance to swing by and say hello! Thank you so much for reading.