Hello lovelies! I am so excited to share our guest with you today. Amanda visited us in the summer, but is coming back again to help in celebrating our month long Halloween party. Amanda is visiting us from
The Little Giggler
.Amanda's blog is one I check daily, for cute and inspiring crafts ideas. She is one fancy pants, crafty lady. Today she has a fun and simple Halloween craft for us. So let's get our craft on with
The Little Giggler.
Blog Meet Amanda
-------------------------------------------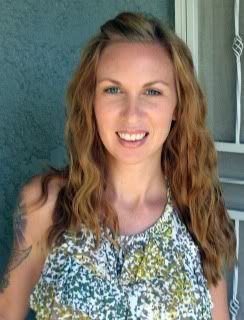 Hi everyone! I'm Amanda. I'm so excited to be involved in this awesome Halloween extravaganza at Blissful and Domestic! I'm going to share a tutorial for a little Halloween decoration I made. I hope you enjoy!
Here are the supplies I used:
Wooden Circles from Michael's.
Mod Podge
Craft Paint
Scrapbook Paper
Ribbon
Felt
Hot Glue & Gun
Paint Brush
Stencil
First things first. Trace your wooden circles on the back of your scrapbook paper.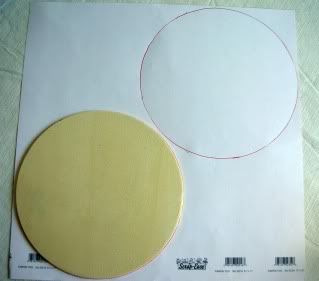 Paint one side of your circles. Also try to get the sides, so we don't see any wood. Let the paint dry completely.
Next, make sure your circles match up. Trim off excess paper if it overlaps.
Apply your Mod Podge to the unpainted sides. Carefully add your paper pressing firmly and smoothing out any bubbles.
Apply another coat of Mod Podge over the paper. Don't brush to hard. Your paper might rip. And don't worry it drys clear.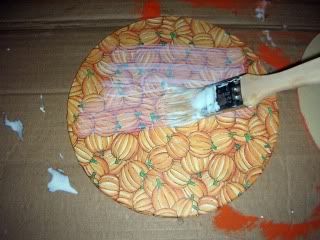 I used my Cricut to cut my two stencils. I used the Don Juan cartridge with the "shadow" on. The letters are 5 inches. I pinned them to my felt and cut. Yes, I pinned my "B" backwards in the picture. :) Don't do that.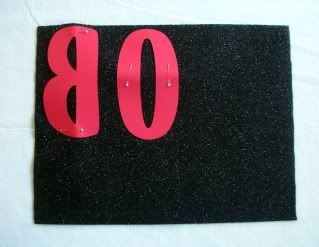 Now you should have your circles and your letters ready to go.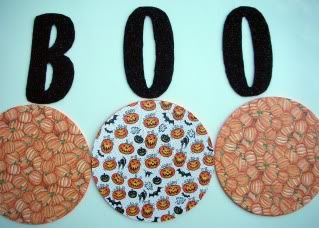 Apply hot glue to the back of your letters and carefully place them in the center of your circles.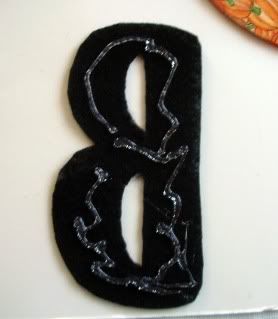 I used 31 inches of ribbon for this part. You can use more if you like. Fold over the top of your ribbon and sew or hot glue to make a loop.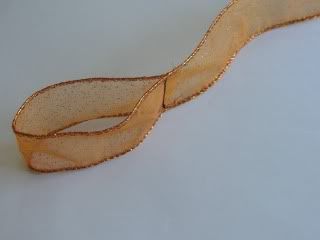 Turn your circles over with the letters facing the way you want them to hang. B-O-O not O-B-O. :) I used scotch tape to hold the ribbon in place while I tuned it over to check the placement. Then I hot glued my ribbon to the back of the circles. (Sorry, I forgot to take a pic of that)
Use your remaining ribbon and tie a bow through the loop. Turn your loop to the side and hang. That's it! Have fun decorating!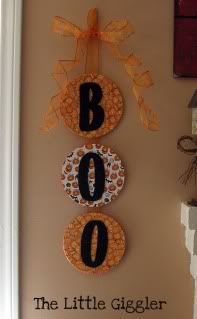 Amanda Alexander
www.thelittlegiggler.blogspot.com
Oh and don't forget about the giveaway this week!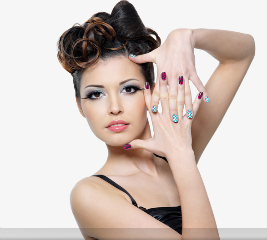 By Jamberry Nail
Come and Enter to Win!