Happy Tuesday all. Incase you're losing count, we are on day 18 of our coutndown to Halloween.
We are more than halfway to Halloween!
Continuing our countdown today we have Angie from
Big Bears Wife
. She is a fancy pants lady and is sharing how she makes some pretty fancy treats for Halloween. I am pretty excited for this one. She is using fondant, which I have never done, but am wanting to now. So let's check out how to make some fun Halloween Treats.
Blog Meet Angela
--------------------------------
Halloween Petit Fours and Homemade Marshmallow Fondant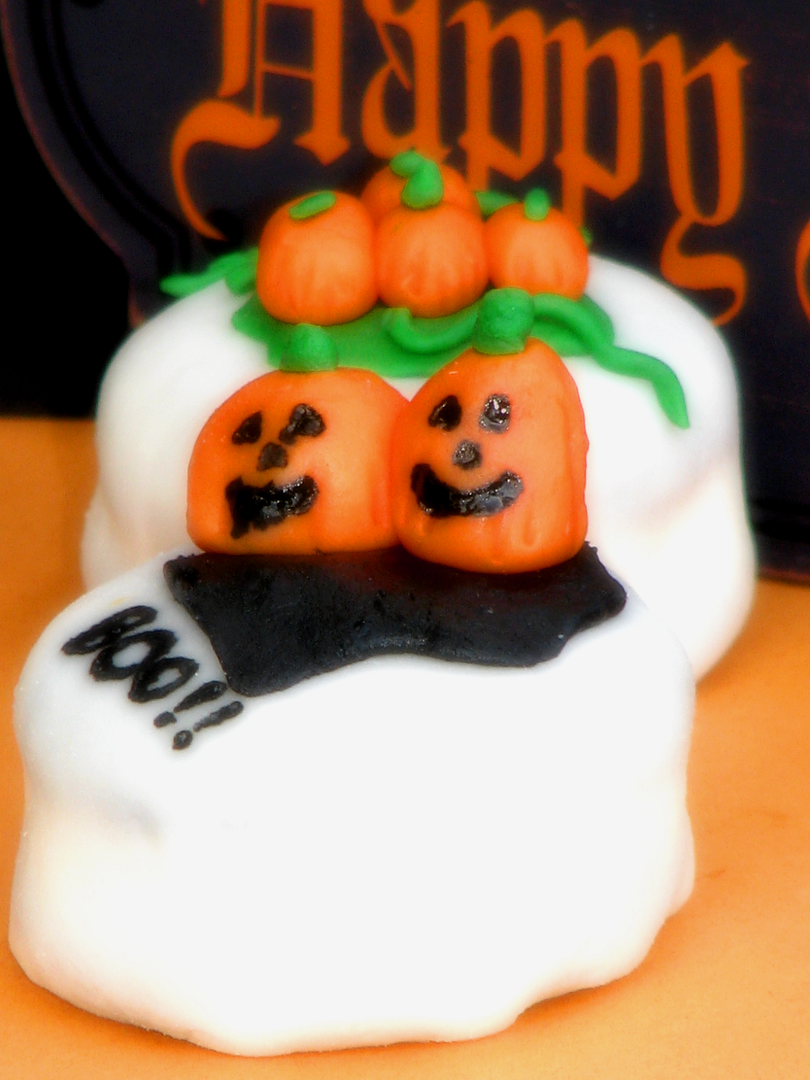 I'm Angie from Big Bear's Wife,
www.bigbearswife.com
, I've been over to visit before, but I just wanted to say hey for the people that don't know me!
Halloween is one of my favorite holidays. It's in a close run for first place with Christmas. Something about the colors and decorations make me fall in love with it.
Also I think I love it because for one day, I can dress up and be someone totally different, put bright colored highlights in my hair (like purple, green, orange.. haha), and no one looks at me like I've gone crazy.
I mean what other day of the year can you dress up like a vampire, with fangs (the cool real looking ones), and spray tons of glitter in your hair and not look like a freak....Halloween.. It's the only time..I think..
I've been playing around with the idea of Halloween treats, and wanted to try to make Halloween Petit Fours. Petit Fours are mini cakes. Sometime they are frosted, sometimes covered in fondant.
I worked for a while, trying to make these little cakes. I read blog after blog, and drew sample pictures of what I'd make, and thought and thought of what kind of cake I'd use.
But these little cakes have to be dense in order to work. Something along the lines of pound cake, so I've read. I didn't know that. I baked a regular chocolate cake in a rectangle cookie sheet (the kind with sides) to get a small flat cake, I figured that they would be the prefect height, and that I'd just need to cut them into squares. The cake was to moist. It fell apart when I tired to cover the little squares in fondant.
So I did what anyone would do.... I Googled ;)
I made Homemade Marshmallow fondant
(Recipe Below)
. That way when I serve them, people are not picking off the fondant or decorations and throwing them away. They are actually yummy :)
First I'll share the Marshmallow Fondant Recipe I used and then How to Make the Petit Fours.
Marshmallow Fondant
4 cups of Mini Marshmallows (About 1/2 of a 16 oz bag)
4 cups of powdered sugar (About 1 pound) plus a little extra for dusting
2 tablespoons cold water
What to do:
Place the mini marshmallows and the water in a large microwave-safe bowl.


Microwave on high for 1 minute, until the marshmallows are puffy.


Stir the marshmallows with a rubber spatula until they are melted and smooth.
(if there are some that are unmelted, return to the microwave for 30seconds)


Add the powdered sugar and begin to stir with the spatula.


Stir until everything is mixed or to the point where it is impossible to stir it anymore.


Scrape the fondant out onto a workspace that has been dusted with powdered sugar.


The fondant will be sticky and lumpy, with lots of sugar that has not been incorporated yet.


Dust your hands with powdered sugar, and begin to knead the fondant mixture. You'll need to work the sugar into the marshmallow with your hands. This will take a little time. Just keep kneading it until it is combined and looks like fondant. It will become smooth and loose all the "stickiness" (add more sugar if necessary)


Roll into a ball, and now it's ready to use.


Halloween Petit Fours
(Printable Recipe Here)
Will Make 12 Little Petit Four Cakes
What you need:
Oreo Cakesters (My box came in 12 count)
Marshmallow Fondant (or pre-made)
Rolling Pin (I bought a fondant rolling pin at Hobby Lobby)
Powdered Sugar for dusting.
Food Coloring (optional)
What to do:
Unwrap the Oreo Cakesters.
Start kneading your fondant to make it workable. (You might want to have a little extra powdered sugar nearby in-case it starts to get sticky from the heat of your hands.
If you want to color your fondant, you'll want to do that now. I made Orange, Green, and Black for mine.
I used Americolor Soft Gel Paste Food Color. I like the gel food coloring better.
To color the fondant, pull off a chuck of fondant and roll it flat. Drop a few drops of food coloring into the center of the fondant and knead the coloring onto the fondant. (You may want to wear gloves for this if you don't want your hands to be stained with the coloring).
Once the fondant is colored, you can start to cover and decorate your OREO cakesters.
I covered my cakesters by using about a golf ball sized ball of fondant to cover each one.
Rolling my fondant out into somewhat of a circle with my fondant rolling pin. I then draped the fondant over the cakester and smoothed it down with my fingers. Smooth it all the way down so that the fondant is flush with the cake.
For the bottoms, I used a pizza cutter to cut away the excess fondant.
Carefully flip the fondant covered cakester over and smooth the edges onto the bottom, so that the whole cake is covered.
Now they are ready to decorate :) You can also use the fondant to make fondant decorations.
This was a lot easier than I thought it was going to be, it's just like playing with playdough!
(I used a little corn syrup mixed with water and a food safe paintbrush to stick my fondant decorations onto the cakes)
Or you could use edible markers to decorate them.
Side Note: Yes.. I know mine are not perfect, I am in no way any kind of great baker, but my family still loved them, and I loved them :)
So these are some of the ones I did: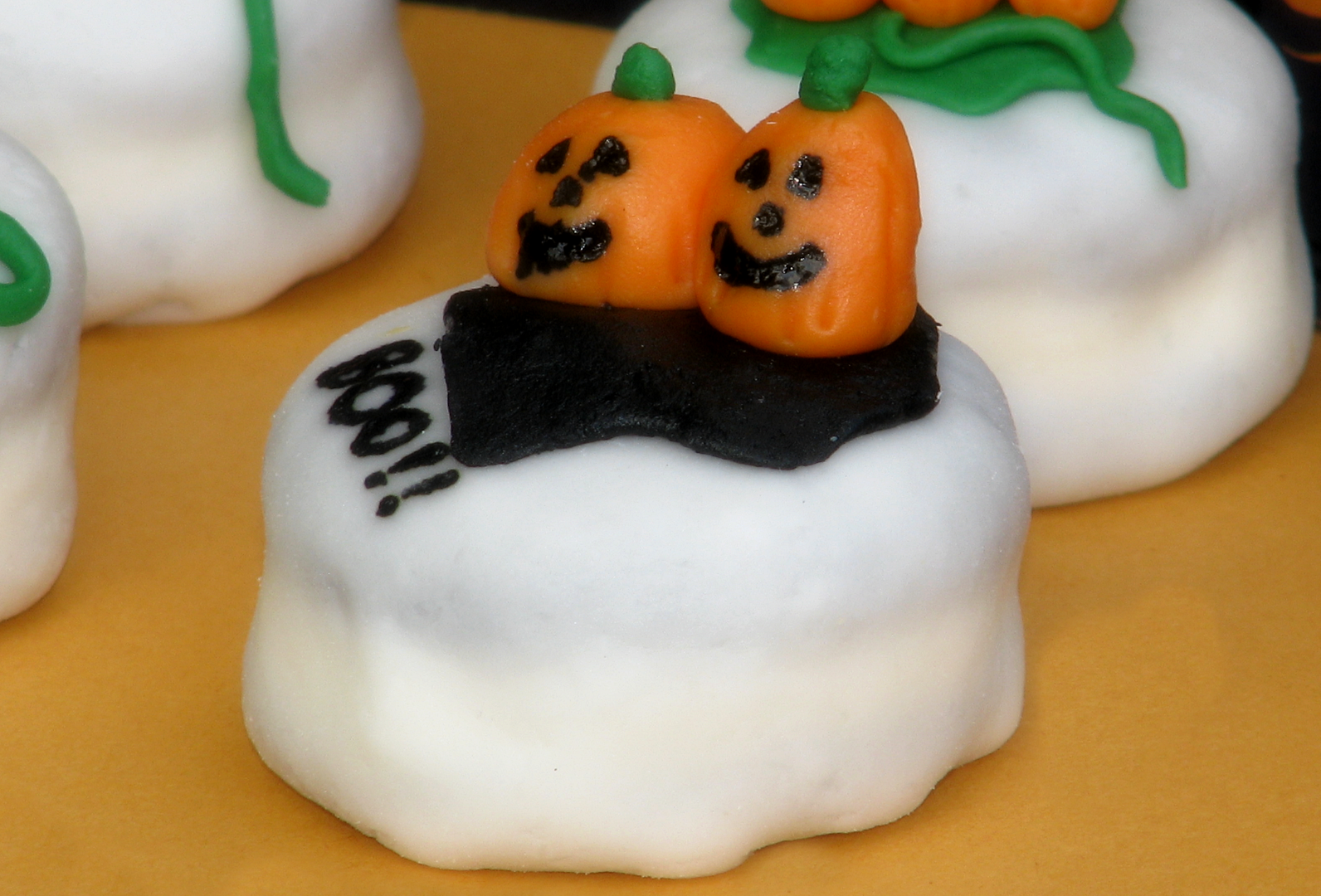 BOO!! Pumpkins
** I used a toothpick and black food coloring to write BOO!! and make the faces on the pumpkins**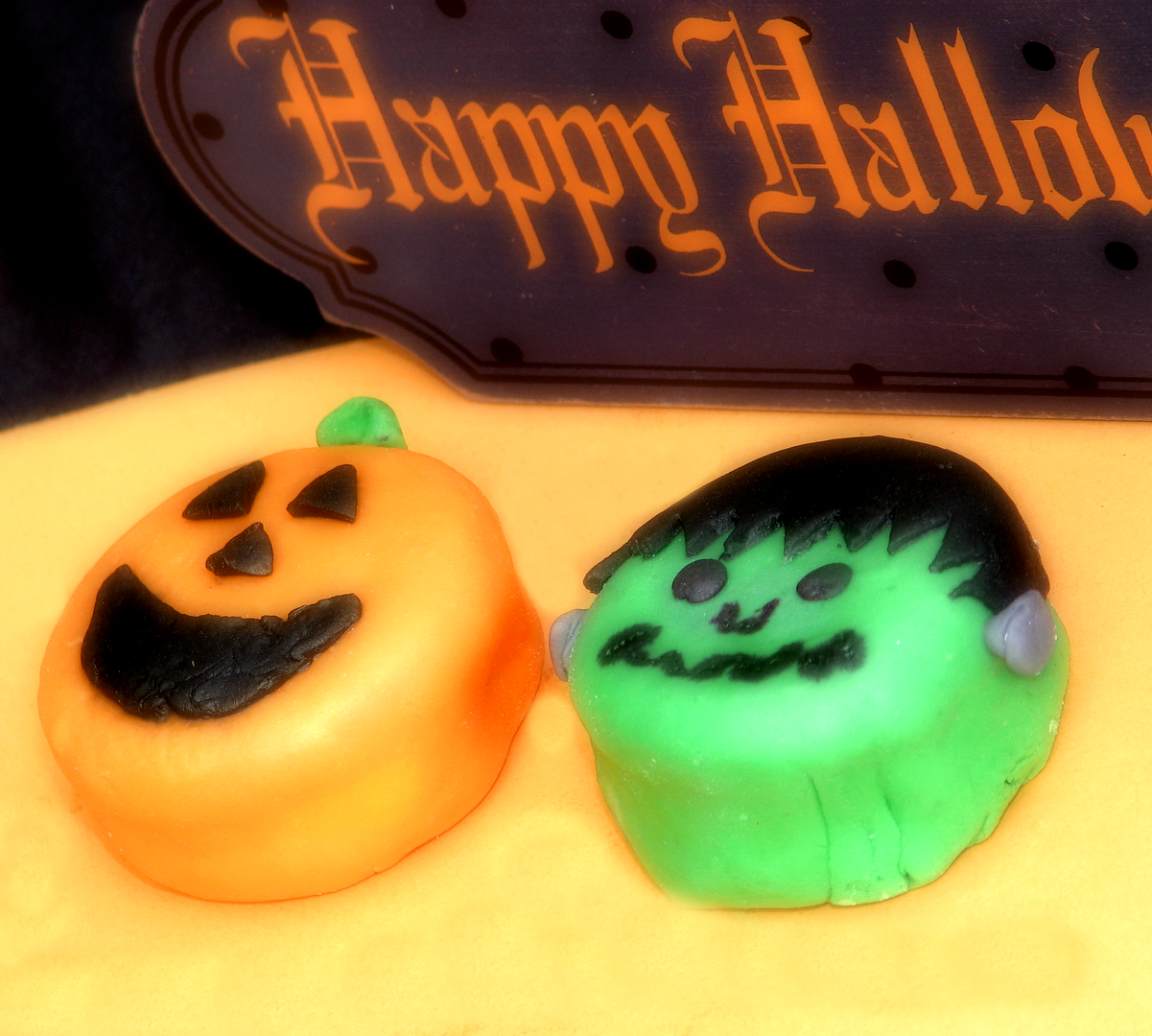 Jack O' Lantern and Frankenstein
Yummy!!
HAPPY HALLOWEEN :) (early haha)

-Angie