Today we have a fun project for all you mammas with littles. Charlene, from
Adventures-in-Mommy-land
, is sharing a super cute way to get your littles involved in the decorating. I love projects like these. They are so fun to have year after year. So lets gather our little around and get crafting with Charlene.
Blog Meet Charlene
-------------------------------------------------
In keeping with the Halloween/Fall season, we read several books about Ghosts!
Spooky, Scary Ones!
(nah, not really...but we did read some super cute books, plus an oldie but goodie one)
One of the books we read was
Ten Timid Ghosts by Jennifer O'Connell
. It's about ten timid ghosts that live in a house and a witch that tries to move in with them. One by one she scares the ghosts off by tricking them with fake spiders and bat puppets and scary monster masks. Only when she gets to the last ghost, he's not timid, he's mad. Then all the ghosts go back and chase off the witch. Very cute book...Nathan loved it.
We also read
The Ghost's Dinner by Jacques Duquennoy.
This book is about a ghost named Henry that hosts a dinner party where he serves dinner and the ghosts basically turn into the foods and drinks that Henry serves. Another cute one!
The Teeny Tiny Ghost by Kay Winters
is about a little ghost who goes to school to learn how to be scary. While in school, everything he learns scares him. In the end, he finally gets brave enough to scare away creepy visitors that try to get into his house, which turns out to be his classmates and teachers who congratulate him for learning how to be a scary ghost afterall.
This next book was a favorite of mine when I was growing up. I have no idea why I liked it so much, but when I saw it at the library, I had to scoop it up and borrow it for the little boys.
Gus Was A Friendly Ghost by Jane Thayer.
Gus loves his summer family and they love him. But he gets lonely in the winter when they go away. So he invites his new friend mouse to live with him in the winter. Mouse has a hard time adjusting when the family comes back in the summer and Gus has to teach him a lesson so they can all get along in the house and Gus gets to keep his friends and himself happy.
Our craft was based on Ten Timid Ghosts.....We made 10 ghosts - Handprints and Footprints.
(Supplies - white and black paint, ribbon...our's was black with a spooky eye design, white yarn, black and orange construction paper, paint brushes, scissors and hole punch)
I painted the boys' feet (Not the toes) and hands and they stamped them onto Orange and Black paper (5 prints of each)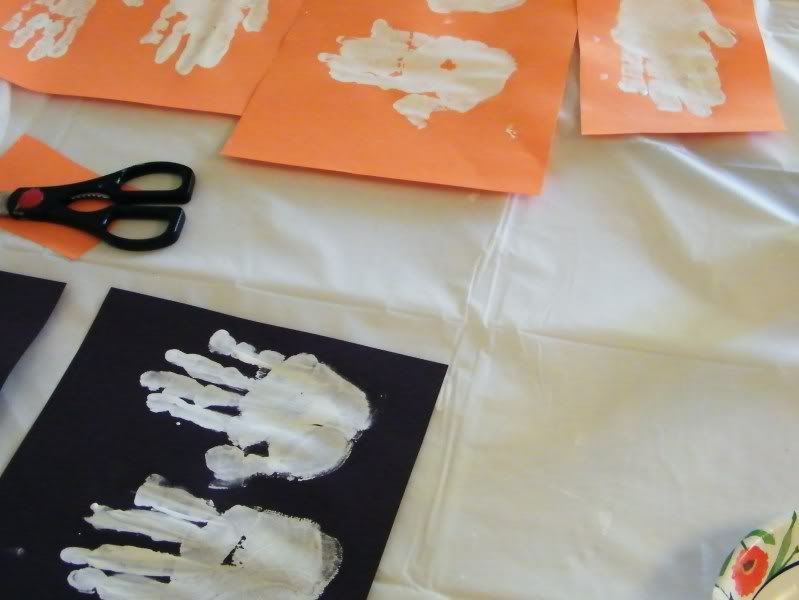 When the paint dried, the boys painted eyes and mouths using black paint on their ghosts.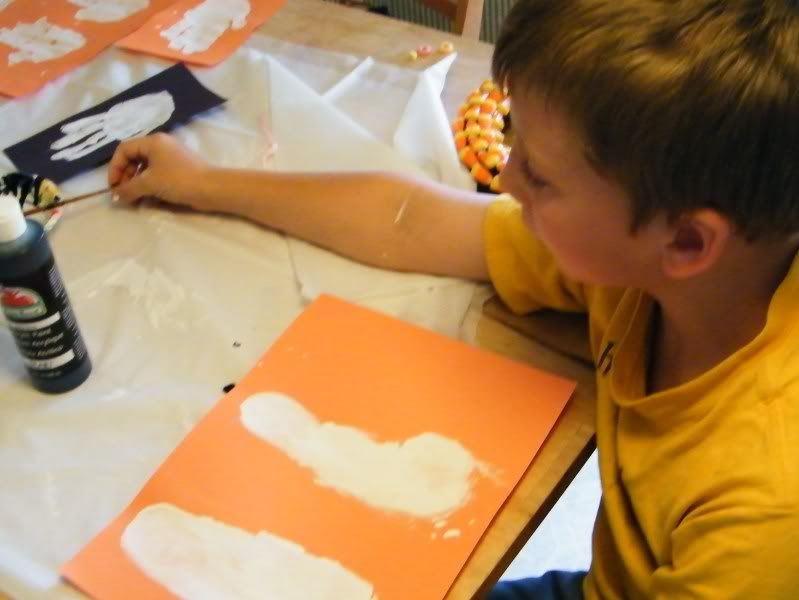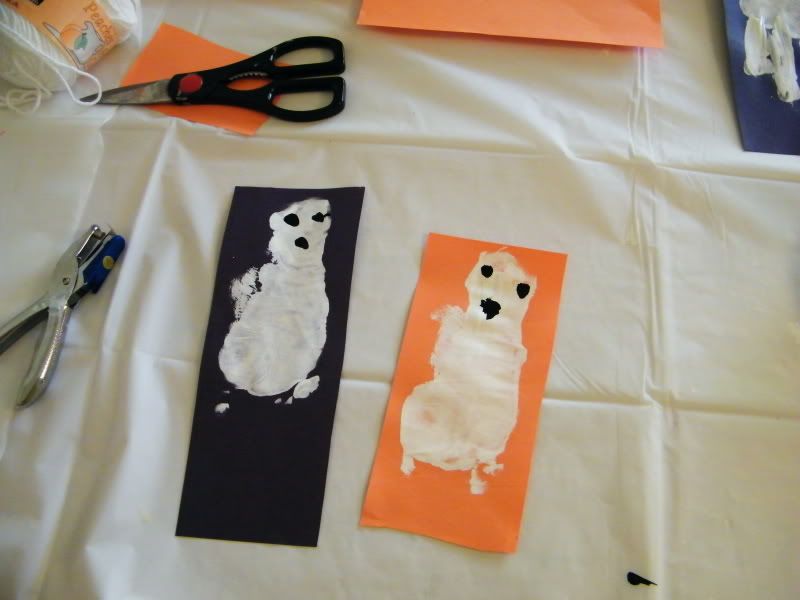 Next, I cut out the ghost shapes and punched a hole at the top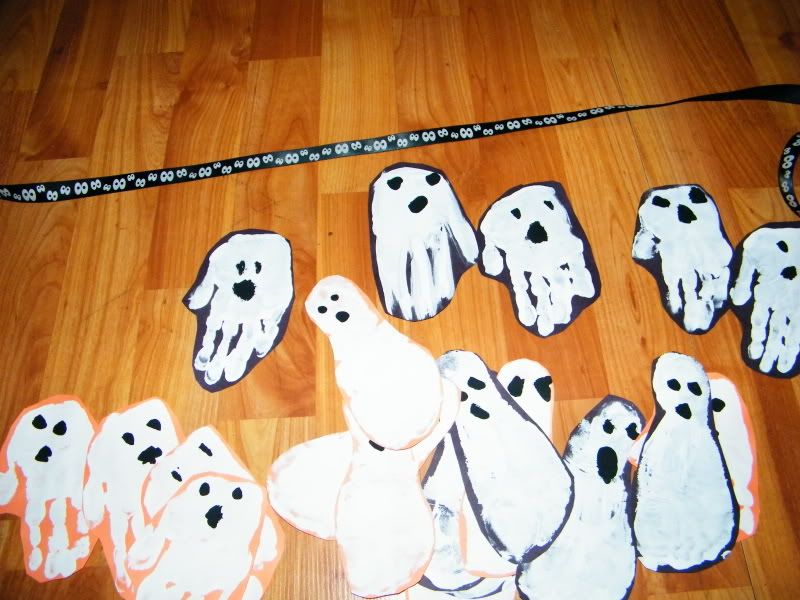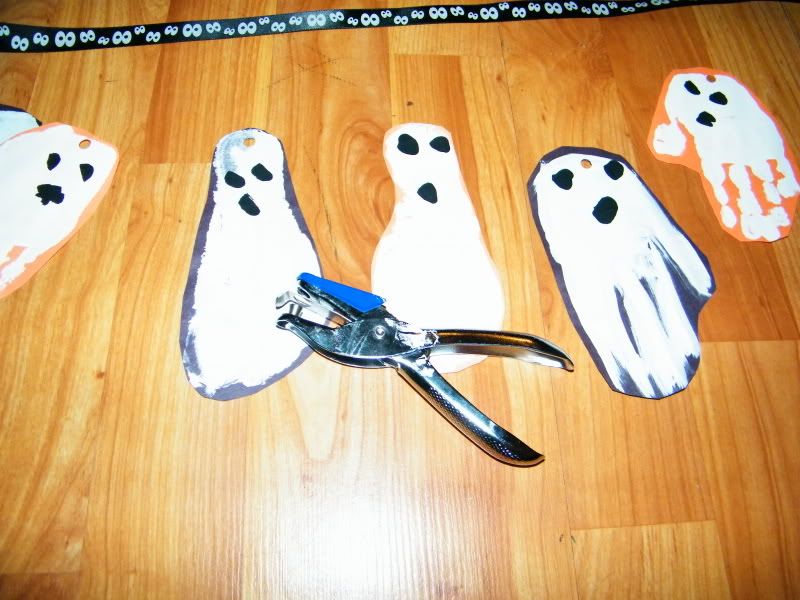 I threaded the white yarn through the hole and tied it to the spooky eyed ribbon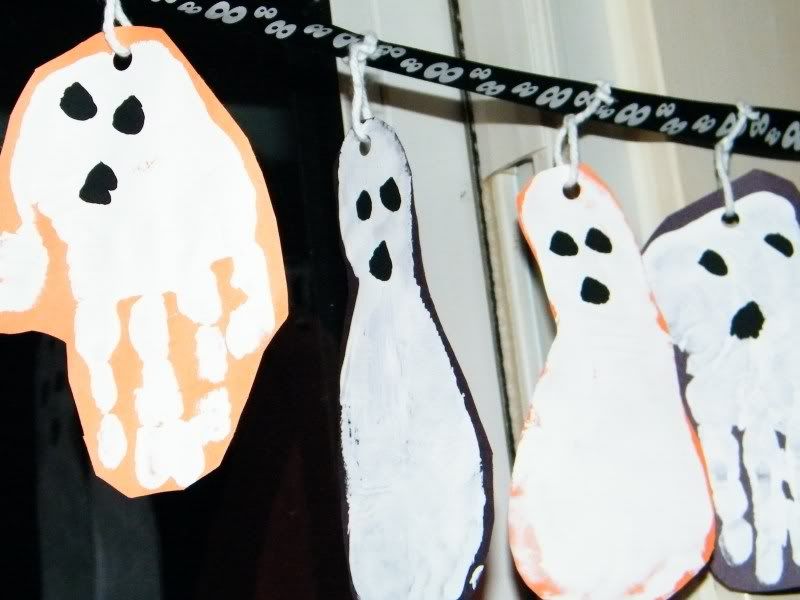 I strung the ghostly ribbon in front of the window for a Fun, Cute Halloween decoration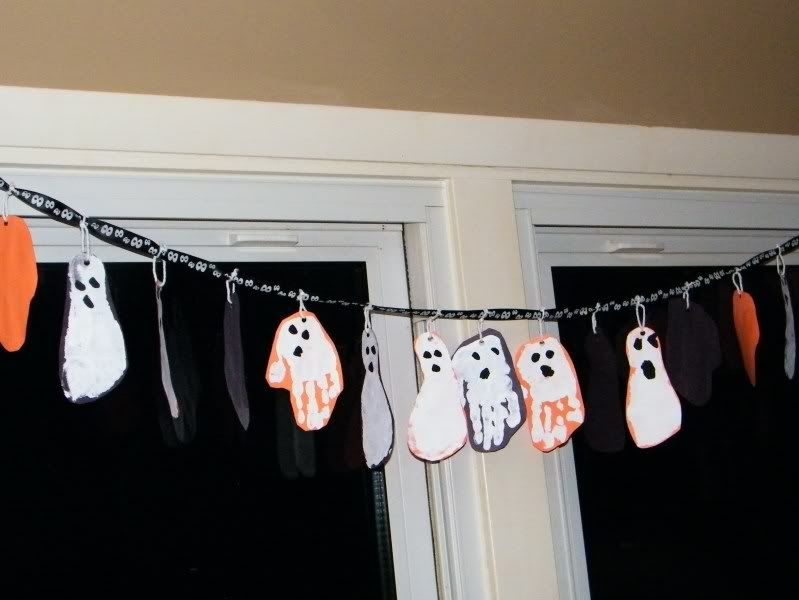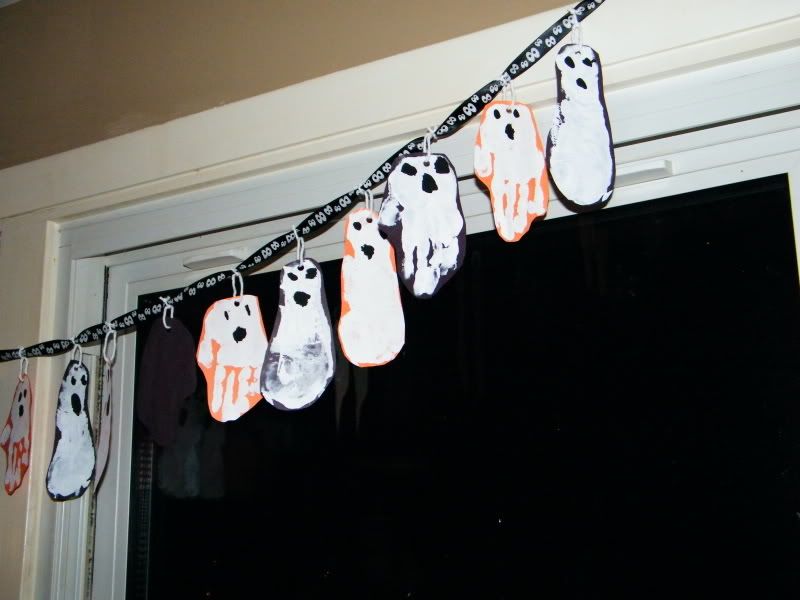 Don't you just love it?
Charlene
------------------------------------