Hello ladies and Gents. Now I know once Halloween is over everyone goes into red and green mode and I know I am at fault of this as well. I count down the days to setting up my tree and stockings. I love LOVE love Christmas and can't wait for Thanksgiving turkey to be done, so I can pull stuff out of their boxes and decorate my home. That being said I have decided I need to give Thanksgiving a fighting chance in my home. The jack-o-lanterns and ghosts have been put away and are now being replaced with fall leaves and flowers. I have a few projects I wanted to share, so I came up with the idea of
Fall Craft Week
. Each day this week I am going to feature a craft I have done and of course your projects, which have inspired them as well.
So without further ado, let me get started....
After my Halloween countdown with my littles, I had a dream of a month of little crafting and relaxing.... boy was I wrong!
I can't go a day without creating. It is in my nature. It is what I love!!
Once the Halloween decor was taken down, my littles asked what we would be doing for our Thanksgiving countdown. Well I just can't turn down adorable red heads asking me to plan some fun for them. I decided to do a Thanksgiving countdown and came up with all of the stuff below in just a matter of minutes. I sat down and googled ideas on my Ipod and the ideas started flowing.
Here is what you can expect from us this month....
Make Turkey Shirts
Make Paper Bag Pumpkins
Mock Turkey Dinner
Make a Thankful Tree
Make a Pumpkin Treat
Watch Parade on TV
Thanksgiving Dinner With Family
Have a Turkey Play date
Decorate Cookies
Bring a Treat to a Neighbor
Make Hand print Turkey Decorations
Make a Leaf man and read Leaf Man by Lois Elhert
Talk about Squanto and make an Indian craft
Watch Charlie Brown Thanksgiving
Read Thanksgiving Day Books
Play
"Cross the Sea"
Play
Turkey Trot Game
Play Find the Turkey (hot and cold game)
Do a Turkey Craft
Play
Name that Turkey Tune
I tried to keep it pretty simple.
Just a list of fun ideas to keep the festivities going this month.
We kicked off our Fall fun on Friday.
We started out with a Treasure hunt for their Thanksgiving Basket full of goodies.
I used a basket we already had and filled it with goodies from around the house.
I requested a bunch of Thanksgiving books from the library and put them in our basket. I then included items to make our Turkey shirts, paper bag pumpkins, and our thankful tree. The little brown bag things are full of candy. It was an idea I saw on
pinterest
.
We then got to painting our Thankful Tree. This idea is very similar to what
Tasha
shared with us this past week. Each day we each write one thing we are thankful for. We add it to our tree and by the end of the month our tree will be full of thankful goodness.
I let my littles practice cutting and painting. It was a fun activity to do together.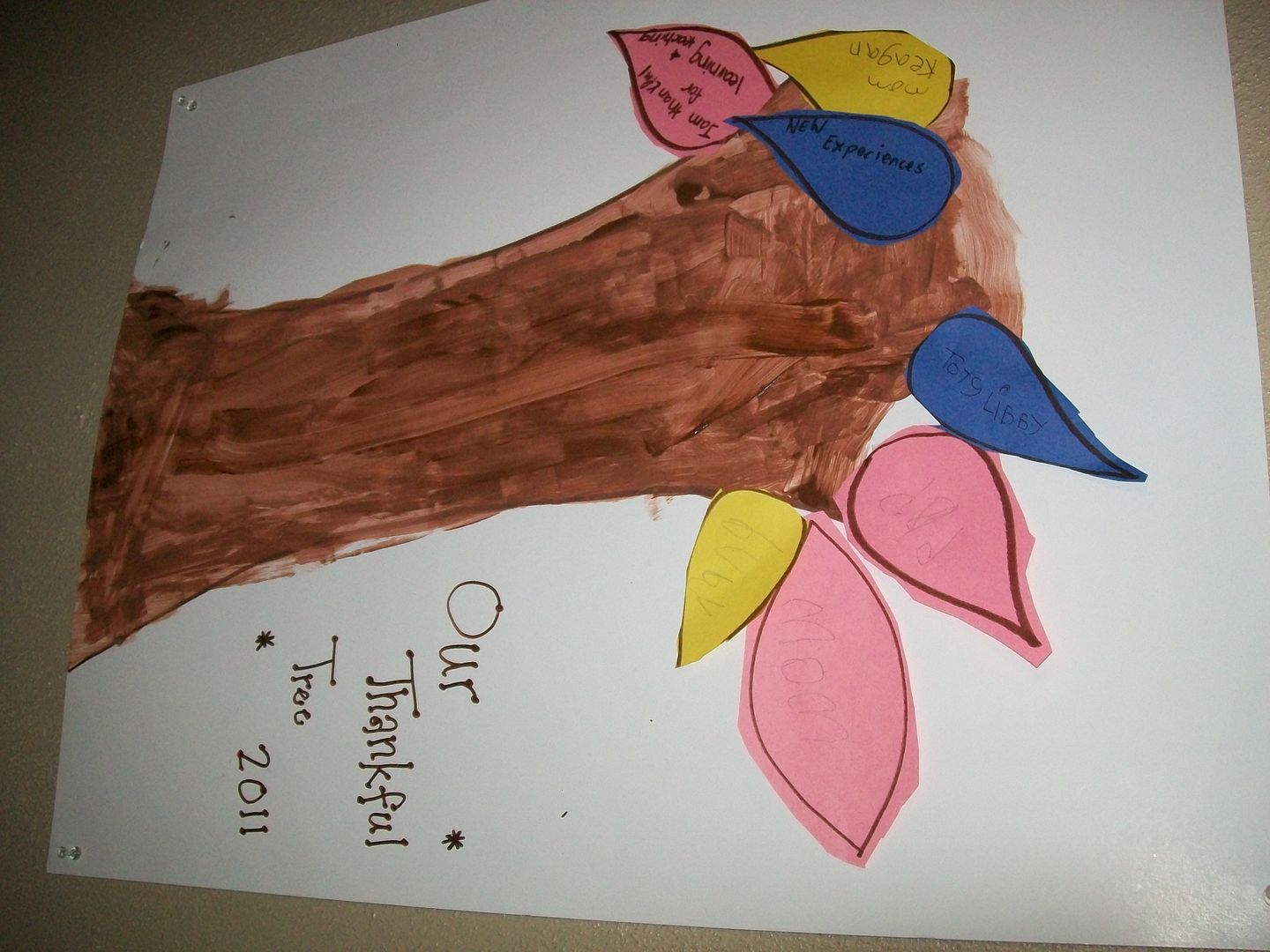 We incorporated this into our home-school day.
HERE is what we did last year to celebrate fall during school.
I am thankful for little children who let me be creative. Who enjoy the time I take into making each day fun.
They are worth the lost hours minutes of sleep.
They are worth the time planning and creative fun for them.
They are worth it all.
They make each day fun and I am thankful I get to experience the holiday fun with them. They bring so much joy into my everyday.
I can't wait to show what else I have been making this week. Comeback tomorrow for another project from Fall Craft week and next week we will have a giveaway, and a HUGE announcement!
Can't wait!!
This post sponsored by