Hello chickas! I am not sure about the weather by you, but by me we are finally getting CHILLY and I LOVE IT! After a summer of scorching 108 degree weather I am welcoming this chill with open arms. I love to cuddle in my hubby's hoodies, sipping hot cocca, and enjoying cozy movie nights with my littles.
Another way I like to enjoy the chilly weather is by cooking yummy soups and chili for my family. Recently I found a new recipe for chili. We tried it out last week and it was OH SO YUMMY! Two thumbs up all around.
It is called
Pumpkin chili.

I found a recipe for Pumpkin chili in the Smith's add.
Well I decided to build upon that recipe and make it my own.
So let's get our crockpots out and lets make some Pumpkin Turkey Chili.


===================================
Here is what you will need:
2 cans kidney beans (undrained)
1 can tomato sauce
1 can diced tomatoes
minced garlic (I used the jar ones)
2 cups of pumpkin
1 lb. ground beef
1 green pepper
salt & pepper
chili powder
Here is What you do:
Begin browning your turkey in a pan.
I like to add Lawry's and minced onions to my meat.
Once your meat is cooked, add all ingredients to the crock pot.
Don't forget to dice up your green peppers.
and sprinkle generously with chili powder, pepper, and salt.
We like our chili spicy!
Let sit and "Get Happy" as my dad would put it for about 4 hours.
Serve with some corn bread and top it with cheese and sour cream.
It is DELISH!
I decided to have some fun with
PicNik
and
I put the recipe on a fancy pants card for ya.
Enjoy ladies and gents!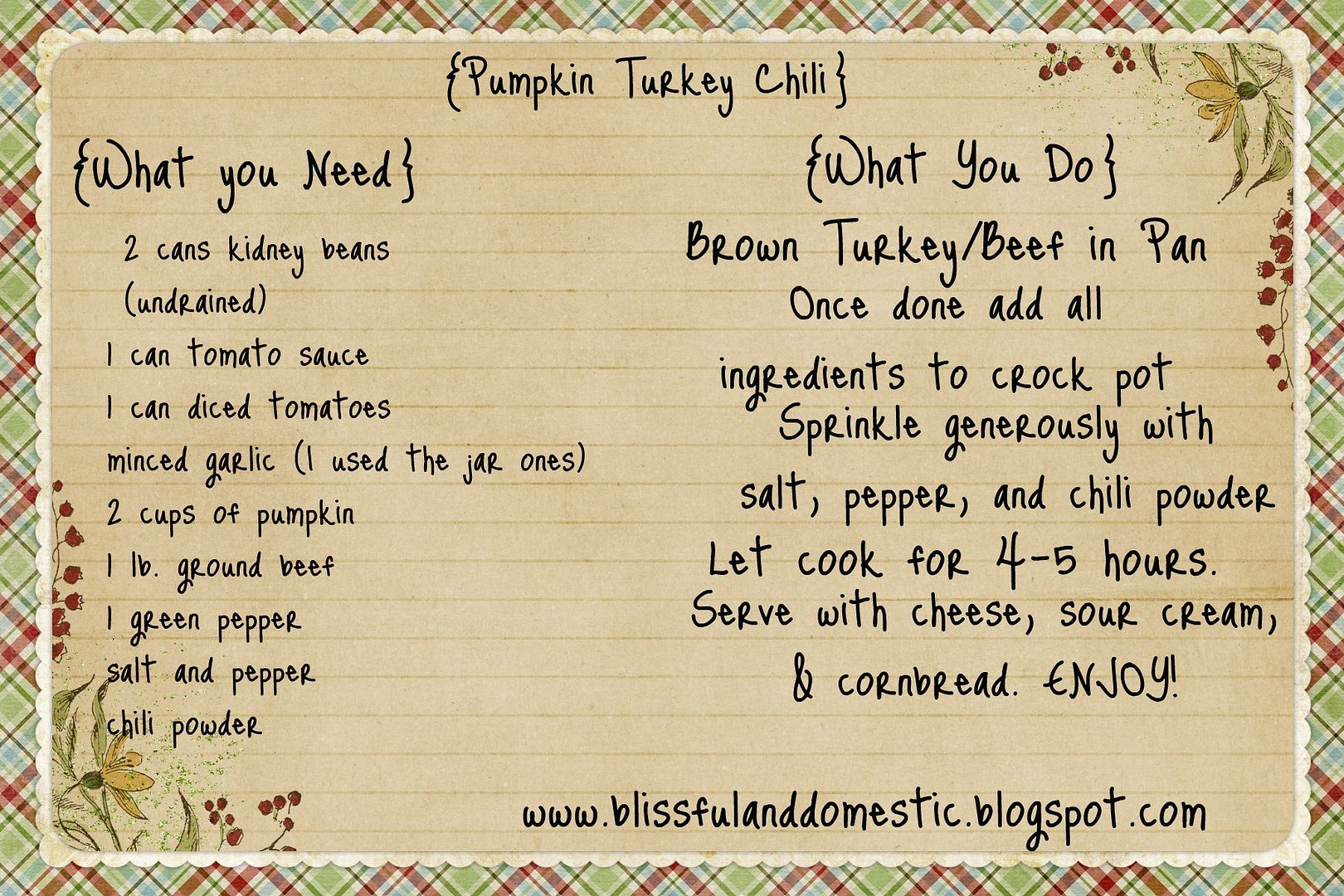 Happy Cooking!
Need help meal planning? Check out my free
Weekly Menu Plans.
and my
Let's Eat Section
I also have great posts to help your family save money!
Cut Your Grocery Bill in Half
Freezing Your Milk
Living on $14,000 a year
How Does She Q and A
Breakfast and Lunch: Meal Planning and Saving Tips
Fresh Produce All Month Long
Save Money at Costco
Menu Planning: Pantry Staples List
Weekly Menu Plans + Printable Shopping Lists