I am so excited for today's Family Christmas Tradition post. This one is not by yours truly, but one of my fabulous co-hosts. Michelle is from
Delicate Construction
and she is sharing a fun tradition from her family. I love sharing traditions and hope you all are loving it as well.
So let's get to it.....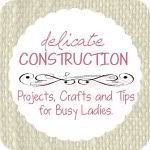 Blog Meet Michelle
---------------------------------------------------
Hello Blissful and Domestic Readers!!! My name is Michelle and I blog over at
Delicate Construction
!! I am a 27 year old wife to a wonderful hubby, mommy to a spunky almost 2 year old and caregiver for an awesome young gentlemen with Autism who lives with us. This is my favorite time of year it has only gotten better with all the fun surrounding Homemade in December!!
Many of us can relate with the traditions and memories surrounding all the winter holidays from our childhood, and choose to share those with our own familes as well- and that is what I am going to share with you today!
When I was a kid, sometimes we would decorate our trees with all edible ornaments and garlands and these are the times that stick out the most because that meant that we also had to make all the elements as well. While that is not totally practical for my own household with kids and animals and such, I still like to incorporate some of my favorite parts of the trees in my childhood.
First, the memory that always pops up first, our candy garlands. These are soooo easy to make and you just need a bunch of Wethers candy (you can use whatever you want but for me it has to be Werthers, and you need a bunch, maybe 5 or so bags for a big tree), a hot glue gun and some hot glue sticks.
Then you just hot glue all the ends together!
And do that a few hundred more times!
Then it is ready for your tree!
My favorite ornament I remember making would have to be the pomander- just the scent of oranges and cloves reminds me of the holiday season!
These are simple as well, all you need is a few oranges, whole cloves, ribbon, a hot glue gun and some hot glue sticks.
You start by tying the ribbon around the orange.
Then use some hot glue to tack it into place.
As you add the other two pieces of ribbon it can be helpful to add some hot glue to the bottom of the orange as well.
Trim down the first two pieces of ribbon you tie around and leave the last one longer so you can knot it at the top of the orange and then leave some space to add another knot for hanging it on your tree.
Then grab your whole cloves from the freezer (what, you don't have whole cloves just chillin' in your freezer? Well, all the grocery stores have them).
And push them through the skin of the orange all the way around.
And you are done! This is a fun project for kids and the smell of the oranges and cloves with the fresh Christmas tree... best.thing.ever.
I hope you liked these ideas and find them to be fun additions to your own family traditions!!!
I hope you stop by
Delicate Construction
soon and if you become a new follower, please make sure that you leave a comment and let me know so I can follow you back!
---------------------------------
Come back tomorrow for Stacie, from
Three Sweet Peas
--------------------------------
Don't forget to enter
the Pajama-rama Contest!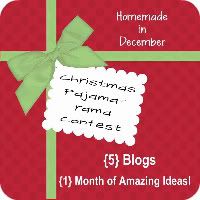 Great Prizes up for grabs!
Also the Christmas Carnival is up and running.
Come link up all your holiday goodness!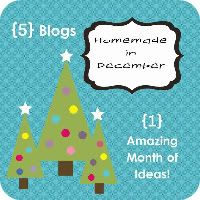 ----------------------------------------------------------
This post Sponsored by.......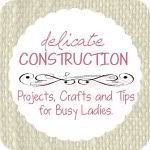 Check out what these ladies have going on today.
More Christmas fun awaits you!