Over the next few Sundays you will be meeting our 4 co-hosts of Homemade in December. Up First is Jill, From Creating My Way To Success. She is one of my good friends and a refashioning DIVA!
Blog Meet Jill
.......................................................
Hi, I'm Jill from
Creating my way to Success
. Thanks so much Danielle for having me over - you know I love your blog and all the wonderful upcycled goodness on it!
Me? I blog about sewing, upcycling and how I'm trying to grow my blog into a profitable business!
Blogs are all about sharing knowledge - and I try to do that by sharing what I learn, and offering lots of tutorials!
I'm also producing tutorials to try and encourage anyone and everyone to give sewing a go - showing useful and practical projects you can make in
5 steps and 15 minutes
,
like these
fabric lunch wraps
:
I'm a
big
fan of upcycling - and it's through that, I first got to know Danielle . She has linked up lots of great projects to my on-going
Clothes Upcycling linky
- which now has over 150 links and is still growing! It's a great resource of ideas and tutorials of things to do with those clothes that don't fit anymore, are torn, or kiddie clothes you just can't bear to part with!
Another of my own favourite projects was some
'talking coasters'
I made. We use them most nights at dinner time with our daughters - who are 6 and 8, and they LOVE them! It really helps them tell us about their days at school - and learn about starting conversations!
I also love meeting other crafters - and travelling, and so I've combined this into a weekly world tour - which I host with other bloggers on different continents - and each week we showcase some of the creative talent in our corner of the world!
I hope that gives you an idea of what my blog is about. It's really my excuse for show and tell of what I love - sewing!! Do
come over
and say hi sometime!!
Thanks so much Danielle for inviting me over here! It's exciting to be on your fabulous blog!
..............................................
Hop on over to Jill's and see what Christmas goodness
she was been whipping up!
--------------------------------------------

My Current Giveaway...
Come and enter to win!

-------------------------------------------------
This post Sponsored by.......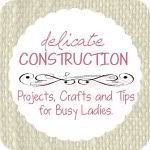 Check out what these ladies have going on today.
More Christmas fun awaits you!