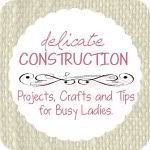 -------------------------------------------------------------------------------
Hello Lovelies! I am so excited to be here on Delicate Construction, sharing one of my Simple Christmas Ornament ideas. My name is Danielle and my bloggy home is
Now that you know a bit about me, how about we get crafting...
I am so excited to be here as a guest during Michelle's Ornament week.I have a VERY simple ornament to share. This was one that was easy to make while watching Harry Potter with my Littles. I love projects like this, where you just pop in a video and craft while watching a favorite movie. It is kinda THE BEST!
6. This is what it will look like it when you separate your circles.