Today we are welcoming back Jill from
Two Yellow Birds Decor
.
She shared a great Fall tutorial with us in Novemebr and now she is back with a great Christmas decoration for Homemade in December.
She has been showing a bunch of Christmas crafts on her blog lately.
I've been
pinning them
like crazy
Once you see the cute wreath she made today, hop on over and give her some comment LOVE. She rocks!
Blog Meet Jill.....again:)
-----------------------------------------------------
Hi everyone!! I am so excited to be back at Blissful and Domestic for Homemade in December. Thank you so much Danielle for having me again! This is such a fun idea that all these lovely ladies have put together and I am so grateful for the opportunity to be apart of it! Before we get started on a Homemade Christmas Decor, let me introduce myself.
I am Jill and my home is at
Two Yellow Birds Decor.
There you will find homemade decor, crafts, and recipes. I love to get creative and make things for cheap! My husband is an awesome handy man and helps me with many of my projects! I love being able to blog and share my ideas with all of you!
Now that you know a little bit about me, how about we get crafting?
I am going to be showing you how to make a darling, sparkly Christmas Wreath today.
It is a yarn wreath so to get started I got a styrofoam wreath at the craft store and some yarn at the Dollar Store. I was so excited for this find! It was so much cheaper to get it there then at a craft store! It was the exact color red I was looking for too. It is a deep red.
I started by wrapping the yarn around the wreath putting it really close together and kind of on top of each other to make it look full. I used a about a roll and a half of yarn.
When I got to the end I hot glued the piece of yarn on the front side of the wreath. I made sure when I put the embellishments on, it went right over it so you can't see it. Also this way you don't see a big dab of glue on the back side either!
Next, I cut a little piece of yarn and put knots in each end and stitched that on the back so I can hang it up.
Now comes the most fun and hardest part, decorating it with the embellishments!!
I went to Joann's Crafts and Fabrics and found such cute Christmas embellishments and the best part was they were 50% off!!! Most of them cost me between .40 and .50 cents! Good deal for me! Here is a picture of the ones I am using in the wreath today...
I fell in LOVE with them the minute I saw them because they are SPARKLY!! So fun!! (Just a side note: I have shown only 2 green flowers, but I ended up using 3)
The reason this is the hardest part for me is because its hard to get them to lay out just the way I want and for the look I want. It took me a few minutes, but I finally came up with the right fit! To get them on I just hot glued each piece on. I had to hold it down for a few minutes until the glue dried a little bit.
Here is the Christmas Wreath all done...
Here are a couple of pictures of some different angles:
There you have it! A super fun Christmas Wreath!!
Thanks again Danielle for having me for Homemade in December!
--------------------------------------------------
Don't forget.....
to enter the Pajama Rama Contest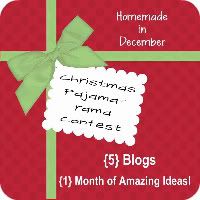 The Christmas Carnival is up and running.
Come link up all your holiday goodness!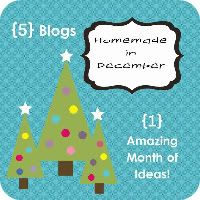 -------------------------------
Also don't forget the great Sale
HomeStudio
has going on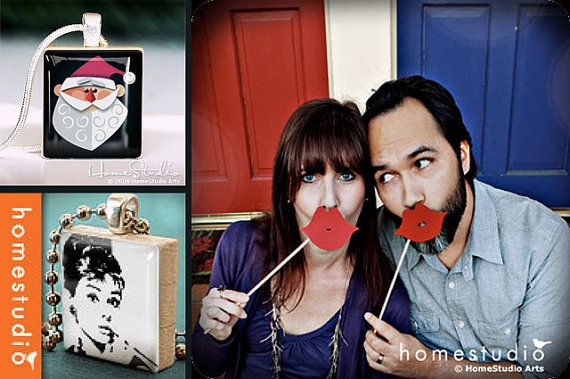 Each SCRABBLE CHARM $5.99 and includes a Free Ball chain
(this is our biggest sales week of the year)
----------------------------------------------
This week is cookie week on
The Small Things
. Kate is having a week full of scruptiousness. Today I am sharing my Christmas Cookie recipe. Stop by and check me out and all the other lovely ladies sharing recipes this week.
--------------------------------------------------
This post Sponsored by....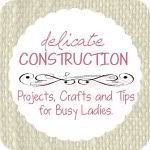 Check out What other holiday fun they have going on....