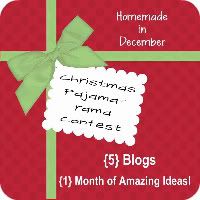 Hello Lovelies! Well it is time to announce the winner of
The Pajama-Rama contest
! I am so excited. It was hard to decided. All my lovely co-hosts and I looked through all the PJ entries and let me just tell you there are some very cutely dressed families out there, all ready for Christmas. I love all the ideas shared. Our absolutely favorite though was from
The Craftingfiend
.
Jen made an adorable nightie for her little Miss with a matching bear!
How cute is that!
Check out her blog she has a great tutorial on how she made this.
We feel in love with the colors and the stuffee to go with!!
Thanks so much for all who entered. I have enjoyed this month of Christmas fun and thanks so much for all of you getting involved. You guys rock!!
From all my co-hosts we want to thank you for sharing and inspiring this month. Have a very Merry Christmas and a Happy New Year!!
P.S.