Alright Ladies and Gents. We are slowly, but surely kick starting Homemade in December on Blissful and Domestic. Now that the Pajama-Rama contest is fully underway (you can find the link to enter below my header)and our tummys are through with all of that left over turkey it is time to get those craft supplies out and start creating for Christmas. We had had so many great tutorials shared this week and there are even more in-stored for you! Today we have the FABULOUS Rhiannon, from My Handcrafted Home. She is sharing an awesome advent idea! I can't wait!
So lets all get our craft on with Rhiannon....
-----------------------------------------
I'm really excited to be part of Homemade in December. I'm Rhiannon from My Handcrafted Home.
When Danielle asked me to be a part of it I honestly must have changed my mind about ten times as to what to do! I have so much I like to do and make at Christmas time.
But the things I always remember most are the things we've done together. The time that we've spent as a family. So I made this simple 'advent' board.
Under each peg is an idea of something to do that day.
Some of the ideas we've had are:
Buy gifts for a project shoe box appeal or other Christmas drive

Make a tree ornament
Write a letter to Santa

Make a gift for someone special

Decorate the tree

Make Christmas pudding

Go for a winter walk
Watch a Christmas DVD

Give out Christmas cards

Buy a present for Daddy/Mummy

Have a big family meal
(my sister will be really pleased that I shared this picture!)
Unwrap a Christmas book to read

Play at Grandma's house

Make a treat for some family/friends

Make a snowman

Read the Christmas story

Take a hamper to a family
My daughter and son are already really enjoying these activities, and the best part is that it's completely customize-able! I ran a workshop where 25 ladies each made one, and the ages ranged from 21 - 80 plus (I didn't like to ask specifics!)
It's as easy to make as it looks, but for a full tutorial (and how I managed to still make a mistake) check it out here. And even though we're into December you can write on your calendar different ideas for the run up to Christmas, or create a bucket list for Christmas time.
Thanks for letting me share. I'd love you to stop by My Handcrafted Home. Have a wonderful Christmas season.
-Rachel
--------------------------------------------
My Current Giveaway...
Come and enter to win!
Don't forget to enter the Pajam-Rama contest!
Lots of fun prizes await you!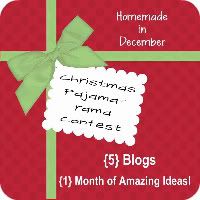 Also tomorrow we have a great lady sharing the Blissful and Domestic Spotlight. Tomorrow you will get to meet one of my fabulous co-hosts!
Jill, from
Creating my Way to Success
will be visiting!
--------------------------------
The Christmas Carnival is up and running.
Come link up all your holiday goodness!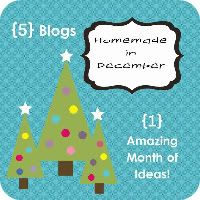 -------------------------------
This post Sponsored by....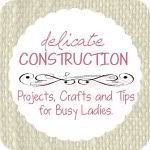 Check out What other holiday fun they have going on....