Hiya all! The kids are sleeping, hubby is reading, and I have some quite time on the computer. SCORE! I am ready for some precious blogging time.....
I just have to start off by giving all of you lovelies a big FAT thank you. I was excited about announcing
My Homemade Year
theme for Blissful and Domestic, but now after receiving such wonderful comments from all of you I am even more motivated and excited. I swear this week I have been greeted with warm wishes in my mailbox and have been so thankful for them. So from the bottom of my heart thank you always for your sweetness and kindness you give me. I know I am one of thousands of blog and I am thankful you choose to come here and visit for a few minutes each day.... You rock!
So before I start with new tutorials for this month I want to post all my pictures from the Christmas holiday. I know if I don't get them posted today I probably won't
(that may be what happened last year:>)
So here we go, starting with Chirstmas Eve. So Christmas Eve is a pretty fun day for us. We start the day off with a brunch at my inlaws. We all meet at my motherinlaws house for brunch. Everyone brings plenty of yummy food to share. We cook together, laugh, and have fun. The kids run around playing and screaming...yes I said screaming, but that is our family. We are a LOUD Mormon family to say the least and we LOVE it!
After we had stuffed ourselves to the gills (my motherinlaws words rubbing off on me), we watched a slideshow about the birth of the Savior. We do try to make sure these munchkins of ours never forget the real meaning of Christmas. After the slideshow and a few Christmas story telling by my sisters and me, it was present time.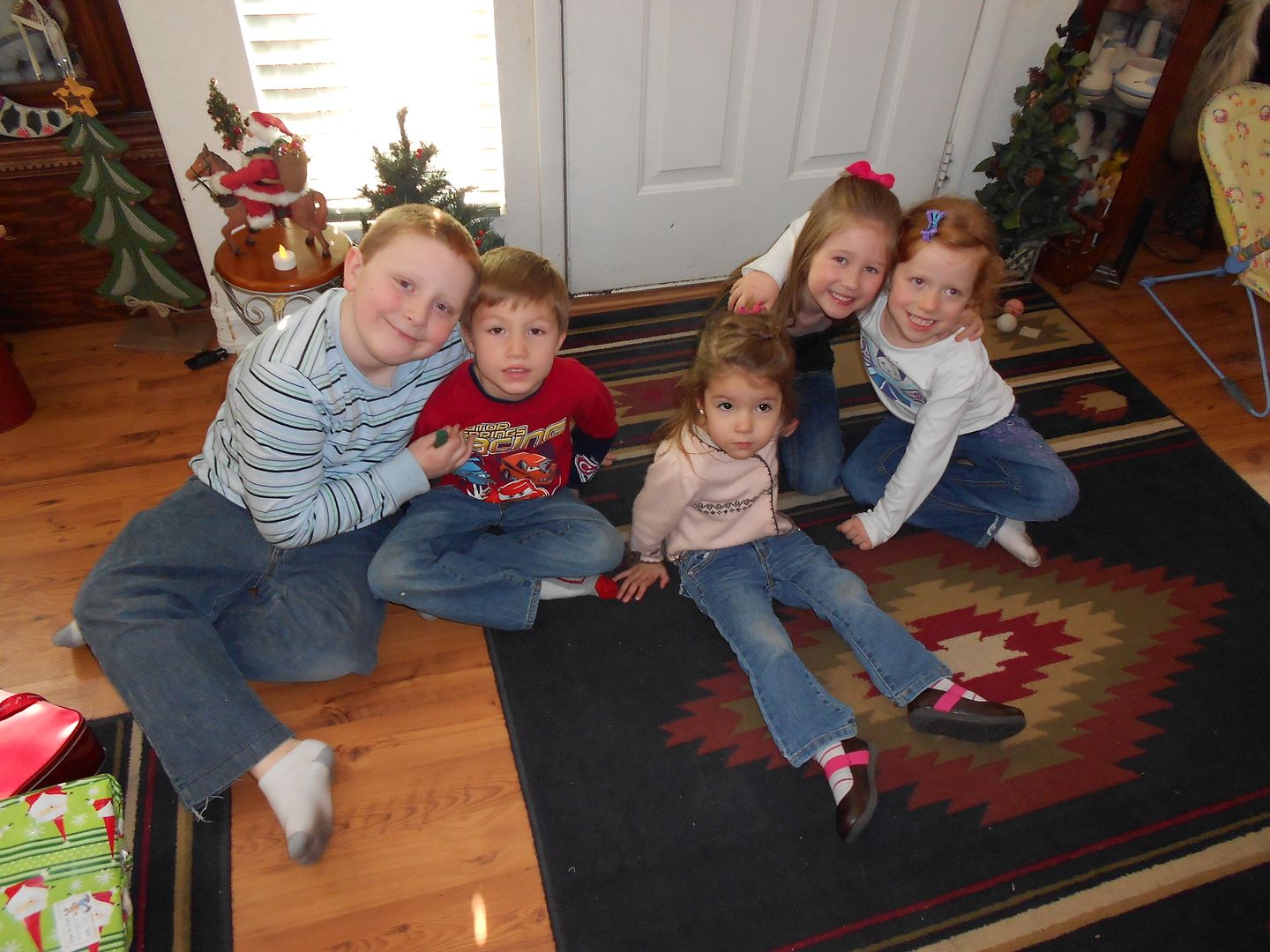 We try to snap a photos of these cuties before the madness of present time begins.
Then the presents are unwrapped. I love seeing their cute smiles as the excitement of their gifts is expresses. These munchkins make all planning and such totally worth it.
Here is just a part of us doing presents. There are about 14 of us and somehow we got to see everyone open their gifts. Because they're are so many of us, the adults draw names for gifts. My sisterinlaw Holly had me and Jason. Here is what they made us! We had a price cap of $10.
My brotherinlaw made the frame and my sisterinlaw added the paint and vinyl. I am so in love with it. She also gave me the left over paint for more craft projects. She knows me so well. Thanks Holly and Justin! It is seriously gorgeous and makes me so happy to see it over our bed. It is perfect!!
Once presents were opened, we spent the rest of the day playing with the kids and chatting. 4 hours later it was time to go home. Seriously time flies when we are all together I LOVE that!
Oh and here is a picture of the Hubb's
He was in a rather Honery mood and not wanting pictures taken.
Good thing I love th mug of his. Even with a sour puss face, he is so dang cute!
Alright so there you have it...
Our Christmas Eve...
The rest of the night was spent having a yummy dinner at home...
Watching a Christmas movie...
opening Christmas Pajamas..
Reading the Christmas Story...
Best Christmas Eve EVER!
Tomorrow I should be back with the rest of our holiday goodness:)