Happy Monday All! I can not believe how many fantastic projects were linked up this week! Absolutely blows my mind. I am sill slowly, but surely getting through all the links. It is important to me to get to visit all your blogs and see what you guys are up to, so if I haven't made it to your blog yet, bare with me.....I am on my way:)
===================
So now that I have slowly, but surely gotten back into the swing of things I have a tutorial for you today. Monday's will be Homemade Mondays on Blissful and Domestic. This is where I can share some Homemade projects I have been working on...wondering what all this homemade hullabaloo is about? Catch up over
HERE
.
Oh and a few of you have asked me how the heck I could go without going to Target for a year! Well let me tell you that it will be a challenge, but a welcomed one. I love Target and usually go at least once a week. I am not a BIG shopper, but I certainly LOVE their clearance sections. I probably LOVE them a little to much if you know what I mean. I know we will save at least $100 a month by not going there, which I am excited for that extra change in my bank account. I am loving the challenge so far and I am loving how the wheels in my head are turning with awesome ideas to share with you all...Now if only I had enough time to blog them all:)
Anyways enough of my blabber...let's get creating today....
Today's Creation is lovingly named
The Frilly Shoulder Shirt
I started out with a simple white shirt I had
(it was originally purchased at Target, but was ready for a refashion)
and a little white tulle I had in my stash
I cut 4 strips of white tulle.
They were each probably about half a yard in length.
I kind of eyeballed it.
I did a running stitch down the middles of my layers of tulle.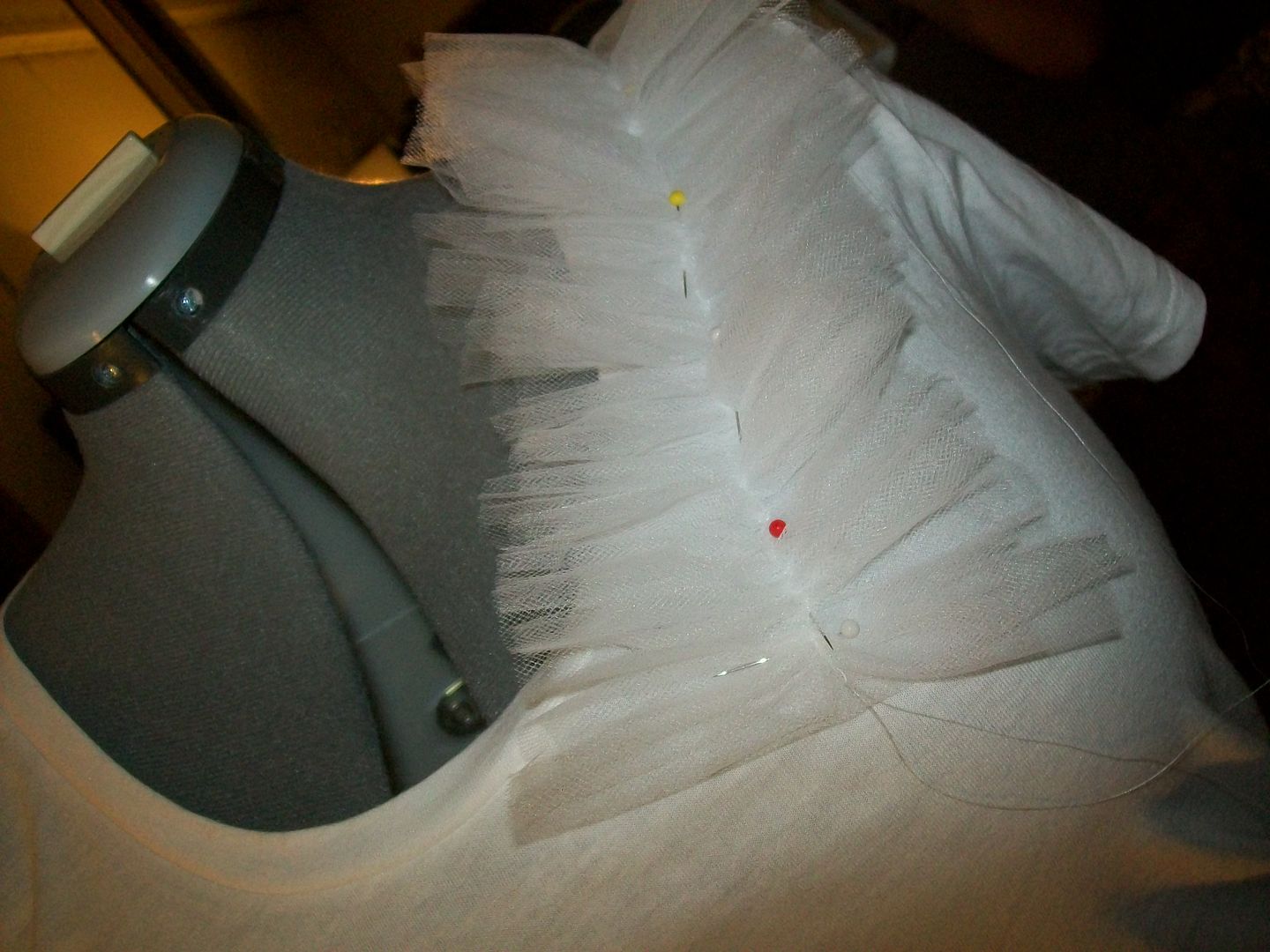 Pin the tulle onto your shirt. I used my Dress form, so I knew where the placement would be on myself, but you don't have to use one.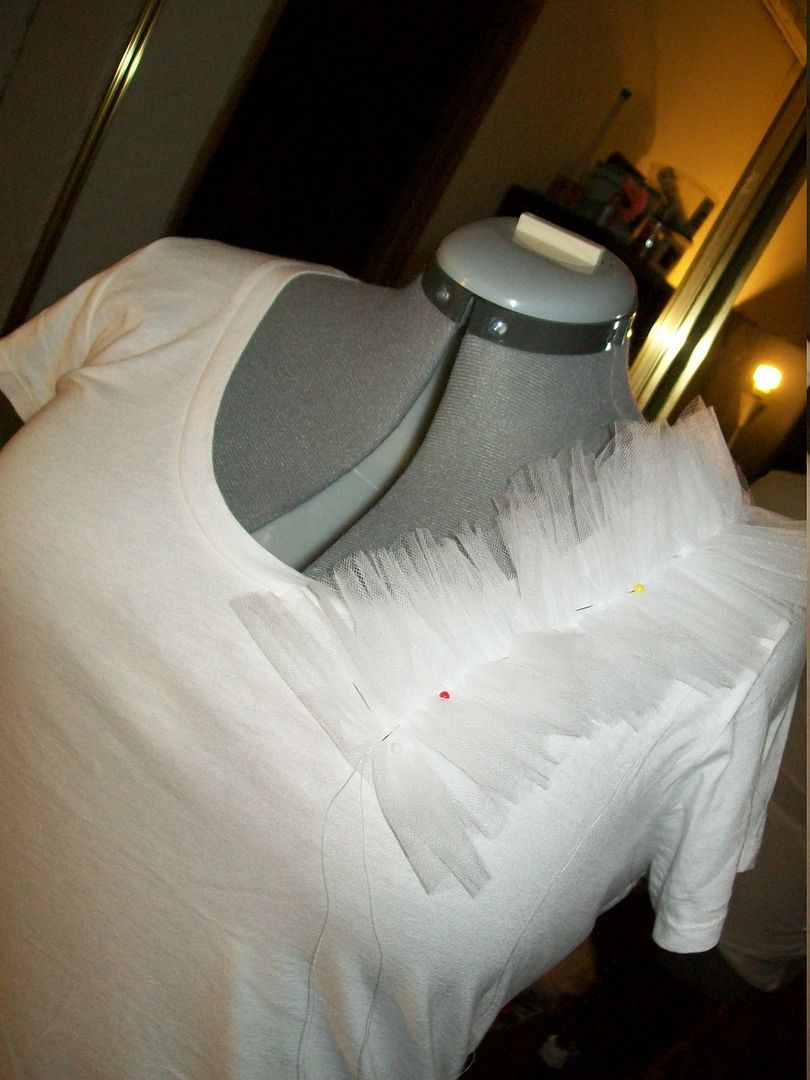 Once your tulle is pinned where you want it, start sewing.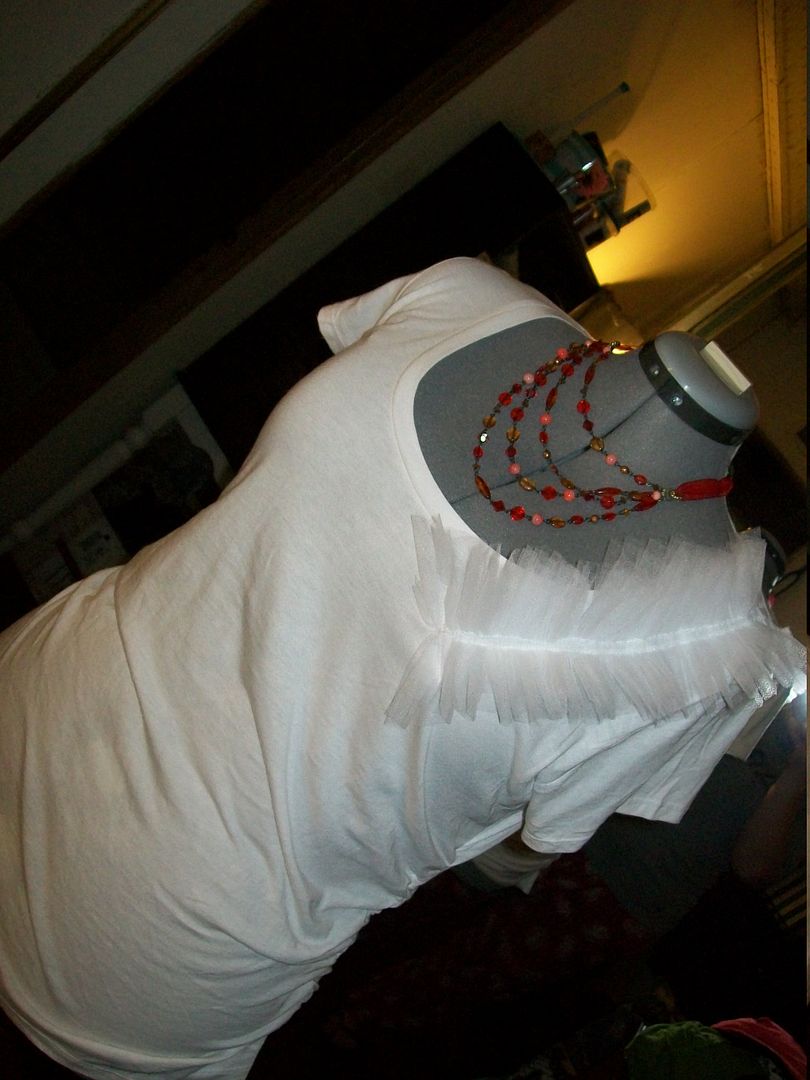 I used a zig zag stitch to go down the middle.
Snip of the excess thread.
Now your done!
A Super simple way to revamp something you already have.
I am thinking more applique shirts are in my near future,
I just love them way to much!
Kinda like these ones I just recently pinned on
pinterest
!
Aren't the bows adorable! LOVE this one!
I would so need another sleeve, but I love the color and the detail!
So pretty!
LOVE the ruffles!
You can definitely put your own spin on some of these great ideas!
Have a fabulous Monday!
Find More Tutorials HERE