I am so excited for our guest today. Amy from
Sewing Room Screaming
is sharing such an awesome Homemade tutorial with us. Amy has a Homemade Laundry Detergent Recipe, which I will definitely be using from now on. So lets get on with our Homemade Monday post for today....
Blog Meet Amy
-----------------------------------------
Greetings and salutaions!
I'm Amy from
Sewing Room Screaming
back here again at Blissful and Domestic to show you how you can save big bucks by making your own laundry detergent. I have always used a liquid detergent and I was a little bit hesitant to try a powder but I am so glad I did! I spent 20 dollars on supplies and I hope to get about 8-9 months out of it- if I can ever stop giving people samples to try.
4lb box of Baking Soda (down the baking isle)
4lb Box of Borox
4lb Box of Super Washing Soda (down the laundry isle right next to the Borox)
Oxi Clean- optional and amount is by preference. I only used 1lb.
3 bars of Fels-naptha soap OR Zote (*I could only find Fels-naptha at True Value Hardware Store. A friend of mine found Zote at Shoppers Grocery Store. And apparently you can also find Zote at Home Depot)

Using a cheese grater, grate the soap.
Using a 13gal trashcan lined with a strong trash bag mix all the ingredients together. I mix a little bit of each ingredient one at a time and reapeat. That way you have 4 layers of the combined ingredients.
The trashbag makes it easy to mix and pour into a sealable container if you just nip the tip of one of the sides of the bag with scissors the powder with easily pour out.
I have a high efficiency washing machine and this works fine for me. It smells GREAT! My whites have never been whiter, even without using bleach. I have also NEVER gotten any clumps in my wash and the soap dissolves in water. I use about 2 tablespoons per wash.
My Laundry Detergent
Create a funky label at
Picnik
like I did. Use this detergent for yourself or divide it up and put it into mason jars and give it away as a gifts. Nothing quite says friendship like telling someone "Hey, you stink try using my laundry detergent I made specially for you stinky."
Come, visit, and follow me at
Sewing Room Screaming
to learn how to make Homemade Fabric Softener and also check out my thriftstore upcycles. You won't be sorry!
-Amy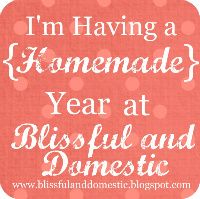 For more Homemade Monday Posts click
HERE
.