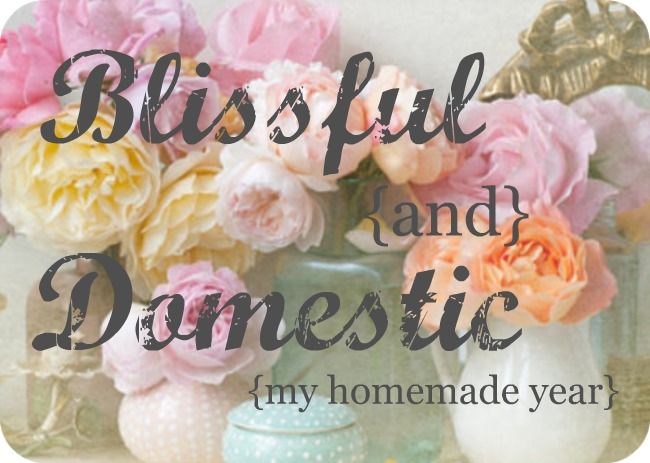 Hello Lovelies! How are you guys doing in 2012? I hope you are doing fabulously!
I am so excited to share with you some of my new ideas for Blissful and Domestic. I am sure you have noticed a few cosmetic changes going on around here. Over the past week I have been hard at work revamping the ole' blog.

Today I am introducing my theme for the new year. 2012 will be my homemade year!

Let me tell you a bit of background before I dive in..

This idea came to me in November.

We have a tight budget that we follow each month.

There is very little wiggle room.
I know I can't be the only one in this boat.

My hubby is a college student, who has been out of the army for over 2 years.
We live on a limited income and somehow things always work out each month.
The bills get paid, food is on our table, and we're happy!
But I want us to be able to start saving for a rainy day; thus, my reason for a Homemade Year.

Here are the details.....

----------------------------------------

I love re-purposing, sewing, cooking, etc and have decided to take it up a notch. This year is going to be my Homemade Year. A year full of homemade goodness. A year where everything is going to be homemade. From presents, to clothes, to bread and meals, to decor. Everything will be re-purposed or created from scratch. I want to save money this year and hopefully inspire others to do that as well! I know money is tight everywhere right now, and I want to show how my family is making it through these hard economical times. My hubby goes to school for criminal justice and I am a stay-at-home Mom, so our budget is tight. I want to show how we can make ends meet and have a little fun as well! To do this I am dedicating myself more this year. I really WANT to save!
I have set a few rules for myself as well....
I will only go to Smith's and Wal-Mart for groceries
I can spend $40 a month at Thrift stores
I can spend $20 at Joann's or in Wal-Mart's sewing section
No Target
No Dept Stores
Completely handmade by me!
and Completely on a BUDGET!

There will also be an awesome NEW LINKY PARTY where you can link up
your Homemade ideas as well!
I want to give my family homemade goodness each day and clothe them in it as well. This year is going to be an adventure and a challenge and I can't wait to have you come along with me. I will share all the tips and tricks I learn along the way. So sit back and relax and let's enjoy Blissful and Domestic's Homemade Year.
Want to join in the fun...
Take the challenge or just Spread the word!
Grab a Button!
Follow me on
Facebook
Follow me on
Twitter
Browse my
Pinterest
Follow me with
BlogLovin
Send Me an
E-mail
Link up at
My Party