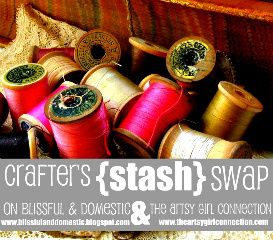 Alright lovelies! I am so dang excited about today! This has been in the works for sometime now and I have been crazy giddy with excitement to share it with you all! So today begins the Crafter's Stash Swap on
Blissful and Domestic
and
The Artsy Girl Connection
.
What is a Crafter's Stash Swap? Well let me give you a run down. Do any of you have any craft things that maybe you bought on a whim, maybe they are left from a previous project, or maybe they are a thrift store find? I am sure we all have things like these in our stash. Goodies that we have just not found a use for or have grown tired of. Well I have a solution for you! Swap your stash! That is what Marilyn and I did earlier this month. I packaged up some goodies and sent them to her and she did the same for me. See all the fun stuff she sent me. Oh and seriously at least half of these are going to be used in projects I have been working on. It is like she read my mind.
Want to swap your stash too?
Well here is how you do it. It is seriously so simple.
First off link up
your blog
below. We would love for you to follow us, but it is totally not mandatory. We want this to be simple and fun folks. Next send Marilyn or I an e-mail.
Put "Crafter's Stash Swap" in the subject and send too:
Danielle - Blissful and Domestic
Blissful_and_domestic@yahoo.com
Marilyn - The Artsy Girl Connection
theartsygirlconnection@gmail.com
Please include your mailing address
(Sorry this time around we are only opening this up to US Residents)
Answer these three questions:
This is so M and I can better partner you up with someone with similar crafting likes.
1. What would you say is your crafting favorite?
Are you a sewer, crafter, scrappbooker, knitter, crocheter, etc.
2. What are your three favorite colors/patterns?
pink, blue, damask, etc
3. What is your favorite thing to create with?
fabric, paint, re-purposed items, tape, felt, etc.
This information will not be seen by anyone else. Once you are matched up we will send your info to them and then delete the e-mails. Your personal info will not be saved.
Promise.
Last grab a button and tell your friends about it.
Lets all join in the fun!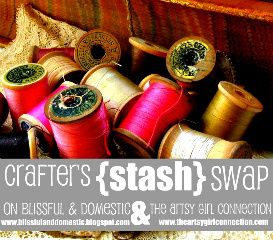 The only real thing I ask is please do not sign up if you can not send a package to someone.
It is not fair to receive and not give. So please be kind.
We will allow everyone to sign up until March 31. The linky will close then. We ask that you send your craft stash packages out by April 9. We will be back here on Blissful and Domestic and The Artsy Girl Connection with another linky party at the end of April. This will give you plenty of time to show off all the goodies you receive. You don't have to show off, but it is totally fun to do so!
So there you have it. All the details. Now are you ready to join the fun?
Link up your blogs below.
Also if you do not have a blog, no worries. Send me an e-mail and we will get you hooked up.
We want this to be fun for all our readers.