Alright lovelies, I am super excited because today BandD got a new fabulous sponsor! Fat Quarter Shop is now a fun new sponsor on Blissful and Domestic. I am way to excited about this. .

Their fabric selection is seriously amazing. I have been trying to decided what fun fabric I want to buy this month. I am torn between
this one
and
this one
. Any suggestions? I just can't turn down a fun damask print. I am such a sucker for Damask. I wish my whole house was in Damask, but hubby thinks that would be a little extreme. I guess he has me on that one, even though I would be one happy lady with damask walls:)
Enough of my fabric envy. I will stop drooling over the awesome colors and prints. I am working up some fun projects too. During Spring Break, hubby is redoing the floor! I am seriously beyond excited! I basically think of nothing else. We will have fabulous hard wood floors. Can't remember what our floors use to look like? Well they were
originally this
when we moved in and become
this
after hubby's hard work.. Our little HUD home definitely has come a long way and we have big plans for this abode. BIG plans I tell you. Hopefully in the next month I will be able to reveal some of these projects. We are in need of home Picture updates, I know.
Anywho I forgot, you are here for the linky party. Enough of my going ons.....
before we get started, here is what was LIVE on Blissful and Domestic this week:
In numerical order, no less
Homemade Hamburger and hot-dog Buns
Date night on the Cheap
Marshmallow Popcorn
Cutting Your Groceries in Half: Freezing Your Milk
Bowdabra Giveaway
Lemon Breaded Angle Hair Pasta
Apple Cinnamon Oatmeal
Georgetown Cottage Crafts
Chocolate Pancakes
Lots of fun this week. Now are you ready to party? I know I am!
Here are the rules.....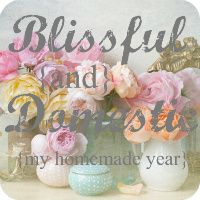 Follow Blissful and Domestic
(Grab a button or add a link.)
Link up YOUR recipes, crafts, ideas, projects or fun posts to share.
Please no etsy shops, giveaways or advertisements.
New or Old Post Work!
Link up to your post, not your main blog.
Visit some of the other links
and HAVE FUN!