Alright first off go back and read the title and imagine me dancing and singing... That is how dang excited I am about this new flooring. The Hubbs has talked about this flooring for literally a year folks. He had this vision and it is finally coming to life. I love how that works out. He is doing everything himself, which to me makes him a super hero, but of course I think he is always a hero. I may even call him a FREAKING HERO at times.
Also the greatest part is we are paying cash for it all! Yep...How about another WOOT WOOT! All I can say is thank you Government. That tax check is being put to some good use. I also got a new vinyl machine, but that is another story entirely, which I will dish later.
So right now we are in the processing stage of the flooring. The wood is all laid throughout the living room, kitchen, and hallway. Sanding and staining still need to take place, but we are waiting for Spring Break. That is when the kids and I go on a mini vaca to stay with family and hubby works like a mad man on the floor. I am so dang excited! Oh wait I already mentioned that:)
So ready for the pictures I promised last week? Yep I am slow. Sorry guys.
Here is how everything progressed.
Oh but don't forget how it all started
in the beginning
....
now onto the progress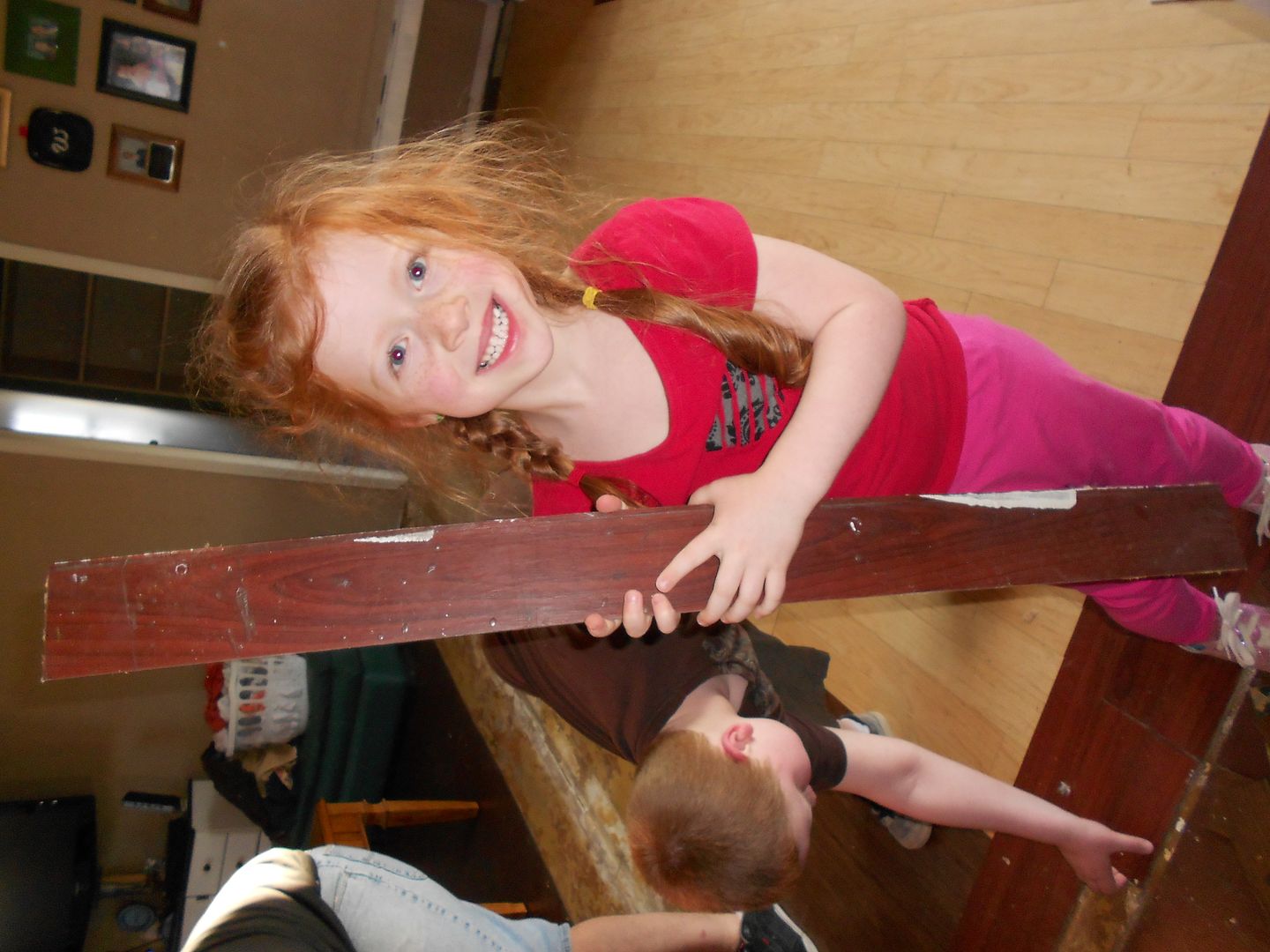 We got the littles into the action of tearing up the old floor
Me no makeup and all.
Just wanted to prove I did help....a bit
I was a great sweeper:)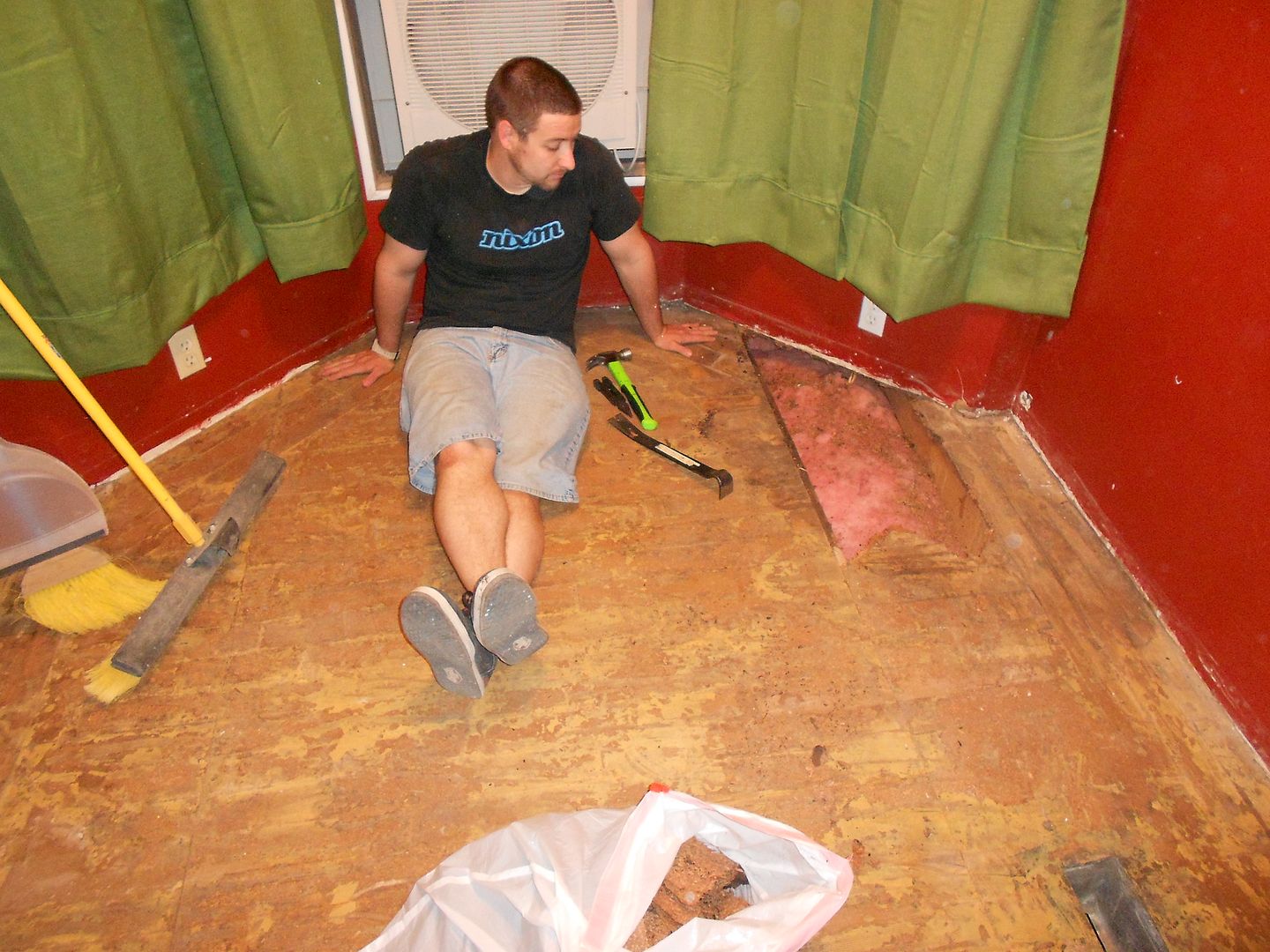 Holes in the floor were fixed.
The people that lived here before left a bit of water damage.
Good thing Hubby knew how to fix it.
So grouse once the old flooring was pulled up.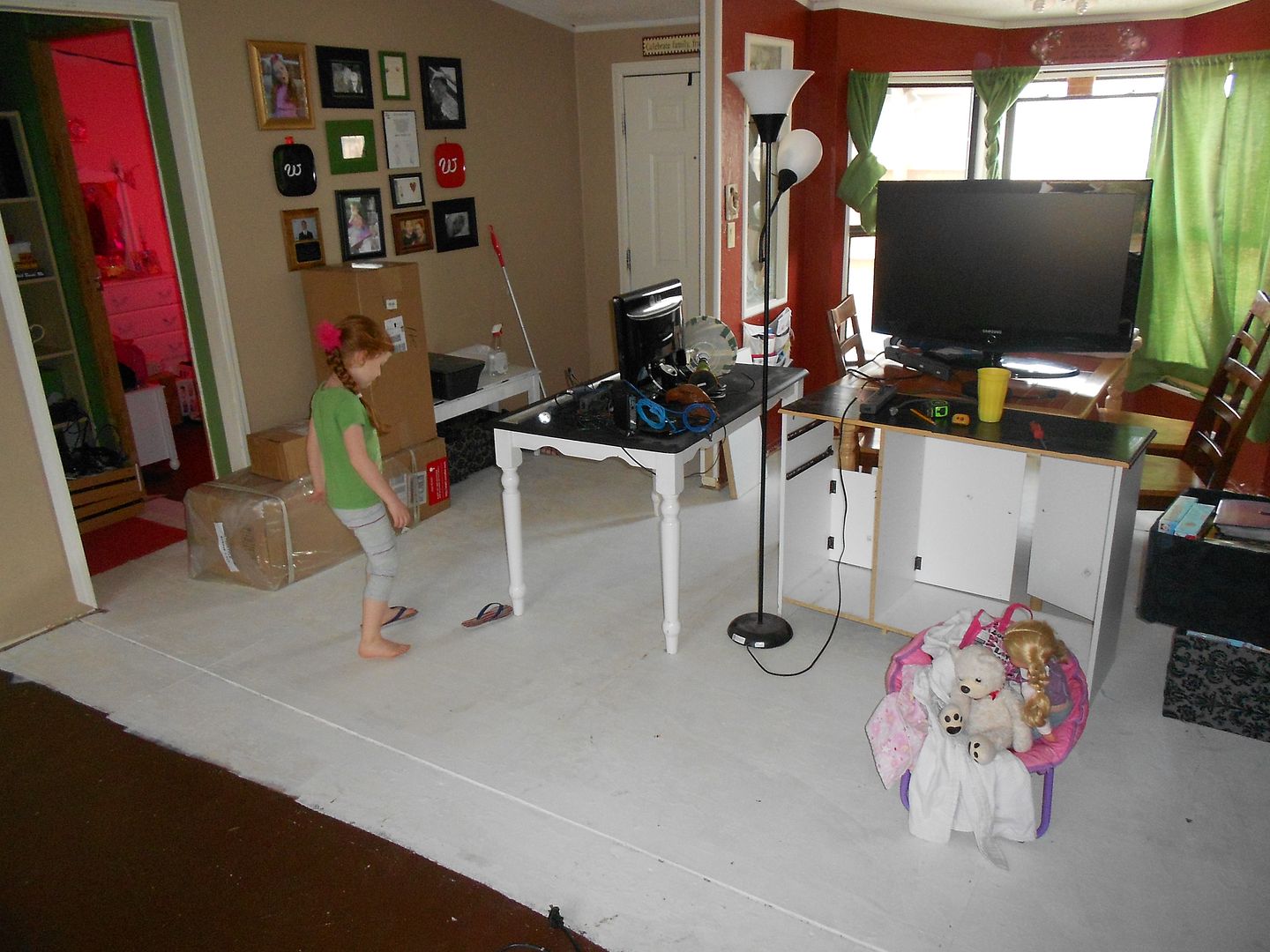 A Primer was put on the bottom flooring to "seal it" as Hubby told me
He started out with 8 foot boards and 4 foot boards. He alternated them and went from there.
Yep that is lawn furniture. We are real classy
This provided much entertainment for the kids.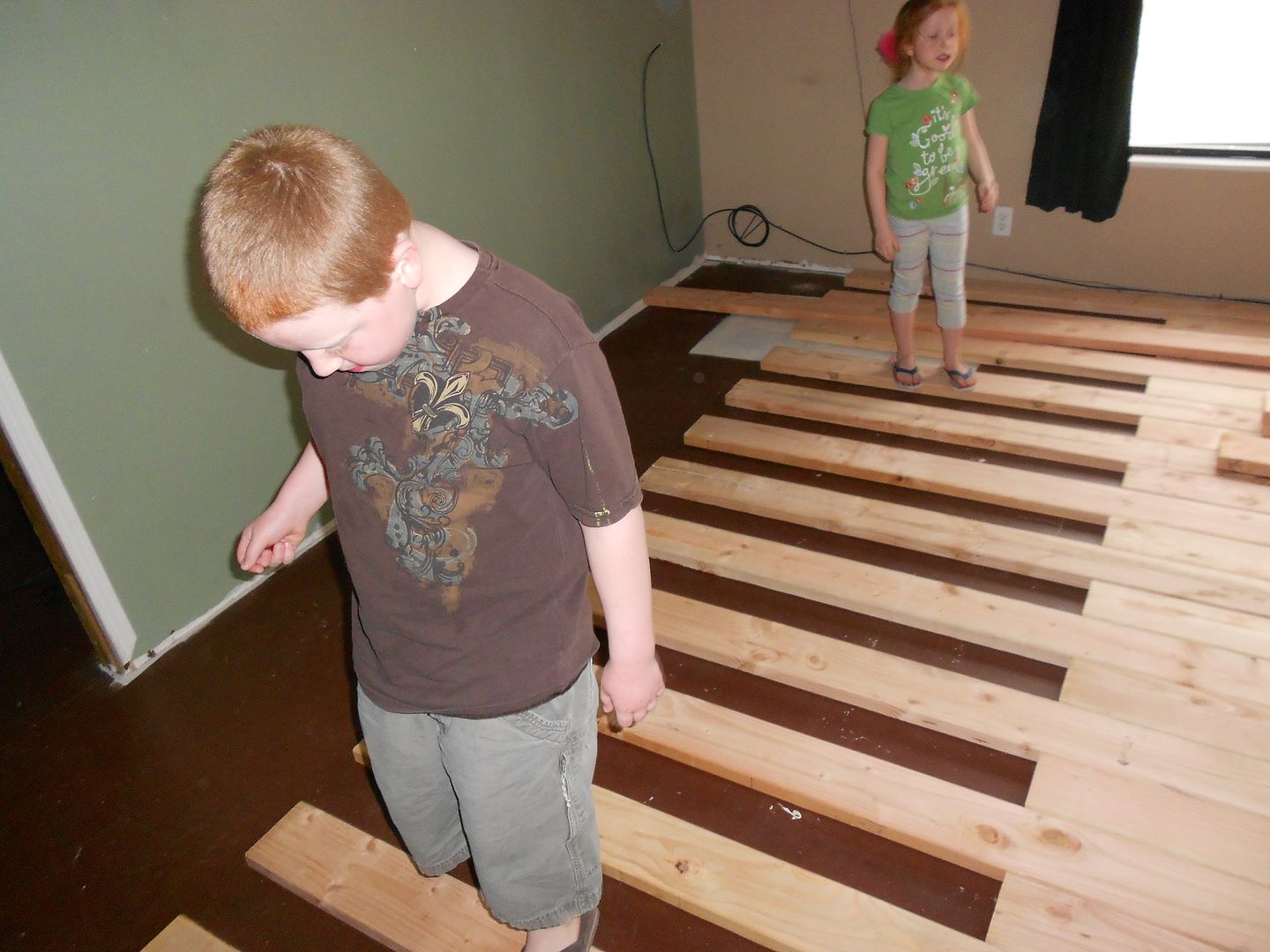 and here is how it is looking right now.
Remember the sanding and staining still needs to take place, but I am in love already.
I still need to paint the end tables and coffee tables black and I am on the lookout for the perfect rug to warm our toes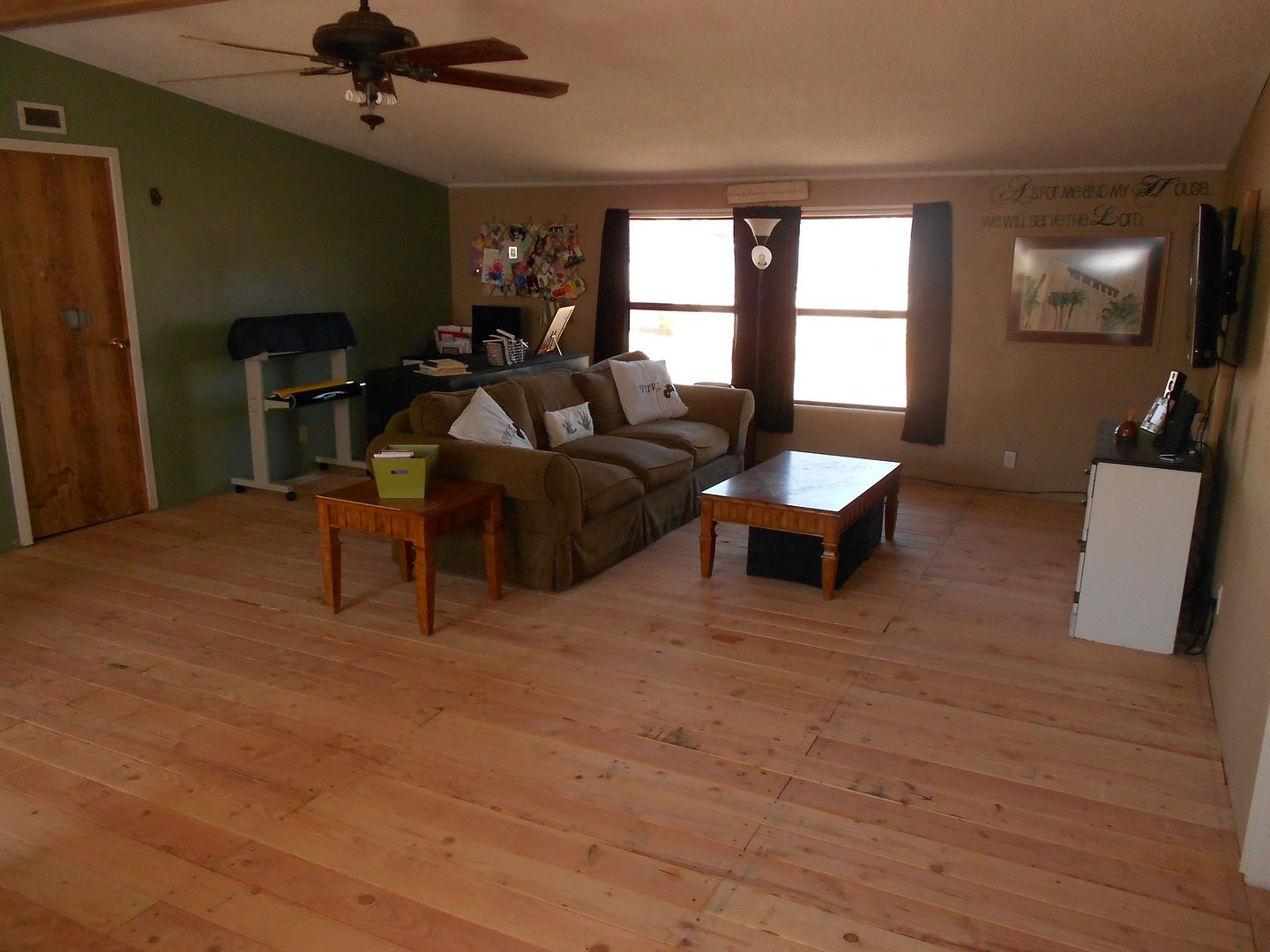 I love how open our house is. We try to keep it simple. Plenty of room for littles to run around and play.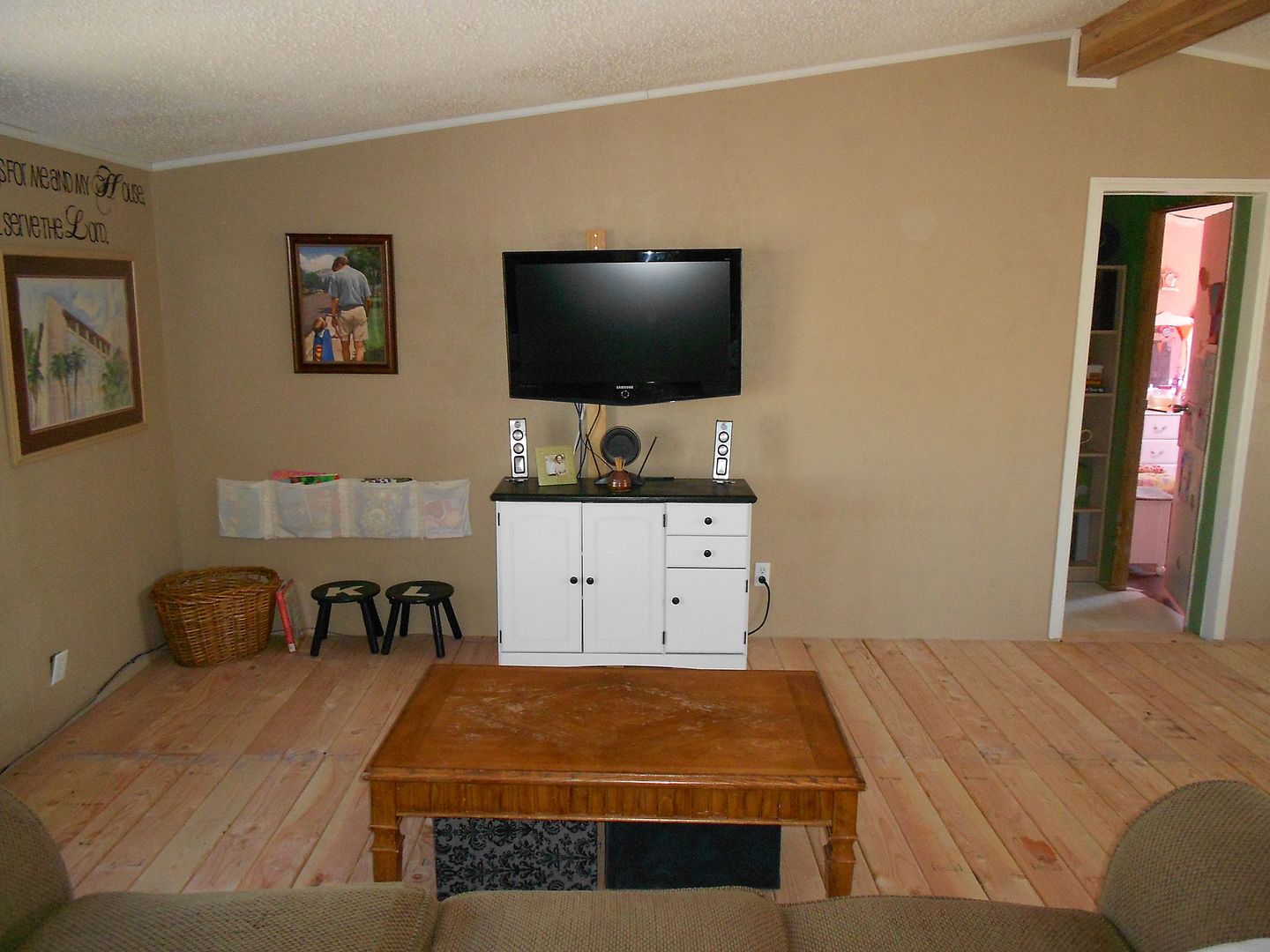 See how I made
the stools here
.
Here is a look at my black cabinet Hubby built for me.
I still need to add a fabric curtain to hide the school supplies.
We sectioned off part of the living room for a mini office area too.
And there you have it. I can't wait to see how it will look once stained.Very excited to share all the projects we have in store over the next few months. Big plans we have! Big I tell ya!
Want to see the transformation our home has undergone.
See how it all began
Our Home Part 1
Our Home Part 2
Our Home Part 3
Our Home Part 4
Our Home Part 5
Our Home Part 6
Have a fabulous day lovelies!