This post was originally published on Bowdabrablog.com
Also Bowdabra is doing a month long Giveaway for the month of March. Hop on over and enter to win. They have some great prizes up for grabs to celebrate National Craft Month.
---------------------------------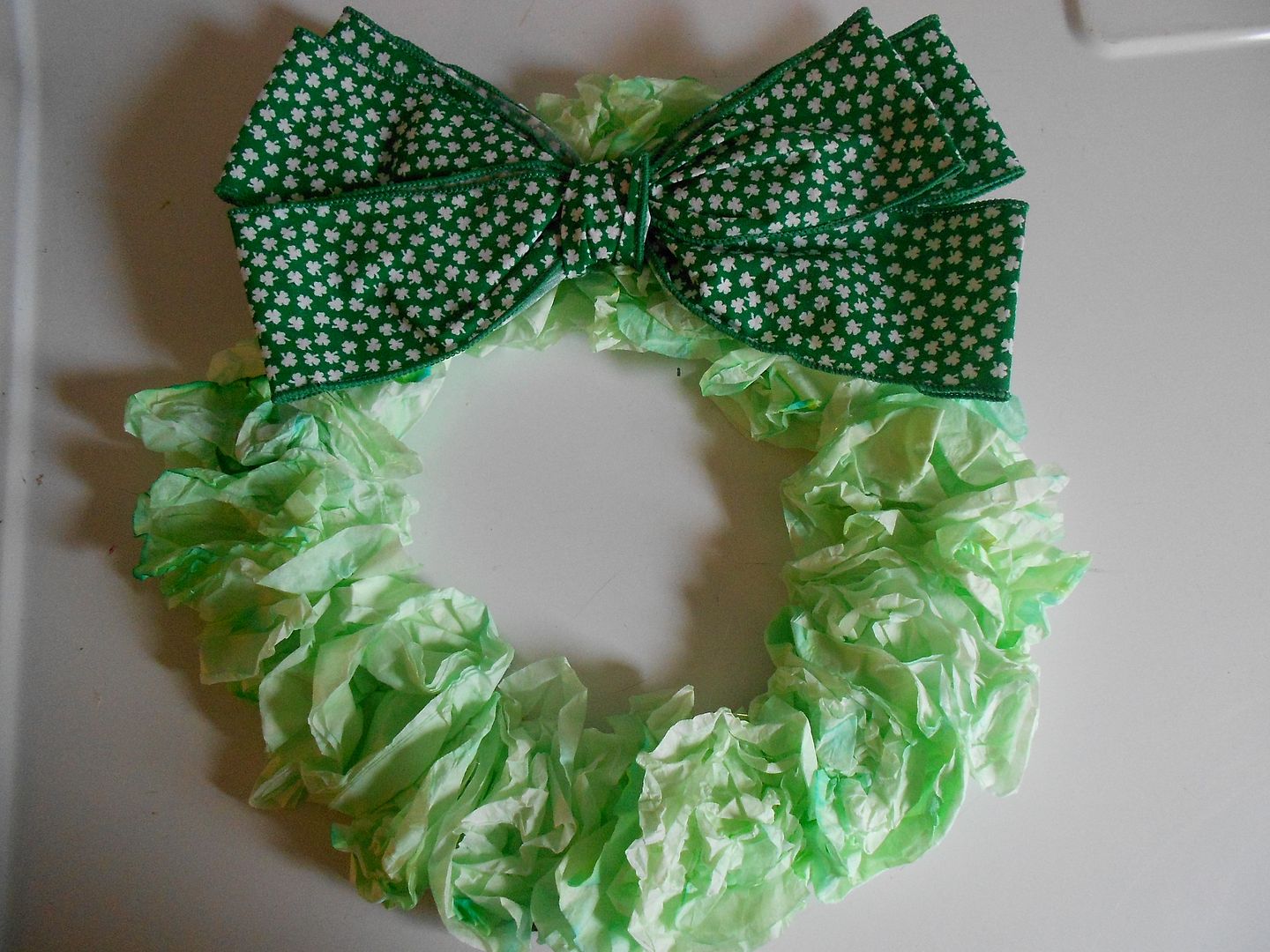 Alright lovelies! I am very excited to share
another coffee filter wreath
with you today. I shared my first one last month
HERE
, and am now back with a St. Patrick's Day themed one. Yep we are going to make our filters green and all ready for that lucky holiday. Don't know how to dye coffee filters? Well let me show you. There are many ways to do this, but this is how I did mine. This was the simplest and easiest way when wrangling littles ones at the same time:)
I started out with a pot of water. I added green food coloring to the pot. The more food coloring, the darken the dye will be. I was going for a subtle green, but I think next time I might try something a little darker. It is really up to what final look you are going for.
I used 1 full pack of coffee filters, but to be honest I still have at least half left for more creative projects to be made with. I seperated my filters and stuck them into the pot of water. I did about 8 at a time.
I then let them soak for a few minutes.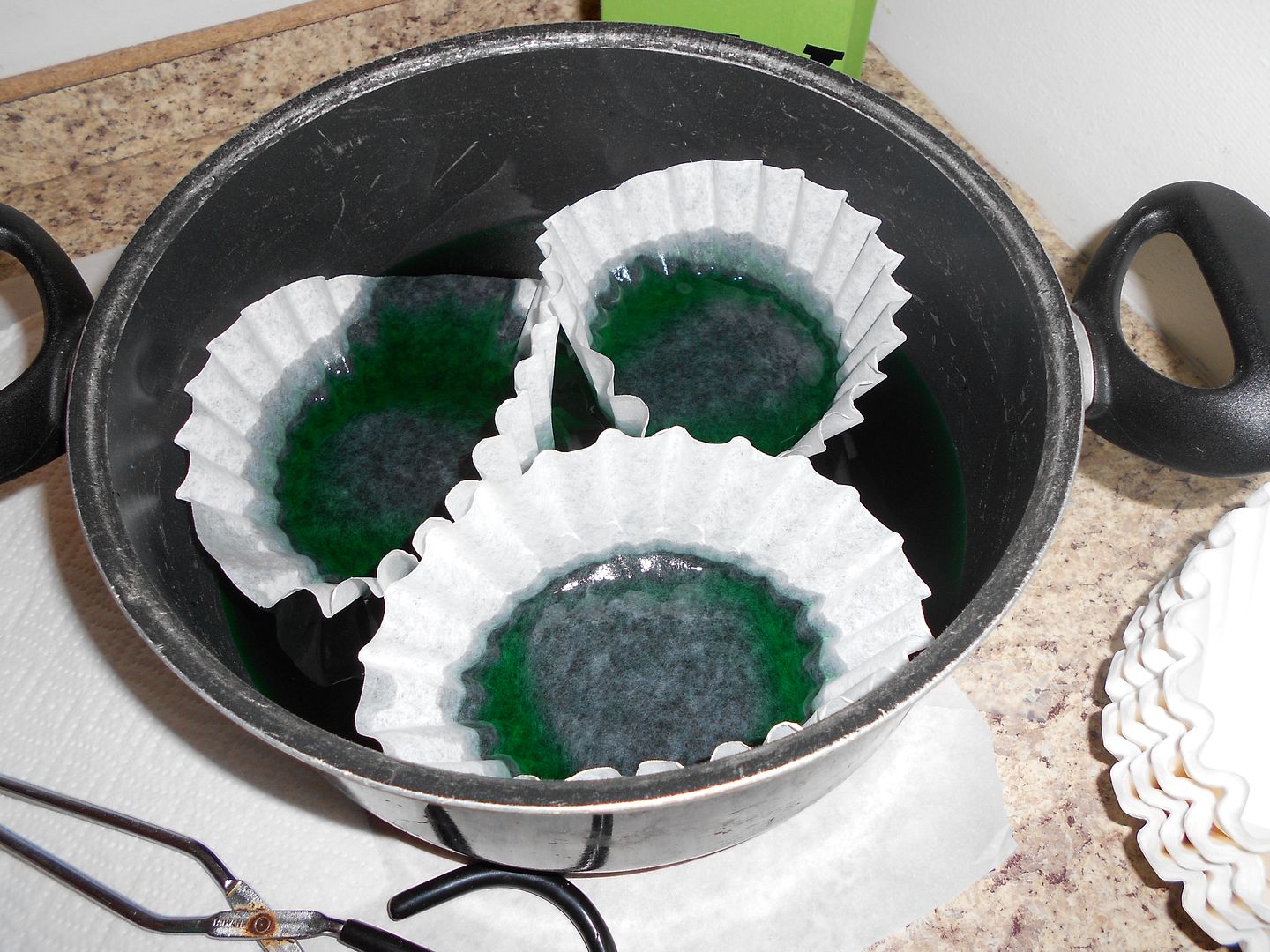 I had previously layered my counter with parchment paper and paper towels.
This is where I placed my filters to dry. I let them dry over night.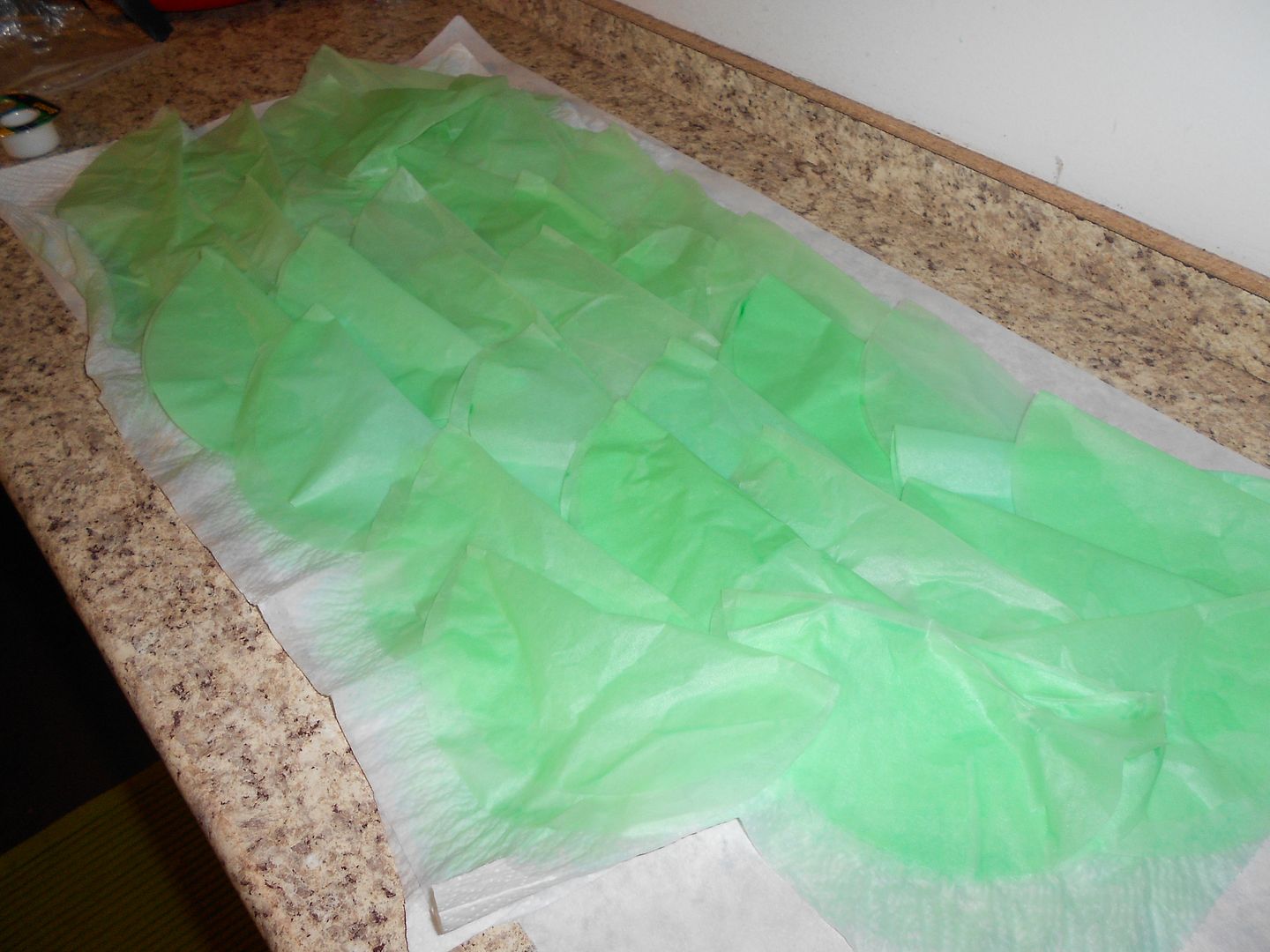 I ended up even trying blue! I didn't use them in this project, but am hoping to use them soon.
Dying the filters was just way to fun not to try more colors. Too bad I ran out of food coloring or I would have tried all kinds of color mixes:)
Once my filters were dry I was ready to start my wreath.
I started out with a plain piece of cardboard. This was left over from some packing material we had recieved in the mail.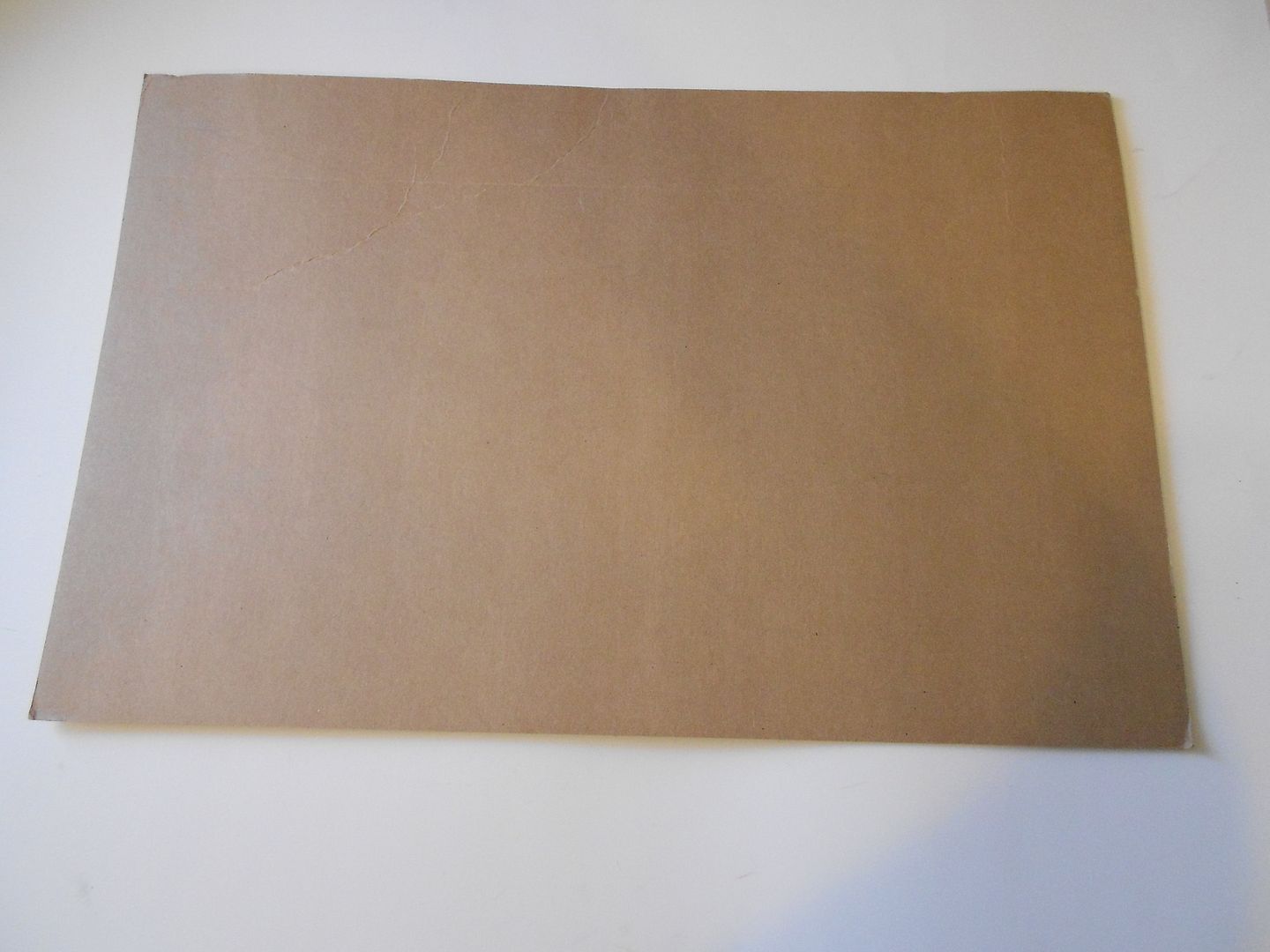 I cut a circle out of the cardboard. As you can tell my circle is not perfect, but no worries.
You won't be able to tell once you make the wreath.
I took one filter at a time and scrunched them into a ball. This gives them a crinkle effect.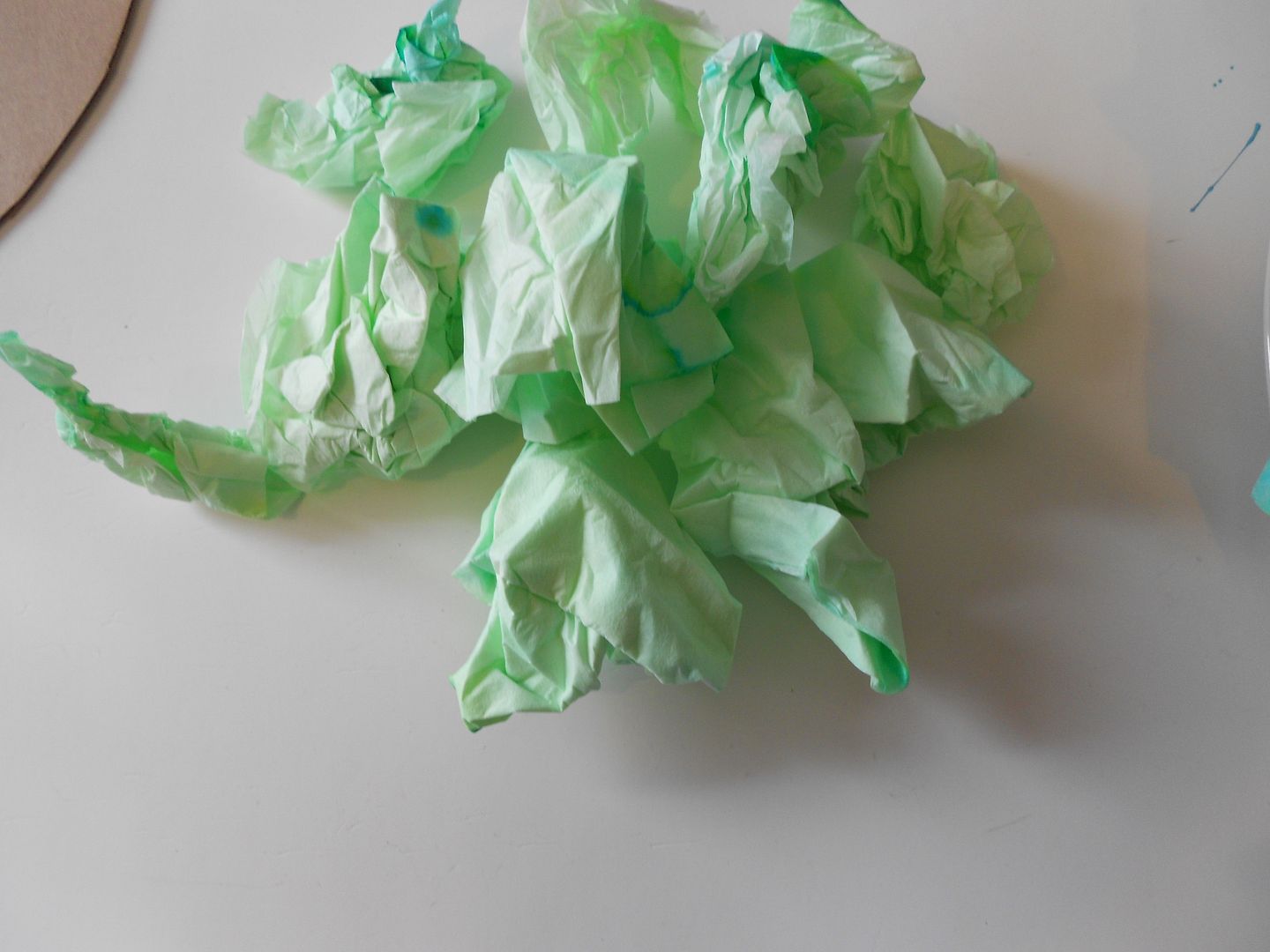 I then unfolded them and folded them like this: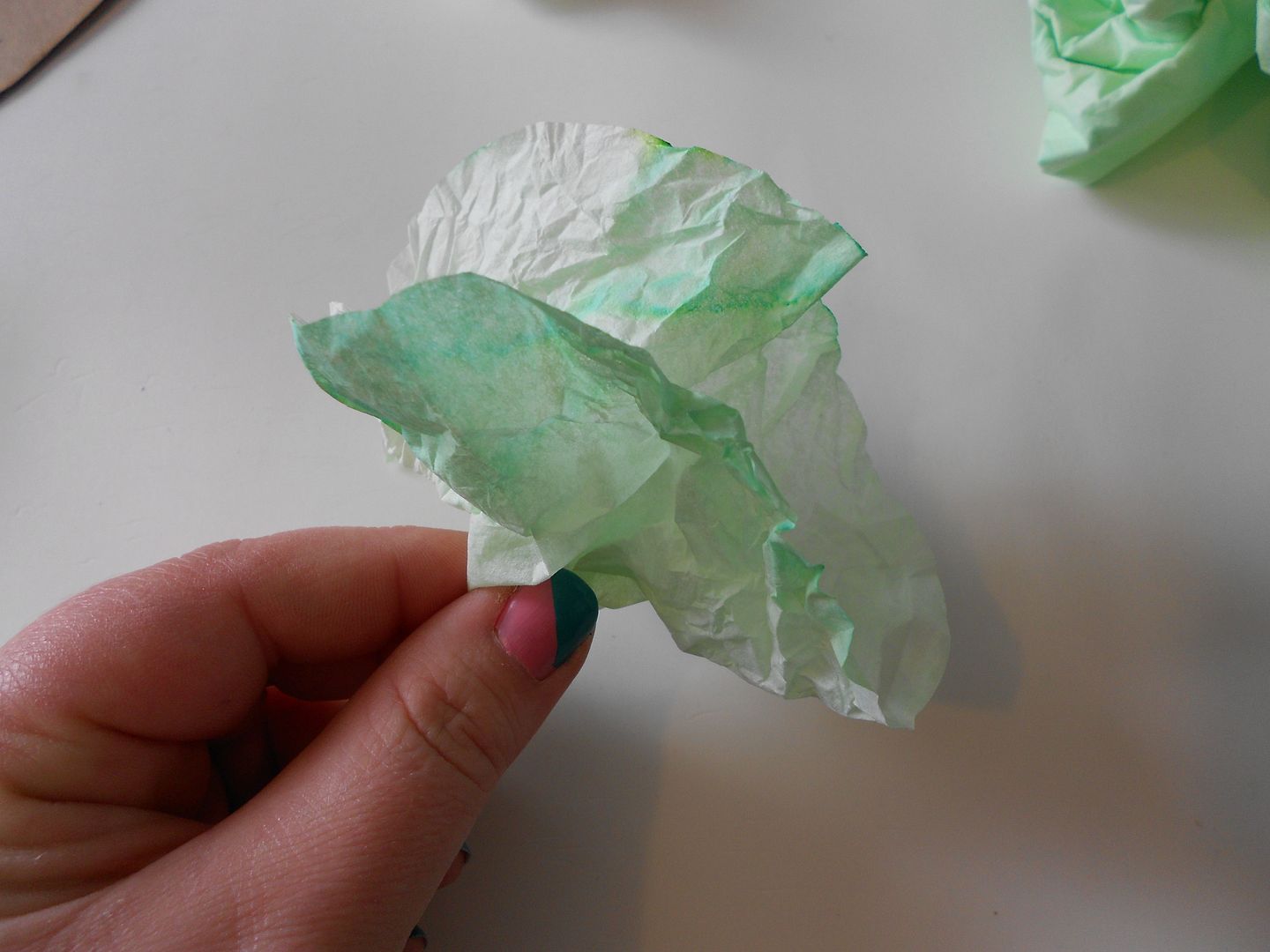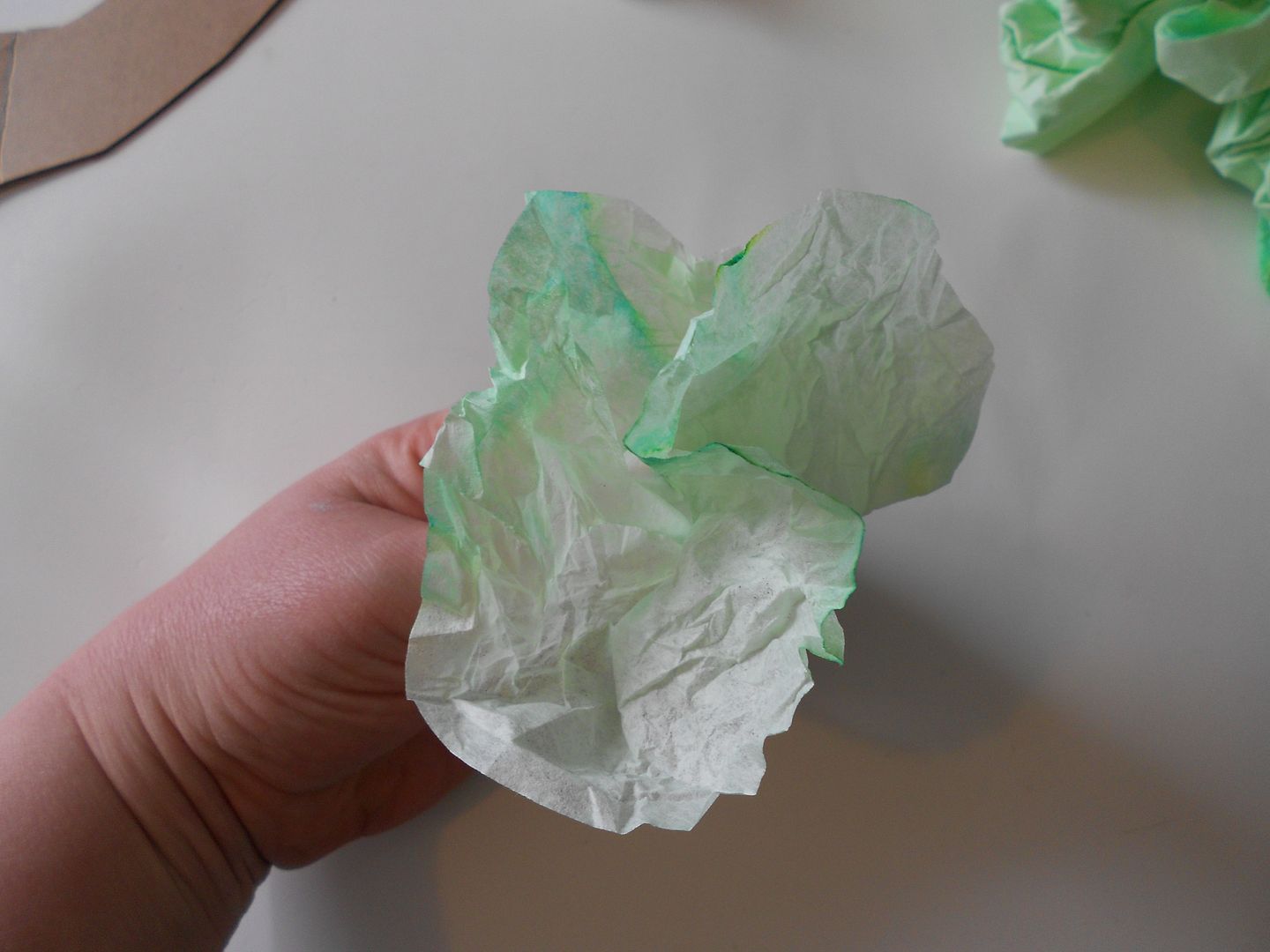 I then hot glued them onto my cardboard wreath form.
Once they were glued I re-scrunched them a bit.
I really liked the way this looked. It kinda reminded me of crepe paper.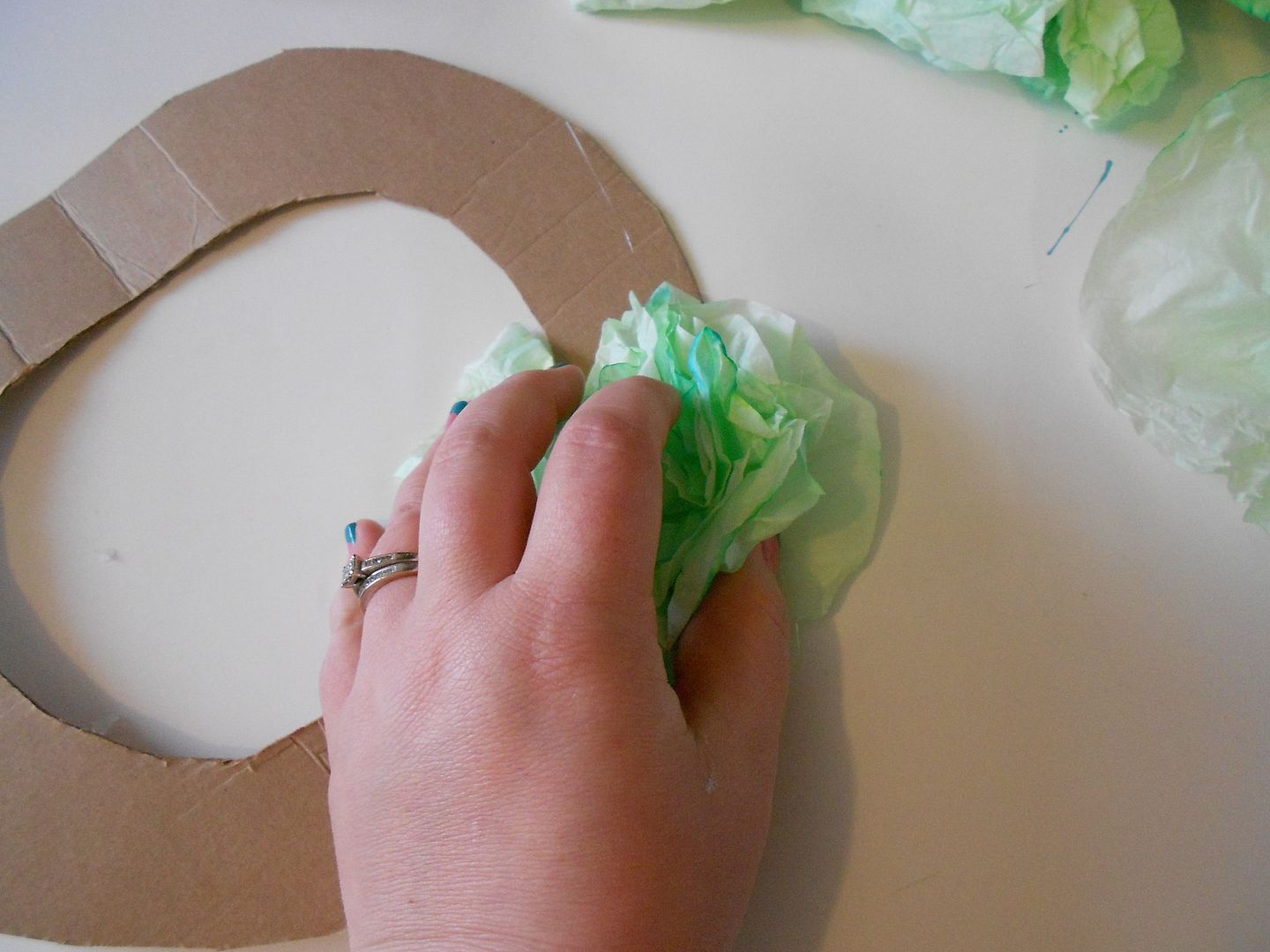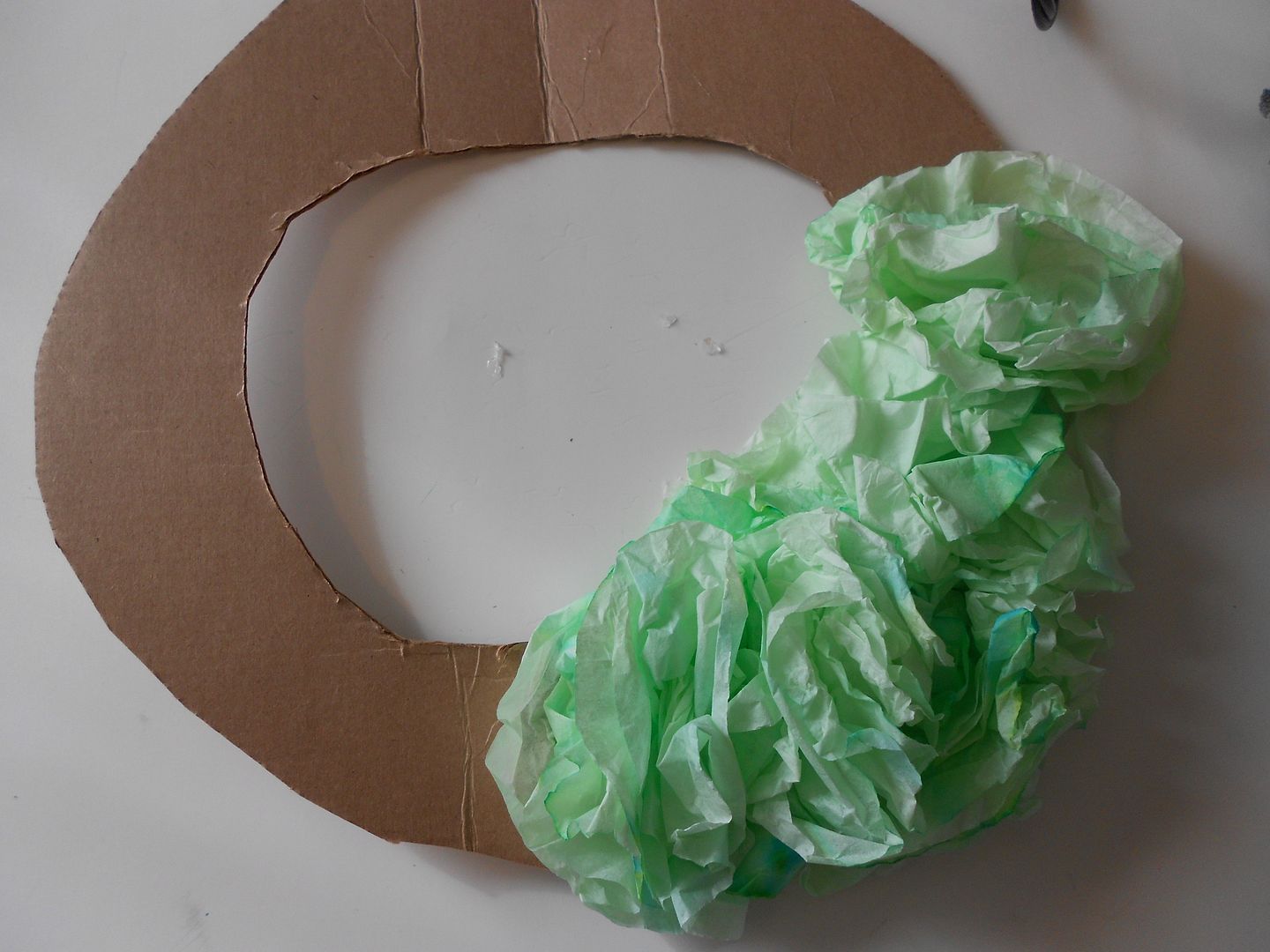 Do this again and again, untill your wreath form is covered.
Now that you are done with that part, you can move onto the bow.
Here is what you will do to make your bow:
Cut 24 inches of Bowdabra wire. Place it into your Bowdabra. Take the end of the ribbon and twist the side that has the longest end and place it right side facing downwards into the Bowdabra. This is the beginning of your first loop.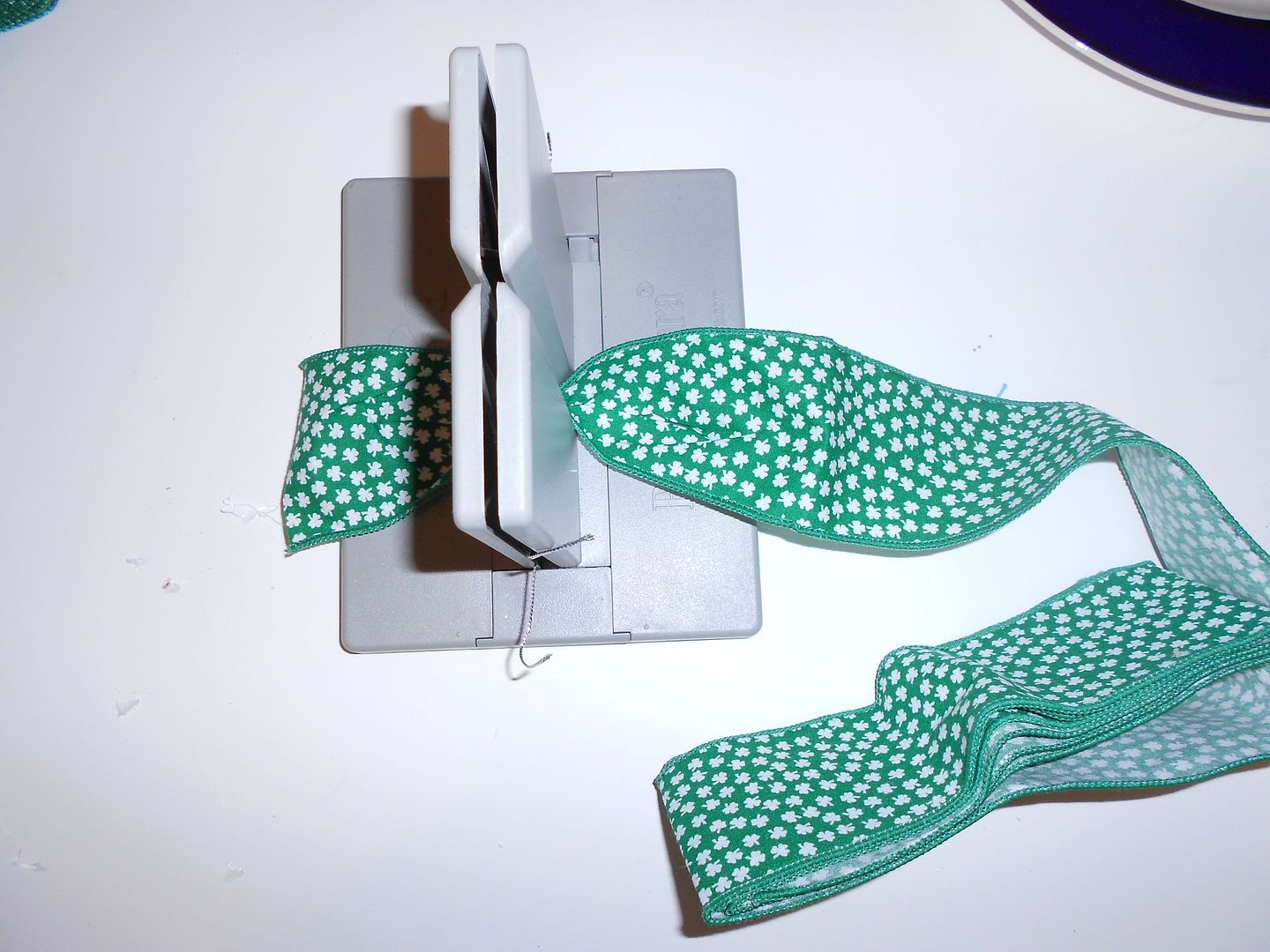 Continue folding your ribbon into your Bowdabra, making loops.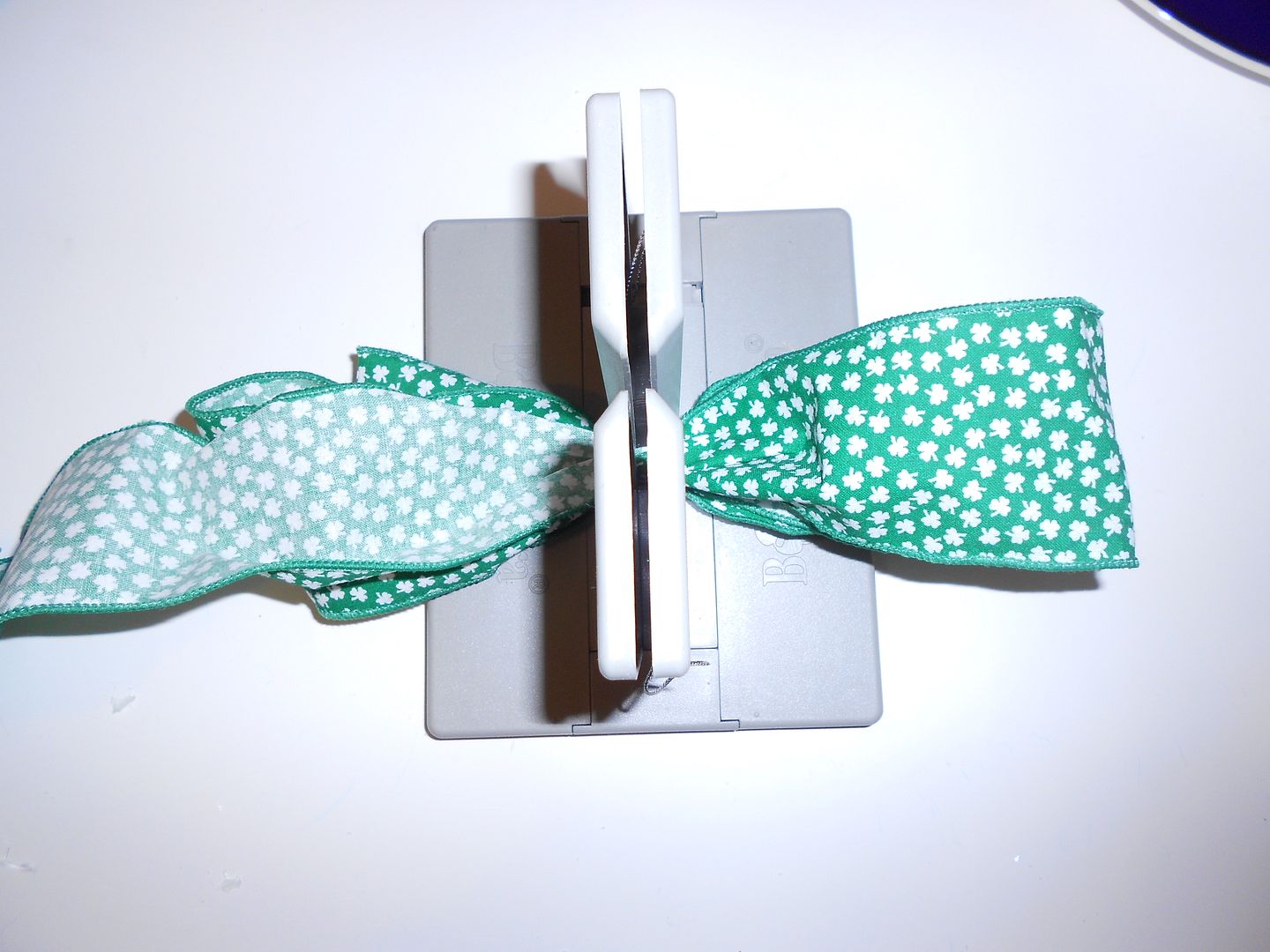 Continue to create as many loops as you want, depending on the fullness
of the bow you prefer at the end.
I have about 6 loops. I kept my bow flat, but you can totally fluff it out for a more full bow.
Once you have achieved your desired ribbon width scrunch down the ribbon with the Bowdabra wand. Tie with your Bowdabra Wire. Take a scrap piece of ribbon to tie around the middle of your bow.
This will hide the Bowdabra wire.
(do this only if you are keeping your bow flat like mine)
Glue your bow onto your wreath.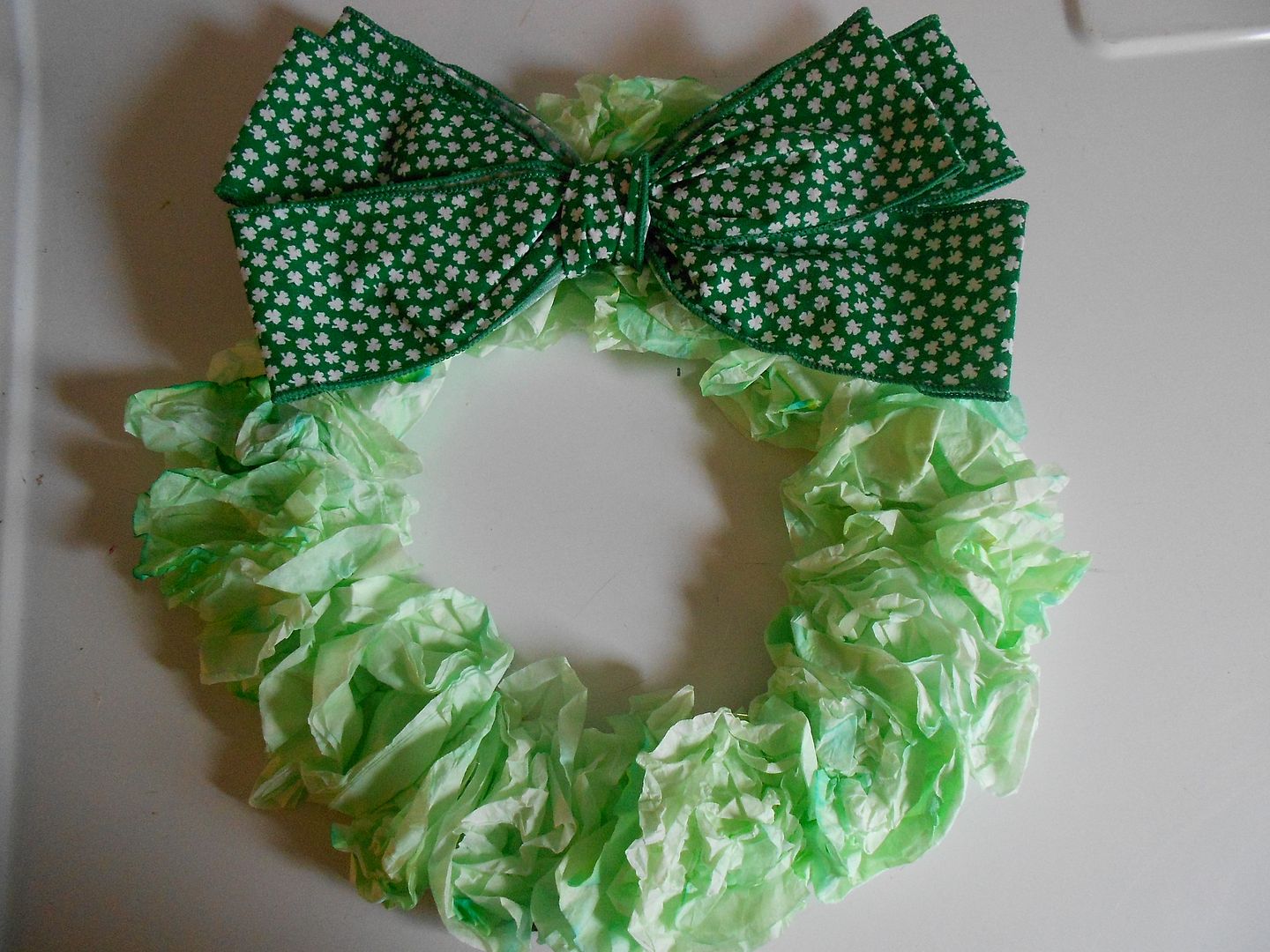 Now your done! Enjoy your wreath
Need more St. Patrick's Day ideas?
Click HERE
Have a very Happy St. Patrick's Day!