Happy Monday Lovelies! I have officially NOT been on a diet for two weeks and it is seriously rocking. I am quite proud that two weeks have gone by and I am still going strong. I think this is the longest I have NOT been on a diet, since I had my daughter. I usually got discouraged and went for those chips after a day or so. The craving was just way to much. This has not been the case this time, and I am so happy about that. My energy is still going strong. I want to tell you all about my week, in a fun Q and A format, but I have to say something first.
I.HAVE.THE.BEST.READERS.EVER!!
Seriously folks. I shared my first
Blogger NOT on a Diet
post last week and man did you guys show some comment love and support. So many of you said you were on board and joining the NOT diet fun! I am so excited that we can all do this together!
I am so excited to be making this healthy change with all
you lovely ladies and gents!
So since some of you wanted to join the fun, but weren't to sure about posting pics, weights and other personal stuff to go with your posts, I came up with a solution. It is all in this Question and Answer format below. I am going to answer these questions each week, allowing me to tell you all about the highs and lows of my week NOT on a diet. If you want to share your thoughts as well, copy and paste the questions, put them in a post with my button, and link up below. I thought it would be a fun way to see how everyone is living healthy NOT on a diet. It will be a great way to inspire one another. I am very excited!
So now onto my week.....
What is your favorite healthy treat this week?
My first week, NOT on a diet, I was craving sugar like something fierce. That is finally out of my system, but I do still want a little something at night. Fudge pops have been my best friend. At only around 90 calories a pop, they are a great replacement to those ice cream bowls the hubbs and I might have been sharing:)
I bought a pack of about 30 pops for under 5 dollars at Winco
What is your favorite workout song this week?
Taylor Swift Eyes Open
I love this song for a nice cool down after doing some cardio.
My 15-20 minute workouts are still going great!
What is your favorite Work out move this week?
I have been doing lots of squats. Trying to work on this bum of mine.
What is your favorite healthy snack this week?
Peanut butter on a spoon. Absolutely GOOD and filling. Now you do have to be careful not to get crazy with this. No serving spoons allowed ladies. Only normal dinner spoons. In
moderation
, this is a great healthy snack. Even more yummier when paired with a banana or apple
These blueberries muffins were good too!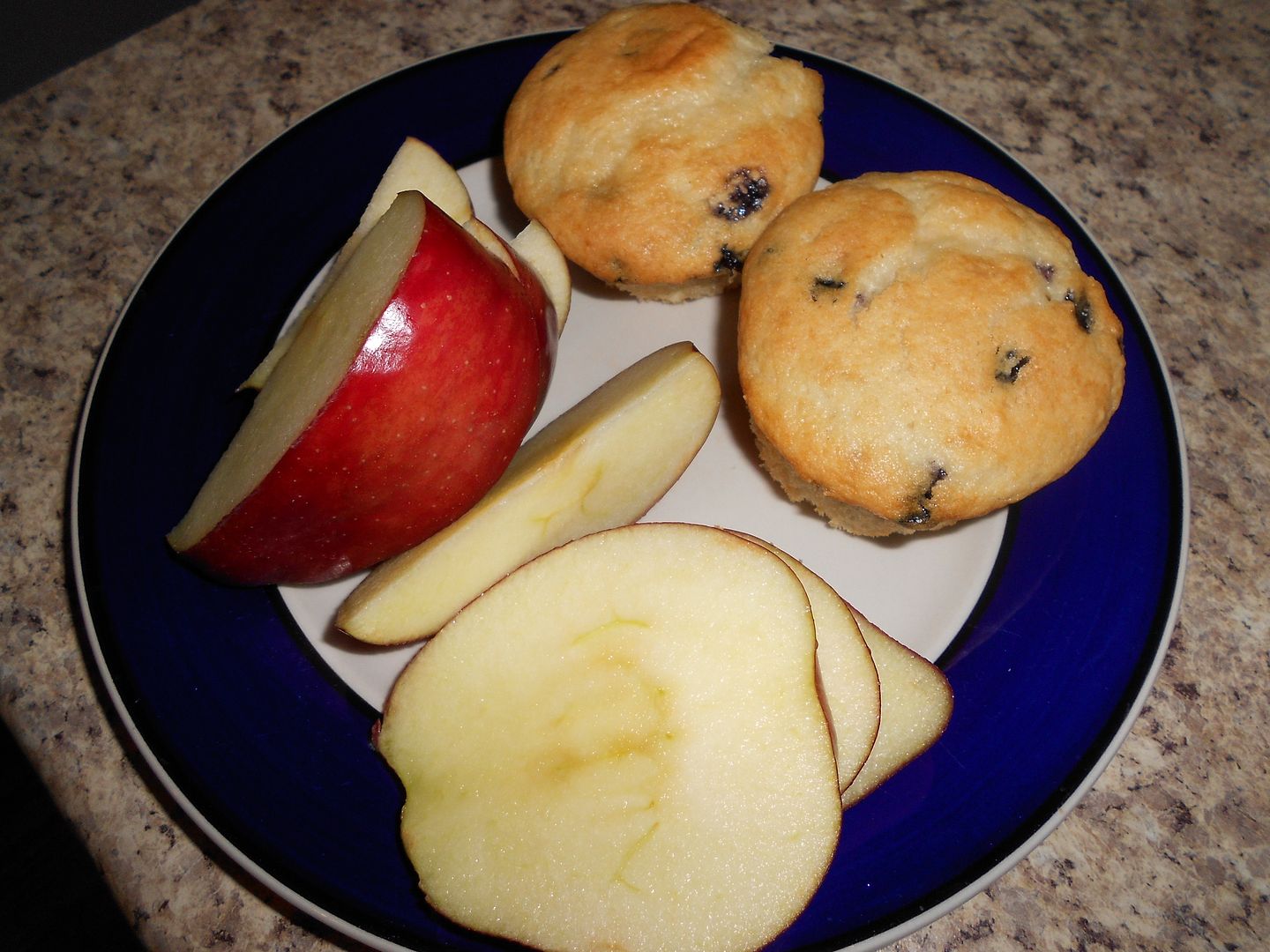 What is this weeks bragging moment?
Well I am not weighing myself, but I do make sure I take a quick peak at myself each morning and I am loving how
not
bloated I look. The best!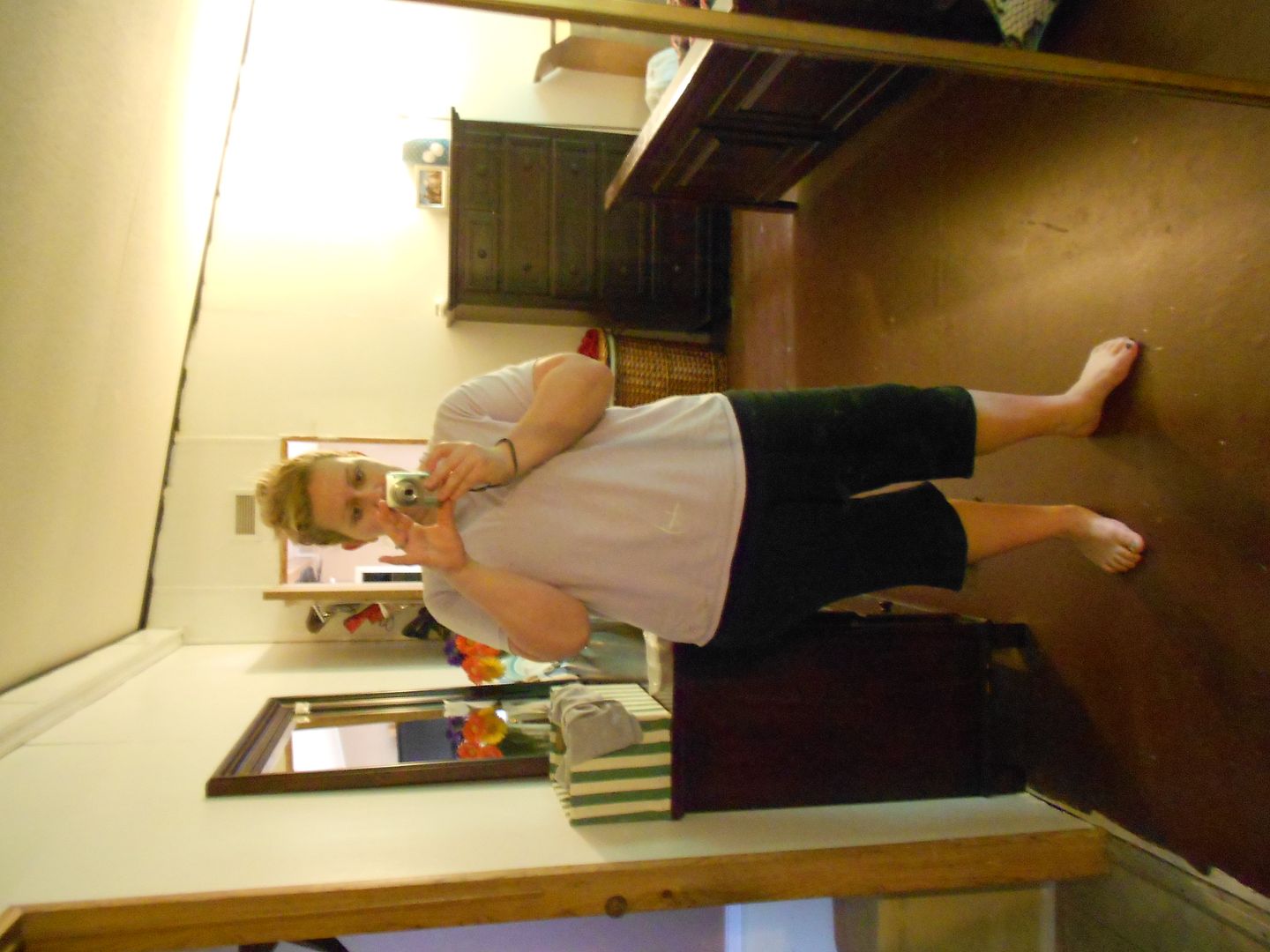 Here I am, post workout, in my scrubby workout clothes.
only 15 minutes a day and feeling great!
Blogger NOT on a diet high/low this week?
Saying no to all the Easter candy in this house has been great. It is not even tempting any more. Saying no to cotton candy with my sis this weekend, not so easy.
Again all about moderation. I ate my cotton candy with my sis, but resisted anything else sugary this week.
What is your Blogger NOT on a diet tip/thought for this week?
My tip/thought for this week is don't get held up that scale. I remember being younger and my Mom would be on a diet. She would literally weigh herself everyday and sometimes more than that. I learned that behavior and use to do the same thing. No more. We don't even own a scale. We do have a wii fit, but to be honest I haven't weighed myself on it in forever. I can look in the mirror and fill in my clothes how I am changing. That is all I need, but those who do weigh-in, do not become obsessed with the numbers. Do not be discouraged if the numbers don't go down like you want. Eat healthy and be a great example to those around you and the inches will melt away. You will feel better and be happy. Promise!
-----------------------------------------------------
So now it is your turn. Answer these questions, link up, and lets inspire one another to get fit, healthy, and NOT go on a diet. Already have a post up on your blog with healthy tips and tricks? Link it up. Any healthy tips and tricks are welcomed. The questions are just for a few who asked for them. I can't wait to check you all out and see what tips you have that have helped you stay healthy this week.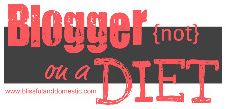 Follow me on
Facebook
Follow me on
Twitter
Browse my
Pinterest
Follow me with
BlogLovin
Send Me an
E-mail
Link up at
My Party