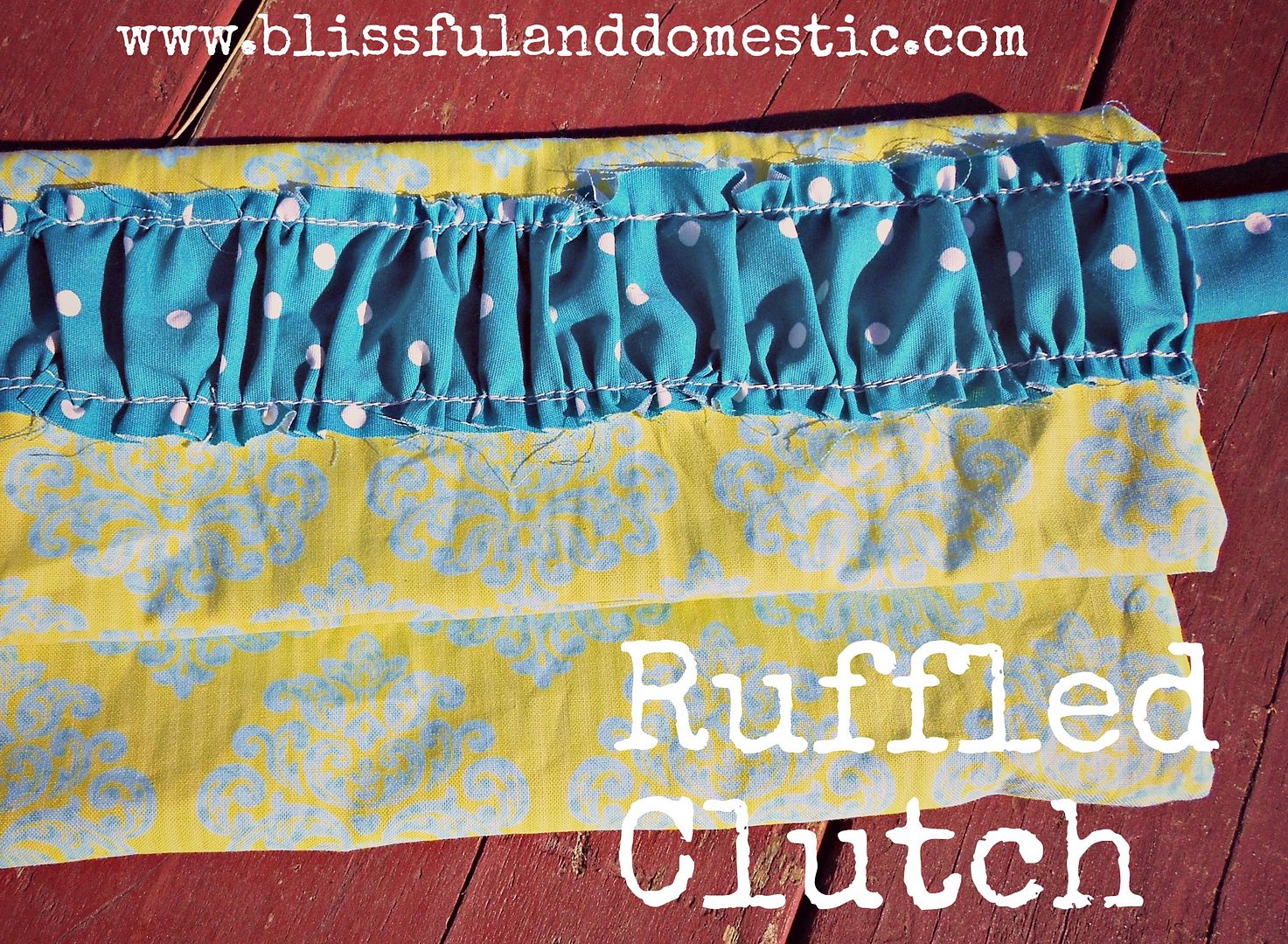 Happy Tuesday! I have a new tutorial for you today, which I am way excited to share! First off though I have to tell you about my pictures. All of my pictures were edited with
Picmonkey
. Have I mentioned the monkey is my new best friend? I don't think I have, so let me tell you....the monkey and me are new besties! Love it! Spent all last night playing around with pictures and working on this tutorial for ya. It is seriously so awesome....the tutorial and the monkey I mean. I can't wait to tell you more about picmonkey later this week, I am working on a "how to" tutorial for ya.
Well anywho last week I got a fun package in the mail from
Fat Qurater Shop
. Remember them? They are hosting a give-away on the ole blog this week. If you haven't entered, please do so. FQS is giving away a bundle of fabric. How cool is that? You can find the link at the bottom of this post or in my side bar, under gievaways. I received this beautiful damask fabric in the mail and was so excited to start creating with it. So many fun projects came to mind, but then I saw a ruffled clutch over on
The Little Giggler
and decided I needed to have one. Amanda's was just too cute! Now I did alter mine a bit. Honestly I just didn't want to do a zipper like Amanda. I was being lazy. So let me show you how I made my own version of the Ruffled Clutch.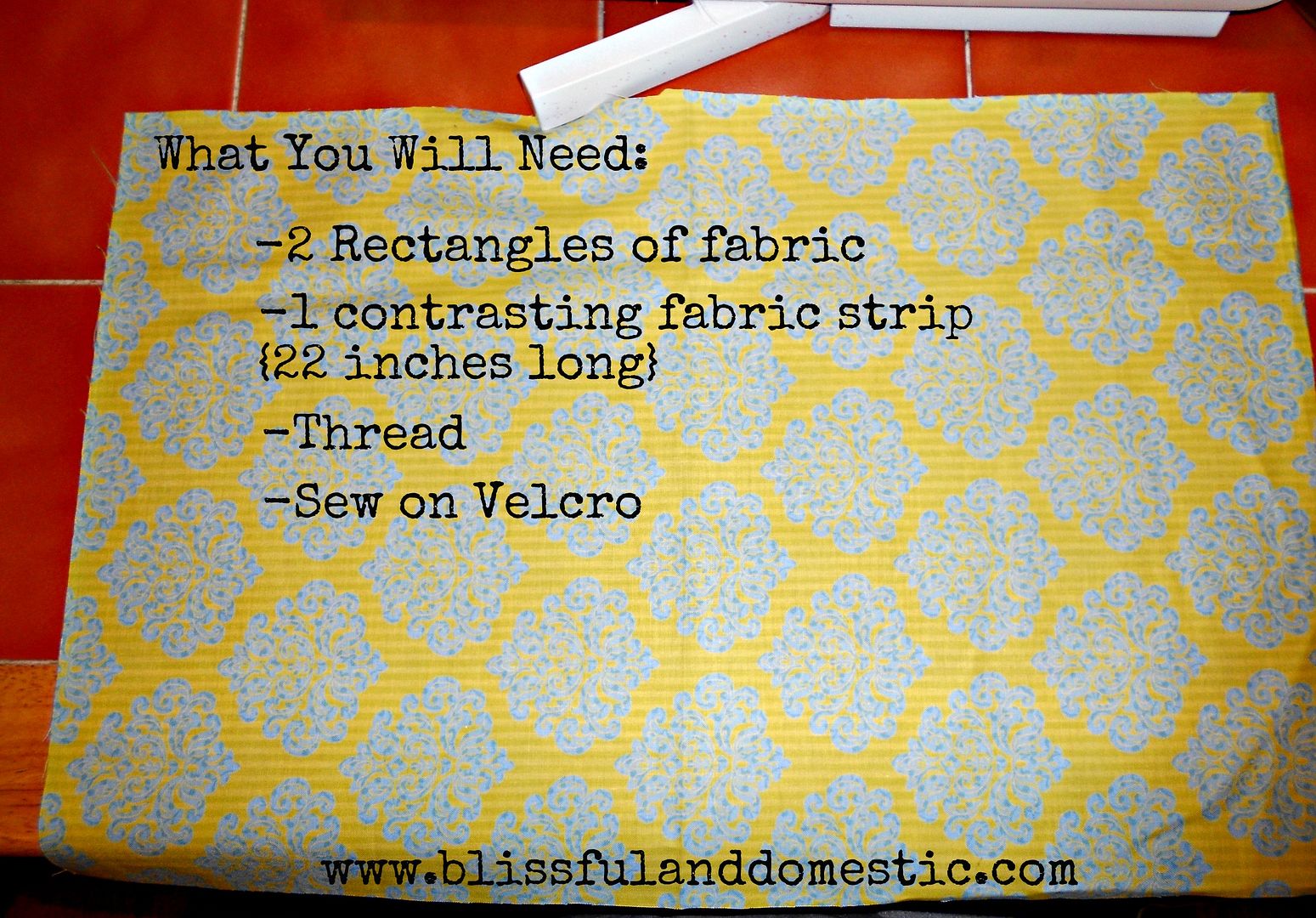 The damask fabric is from
Fat Quarter Shop
and I used leftover polkadot fabric I had in my stash for the ruffle. I made sure my polkadot fabric was 22 inches long and it is about 2 inches wide.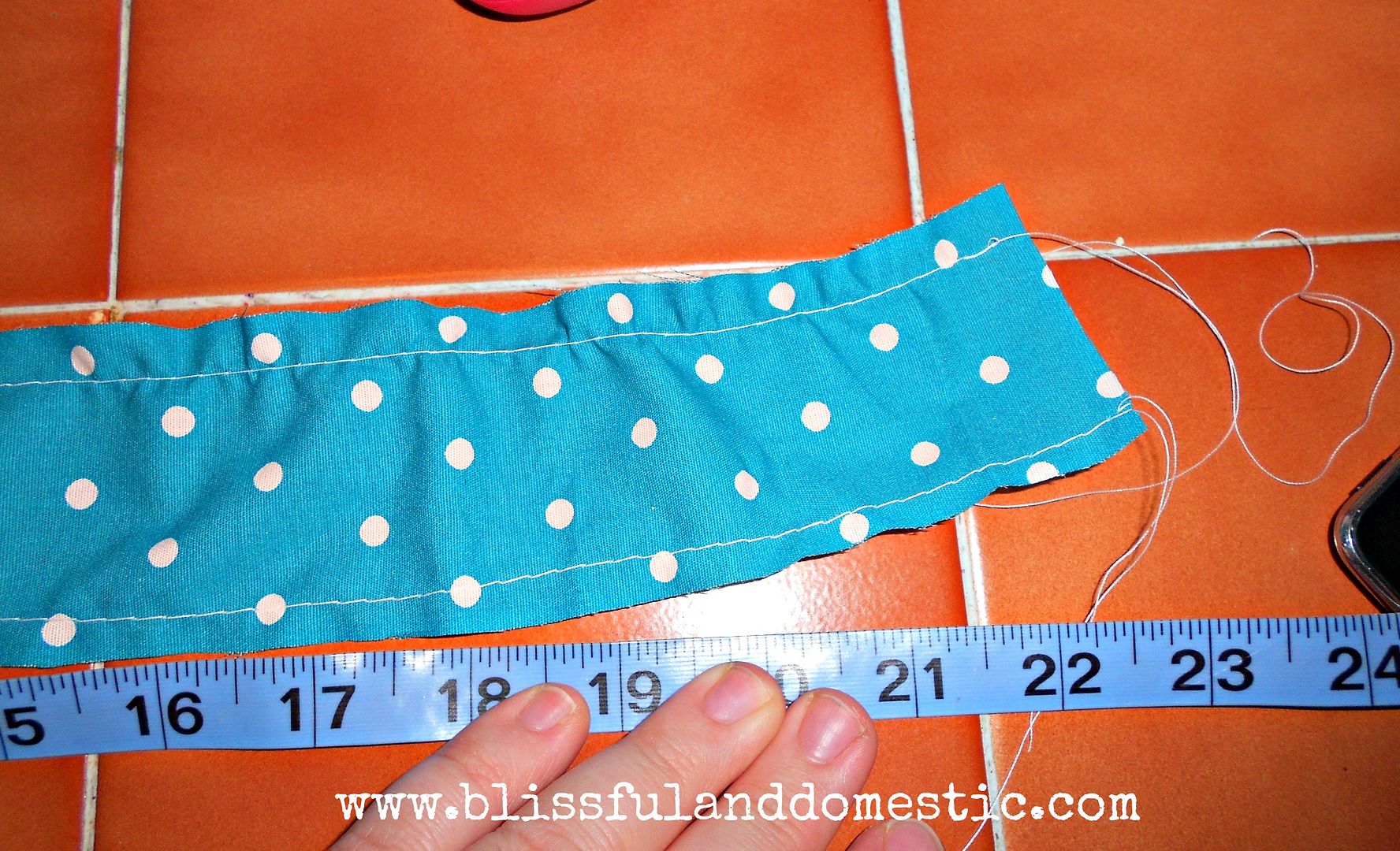 I did a running stitch on both sides of the strip.
Pull the threads to make your strip gather.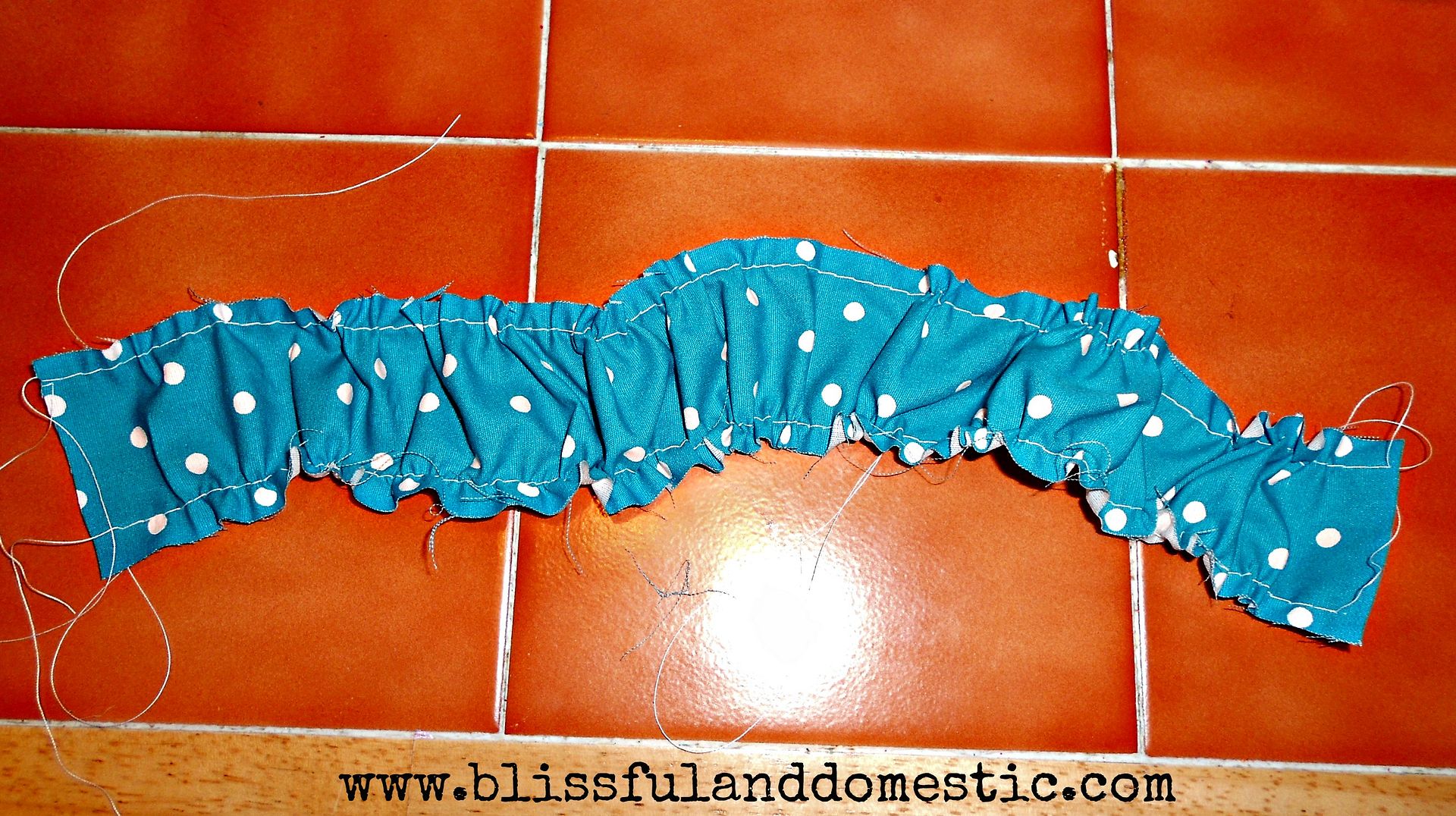 Pin your ruffled strip onto one of your rectangles.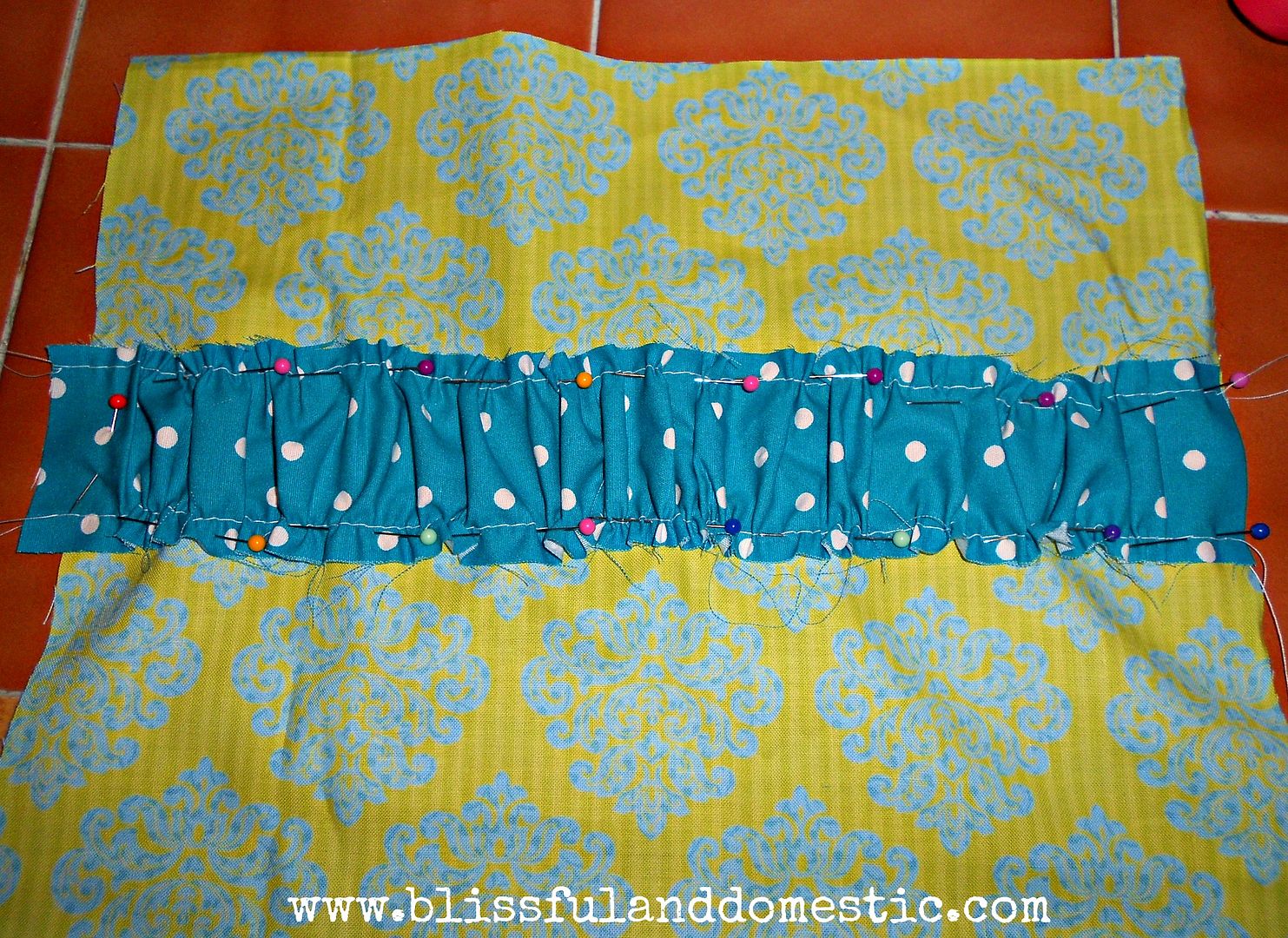 Sew strip onto rectangle.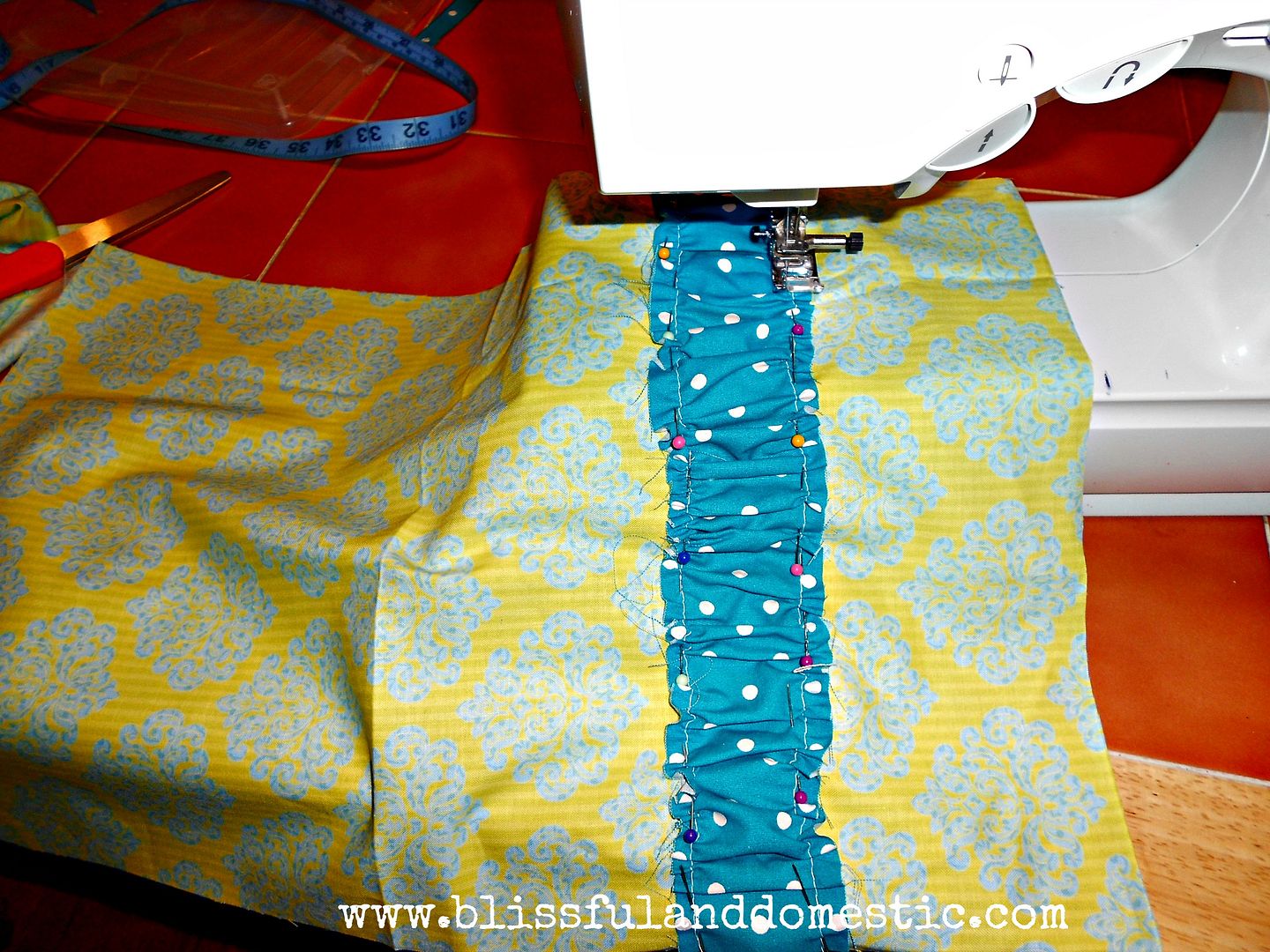 Now comes the thinking part. At least it caused a bit of thinking for myself. I took my second rectangle (the one without the ruffle), I folded it how it would be when finished. By doing this, I was able to see where my top fold and bottom fold would be. To make this clutch the rectangles fold up together, creating a pocket for all your stuff to go into. I pinned where my two folds were.
(this step is not a must, but it helped work out
this project in my mind, since I had no pattern)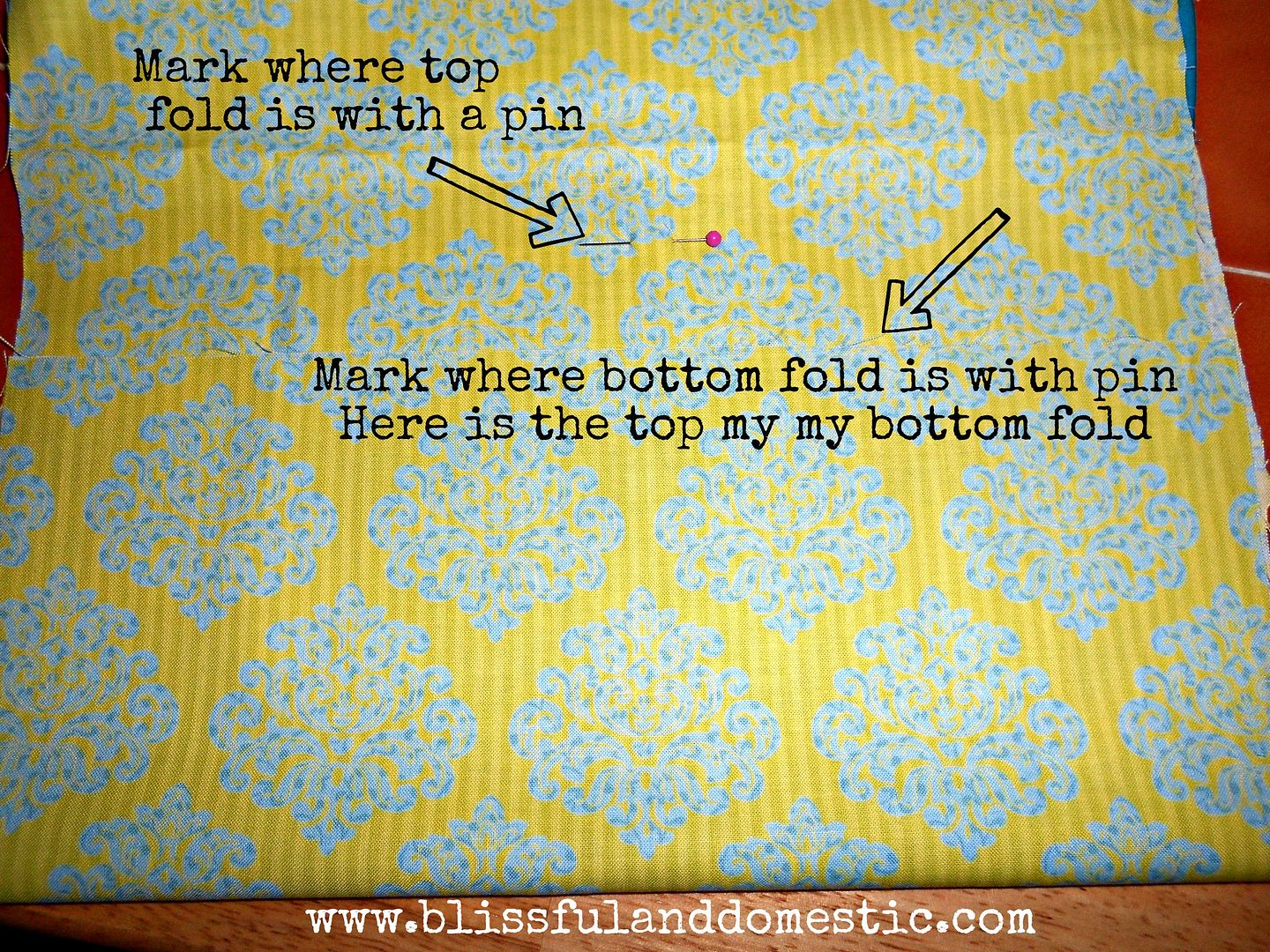 Once I knew where my folds would be on my second rectangle, I took both rectangles and put them right sides together. I then pinned where I would want my velcro to be.Your velcro should match up with the ruffle on the other rectangle. Look at the picture to see what I mean. Sew your velcro to your second rectangle.
Now remove the pins you placed for the fold lines. and pin both rectangles together
right sides together (the pretty side of the fabric). Make sure to leave an opening where you will right side out your fabric.
Once you right side out your fabric, sew up your opening. Your fabric will look like this. You will have 1 rectangle with a ruffle on one side and a velcro square on the other.
Now you are going to fold up your purse,
the wrong way
.
Yours should look like this picture above.
If you want a arm band like mine, you will add it in this step. It will be pinned from the inside of the purse, so when you sew up the sides, you will be sewing the arm band to the purse.
Sew up the pinned sides, creating a pocket. Once this is done, right side out the pocket and the clutch will then look like the picture below.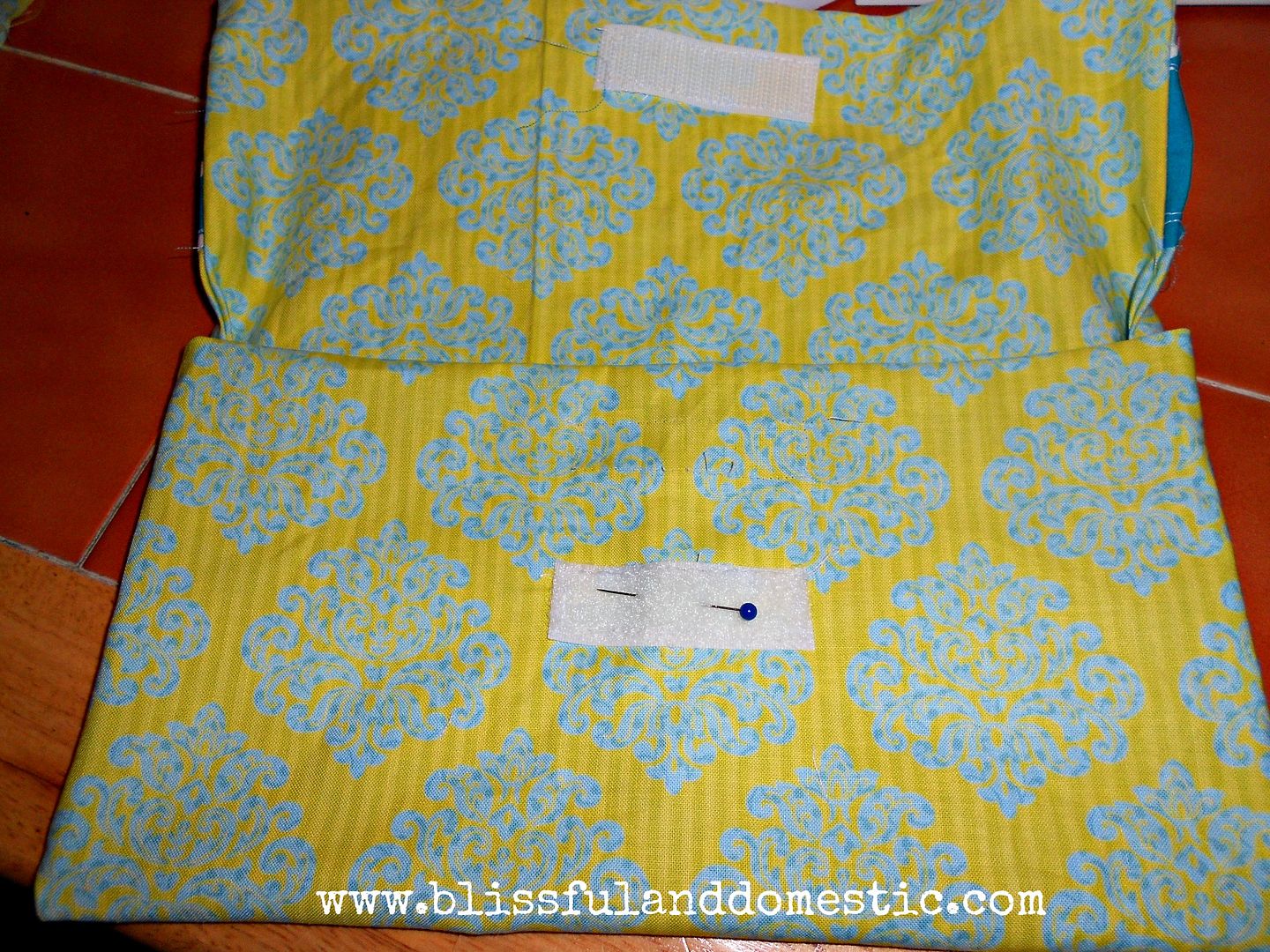 Pin your bottom velcro on and sew. Make sure both velcro pieces line up before sewing, or you may have to redo it.
Not like that happened to me or anything
:)
Then you are done!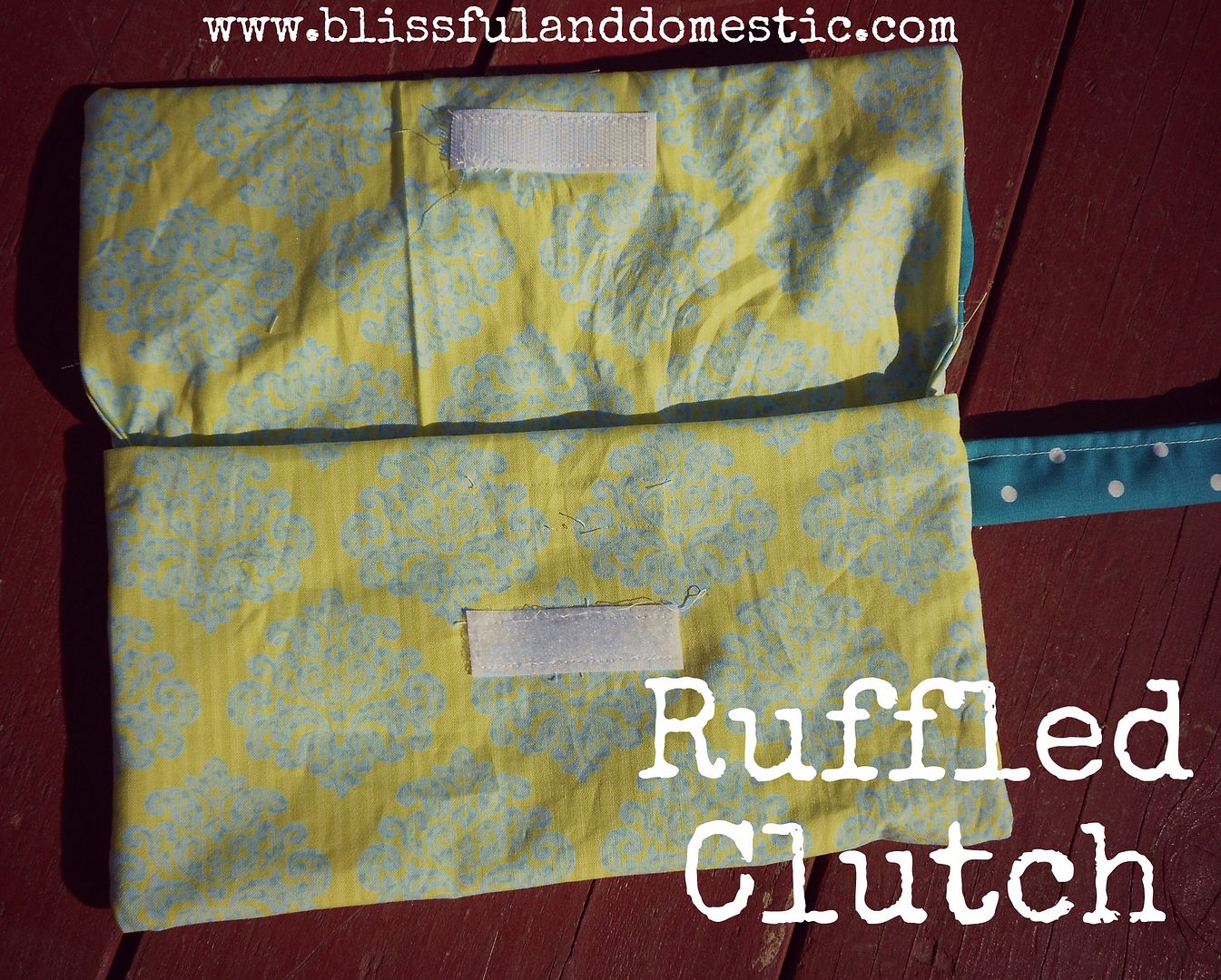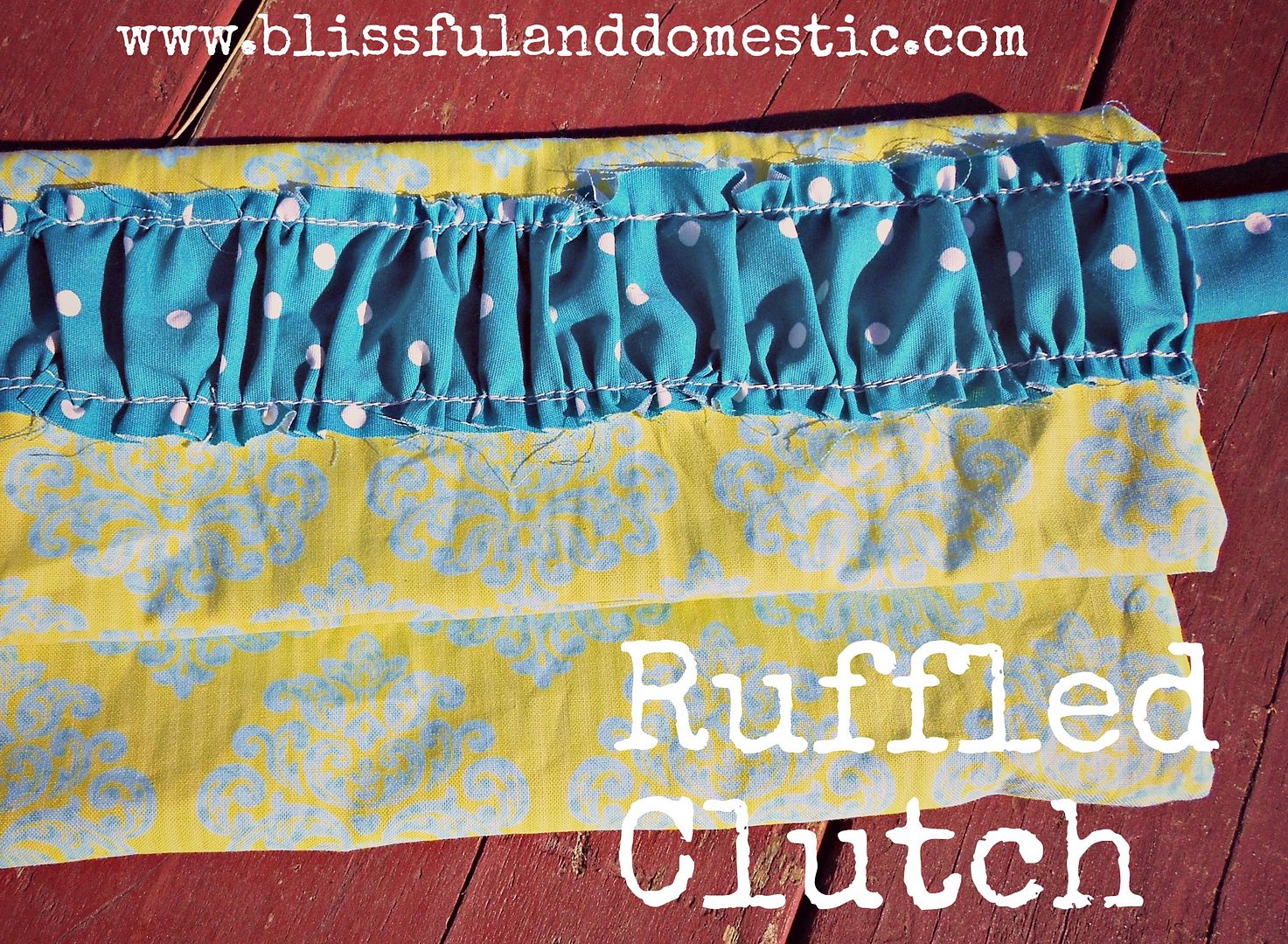 I love my new clutch. I see a date night with Hubbs in my future, where this baby will makes its appearance. I love the fabric from
Fat Quarter Shop
. It came just a few days after I ordered it. I couldn't believe how fast! I still have a bunch more fabric I ordered from them. Have a mentioned I love their clearance fabric? Such a cute selection and always new stuff. So want to get some of your own fabric? Well you could enter my give-away from FQS or just hop on over and check out their cute selection of fabrics.

Fat Quarter Shop Giveaway
Click
HERE
to Enter
Happy Creating Lovelies!
Follow me on
Facebook
Follow me on
Twitter
Browse my
Pinterest
Follow me with
BlogLovin
Send Me an
E-mail
Link up at
My Party