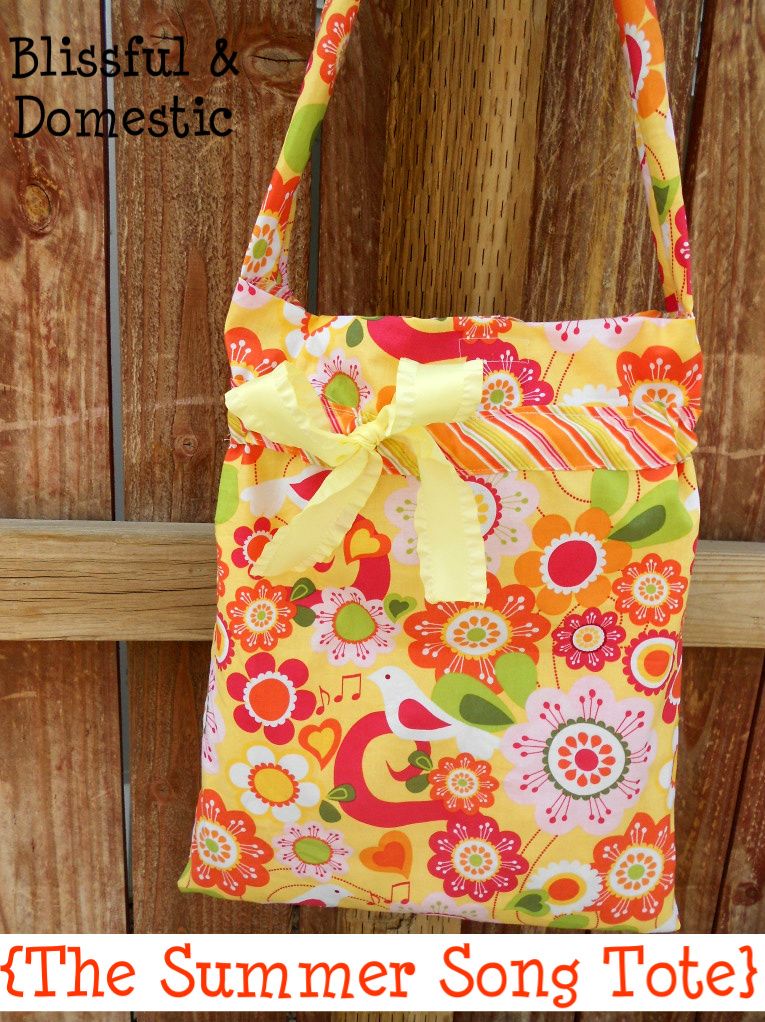 Alright lovelies. I feel like it has been far to long since I have had a sewing tutorial for you. To be honest I just haven't been in the mood for sewing. I mean if you read Blissful and Domestic regularly, you will see what I have been into lately. Yep cooking and baking. I have been in a total sewing rut. I just had no motivation to sew. My poor sewing machine must have felt so neglected, while my oven was feeling all the love. Oh how it must have missed me, because once I started sewing again, I realized I missed it too! I finally got some fun new fabric, from
Bratpacks Fabrics
, and somehow my sewing inspiration was sparked. This fabric came in a bundle for $7.00. I was more than excited. Right now
Bratpacks Fabrics
is having a HUGE sale. Most sale fabrics are around $7.00. Seriously such a huge selection of beautiful fabric. Over 200 different selections!! Check it out. Fabric on sale is always a favorite of mine. So now that you know where I got my beautiful fabric, are you ready to make a
Summer Song Tote
of your own. Read on for all the details.
Alright so like I said before, I got my fabric from
Bratpacks Fabrics
. It came all bundled in loveliness, ready for me to create. I loved how these two patterns complemented one another. I received a half-yard of each fabric. The perfect amount for a tote. I wanted to create a fun summer tote. I was in desperate need of one.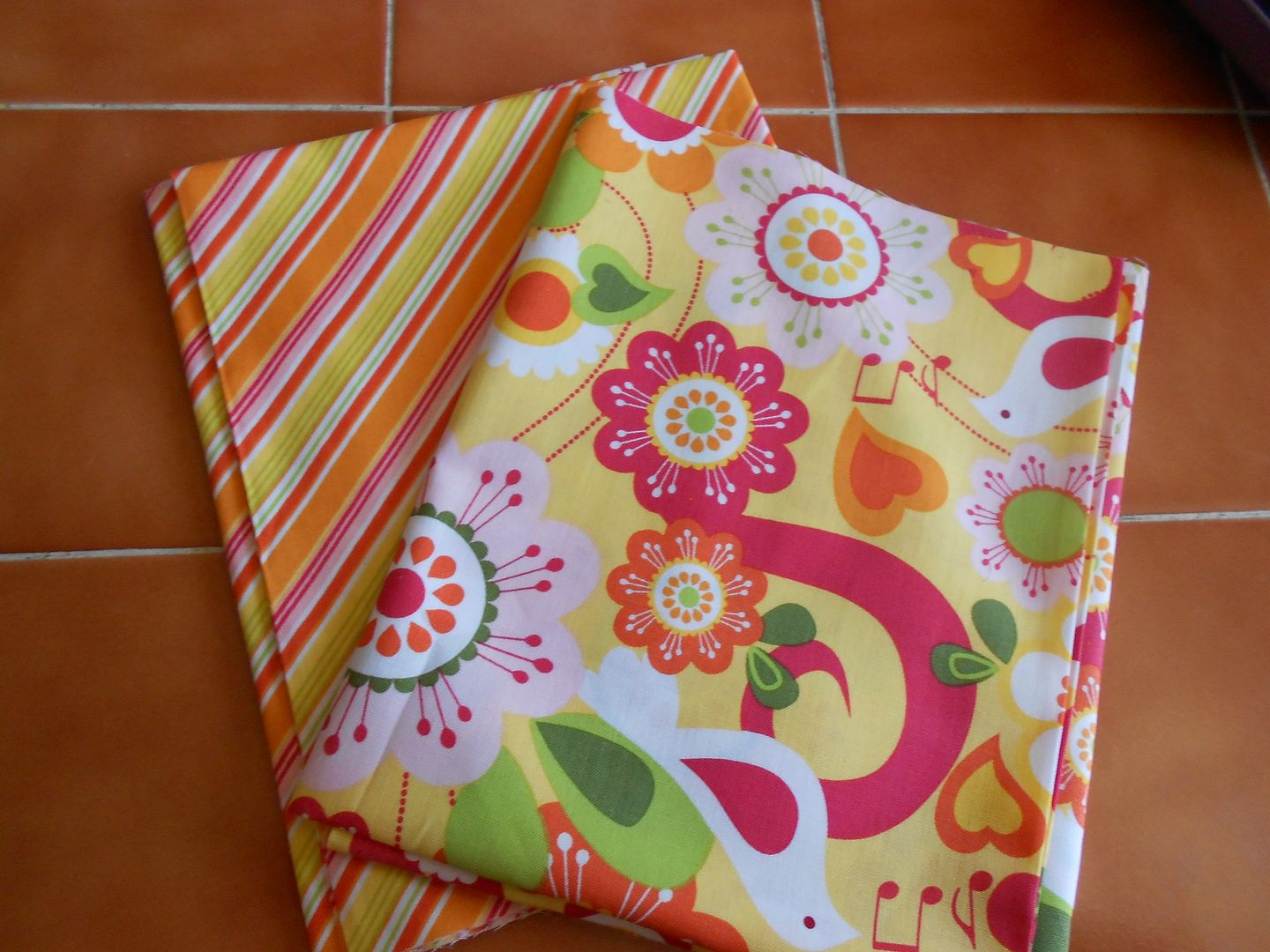 I decided to draw a little picture of what I was thinking. Obviously my picture leaves a lot to be desired. Let's just say it looked way better in my head. Drawing is not a talent of mine. I knew I wanted it medium size, with a bow. I also wanted a pocket inside the purse. My current purse has a pocket, but it is to high and close to the opening. Anytime my purse falls over, out comes anything in that pocket. So I wanted a pocket deep in the purse, with Velcro. Oh and a fabric ring inside to clip my keys on. Once I had all my plans laid out, I got to cutting.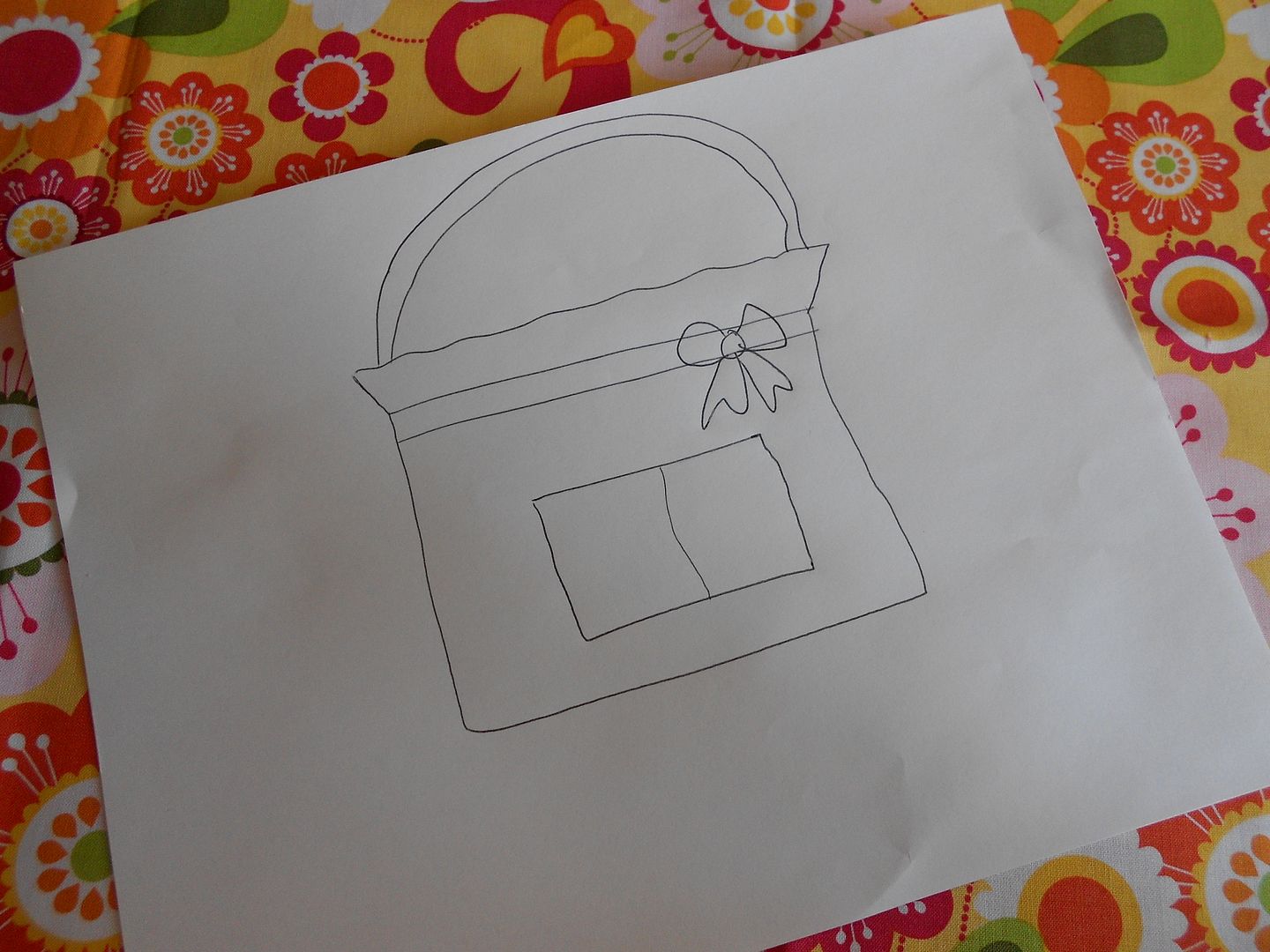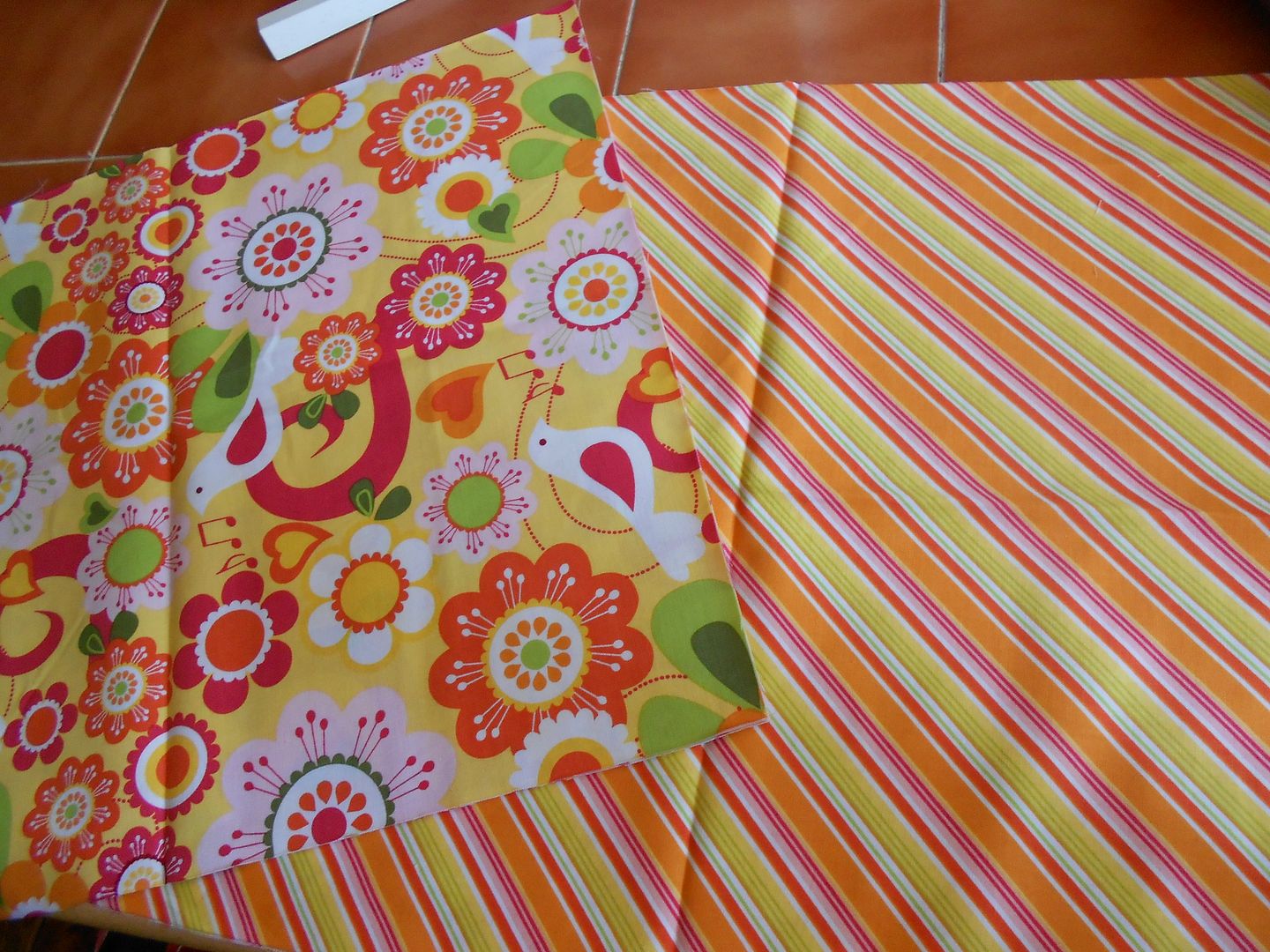 So I should have ironed my fabric first. I do recommend this, but honestly I am just way to lazy to iron.
So iron if you want. To each their own :) Now I laid out my fabric. Each half yard was already folded in half. I kept it that way and cut out a long rectangle from each. Once cut, I ended up with two rectangles from each fabric. I basically cut on the fold line that was already there. My finished measurements were 15x13, so add about a half inch on each side for seam allowance.
Once I cut out my rectangles, I paired up my fabrics. When making a tote, you keep your fabrics separate. Meaning my bird fabric was my outer fabric, while the stripes are my inner lining. I took my two bird rectangles and put them right sides together.
The right sides are the pretty sides of the fabric
The part you want people to see
I sewed them together, except on the top.
Remember that is for your opening of your tote.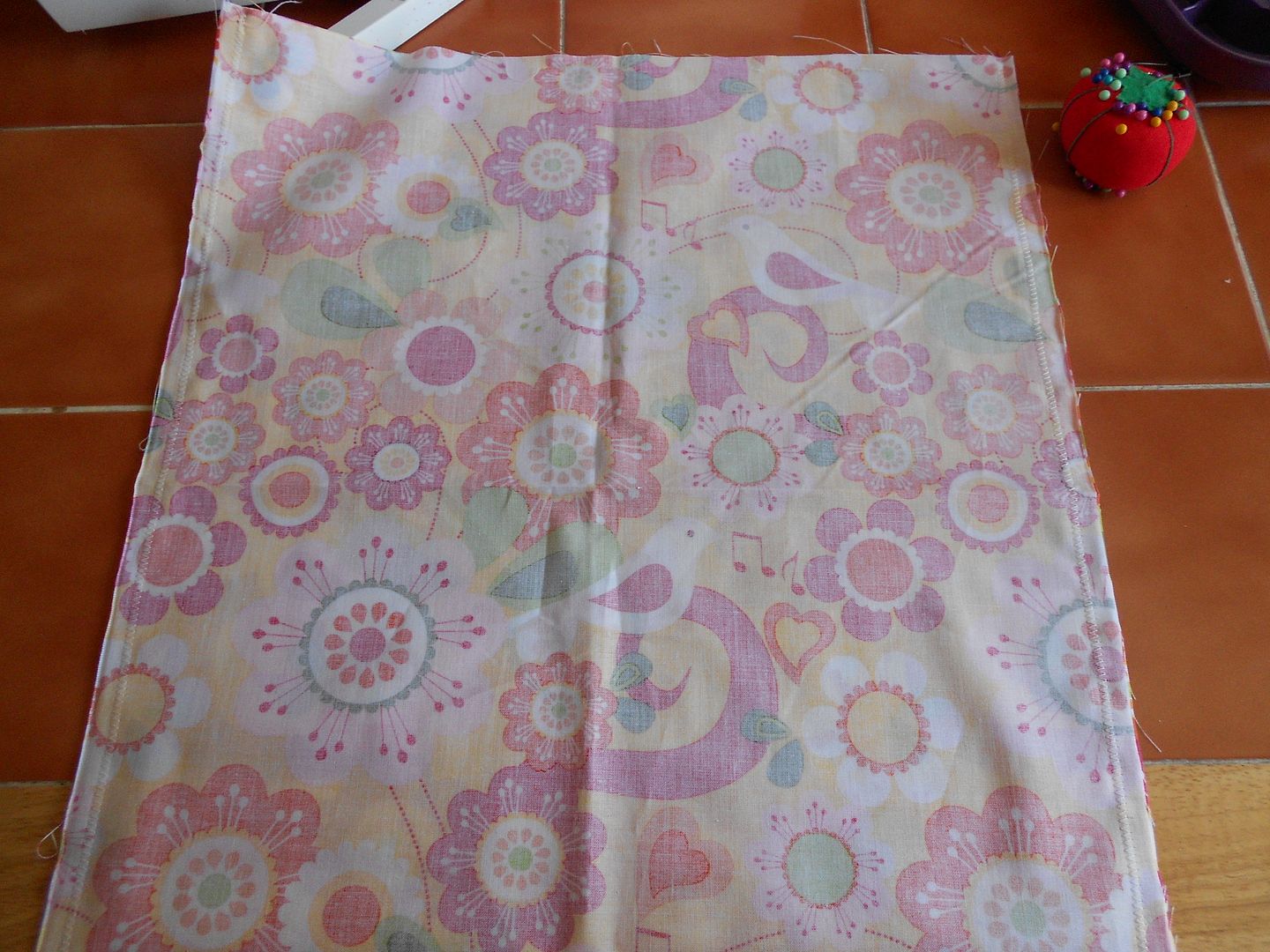 Once sewed, right side out your fabric. Now you are going to move onto your lining fabric.
In this tote, it is the striped fabric.
Now since I am doing a pocket. The pocket has to be added first before you can sew the two striped rectangles together. I cut out two small squares from my leftover stripped fabric. I then sewed those two small pieces together to create my pocket. Sew right sides together. When sewing the pocket, you will leave an opening in the fabric, so you can pull it all through. Does this makes sense? It is very much like how you make a pillow. Below is how I sewed it. See my right sides are together. I sew all around my square, but leave a small section not sewn. This allows me to pull my fabric through that hole, so my right side is showing. Once you right side out your fabric, stitch up the hole with your machine.
Now place your pocket where you would like it on one of the lining striped rectangles.
Remember I wanted mine low, so I placed it low. I pinned it and then pinned on my Velcro.
Double check that your pocket is straight. I kept my pocket in placed and sewed on my Velcro. I wanted to make sure I didn't lose its placing.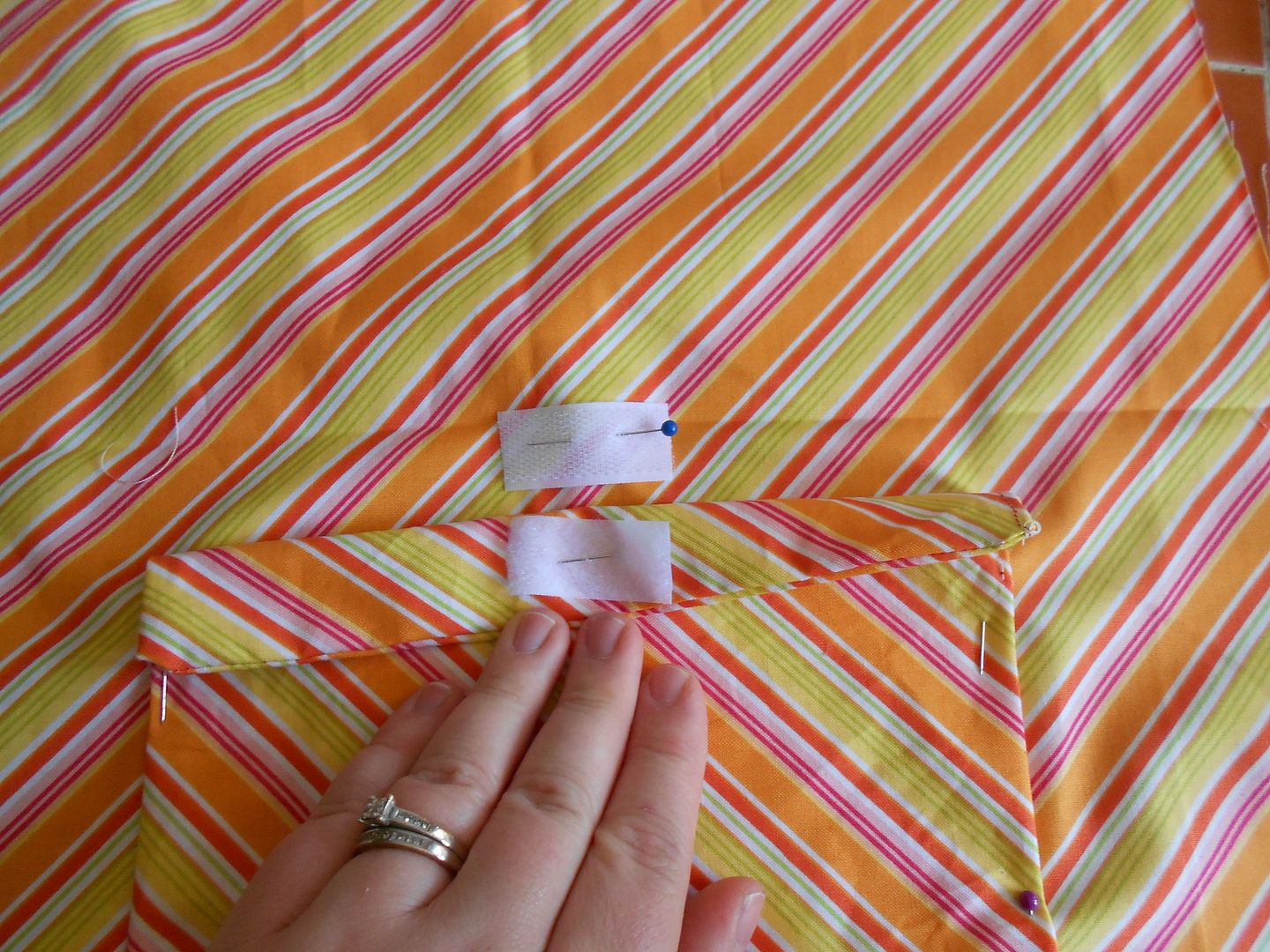 Once the Velcro was sewn, I sewed my pocket on my rectangle.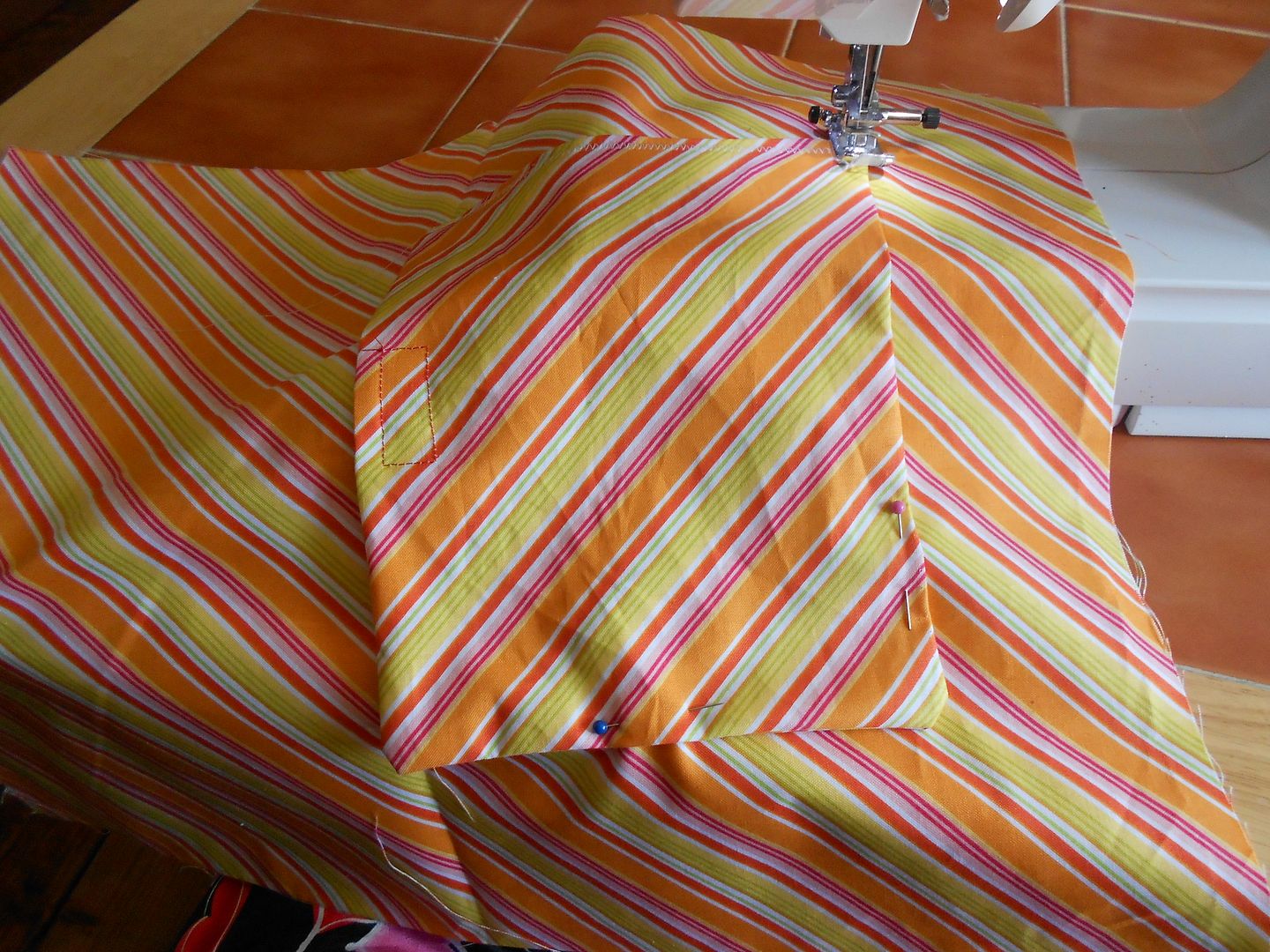 I then went back and added two more straight stitches down. I wanted to be able to place pens in there, without them rolling around in my purse. Now they stay right where they should. I always know where to find a pen in my purse now :) Happy Day! Seriously!
Next I wanted to add a fabric ring to clip my keys on. I took another scrap, from my outside fabric, and made a strip. Once my strip was sewn together, I was ready to add it to my striped lining fabric.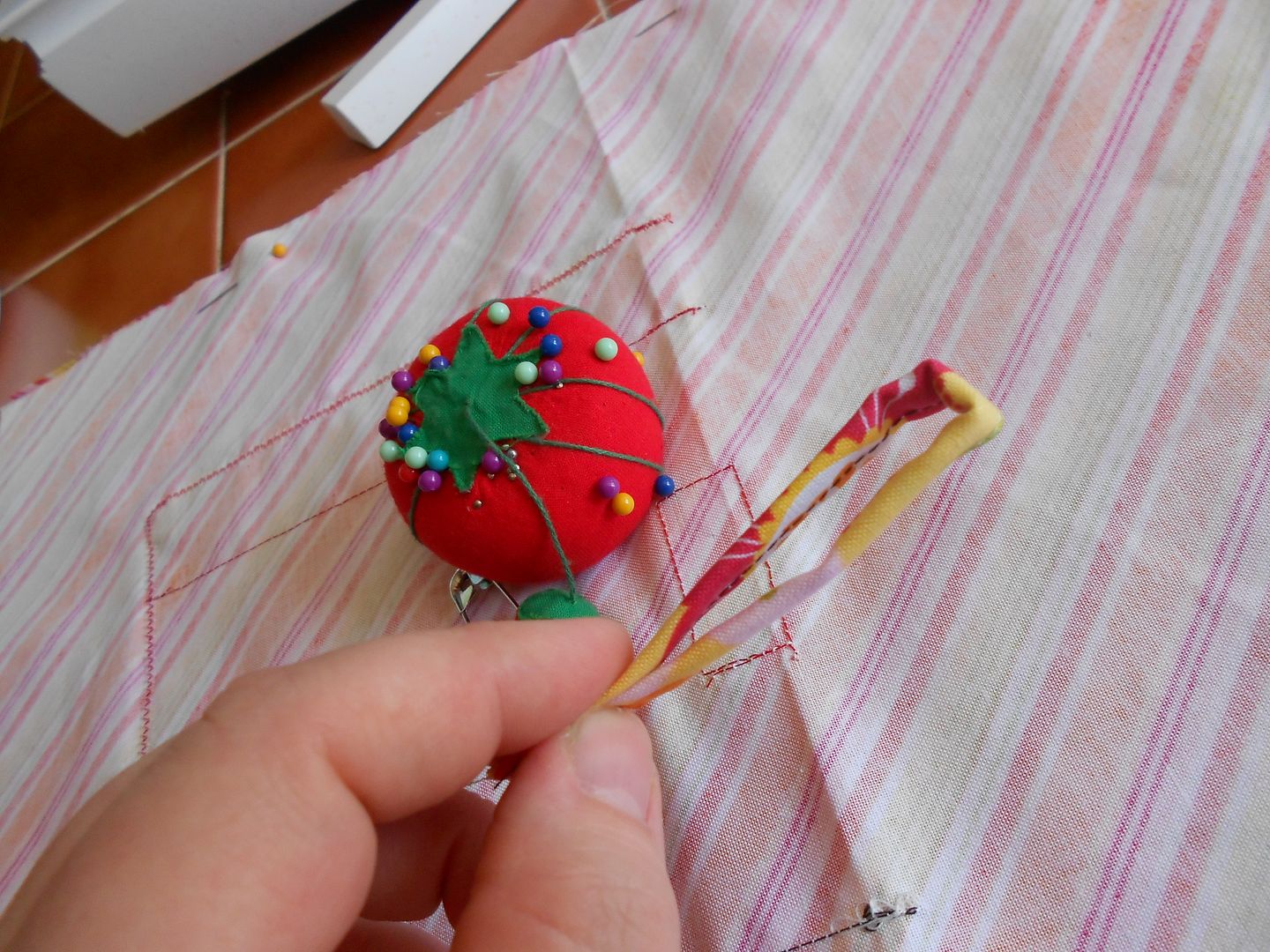 Place both rectangles on top of each other, right sides together, and pin.
Insert your key ring, where you would like it, and pin like in the picture.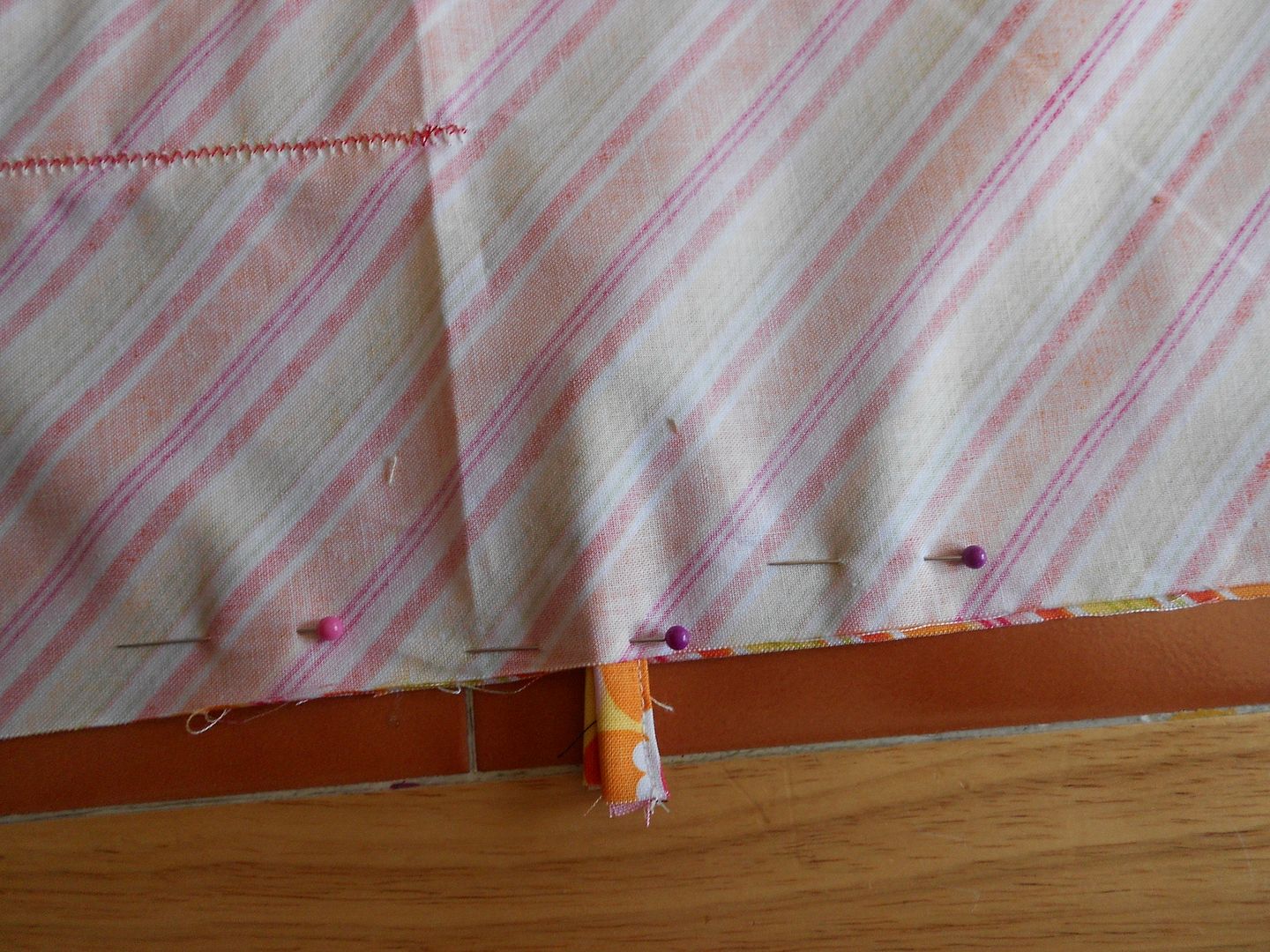 Now sew all the way around your rectangles, except where the opening of your purse will be. Also make sure you know which way your pocket is, so you know where the top of the purse is suppose to be. Saves time if you double check this.
Not that I had to learn this the hard way or anything......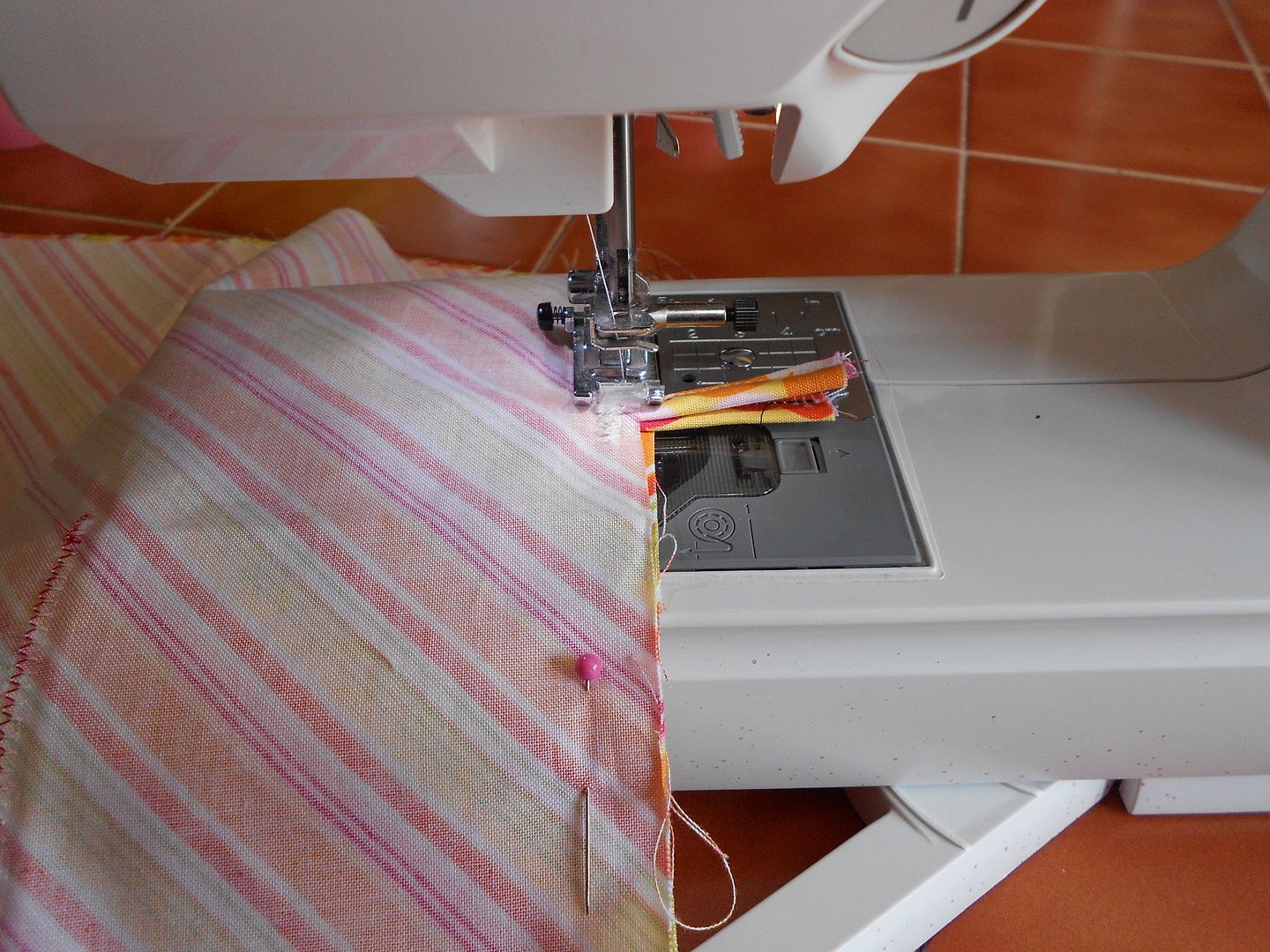 Once sewn together, cut off the extra key ring fabric.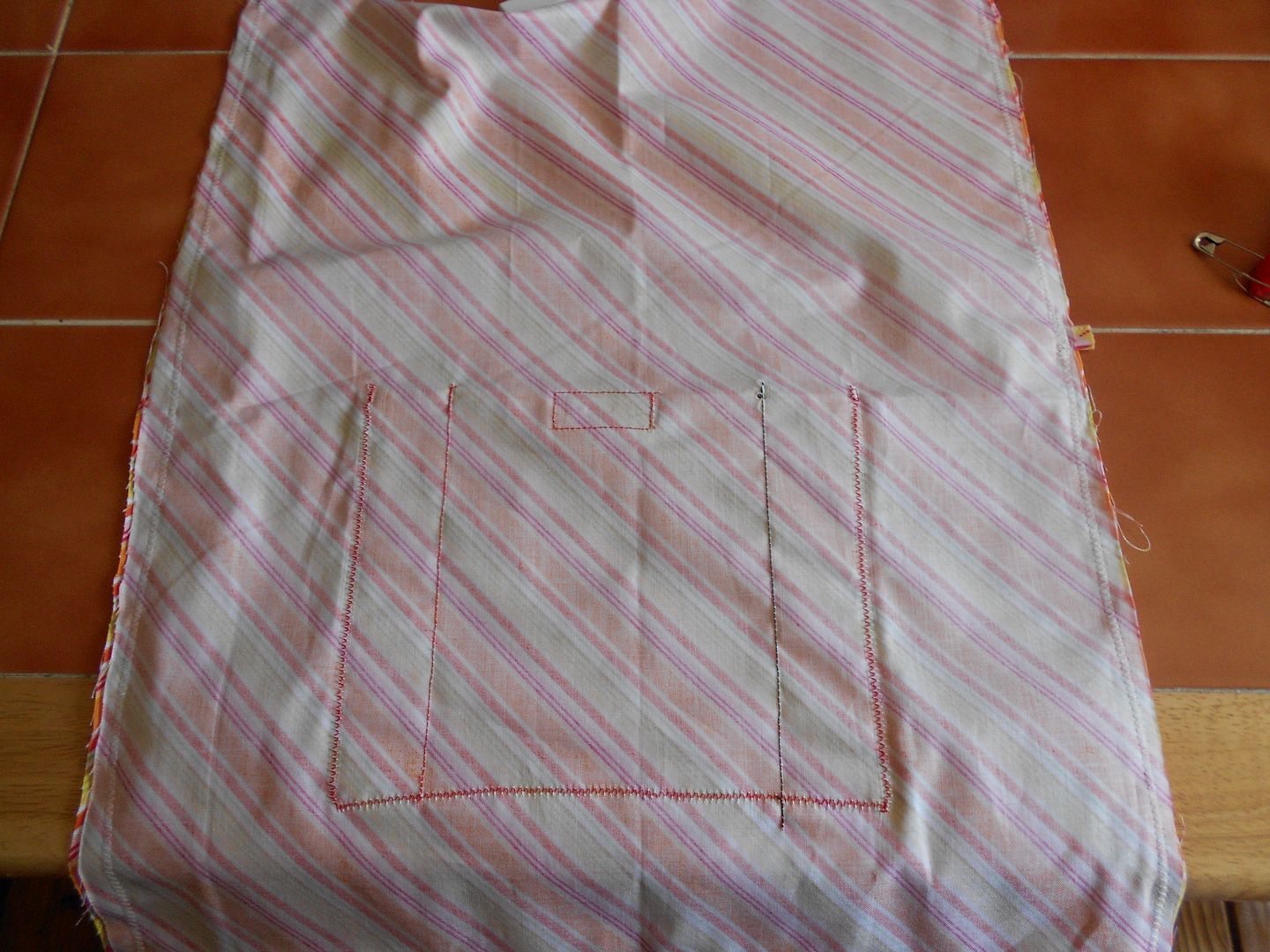 Your rectangle should look like this. Put your lining fabric aside.
You are now going to work on the front.
I cut out 2 long strips from my leftover striped lining fabric.
Once sewn together, they measured 2 inches wide and 34 inches long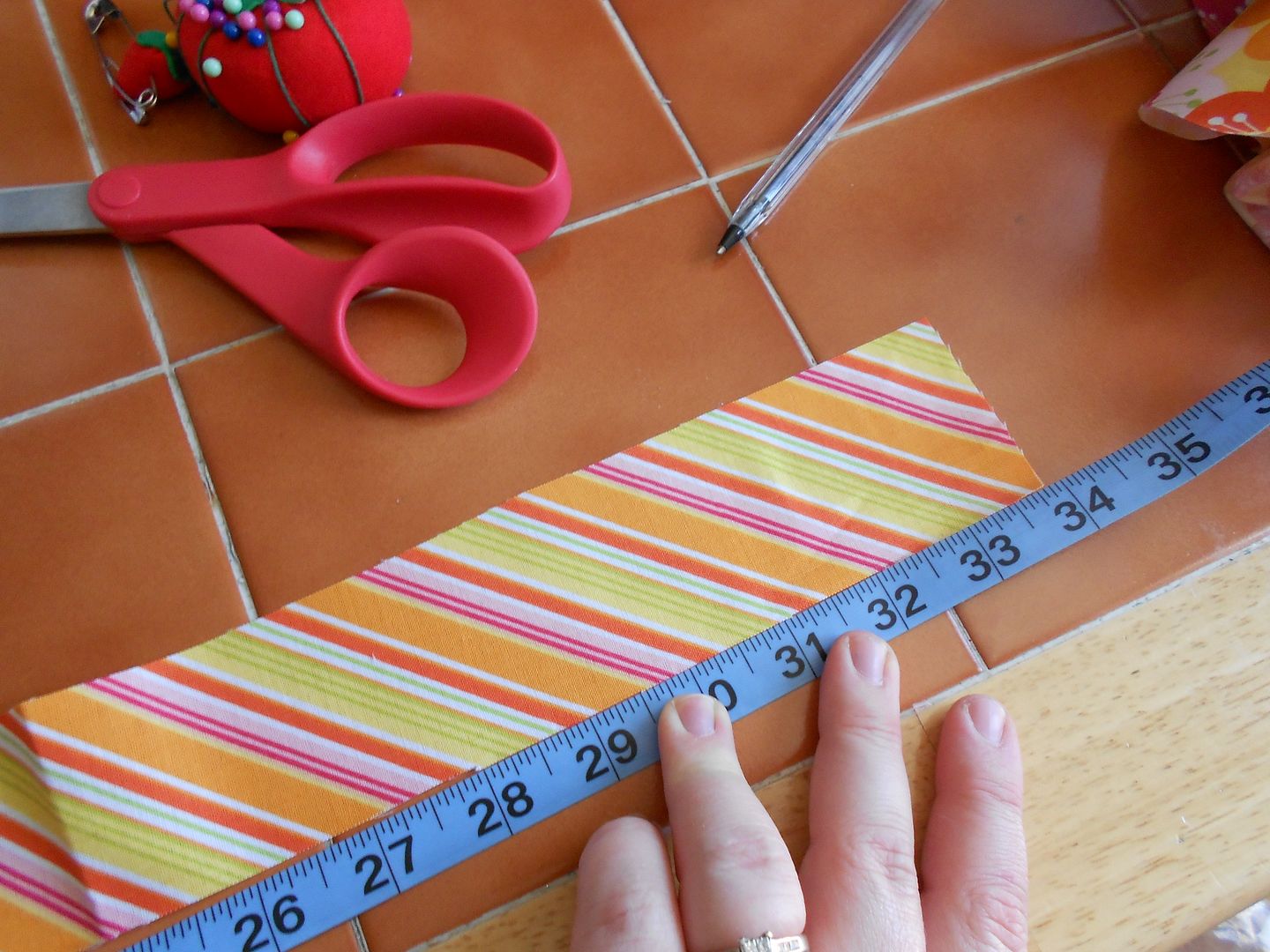 Fold the sides in on your strip and sew
Once sewn you can attach to the outside of your purse.
Remember that is the fabric with the birds on it.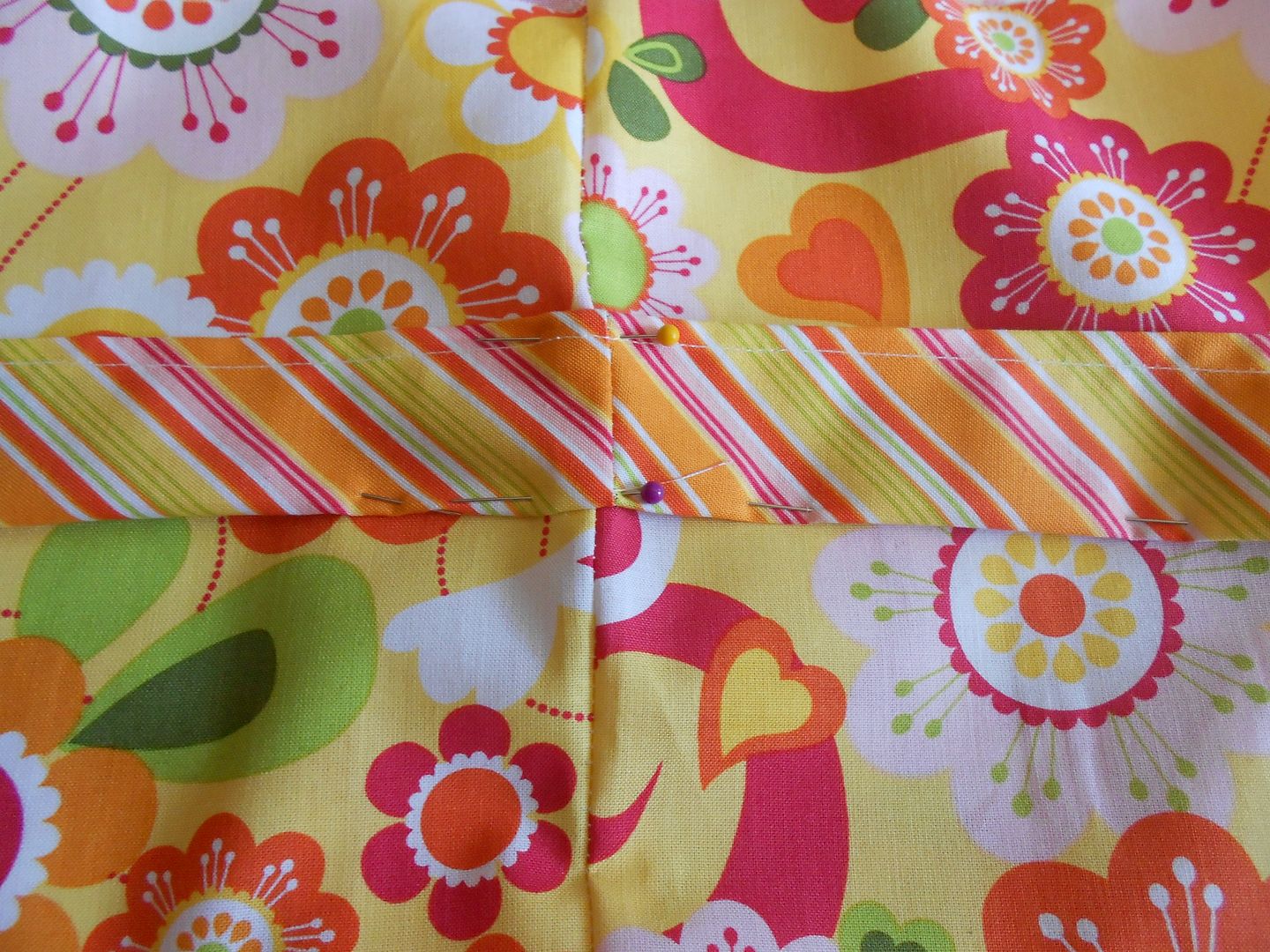 I matched up my seam in my outer fabric with the seam in the strip that I had sewed together.
I then started pinning it onto my outside bird fabric. It is about 2 inches down from the opening of my purse. You are creating a casing for your ribbon and bow to go in. Once I had pinned my strip to my purse, then I added a button hole. The button hole was added only to the strip. I only pinned it first because it gave me an idea of where the button hole needed to be placed.
Not sure how to do a button hole? Well for my sewing machine, I have a Brother Sewing Machine, I have a special foot for it and step by step instructions in my owner manual. I seriously had to bust it out and read up, since it has been a while. Seriously don't hesitate checking your manual. It has all sorts of GREAT info in it and awesome step by step problem solvers. I keep mine with all my thread and needles, so it is always handy when sewing.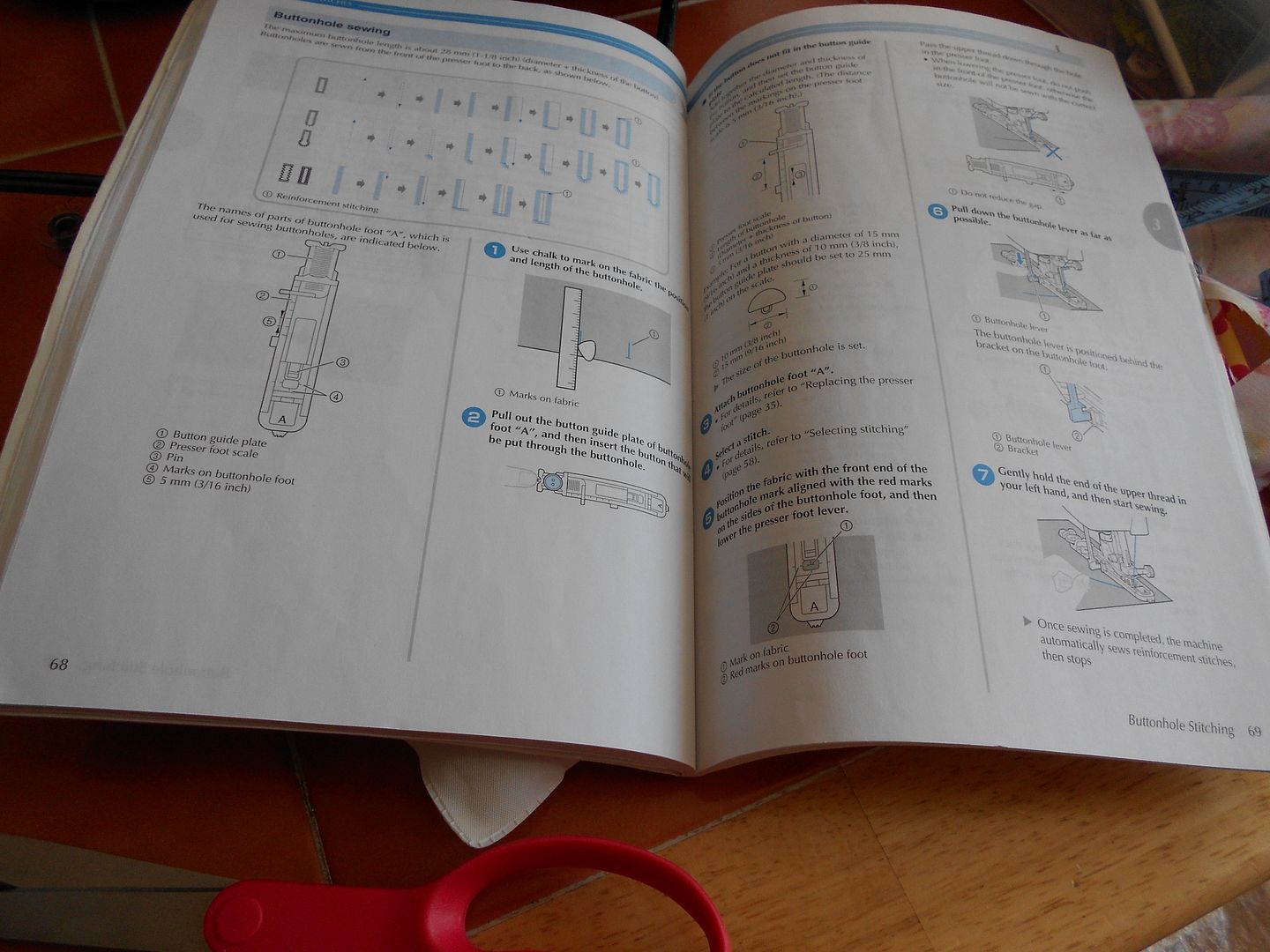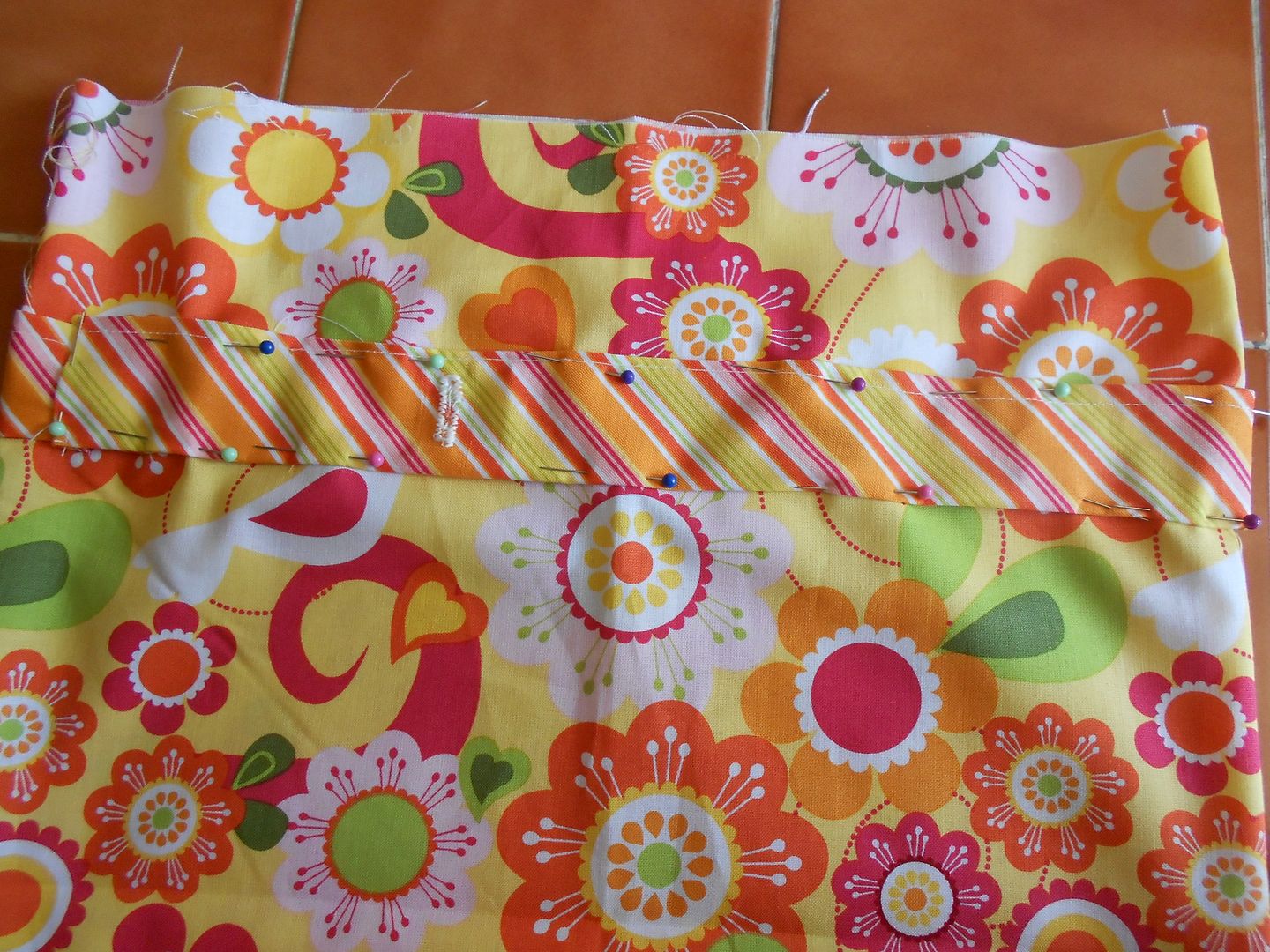 So now that your button hole is made, you can sew your strip onto your fabric.
You will sew down each side, except where I have it circled above. That is where both ends of the strips meet. You don't want to sew that yet because you still need to be able to thread your ribbon through.
Once you have sewn your strip and created your casing for the ribbon, you will sew both the lining and the outer fabric together. Now to do this you will place right sides together. Meaning your outer fabric will literally slip into your lining, with the right sides touching.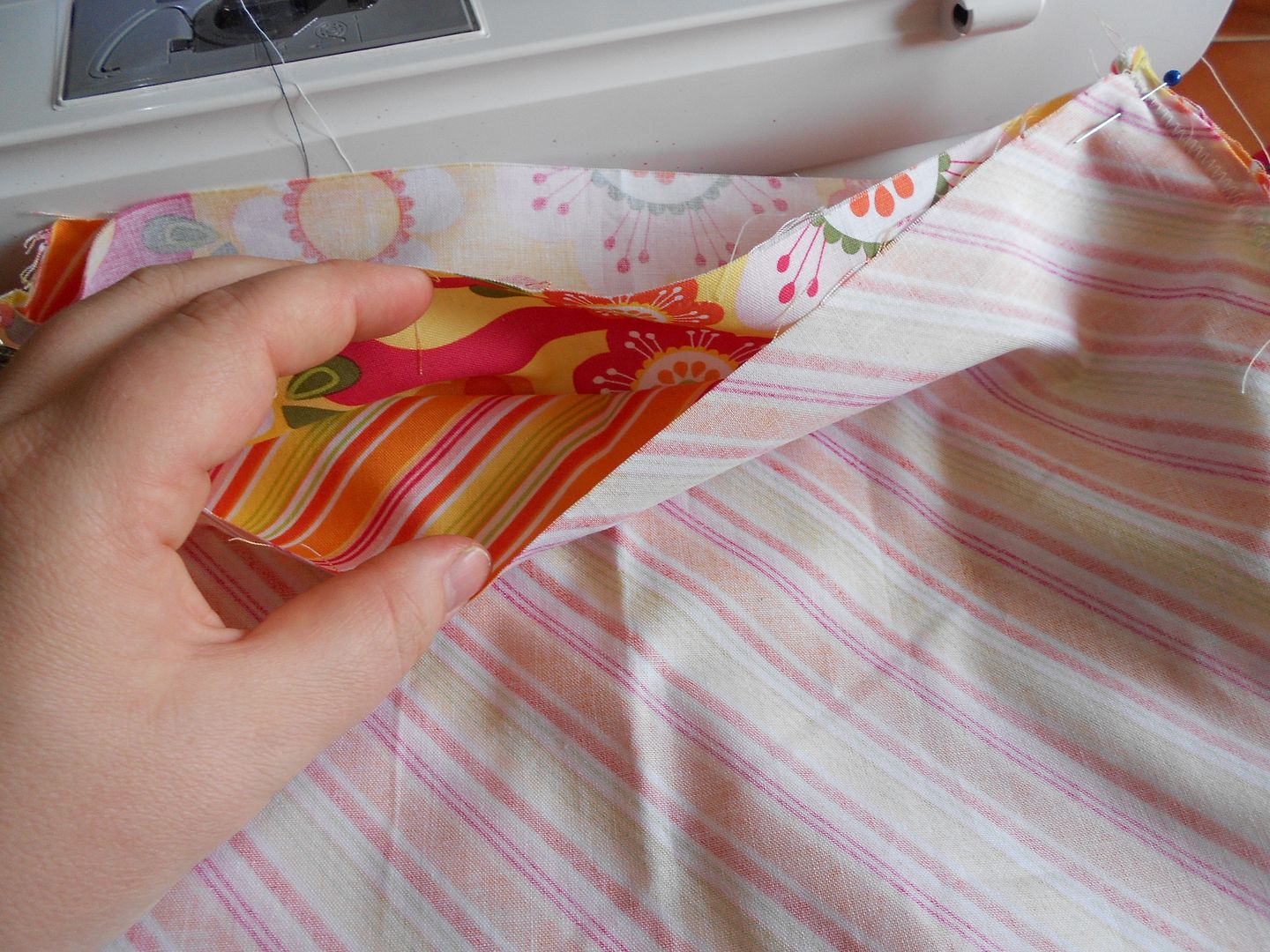 See how my fabrics are touching?
Make sure your seams are lined up and pin.
Mark with a pin, in a different direction, to where you will stop when sewing.
You will sew all the way around, but leave an opening for you to right side out the fabric.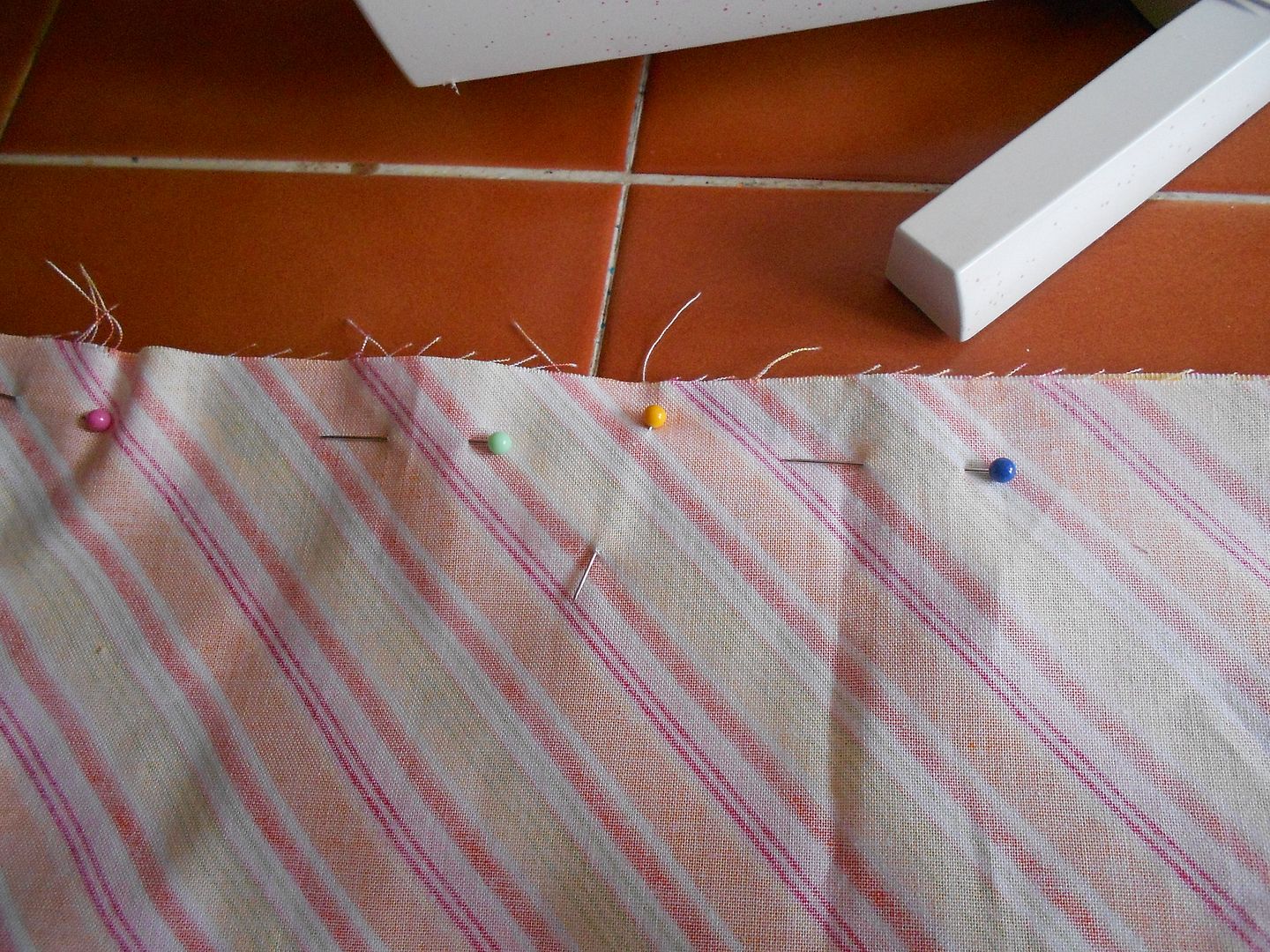 Once you have sewn your fabrics together and then right side them out, your tote will look like this.
See my hole, where I pulled through my fabric?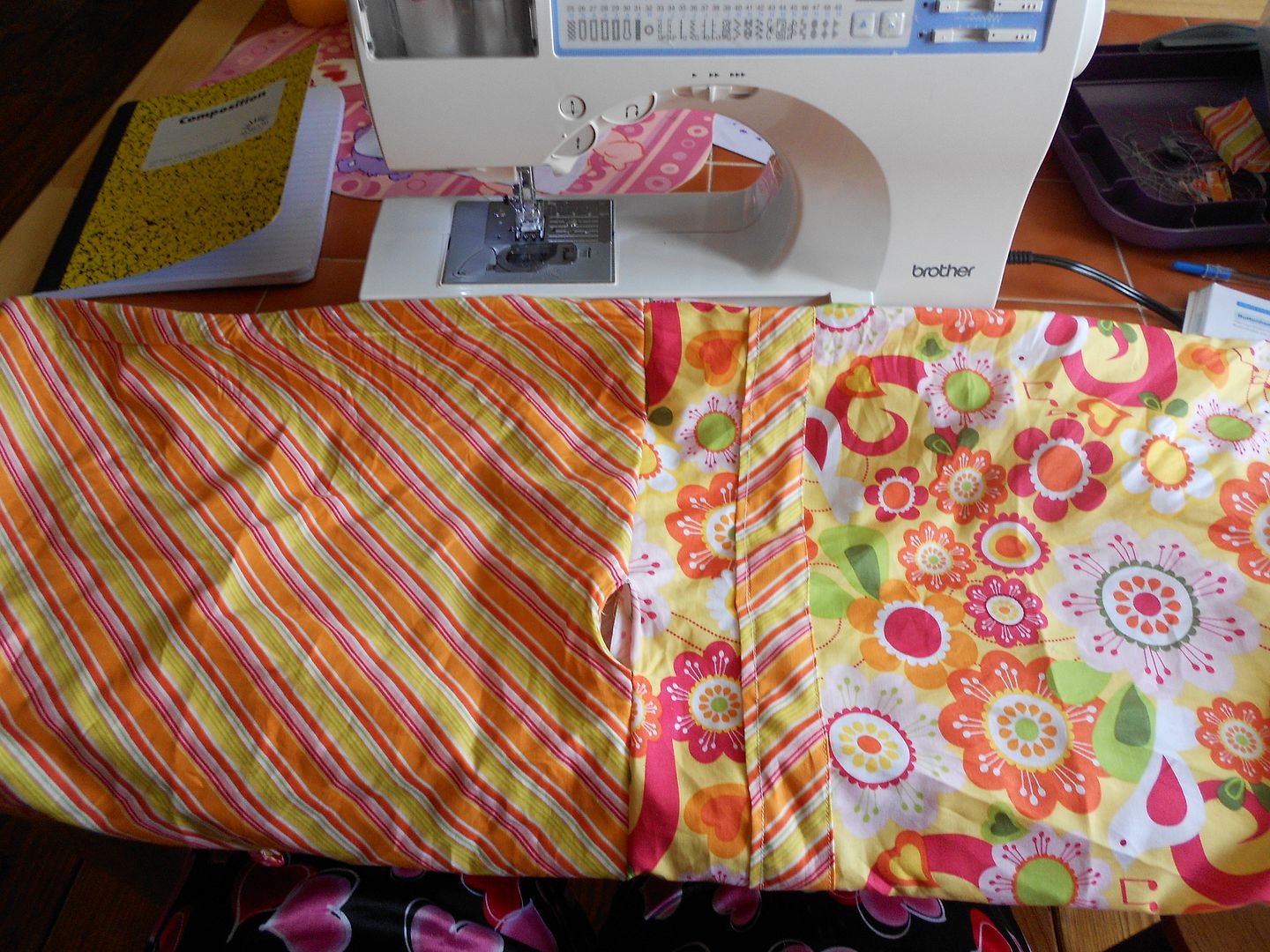 Push the lining into the outer fabric and then stitch up that hole with your sewing machine.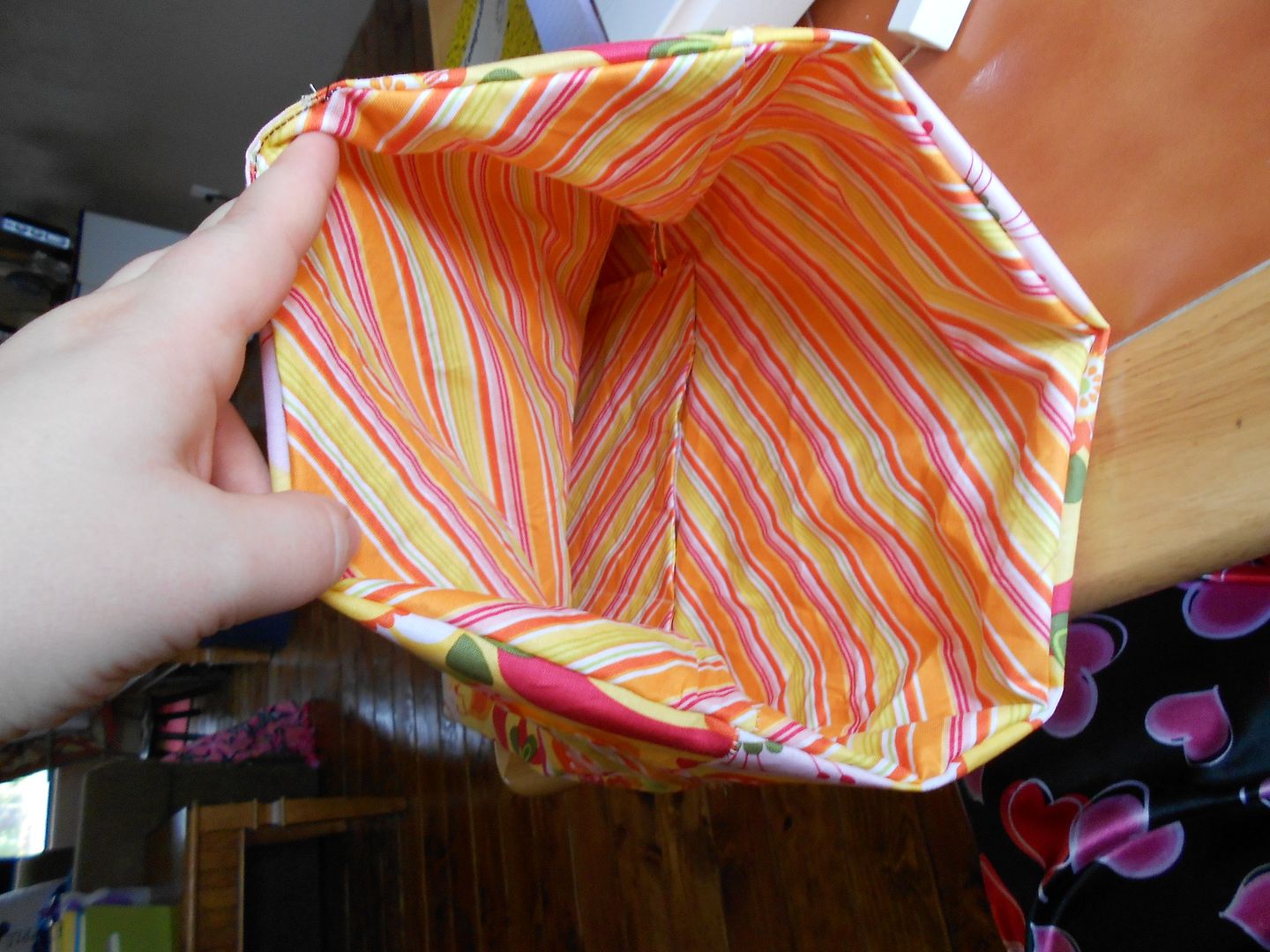 It will look like this.
Now you will add some straps Again I took leftover fabric from my bird fabric and made a strap. My strap is 34 inches long. I used two pieces and sewed them together to make my long strip. I then folded my strip in half (right sides together) and sewed it down the edge. Once sewn I right side it out and got my long strip for my strap. I actually ripped out my seam where the straps would go. I usually do this because I am always unsure of placement, until my purse is almost finished. I just ripped out my seams, and tucked the ends of my strips into the purse (meaning between the outer fabric and the lining) and then sewed it shut again. I used a zigzag and a straight stitch. I wanted to make sure my strap was secure.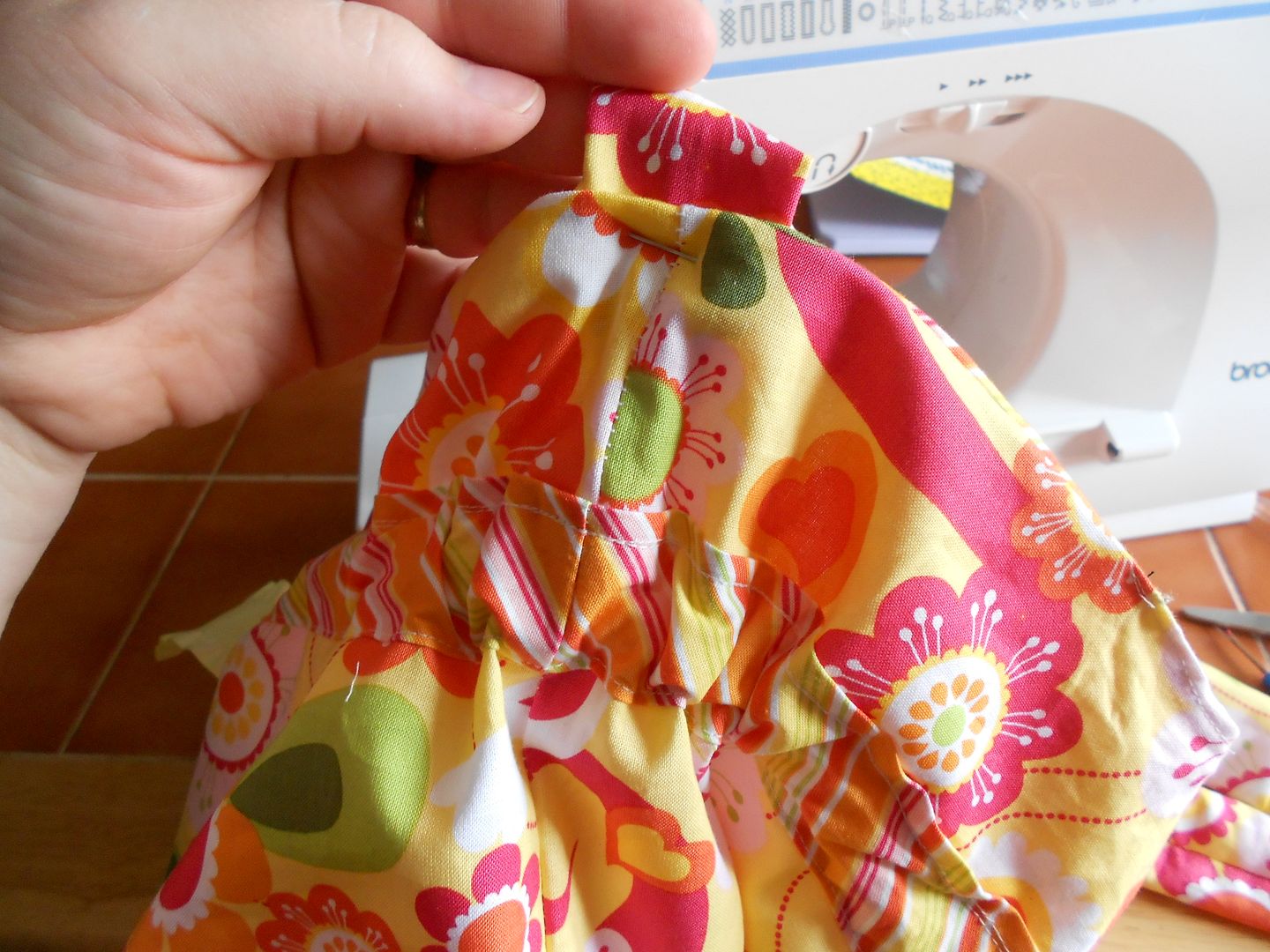 Once the straps are in place you will thread your ribbon through the button hole and tie a bow. I burned my ribbon edges with a lighter. Prevents fraying. I then stitched it in place and closed up the hole by my button whole. Remember the part you didn't sew before.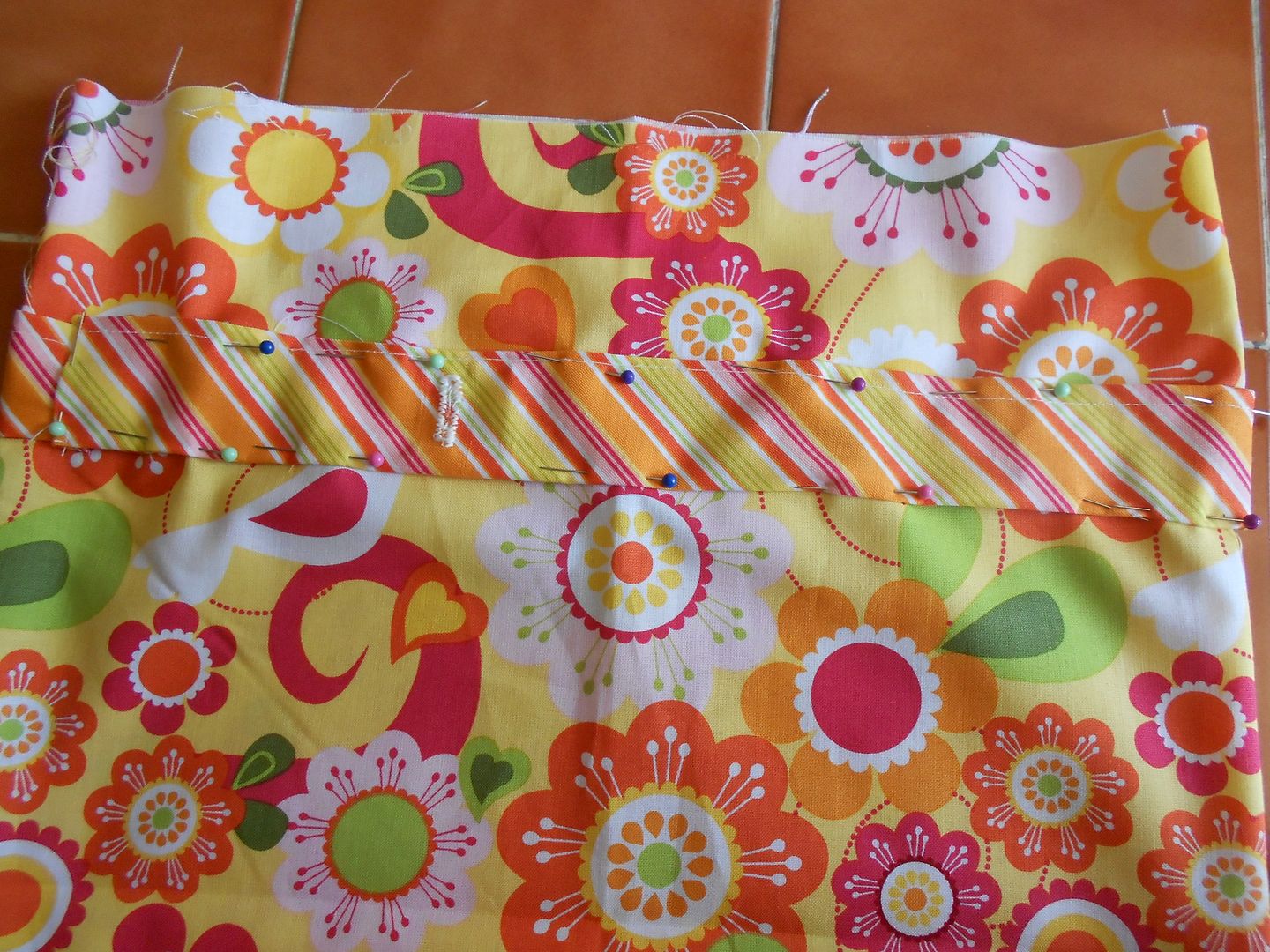 Once all that is completed you are golden. Ready for shopping, playdates, beach trips, or wherever the summer fun will take you this season. I hope this tutorial was helpful. I am not a pattern sewer and kind of wing it most of the time, which means sometimes explaining my projects can be a bit sketchy. Let me know if there is anything that needs better explaining. Thanks for stopping by lovelies and if you make your own Summer Song Tote. Let me know I would love to see it!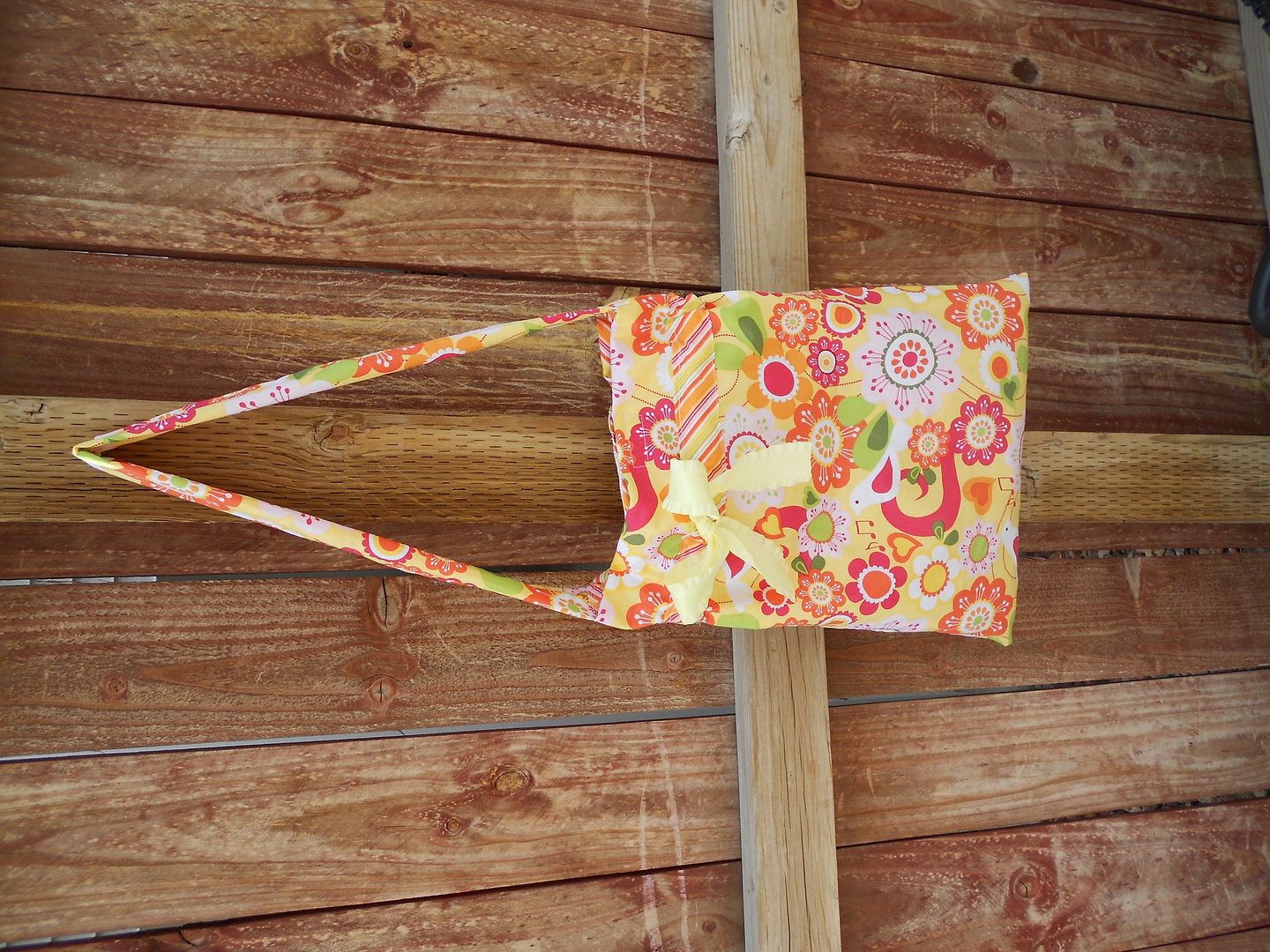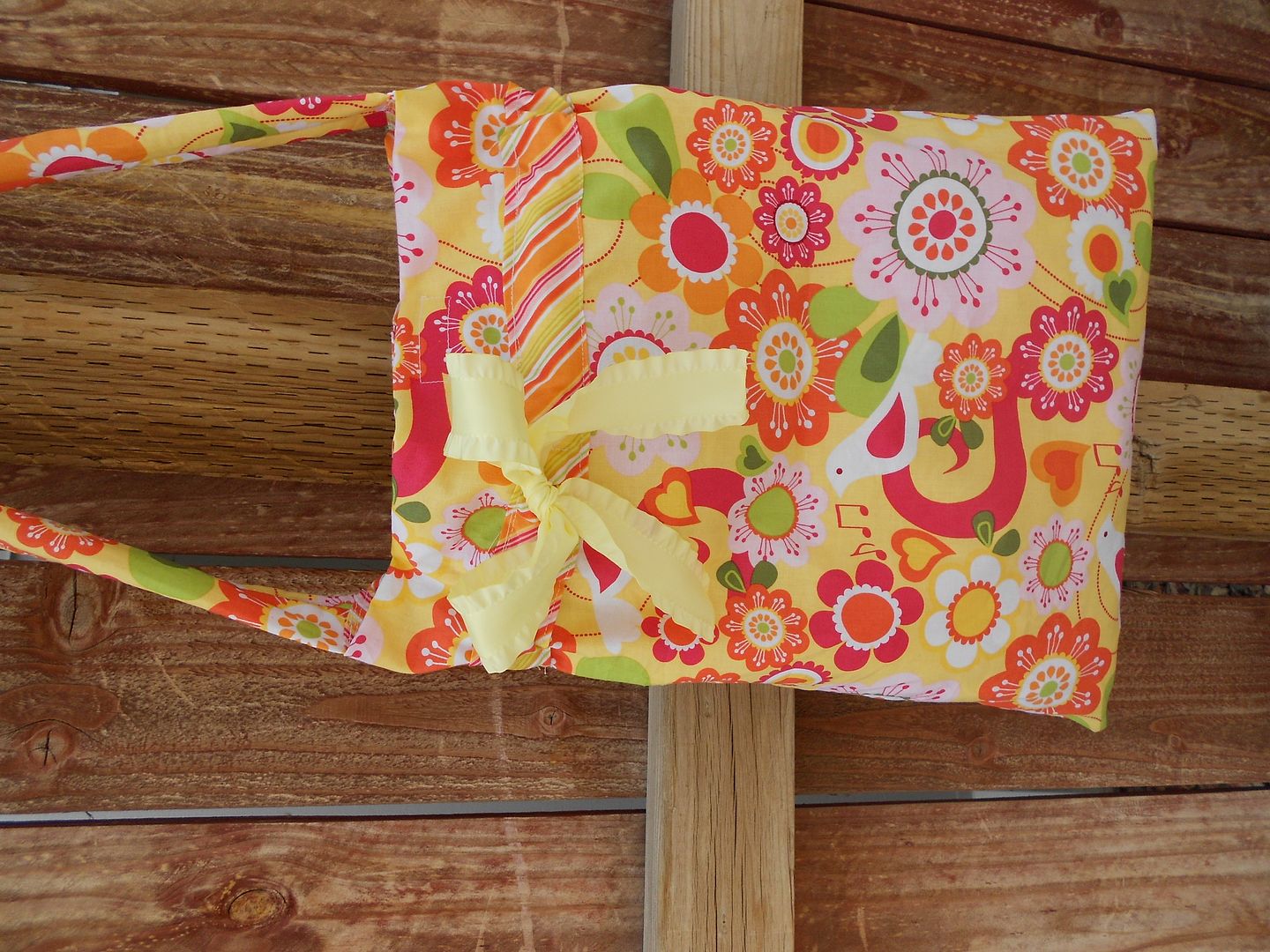 Have a fabulous day! Oh and don't forget to check out all the awesome sales at
Bratpacks Fabrics
. Here are a few of my other favorites she has listed right now.
Out Foxed- Out Smarted Half Yard Bundle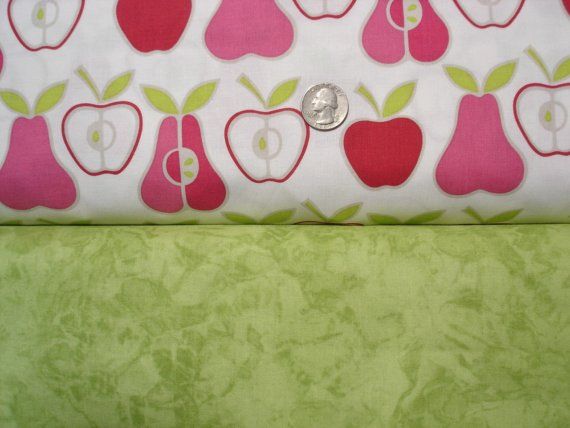 Apples and Pears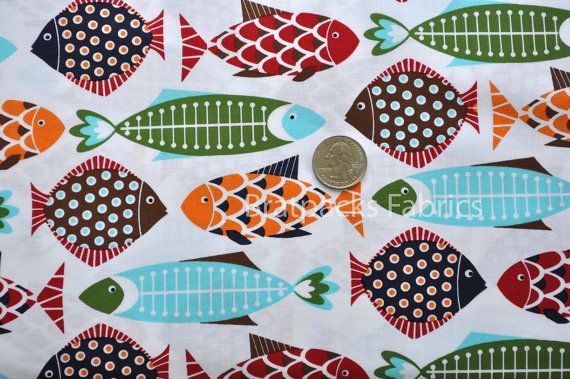 Hoodie Fish Fiesta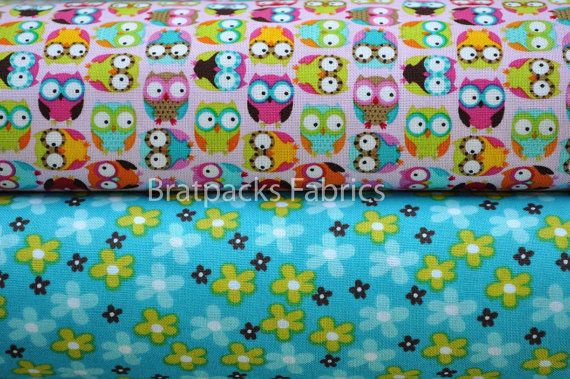 Mini Tossed Owls
Have a fantastic day!
Come back later for the Feature Friday Linky Party.
Oh and I have a Fabulous Friday Giveaway tomorrow.
Can I get a Woot Woot!!!
This post sponsored by
Follow me on
Facebook
Follow me on
Twitter
Browse my
Pinterest
Follow me with
BlogLovin
Send Me an
E-mail
Link up at
My Party