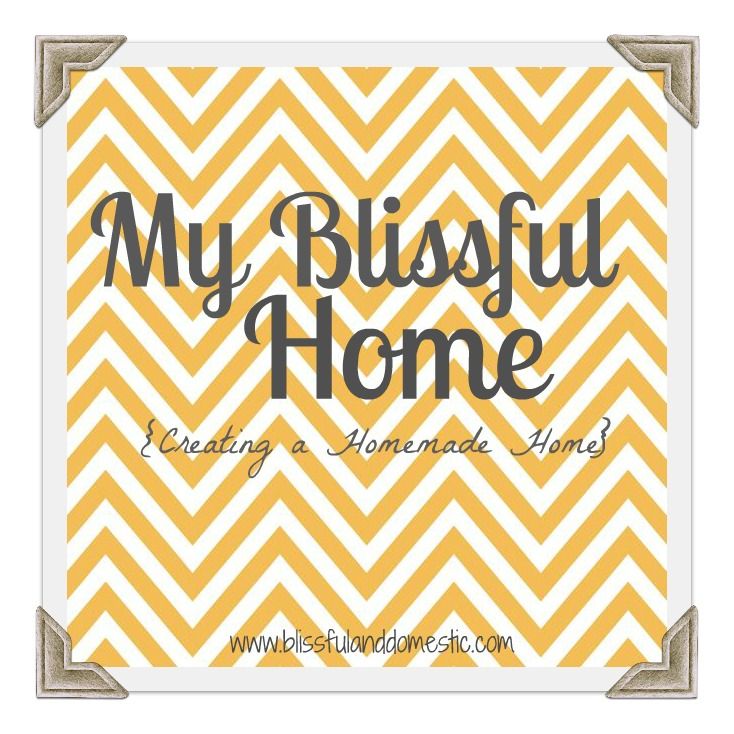 Alright lovelies! Happy Wednesday! I am excited to introduce another fun series here on Blissful and Domestic. Can you tell I have been planning a lot of series lately? Too many fun things and ideas that I just have to share! I love creating with and inspiring all you lovelies. You always give me such great ideas! In fact this series was born because of you. I love looking at all your blogs and I got to thinking one night, wouldn't it be fun if we could show off our cute crafty homes? I love seeing other homes and how they are decorated in a homemade way. It always gives me such great ideas. Whether you craft, thrift, whatever, if you have a crafty home and want to show it off, now you can! Send me an e-mail with Blissful Home Tour in the subject line. Show off your whole house or just a room or two. Take lots of pictures and feature the favorite parts of your house. I already have a few bloggers lined up. Those sweet ladies are working on their tours, so we can kick off this series in July. I would love to have you join the fun too!
So let me know!
For today though, I am going to be giving you a tour of my kitchen.
I have been working on it like a mad woman. I am still not done, but isn't that the story of my life. If I waited for it to be perfect I would never blog about bit, so I am giving you a tour of my favorite room in the house. This is where the culinary magic happens. Enjoy the pics and I will explain what we have done along the way. To see how this kitchen looked when we first moved into our house,
go here
. Tragic right? Yep this kitchen has come a long way in just one year.
Here it is: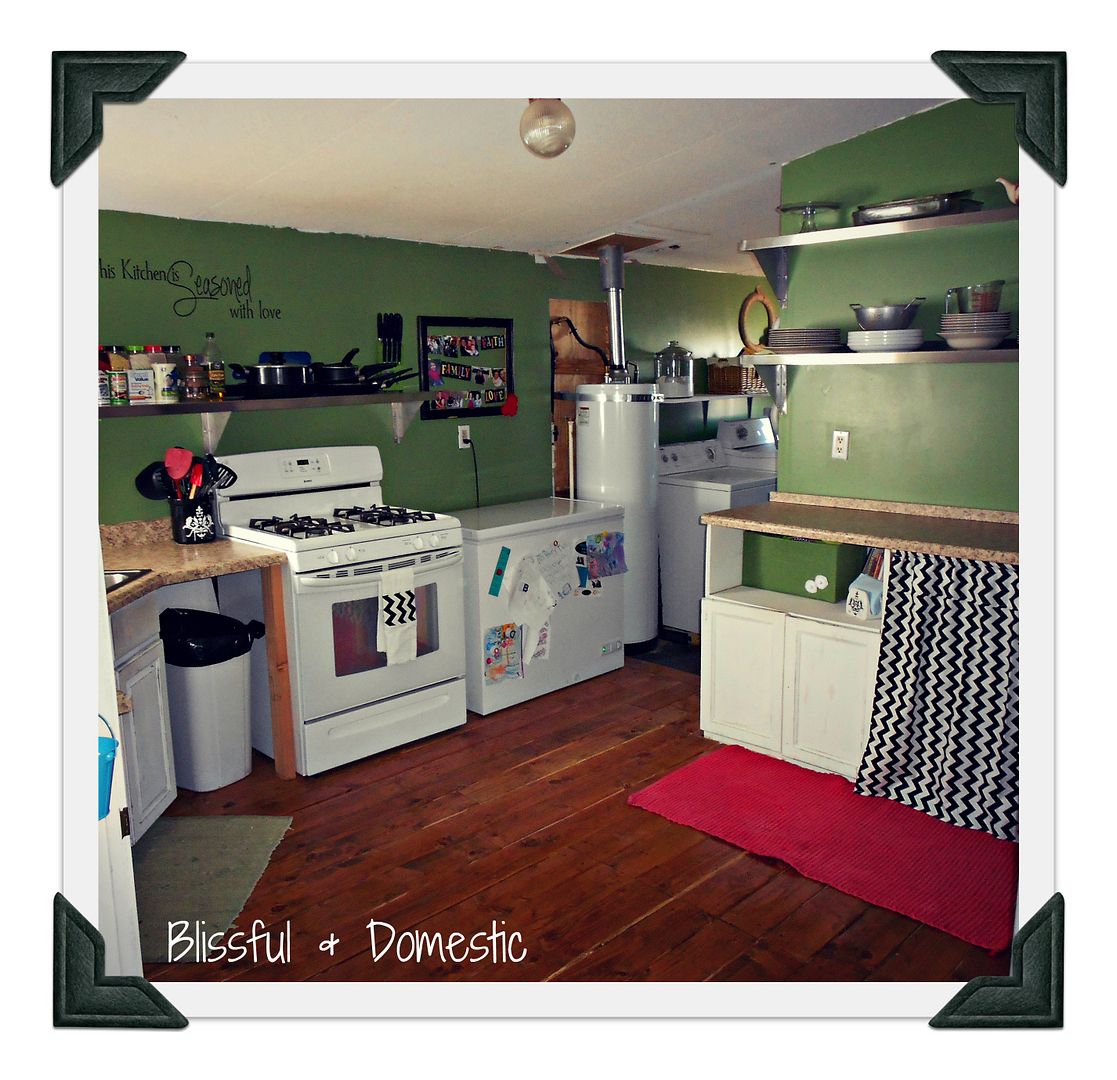 I love the kitchen. It is where I spend a big part of my day. I love to bake and make homemade goodness each day. I wanted my kitchen to reflect this. I wanted it to be user friendly. I love having all my kitchen goodies out there for all to see. Not only does it keep me organized, but constantly inspired to make and bake all kinds of goodies for that family of mine.
Also the flooring is my favorite! Hubby did it himself.
See how
here
and
here
.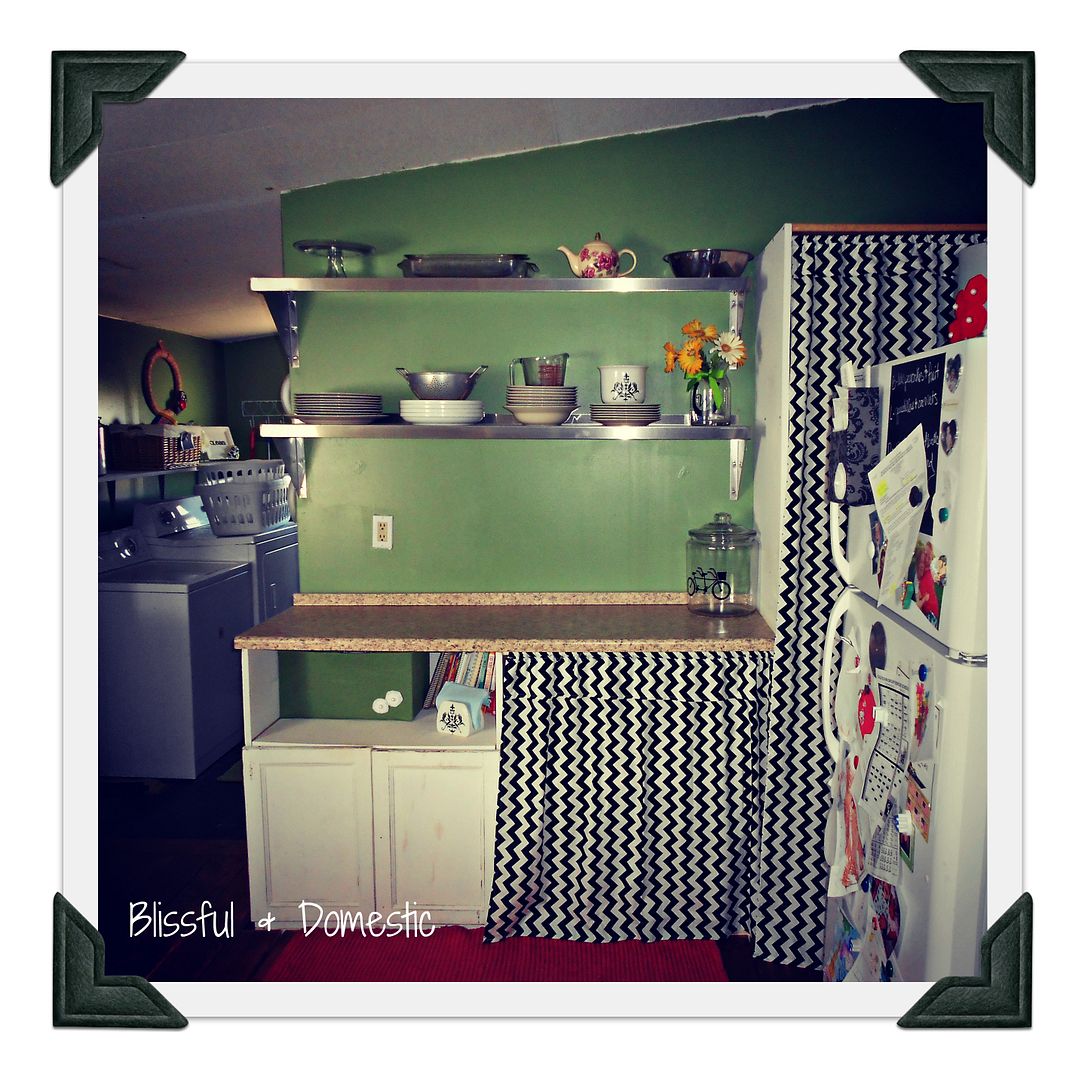 There were no cabinets when we moved in. Actually there was no kitchen. This is all hubby's doing. He built me the lower cabinets and I added the curtains to hide all the craziness below. My chevron fabric is from
Stitich Stash Diva
. I did all the painting myself. Molding on top still needs to be added, but that is definitely a project down the road we will be saving up for.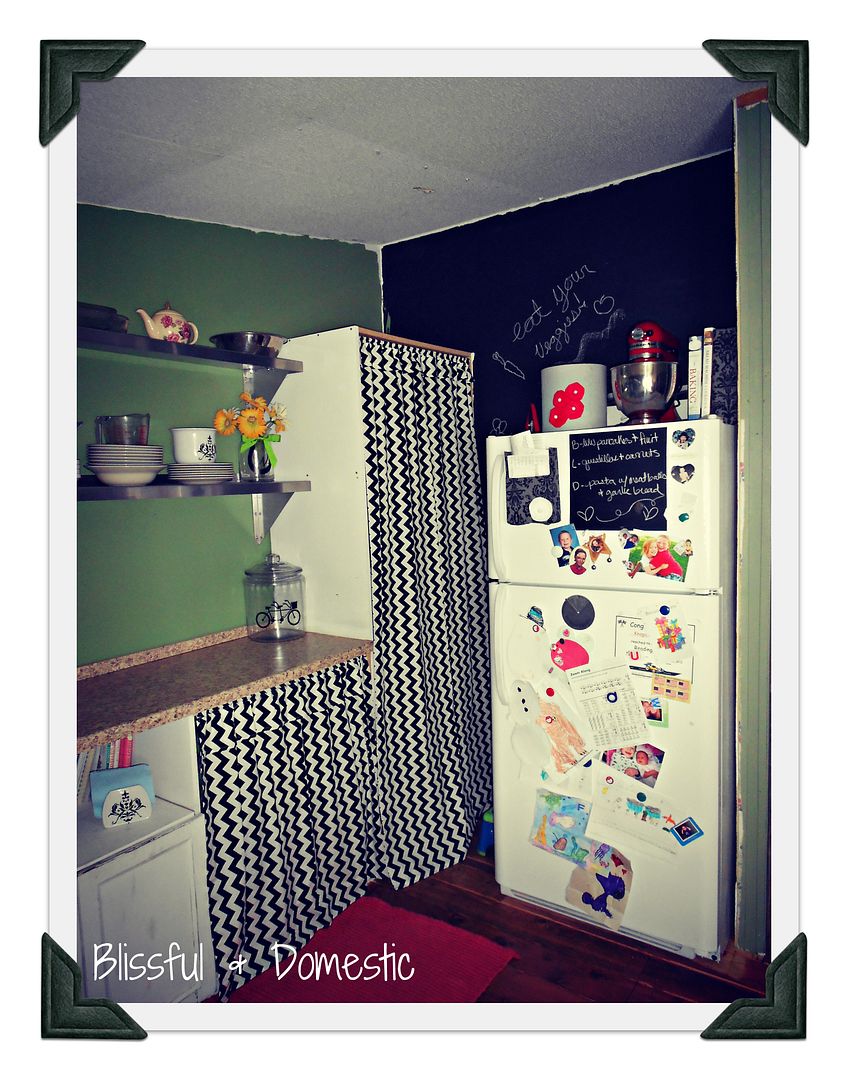 I also added a chalkboard wall. I so heart chalkboard paint. I can't get enough. It just screams homey goodness. I swear. Add it to your house and listen. It will totally scream it to you.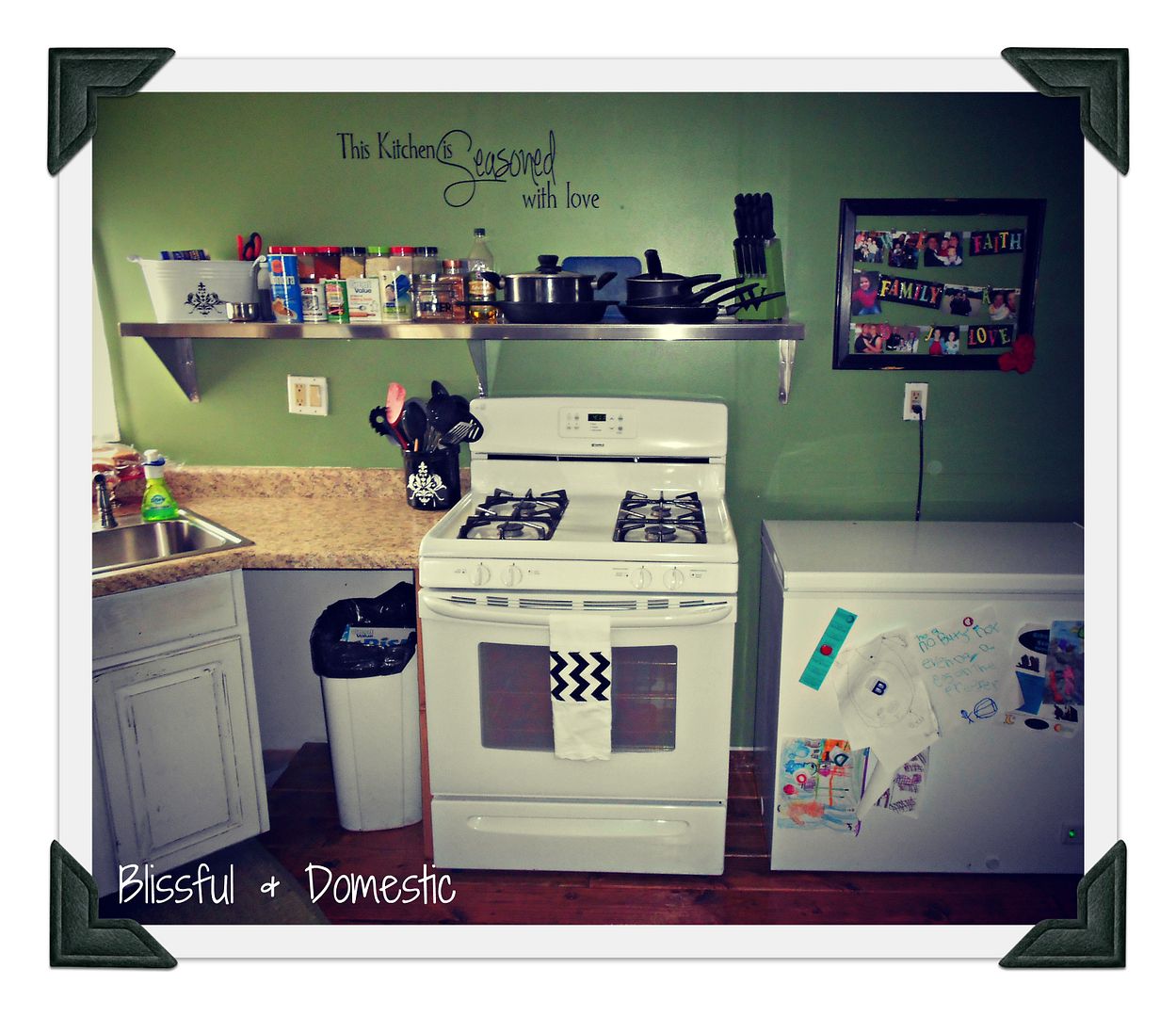 The vinyl quote can be found here in my shop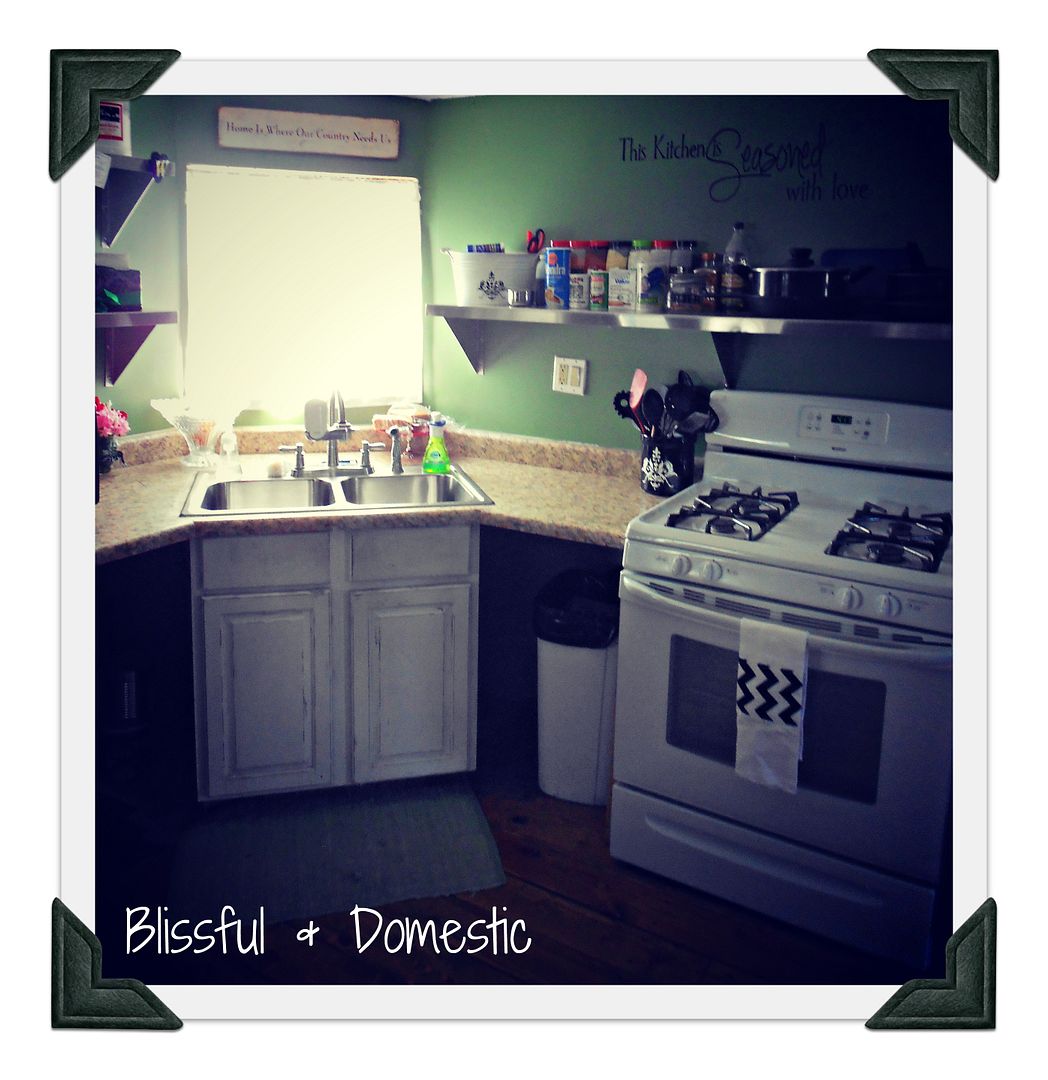 I am still debating what to do on each side of the sink. Hubby could finish off the cabinets, but I kind of like the open feel. Not sure what to do to make it cute. Any suggestions?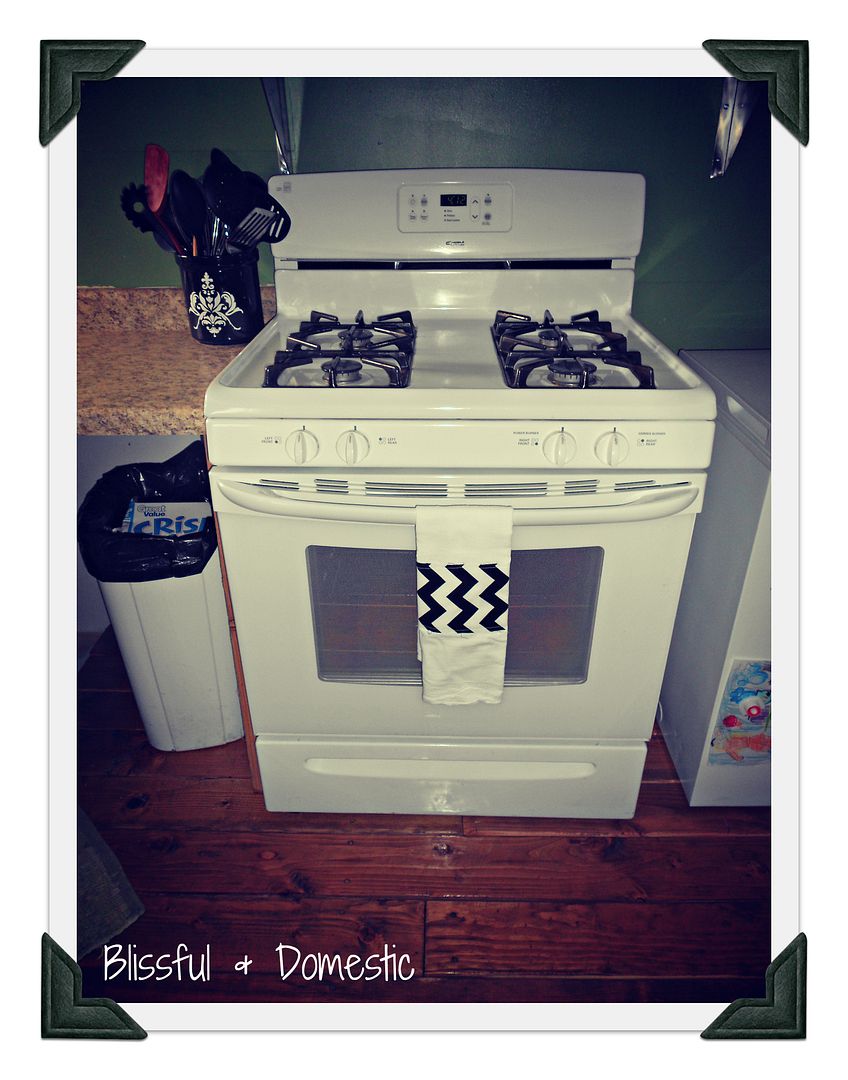 I made the kitchen towel with fabric from
Stitch Stash Diva
.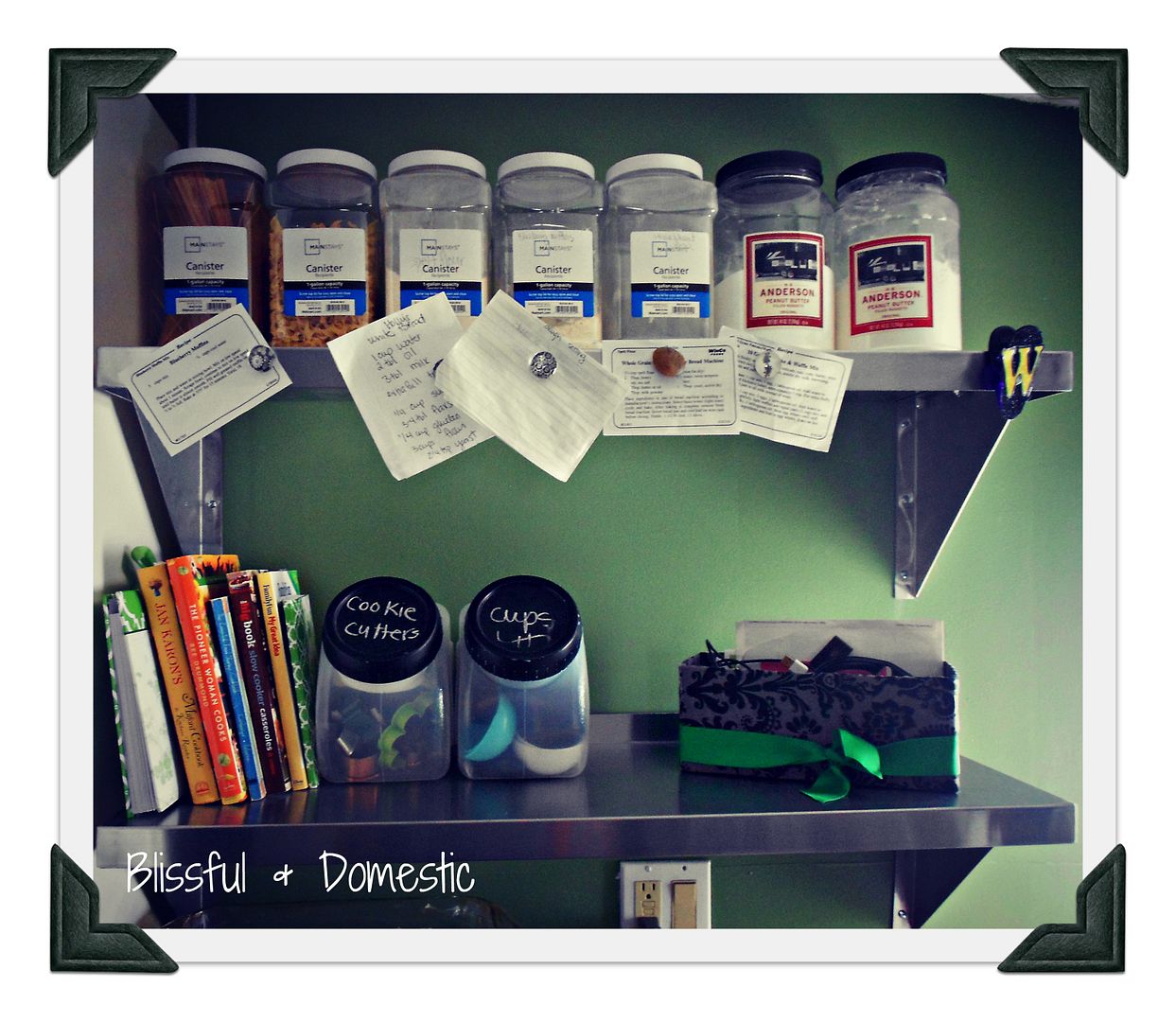 I ran out of chalkboard paint, but soon I will be painting chalkboard labels on these canisters or I might use some chalkboard vinyl to make my canisters cute. Like
these ones
.
My punch bowl, given as a wedding gift, doubles as a fruit bowl/bread holder
Sweet flowers, given to me by my littles, look splendid in a mason jar. I love mason jars for decorating and organization. They are just always so fun!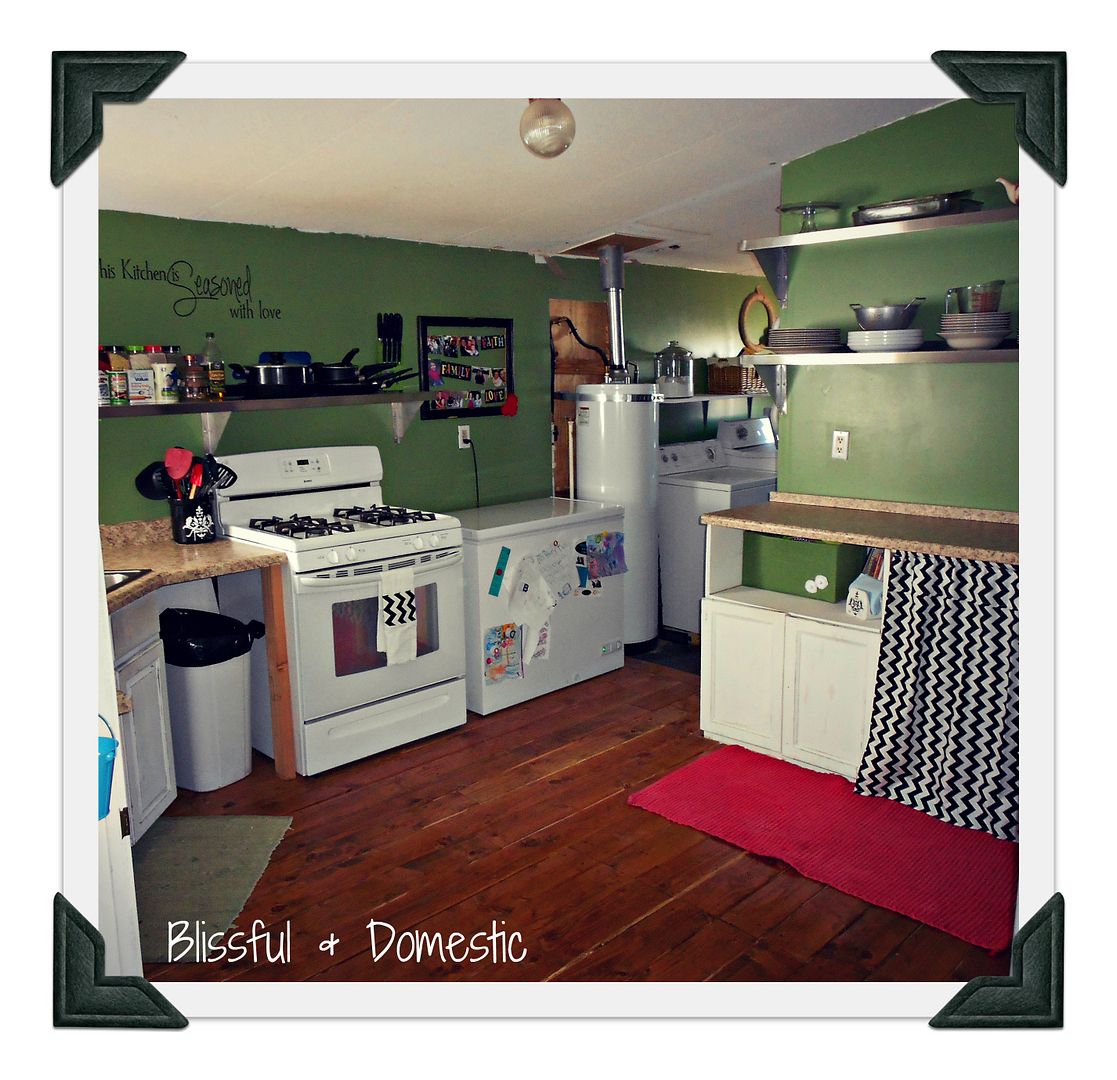 So there you have it. I am almost finished with the laundry area. It is right off of our kitchen. I have already done a full chalkboard wall. The littles and I have been coloring like crazy. I so love chalkboard paint! Did I mentione that already today? HeHe. When the laundry room is done I will be sure to share.
Want to share your own home tour?
Shoot me an e-mail with Blissful Home Tour in the subject line.
I would love to have you as a guest!
Have a great Hump Day!
Follow me on
Facebook
Follow me on
Twitter
Browse my
Pinterest
Follow me with
BlogLovin
Send Me an
E-mail
Link up at
My Party