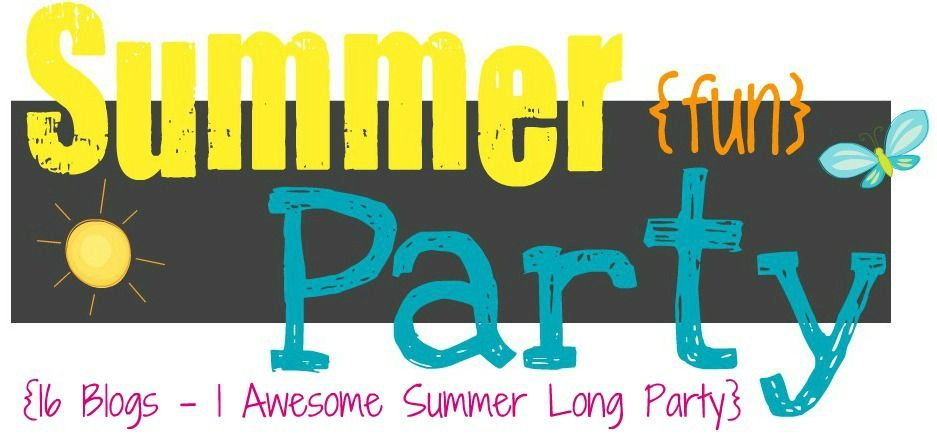 I have been getting a few request for a rundown of what we are doing this summer and I am more than happy to deliver on that. We have done countdowns in the past for summer and different holidays. I love countdowns! It is always so much fun for my littles and let's be honest, for me too. I was all ready to do one of those again, but then my Sisinlaw and I happen to pin the same thing a few weeks ago on
Pinterest
. It was a post about doing Summer Camp at home with your littles.
You can find the original idea here
.We thought it sounded like a lot of fun and we decided to run with the idea. So here is the rundown of what we will be doing, broken up into themes and weeks. We are very excited to start this camp. We even kick started it with a Pajama Breakfast with our friends, which I will be blogging about tomorrow. It was a blast! When doing Summer Camp at home, we plan to do our own things at home during the week and then on Friday's we are getting together for a mega activity day with
Holly
who is also doing Summer Camp at Home with her littles. I am just putting the themes below and what some of my activity ideas are. Over the next 11 weeks I will be blogging about what we do each week and give you a weekly breakdown. We are pretty dang excited! Now onto our Summer Camp at Home plans for Summer 2012.
Week 1 - Friendship Week
We will check out books from the library, talk about being a good friend,
Scatter Sunshine to a neighbor, have a friendship day with water
fun and a special pizza treat. Also write letters to a friend
Make Crayon Art
Week 2- Beach/ Under the Sea
We will check out books from the library, learn about different animals under the sea,
have an Under the Sea Mega Movie Night (Finding Nemo and Little Mermaid) with a special treat and camp out in the living room, make some under the sea art, visit an Aquarium and a pet store to see the fish. Do sand art
Week 3- Outdoor Fun
We will check out books from the library, Have a camp out, Smores Night,
Go for a hike and make a nature bracelet, make outdoor art, paint rocks.
Make a bird feeder. Some of these activities and Side walk painting
Week 4- Go America!
We will check out books from the library, Fourth of July Celebrations,
Patriotic Art, Make a USA treat, Pool fun, do a yard sale, go for ice cream
.
Canvas art
Week 5- Outer Space
We will check out books from the library, Glow in the dark bubbles outside,
Make a Space ship model plane, make outer space mobile, visit planetarium,
Dessert outside and watch stars and the moon
Week 6- Christmas in July
We will check out books from the library, Blizzard party, Christmas Crafts,
Start a Christmas Saving Jar, Give toys to a charity, Elf Breakfast
Christmas Movie in the park (put on by our rec center)
Week 7- Pioneer Week
Celebrate Pioneer week at church, make homemade bread and ice cream, make butter,
Check out books form the library, visit Museum, Talks about what a pioneer is.
Week 8- Trains and Transportation
Go on a train ride. Transportation activities like this one,
Hot Wheels races with friends,
Check out books at the library
,
Week 9- Dinosaurs
Visit the museum, make a dino model, make dino art (on poster board)
check out books from the library, mudpie dessert
Week 10- Be Creative
Check out books from the library, have a fancy family art show with a fancy dinner for the littles,
make lots of art to show at the art show, Lots of crafts this week.
Week 11- Sports and Water Play
Visit a new park, end of summer BBQ, Pool play,
"W" Family Olympics, let kids make medals for "W" Family Olympics,
Back to School Shopping and prep work for new school year.
Other things we will be doing this summer:
Visit all the parks within 10 miles of our home, Try new foods, Lots of trips to the $1 theater, local Merry-Go-Round, Bowling, cousin sleepovers, pool days, playdates, and any other family friendly, budget friendly ideas I find. I will keep you all posted!
We have a lot planned and I can't wait to get started. Our summer fun has only just begun. Come back tomorrow to see how we kick started our summer with a pajama breakfast. SO.MUCH.FUN! You so need to have one of your own. Your friends and their littles will thank you!
Check out the rest of my Summer Fun Party Co-Hosts.
They have more summer fun action over at their blogs.
Follow me on
Facebook
Follow me on
Twitter
Browse my
Pinterest
Follow me with
BlogLovin
Send Me an
E-mail
Link up at
My Party