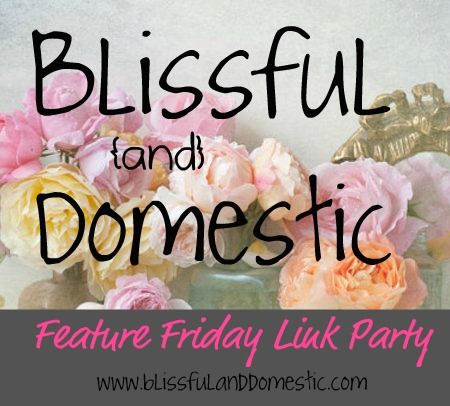 Good morning lovelies!I noticed I gained a few new readers over the week. Welcome lovelies! I am so glad to have you here at B and D. It seriously makes my day. Hubby and I are having a Parks and Recreation marathon, via Hulu tonight. We have been laughing it up like crazy. Any P and R fans out there? We had to watch something after we finished the office and P and R comes pretty dang close. No one can match Dwight and Jim, but hubby and I definitely get our laugh on during P and R. Anywho enough of my nerdy TV talk:) I can't wait to see what all of you lovelies have been up to. Best part of the weekend!
Oh yeah The winner to the GroopDealz giveaway will be annouced on facebook later this evening. You can follow me on facebook here to stay in touch with all B and D happenings.
Are you Ready to get this party started
?
Lets do it!
The Rules:
Follow Blissful and Domestic
(Grab a button or add a link.)
Link up YOUR recipes, crafts, ideas, projects or fun posts to share.
Please no etsy shops, giveaways or advertisements.
New or Old Post Work!
Link up to your post, not your main blog.
Visit some of the other links
and HAVE FUN!