Alright Lovelies. It is Tuesday and I have a new budget friendly post for you. I wanted to get this one up for you, since I am still working on my new month of meal plans and my staples list. I honestly didn't think it would take so long to compile, but summer fun is kicking my butt. In a good way though. Swimming with those littles has taken top priority lately, which is why their was no blog hop this weekend or the Fabulous shops party. I honestly just didn't have time to get them up. Because of this I am going to take a break from the hop and the shop party. I will continue doing the Feature Friday Linky Party, since it is one of my favs! The other ones will be on hold until the summer is over. I am hoping to get them going again then. Just a little FYI for ya.

Now onto today's post. I received quite a few questions on how I do Costco and such. You know any of those warehouse stores. I was asked if I shop there, do I actually save money, and how do I save money. Well I have a post all ready for you, to help you still shop at those warehouse stores and save money too!

So lets get down to the nitty gritty. First off this is just how I save. These are suggestions and by no means am I telling anyone what to do. I am just letting you in on the way we save money or make ends meet. It really depends on what boat you are in. So lets see how I do it.

First off I do not do Costco the same day I do my once a month shopping. That would just be insane. Way too exhausting. I only actually shop at Costco maybe very two or three months. I have to really budget for this, since it spends a huge chunk of my monthly budget. I do it though because some things are just way to hard to pass up. Not because they are super awesome, which they are, but because they are vital to making my food system work. I use Costco to buy all of my baking needs. Their prices on sugar, flour, and yeast are beyond thrilling. I haven't meet a store yet that could compete with their prices, when it comes to baking stuff. Costco just rocks!

I plan my Costco trips ahead of time. I write up my list like so.
This particular month I was getting seasonings, some fruit, eggs (which I have now finally found at Winco for a good price), and some canned stuff.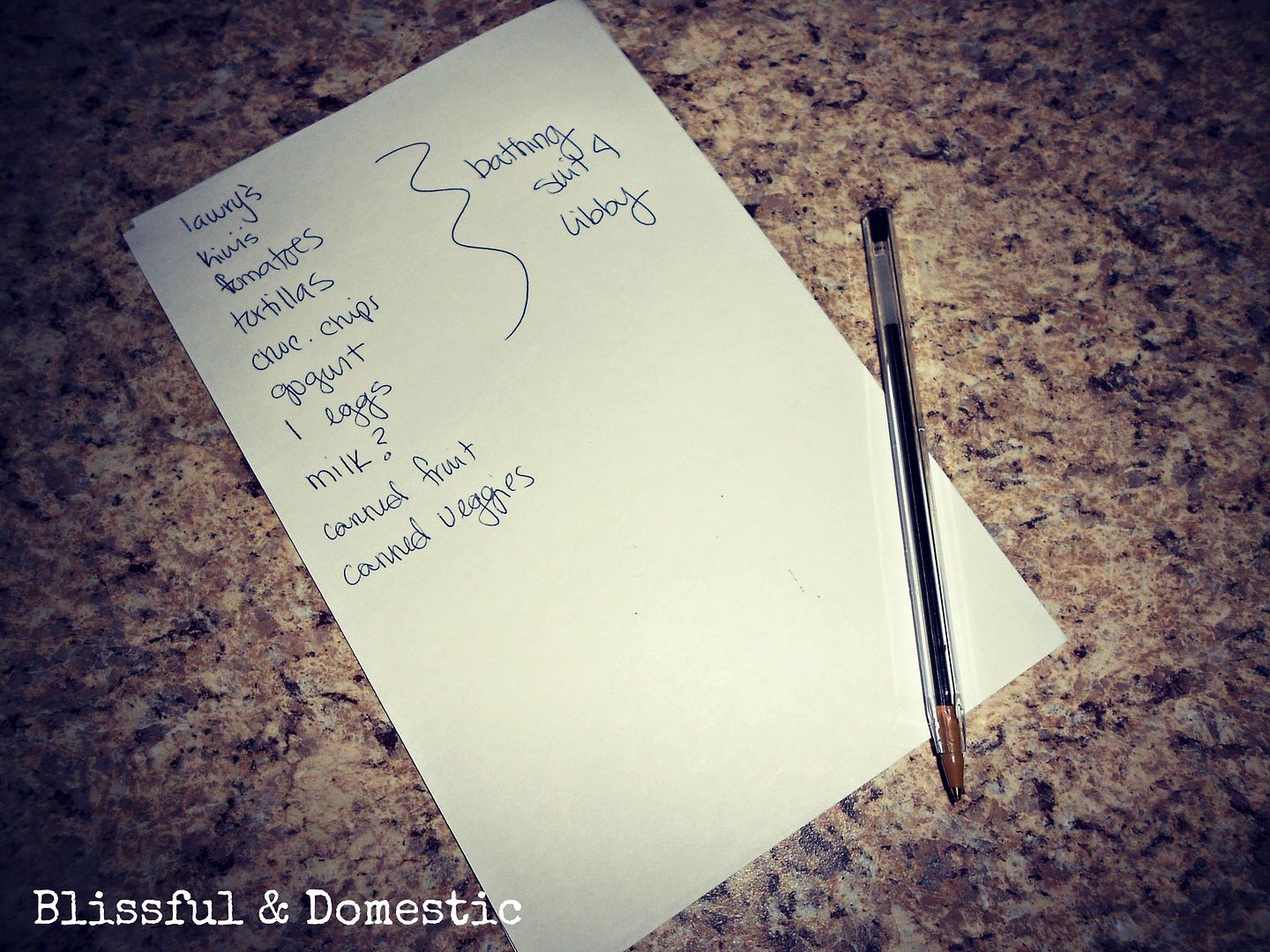 Notice the question mark by milk? Well that is me wanting to compare the price. I know milk is always $2.48 at Winco. I just have that price memorized. I wanted to check to see if milk was cheaper at Costco. It wasn't, so I didn't buy it.
I also was looking for a bathing suit for my little girl. I always check thrift stores first, but when I couldn't find one I had to go new. I ended up finding one for a good price at Costco. That usually never happens. I rarely, if ever, purchase anything from the middle section at Costco.
Before I get into how I shop at Costco, I am sure you are wondering what my staple list for Costco is.
Well I have it for you. Here we go....
I've included a price and link for some
I also tried to estimate how long each will last me.
All are approx.
50 lb. bag of Flour
- will last us about 3-4 months
Cost- $13.99
25 lb. bag of Sugar
- will last seriously like 6 months at least
Cost- $15.04
Chocolate Chips Semi-Sweet for Baking
- will last about 2 months
Yeast
- approx. $3.25
I am still using the same bag I bought in December.
I still have another month of baking to get out of it.
Love this! So much cheaper!
Lawry's Seasoning Salt
- $6.04
Still on the same bottle I bought 3 months ago.
It is only a quarter of a way used.
Garlic Salt
- $7.07
Still on the same bottle I bought 3 months ago.
It is only a quarter of a way used.
Brown Gravy Mix
- $4.22
Awesome to have this in the cupboard.
No more buying canned gravy or gravy packets.
I use this more in the winter, so I still have almost a full bottle.
I bought it in December
Oil
-Will last at least 6 months
$9.36
Raisins
- Will last 2 months
$9.02
Craisins
- Will last 2 months
$8.43
Pancake Mix
- will last at least 2-3 months
$6.46
Salt
- will last months. comes in a 4 pack
$2.46
Mayo
- will last 2 months
$9.49
Jasmine Rice
- will last about 6 months
$31.57
40 ct bag of Tortillas- will last about 1-2 months
$4.45
2 pack of Peanut Butter - will last 2 months
$13.50
Ranch Dressing
- will last 2 months at least
$11.42
Go Gurt
- will last a month
$9.17
Vinegar
- will last 6 months at least
$3.37
2 pack Nuetella- will last 2 months
$9.98
Lemon Juice 2 pack
-
will last 2-3 months
$6.16
Also on the list:
Canned peaches, pears, mandarin oranges, and apple sauce
Canned green beans, peas, and carrots
Canned re-fried beans
some fresh fruit
sometimes canned soups in winter
So that is a basic staples list for Costco. I do buy canned goods there as well. Canned fruits, veggies, and beans. If you don't like canned goods, I understand, but don't be a hater. They are an essential part of our food storage and I use them for our meals. Also when we have had months where there was little to no money for grocery shopping
(yes, we have had that happen before)
our canned goods got us through that hard time. I am a big supporter of having a good supply of canned goods in food storage. They may not be the best, compared to fresh, but they are beneficial. Now Jasmine rice is the biggest ticket item there on my staple list. It is a lot, but not only do we LOVE Jasmine rice, but it last us forever. We have it at least 2-3 times a week and it will last us about 6 months, so the $30 investment is well worth it.
I store all of my flour, sugar, and rice in 5 gallons tubs I purchased from Home Depot. I also have canisters on my counters.
Notice something about my list? There aren't any frozen items on there. Nope there isn't. Why? Well because I don't buy them there. I steer clear of the freezer and fridge section. I only buy something from the section if I have a stellar Costco coupon. I don't walk by those isles because I don't need the temptation. Stores like Costco have awesome delishsious freezer meals and such. The only thing is they are way expensive and can have your grocery budget getting out of hand real quick. Just steer clear and you won't mess up your budget.
Also only buy what is on your list. My staples list is what I like to have in my cupboards. I don't buy everything on that list each time I go. It ends up that I spend anywhere from $80-$100. I go about once every 2-3 months. That $80-$100 comes out of my $400 dollar grocery budget. I really watch myself. Messing up here can mean I have less money to play around with at that regular grocery store. You have to be careful and have self control. Try the samples, but don't buy them:)
Now when I do my once a month shopping I go at it alone. It is just easier for me and my hubby gets time with the kids. Too much thinking in this brain of mine, when I do once a month shopping. I need that alone time to think. Now going to Costco is different. Usually I have my littles with me. I trained my littles from the time they were toddlers not to ask for things in the store and no fits. If they did this they wouldn't get to come the next time. Now I won't say they never ask for anything, but no fits. EVER. They are very good helpers and understand when I say no. Also Costco is the one place we go, where they get a treat on our way out. I have a soft spot for their churros and berry smoothies. I try to save a bit of our budget, so the littles and I can get our snack. It is a great motivator for them not to fight and be helpful in the store. Oh and plus this Mama loves the sugary goodness of that reward just as much as they do.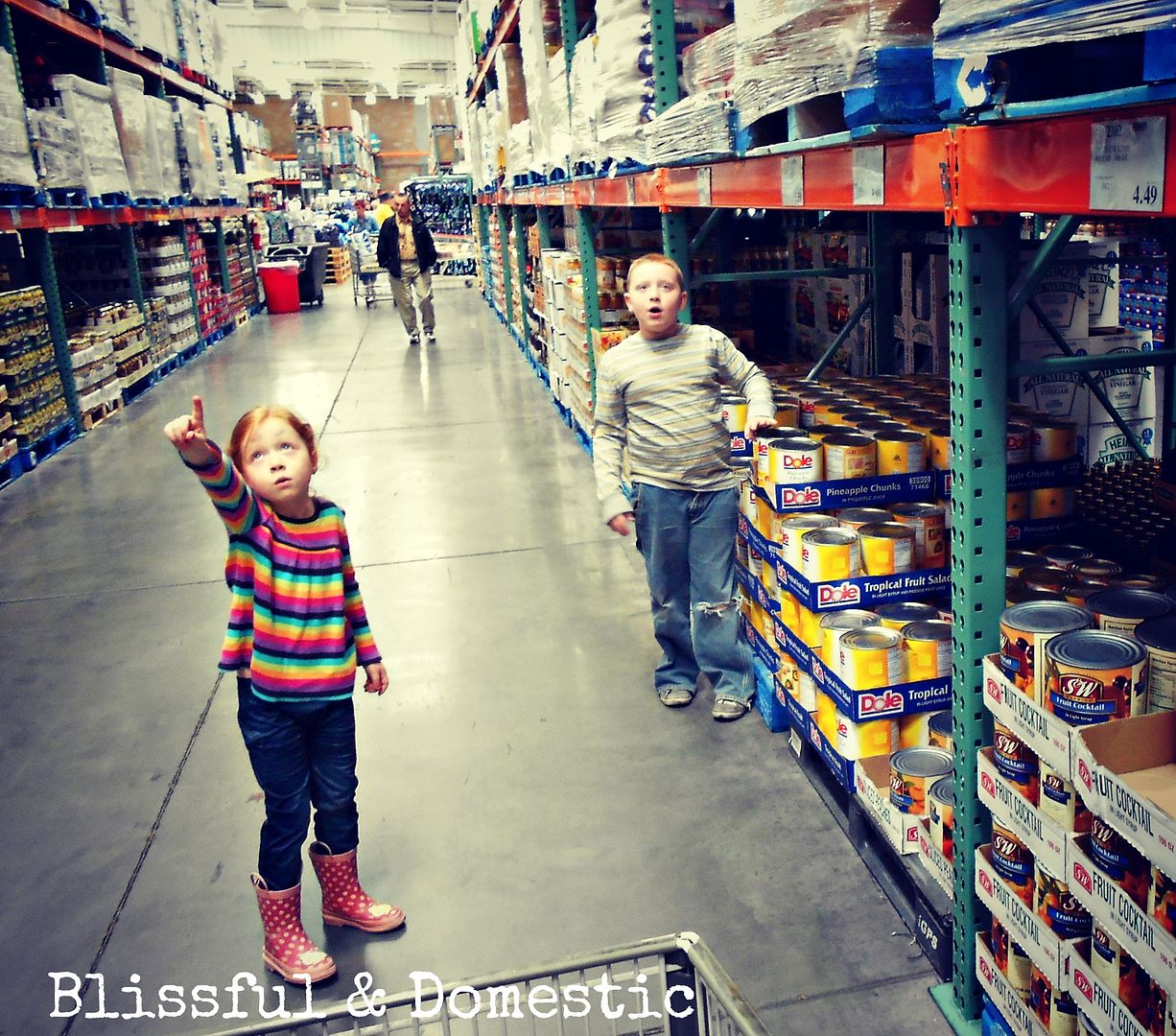 Once we have everything we need, we head for the checkout.



Once we get home everyone helps put everything away. Then of course the littles have to try something new out. This is probably the most exciting thing for them:)