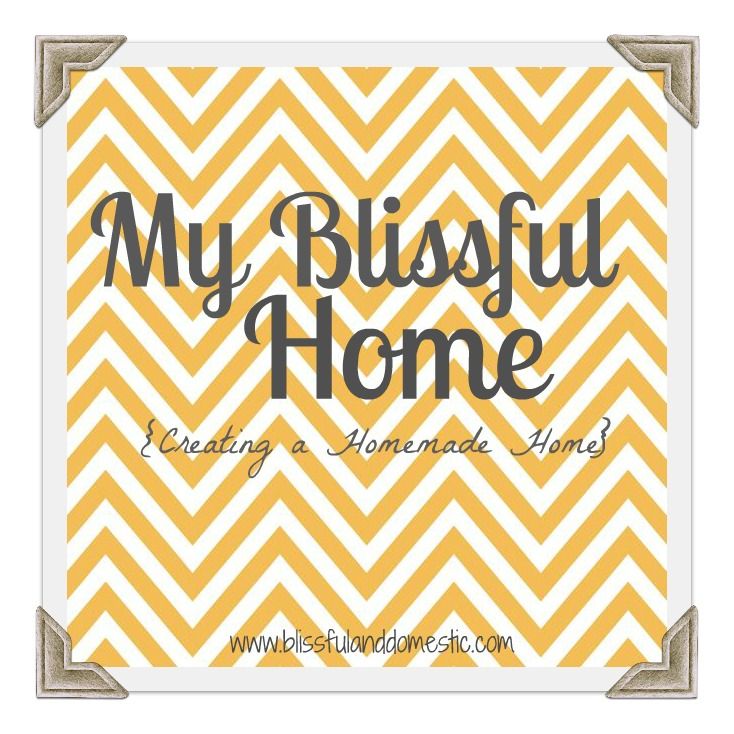 Welcome to My Blissful Home!
A new series featuring homes from around the blogging community.
These crafty bloggers are going to show us how they decorate their thrifty, crafty homes. Today we have Lori, taking us on a tour of how she has made her home a Blissful one.
------------------------------
Hello! My name is Lori and I blog over at Thrifty Decor Mom. My blog is full of thrifty decorating ideas, meal plans/recipes, and DIY projects. I also blog about my family and house full of pets. It gets crazy around here with a new puppy, 4 guinea pigs, and 2 teenage daughters!
Danielle invited me to share some of my
thrifty decorating ideas here at A Blissful Home. Grab yourself some iced tea and enjoy the tour!
Our home is located in Lewis Center, Ohio. We have lived here for 15 years and made a lot of changes and updates along the way.
The first room you see from the front door is my
new

library

. This used to be a dining room that we
never used so I turned it into a library. It is definitely
my favorite room in the house!
I created a gallery wall on a budget by using items
I already had. You can see how I put everything
This is the view from the library looking into the foyer.
I recently updated this area at the end of the

foyer

. The door on the left is where we enter from the garage. I wanted to create a space for coats, bags, keys and shoes. By using items I already had this project was totally FREE!
Next up is our Family Room. We spend a lot of time in here so I wanted to create a cozy and comfortable area. I painted some old furniture and accessories to give the room a fresh look. One of my favorite ways to update a room or furniture is with paint!
my mom. She passed it on to me and
I painted it a creamy white and
added new wood legs. I love having it in my family room
where I see it everyday and think of my mom. The extra storage is nice too!
The

TV stand

was an old dresser we were using in my daughter's bedroom. With a few free changes it is now
an awesome and unique piece of furniture.
Here is the Kitchen . . .
I painted the oak cabinets about a year ago and absolutely love them! It completely changed the look of my kitchen and really brightened up the space!
On the other side of the kitchen is a desk area with more storage, the pantry and laundry room.
This is where everyone gathers to eat, do homework or blog! Right outside the bay window is my water fountain. I love having the windows open and listening to the water!
Thanks so much for taking my home tour! If you would like to see more of my home, thrifty decorating ideas or meal plans please stop by for a

visit

. I love meeting new friends and sharing ideas!
A great
BIG
thank you to Danielle for inviting me to be a guest on her blog!
-----------------------------
Thank you so much Lori! Such a gorgeous house. I totally have crafty envy right now. Thank you so much for inviting us over for the day. Thank you to all you lovelies also stopping by for the tour. I hope you enjoyed it. If you have a crafty, thrifty home and would like to do a tour on Blissful and Domestic send me an e-mail with "My Blissful Home" in the subject.
Have a wonderful Friday Lovelies!
My Blissful Home Tour