Many of you have asked me how we do back to school. Well school is only a matter of weeks away for us and pretty much all your munchkins as well. I thought I would write up a few quick posts on how we save and shop for back to school. You will be seeing these on B and D over the next week or so. We are homeschoolers. I love homeschooling my kids. We may not need lunch boxes and backpacks, but we do have to purchase supplies and books for my littles learning. We use Connections Academy for our main curriculum. They are seriously amazing! They are an online charter school. They send you all the curriculum for free and you teach your little ones. You stay connected with a teacher over the phone. They are always there for any questions or concerns you may have with your children's learning. We record attendance and grades are reported through them. I love using them. It really makes it easy on me. I do supplement with more history, science, gospel learning, and such. Over the summer I have been slowly acquiring our learning materials for the new year. My bubba is going to be going into the second grade and Miss Priss will be doing First Grade. They are both reading like crazy and grow more and more everyday. Over the summer I decided I wanted us to focus more on reading and writing. I truly think it is the basis of all learning. If they get their reading and writing rock solid, than everything else will fall into place. I have seen this work in my kids. We are going to be doing author studies in this coming year. I have found an amazing assortment of teaching aides on amazon.
Here are some of the books we will be using this year.
Each book features an author and has about a months worth of lesson plans. You get to learn about the authors history, why they write, how they illustrate/write, etc. I think this will be really fun for my kids. They have already browsed some of these books and can't wait to get started!
We also use these Story Stretchers series. I have been using these with my kids, since we started preschool. They make the learning so easy because everything is already planned out for you. Easy Peasy! Each book is full of literally hundreds of lessons plans on various books. They divide it into themes, which makes lesson planning a breeze.
Another series of books I love are the Encyclopedia of Activities Books. These are great for homeschoolers and non-homeschoolers alike. There are all kinds of fun activities from crafts to science that you can do with your littles. From infants to elementary age. Each book is specific for an age group. These are so super simple to do with your littles and require very little effort on your part. They did all the hard work in writing it. You get to just sit back and have fun with your kids. They also use common items you would have around your house or in your children's art box. They can be a bit pricey, but are completely worth it. They also always have these at the library to check out.
One other book, which is new to us this year, is
Janice VanCleave's Science Around the Year
. My kids can not wait to start this one. I am very excited to use this book to supplement with all our science lessons this year.
So basically these are the books we will be using this year in school. These are perfect for if you homeschool or if you just want to add some extra learning fun to your child's day. The library is always a great resource for finding books for you and your littles, as well. We love browsing the library to find new, fun books. I always try to check the books out first. If it is something I know we will be using for a long time, then I purchase it. Every book that gets added to our curriculum has to be pretty darn stellar. If I am going to spend the money on it, I want to make sure we will get a lot of use out of it. I also share curriculum with my sisterinlaw. She is a schooling book lover like me, so we share our books with one another. It is a great way to try something out before you purchase it for yourself.
I also love to check out thrift stores for books. Just recently I went into one of our favorite thrift stores and I purchased 52 scholastic books for $24. I couldn't believe my luck! I guess a teacher had just recently donated a bunch of stuff. You can see from the pictures that I was able to get a great selection of books from little readers to science books. I am very excited for this new school year and all the growing and learning my family will under go.
I also look for "book lots" on Ebay. You have to be careful of this though. Always include the shipping in the final purchase price. Then you know if you are getting a good deal or not. A book may be 99 cents, but if the shipping is $5 you may not be getting the deal you think you are. Make sense?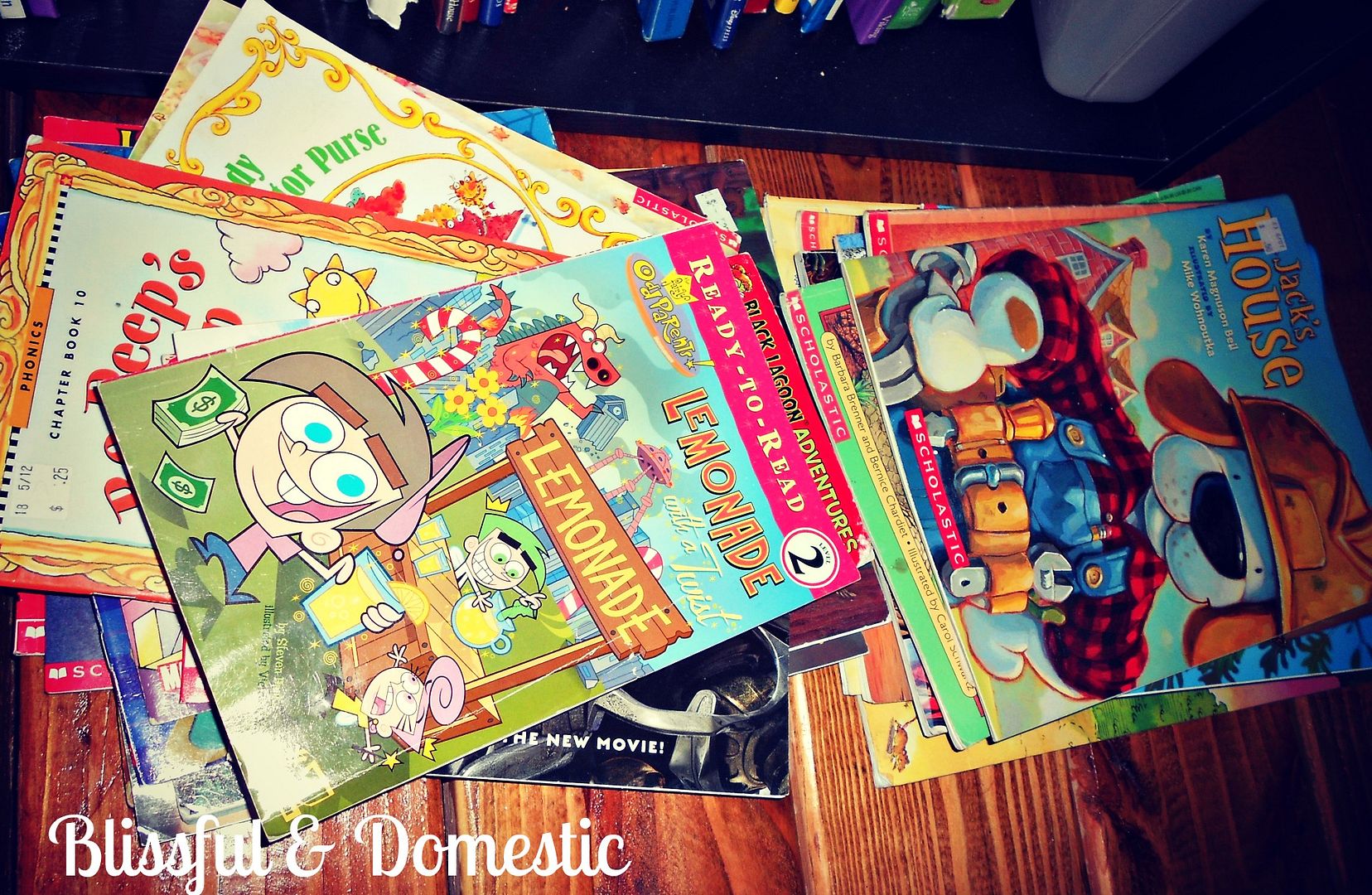 We store all of our books in either
book slings
or in our own little personal library. I love that my kids can just snatch up a book anytime their little hearts want. They love having their own little library at home as well.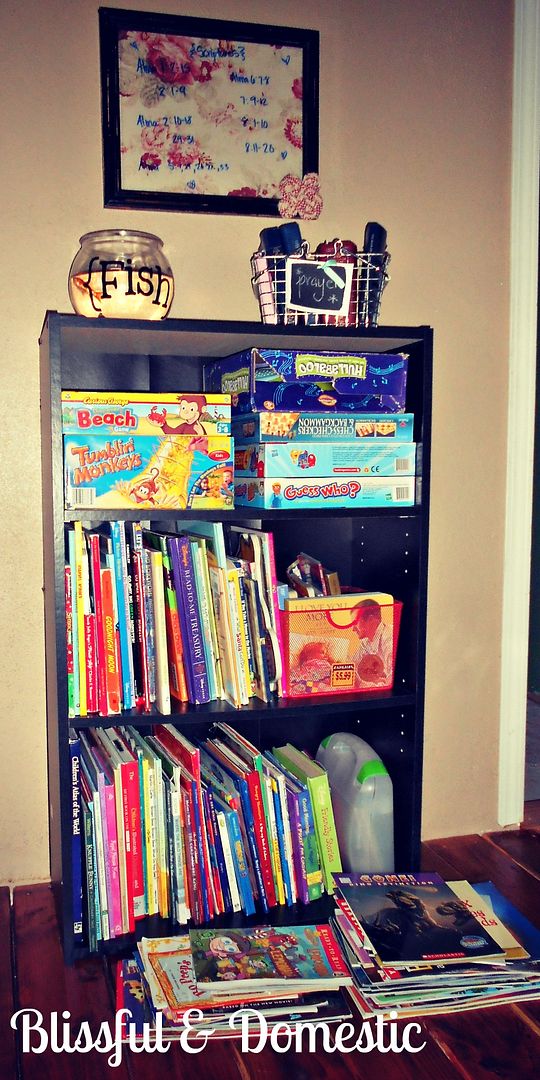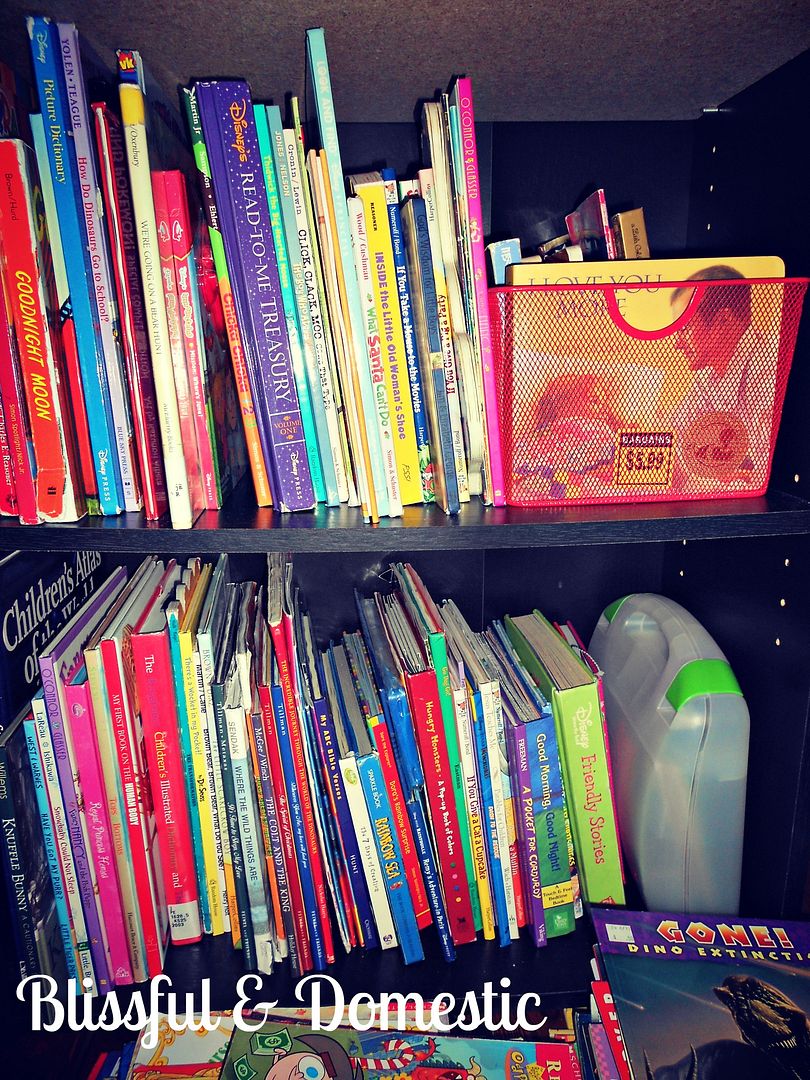 I hope you are getting excited for this next school year as well.
Don't forget to shop around. Find the best price. Places like Amazon are having fantastic back to school sales. You can get supplies and clothes all in one stop! Whether your munchkin is just starting school or is no longer a muchkin and is going off to college, Amazon is having a big sale to help all us parents out.

Also, set a budget. I knew I wanted to spend around $100 on school supplies for this next school year. That included books, teaching supplies, and art stuff. Over the next week or so I will take each section and share some tips on how we saved. Look out for those posts and have a fabulous day!