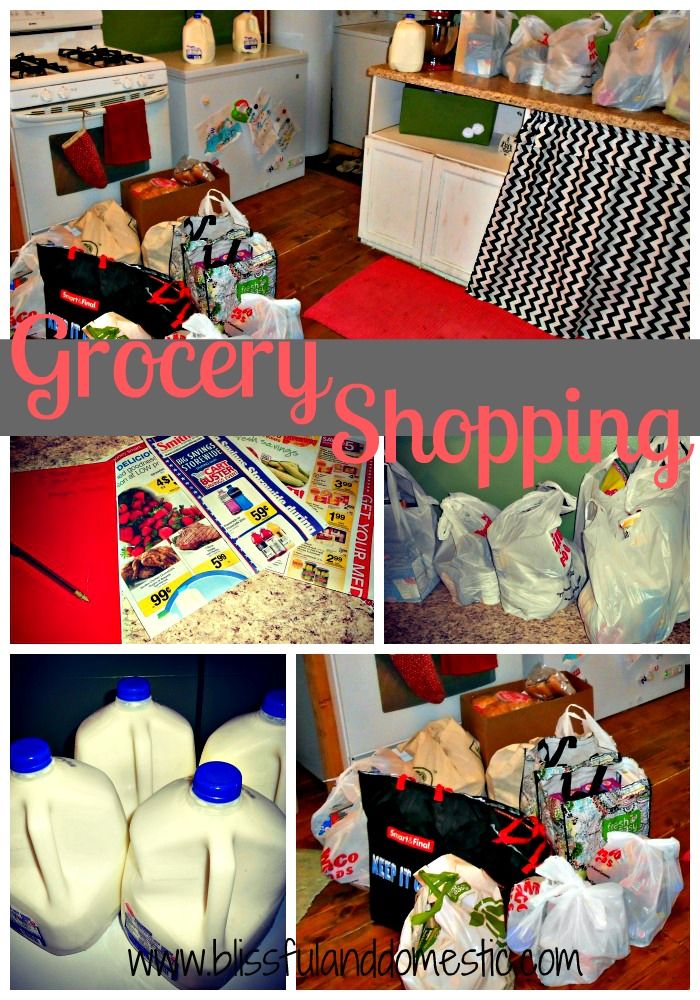 So have you? Done your grocery shopping that is? I just did mine today and boy am I tired. Shopping days are definitely tiresome, but thankfully I don't have to attempt this again for another 31 days. Thank the heavens! A few asked if I would post each month on what I shopped for and maybe highlight a few tips or tricks when it comes to stocking up on staples. Well as always, you ask and I deliver:)


If you are new to Blissful and Domestic, see how I cut our grocery bill in half here.
I started out my shopping by
meal planning
for the month and writing everything down. I am old school and still love writing everything down with pen and paper. I am more at home with my notebook than my laptop. Call me crazy, but I am :) Anyways, once I planned my meals, I consulted my pantry. I looked at what I was running low on and what I would definitely need for my next month of meals. My
Monthly Pantry Staples List
was a HUGE help. You can find it
here
in an easy printable format. Once my list was done, I was off to the store. I brought my adds. This was just in caseWinco did not offer the cheaper price. It ended up they beat out all the other stores this month. Winco basically rocks my grocery shopping world! I spent the majority of my grocery money there, but left $50 for a quick run to Costco. I desperately needed to stock up on my baking supplies. So after Winco, I made a beeline for Costco. 30 minutes later and I was on the way home.
Here is the breakdown:
Total Time Shopping: 3 hours (including travel time)

Money Spent: $318.50

I went on a day when my hubby could be home with the kids. This is so critical to my money saving. It takes a lot of planning, thinking, comparing prices and such in my head. I am thankful for a husband who knows this and helps when our monthly shopping comes around.
This month I stocked up on:
Dried Fruit
Craisins and Raisins bought at Costco
These are great for homemade trail mix and yummy
muffins and breads. Recipes coming soon


Flour
Bought a 50lb bag for under $14.
This will last about 3 months


Bread Making Supplies
(a post on this coming soon)
Wheat Germ, Flax Seed, and Gluten
Will last about 2 months


Chocolate Chips
I buy one huge bag at Costco for about $11. Definitely a splurge baking item,
but the bag will last all month. I use these in muffins, yummy sweet breads, and
cookies/desserts for the month.

Hamburger buns and hot dog buns
I bought one bag of each, at Costco, for under $3 a bag. I separated the packages into groups of 4.
I now have buns for 8 different meals. These are perfect when I don't feel like
making homemade ones.

6 gallons of milk
This is a usual purchase, but someone asked how much we go through.
We usually go through between 6-8 gallons a month. We still had one left in
the freezer before I went shopping, which is why I only bought 6.
Dairy Items
Bought cottage cheese and sour cream at Costco. Each were under $3 and
will last all month. I always look at the expiration dates to make sure
they will last all month. These will stay in the fridge, since they do not freeze well.
Everything else I bought came from my pantry list. I take all my meals from this list. So there you have it. The details on my shopping this month. Next month I plan to stock up on sugar, butter/margarine, and kid snack items. I will definitely be posting about those when I do. Hope your shopping is uneventful and frugal.
Also a quick note:
Some of you have e-mailed me wondering why your milk jugs have cracked. Honestly I have no clue. Many of you have freezed your jugs with no problem. I have never had one crack on me. I would try pouring a bit out and then freezing them. It may be that your jugs are extra full.
Are you new to Blissful and Domestic?
or do you want to catch up on all
my money
saving tips and tricks?
Check out all the links below.
Cut Your Grocery Bill in Half
Freezing Your Milk
Living on $14,000 a year
How Does She Q and A
Breakfast and Lunch: Meal Planning and Saving Tips
Fresh Produce All Month Long
Save Money at Costco
Menu Planning: Pantry Staples List
Weekly Menu Plans + Printable Shopping Lists
Dressing on a Shoestring Budget
Also do you need help meal planning this month?
I have free weekly meal plans and printable shopping lists for you.
Check them out HERE or click the picture below.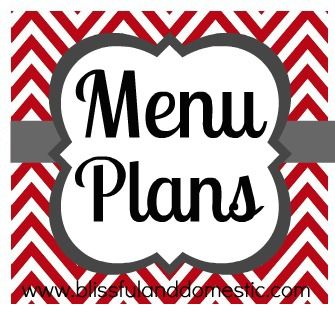 Have a Fantastic Day Lovelies!