Hello Lovelies! Many of you have asked me for basic tips on how to get started saving. I have a section of the blog dedicated to just that. I am posting it here, to make sure everyone gets a chance to read it. These tips are pretty basic and easy to follow. Whether you are single, a mama to a bunch of chikadees, or a couple, these tips are for you and will be very helpful in your money saving journey. By just choosing to work on one of these tips you will see a dramatic change in your budget. For the better, I might add. If you have any questions, leave them in the comment section. If you have some thrifty tips share them as well. I love learning and hearing how all of you are saving as well. Have a fabulous Monday lovelies!
If you're looking for a menu plan for this week, find one here.
On the Blissful and Domestic Facebook page there is an exchange going on. The topic is "How are you saving $$ this week". Be sure to stop by and leave your 2 cents :)
---------------------------------------
Hello lovelies! Everyday I get e-mails asking me how to get started saving money. Many of you have read my post on
How to Live on a Budget
and save. I have great tips in that post, which will truly help change your family's lives for the better. Here you will find some basic steps to help you get started saving money. When first deciding to make a change in your finances, it can seem a bit daunting. Do not get discouraged. I was once in your shoes. I was once a spending queen who had no clue at all what a budget was. I was overwhelmed and didn't know where to begin. You can read more about my beginnings
here
. I had to learn to change the way I was spending, in order for my family to save money and live a healthier life.
When you are first starting out, I think it is easiest to start with your biggest bill and try to cut that one down. For most families, the easiest and biggest bill of the month is groceries. Below are some simple tips to help get you started saving money and cutting your grocery bill in half.
Oh my heck I can not say this enough! Many families get the dinner blues, each night. What are the dinner blues? For me, the dinner blues happened around 5pm every night. I would have two little munchkins crying because their tummy's were grumbling. I had a husband on the way home, hoping dinner would be ready. Then there was me, staring blankly into my cabinets, without a thought of what I could make for dinner. When I think back to all the time I wasted standing in front of my fridge and pantry I cringe. I would stare blankly at rows of items, without a clue of what to make. It was ridiculous the time and money I wasted on food that had gone bad, since it was not used up in time. I was so lost because I didn't have a plan. Many nights I would call my sisinlaw, who lived in another state, and ask what she was having. She was a better planner. I would usually copy what she did. Finally it hit me that something had to change. I needed a plan. I am a planner by heart. I make to do lists, just so I can cross stuff off. Well why not have a plan for what I am feeding my family too? When starting out to meal plan there are many ways you can do it. The easiest way to start and get the hang of meal planning, is by having themed nights. Below is a sample menu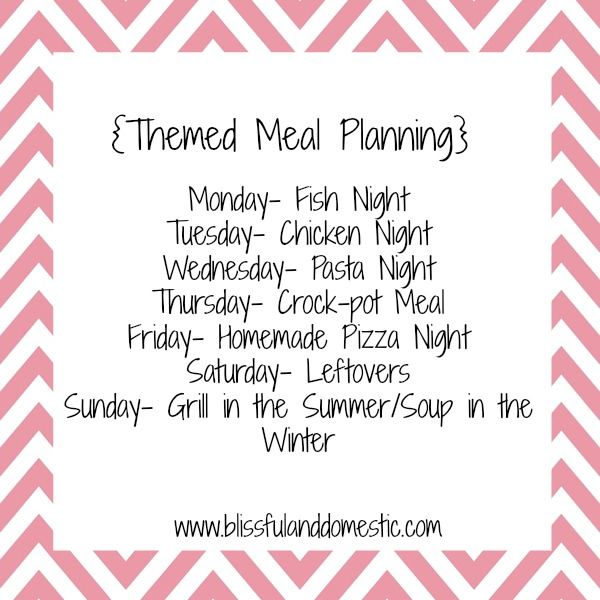 This is a great way to get your mind thinking. Go through your cookbooks or favorite food blogs and find meal ideas. I am a big cookbook fan. I even have a post on
how I save money on cookbooks
. Cookbooks are great resources for meal planning.I also offer great meal plans here on
Blissful and Domestic
. They come with printable shopping lists as well.
There are many benefits to meal planning. When you meal plan, moments of frustration with cooking will be eliminated, takeout/fast food charges will be avoided, healthier meals will be served to your family, more money will be saved, and mealtime will become a cherished time to converse with family. The stress of the 5 o'clock blues will be gone. These benefits far outweigh the arguing that can occur between children, as you decide what fast food place to eat out at. No more stress between spouses about escalating credit card bills. I mean really... after reading all that why would you not want to meal plan? It only brings positive things into your life.
Do you love to get things for free? I know I do. Free is my favorite. When we eat a meal of leftovers, I think of it as getting a whole meal or part of a meal for free. It is something that could have been tossed, but I was able to find a way to reuse it again. By using leftovers you will save your family money. I know many have a distaste for leftovers. My hubby was one of them. He refused to eat leftovers when we were first married. Guess what I did? I just got creative. I took it as a challenge. I wanted to find a way to incorporate leftovers into our meals, without him knowing. If we had leftover chicken, then I would include it in a soup, crock-pot meal, or even enchiladas When I make a pork roast, pot roast, or chicken fryer ,I try to make my meat go as far as I can. I now can have a chicken fryer last for about 3 meals. It is awesome. We will eat meat straight from the fryer the first night. Additional nights in the week we will have
BBQ chicken lettuce wraps,
Crock-pot Chicken Cream Soup
,
Chicken Alfredo Pizza
, or
Salsa Chicken
. We also have leftover nights, but we do them a bit differently. I pull all the leftovers out of the fridge. Everyone gets to pick anything they want from the pile of leftovers. My kids love it because they get to choose what they want for dinner. We then all eat in the living room and watch a movie. We made leftovers fun, by making it a family movie night. Get creative. Saving money can be fun!
Going homemade is another way to save on groceries. This should be done in baby steps. I have been living a frugal life style for over 4 years and I am still finding more ways to save and go homemade, which I continually share on the blog. I pick one thing to learn and practice. Once I feel confident in my skills, I move on and learn something else new. The first thing I did, when learning to live a frugal life style, was to make my own bread. My family loves bread. By making my own, I cut about $20 from our grocery bill. Going Homemade means less money spent at the store and more money saved. I get to spend more time with that cute family of mine too. Whether you are using my
Ready Made Mix Recipes
or my
Homemade Bread Recipes
you will be able to create yummy foods for you and your family to enjoy. Remember not to do everything all at once. Baby steps are the key:) I take a day and make a few loaves of bread or a big batch of
homemade hot dog and hamburger buns
. I bake
my breads
and then store them in freezer bags in my stand up freezer and my freezer chest. I make sure I have
enough rolls
and such for all my meals planned for the month. By doing this I save money and time. I also use a bread machine to help out with my bread making. This is a great way to make bread and not have to spend tons of time in the kitchen kneading bread. I found my bread maker at a thrift store for $7. My favorite cookbook for bread machines is
The All New Ultimate Bread Machine Cookbook: 101 Brand New Irresistible Foolproof Recipes For Family And Friends
The sweet person that created the crock-pot is seriously one of my heroes We are busy ladies and gents. Cooking meals for our family does save us money, but takes time as well to prepare. This is where your crock-pot becomes a life saver. I use my crock-pot at least 3 times a week. When you are busy with work, errands, carting children off to different lessons and practice, cooking a meal is usually the last thing you want to do when dinner time rolls around. The crock-pot can help you with this. You place your items in the crock-pot and then forget about it till dinner time. Let your slow cooker do all the work for you. It will save you time, sanity, money, and of course time cleaning dishes.


In the
The $5 Dinner Mom Cookbook
, Erin Chase takes about the portion distortion that plagues many of us in the United States. We have basically gotten out of control. When you go out to eat the plates are bigger, the servings are bigger, meaning we will only become bigger. We are eating way too much. This totally rolls over into our homes as well. Serving your family smaller portion sizes is not only cost effective, but healthier as well.
Balanced Meals
When preparing our meals, I strive to make them balanced and colorful. By colorful I mean that we have different fruits and veggies which each meal. A key to having a "colorful plate" is by choosing three different colored food items for each meal. For example I would serve a grilled chicken breast, with sweet potatoes, and green beans. That would be a colorful, nutrition packed meal. I also add
Wheat Germ
and
Flaxseed
to most of our casseroles and sauces.
(I buy mine in the bulk section at Winco)
It is just another way to give a meals a nutritional punch. By creating colorful meals for our families, we are teaching our children the importance of eating healthy meals daily. I am thankful that I started my children out young eating all their fruits and veggies. There is no struggle when it comes to eating those things. When we do try a new veggie or food item, everyone is required to at least take two bites. This includes Mom and Dad. We want to teach our children to be thankful for food and be willing to try new things.
Snacking
Since I don't buy store bought snacks, you are probably wondering what we do. We love veggie and fruit plates. This is a great afternoon snack for my littles. It helps calm their tummy's, while still giving them a healthy appetite for dinner. Having healthy snacks in between meals also prevents you from gorging when meal time comes around. My favorite healthy snacks are oranges, apples, baby carrots, handful of almonds, cup of cottage cheese or yogurt, 1100 percent fruit smoothie, or a granola bar. Yum!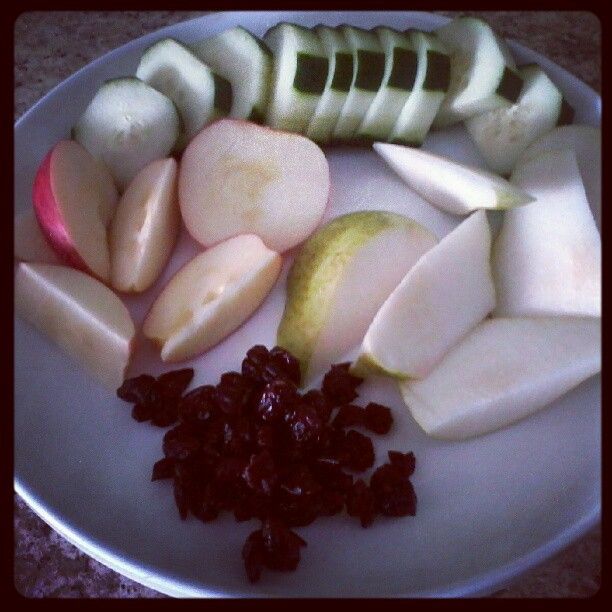 So are you totally overwhelmed right now? Need a little bit more digestion time? Let me give you a quick recap. Meal planning will save you time and money. Start with a week and then work your way up. I shop once a month, but I didn't start that way. I started out with just a week. Get that down and then move to two weeks and so on. Use leftovers in your meal plans. If you are having tacos and rice one night, include the leftover rice into the next days meal. You can do this by having the rice as another side or as the main dish in a casserole. Before you go grocery store shopping
always shop your pantry first
. Make sure you use what you already have. Go homemade as much as you can. Why buy instant potatoes when you can make them yourself? Pick one thing this week you will make from scratch and then keep moving forward with that. Perfect your mad homemaking skills. Always use that crock-pot to help you out on busy nights. If you know you will be away during dinner prep time, plan ahead and make sure a meal is in your crock-pot. Decide today you will not eat out this week. Meal plan and watch the savings grow in your bank account. Less money spent on fast food and random trips to the store, will save you money. That money can then be used for other fun things you or your family choose. Create healthy, balanced meals for your family and become the best mama jama you can!
XO Danielle
My Book is now available to purchase :)