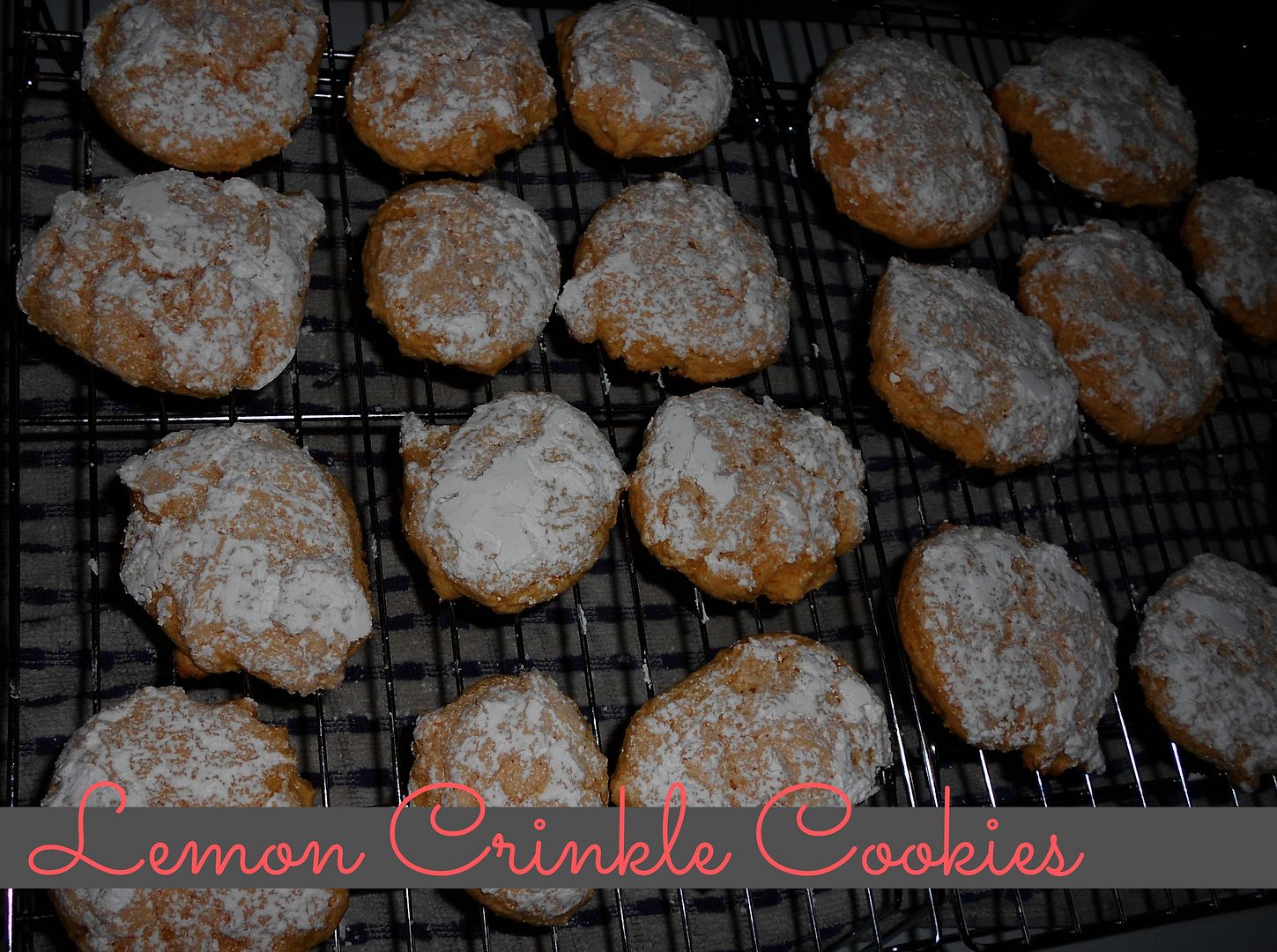 Last week Ethel sent me a yummy recipe to try out. She had seen my cake mix cookies and thought I would enjoy her recipe for Lemon Crinkle Cookies. She said she found it years ago in a magazine of some sort. She emailed me the recipe and I tried it out the very next day. I made a few adjustments, since I didn't have exactly what the recipe called for. It was super yummy and a hit with those red heads of mine. Below I will show Ethel's recipe and then mine. Try whichever version you'd like. They are both destined for yuminess.
Ethel's Lemon Crinkle Cookies
1- 8oz tub cool whip topping, softened
Preheat oven to 350 degrees.
Using a mixer, mix the cake mix, cool whip, and egg together. The dough will be thick. Using a small cookie scoop, drop the dough in powdered sugar and then place onto a greased cookie sheet.
Bake at 350 degrees for 10 minutes. Let cool on the cookie sheet for about 10 minutes. Transfer to wire rack and let cool completely.
--------------------------------------------------------
Mix all

ingredients

in a bowl. Your batter will be fluffy and thick. Drop spoonfuls onto a greased baking sheet. Bake for 15 minutes @350' Transfer to cooling rack and allow to cool for 2-3 minutes. Dip into powdered sugar. Enjoy!
*I love to substitute applesauce for eggs, when I am baking. I love that I am able to be sneaky and get an extra fruit into my kiddos and my hubby! They think they are just having a sugary treat, but I know that there is some healthy goodness in there as well. It is also great to use it as an egg substitute.
Ha
ppy Baking today lovelies!
XO Danielle