This past weekend I made a trip to two of my favorite thrift stores. Good Will and
The Giving Store
. I scored some awesome goodies.
1. 2 shirts from Old Navy for my niece's birthday - Paid $1 for both -BOGO Sale
2. 2 pairs of PJ pants for my nephew's birthday- 50 cents each
3. 1 skirt to re-purpose for Miss Priss- 50 cents
4. 2 shirts for my nephew's birthday- paid $2
5. 1 bed sheet - I plan to use as fabric - $4.99
6. French Fry Cutter - paid $5
7. 1 pair of DKNY pants for neice and 1 pair of shorts for Miss Priss- paid $2.50
Total Spent- $16.49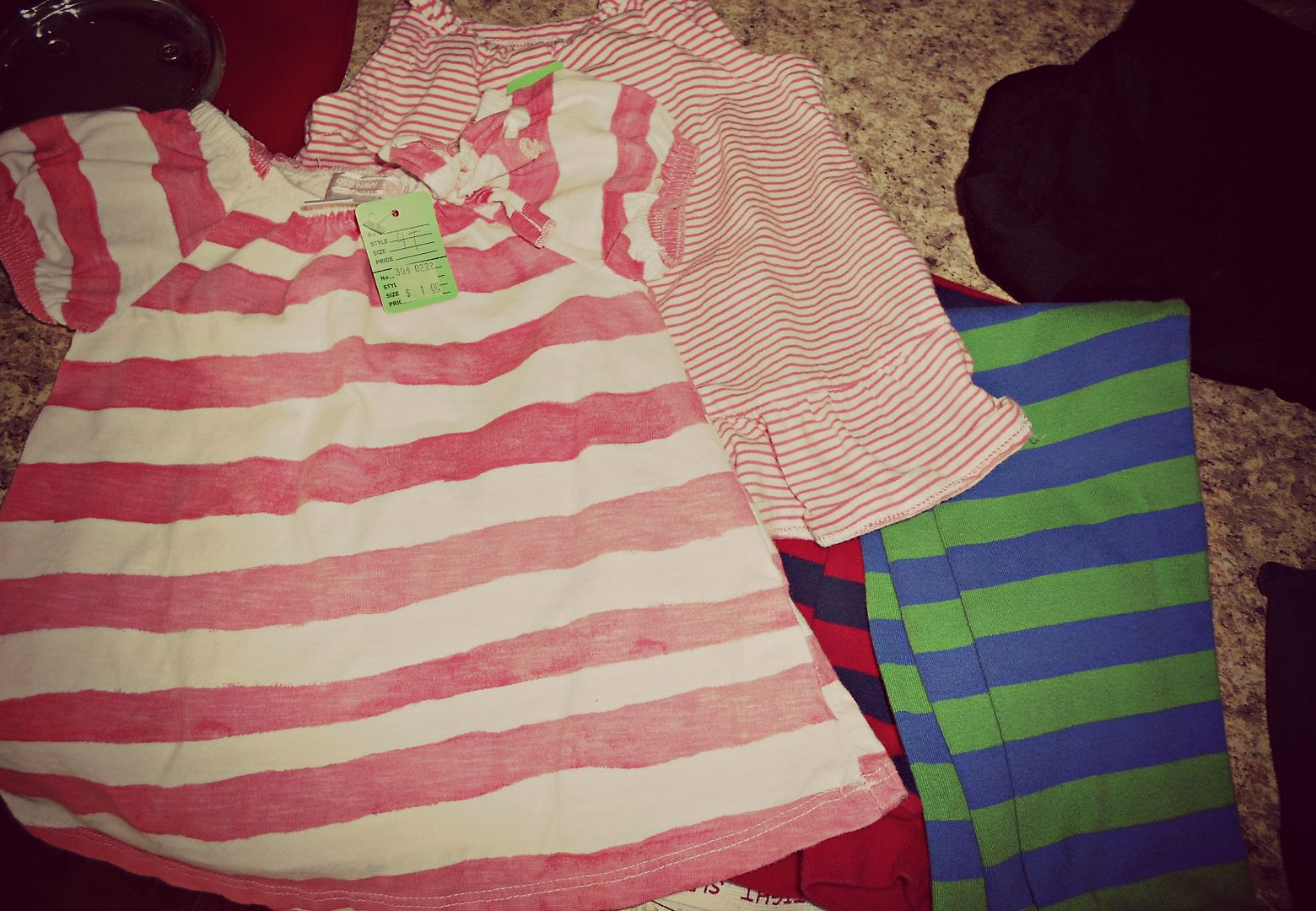 When I was shopping, one of the sales ladies asked me about buying presents at the thrift store. She asked me why I do it and if the recipients ever mind.
Here are my thoughts....
I always shop thrift stores first. I am always pleasantly surprised at what I can find there. I have found like new toys and clothes, which both make great birthday presents. When it comes to kids, I know they are going to get toys from most of their friends at the party. I also know they grow like weeds. Because of this, I try to get them some type of clothing. For boys I always look for anything with a hero on it, Toy Story, etc. I think about what the person is into at that time and I find something along those lines....My Nephew Eastenn likes Iron Man, which is why I got him the shirt above. I also know he is kind of an animal
(I mean that in a good way Andrea)
. He is a ball full of energy. He likes to roar, run, and convince people to lift him high in the air, so he can fly. This boy has me by the heart...I swear. I chose to get him a plain white shirt also, which I want to put a dino decal on.
Project in the making right?
.
...Holly I think we need a craft night :)
With the two shirts I bought him and the Pajama pants, he will have two new sets of PJ's. What kid doesn't love fun, new PJ's?
Now for my niece, she is turning one. She is still little and is in the process of going into the next size. I bought a size up, so her Mom would have something ready for her in a month or so. I found DKNY jeans and some super cute Old Navy shirts. You can typically always find name brand clothes at thrift stores, for a fraction of the store price. This week the thrift store was having a Buy One Get One Free sale on baby clothes. I was able to get two shirts, but only pay for one. Shopping smart is the key folks.
Yes all of this is second hand, but it will be new to them and I know they will love it. I took the time to find something I knew those little munchkins would love. That is what is important. The price tag is not important or the store it came from. What matters is the love and thought that went into purchasing the present.
Now I know you are itching to ask me how I budget for presents right? Well Hubby and I have decided that $10 is what we will spend on birthdays for family and friends. I always try to shop at a thrift store first. I am typically able to find what we need. If for some reason I can't, then I go to a regular store, but only spend the $10 I budgeted. Budget, Budget, Budget Folks! It is the key!
Thrifting saves money and pretty much rocks! Some thrift stores even have punch cards. Ask your local thrift store if this is a perk. I know Savers has certain sale days and even offers senior discount days and military appreciation days. Thrifting also does good. The Giving Store is a non-profit organization who donates all their proceeds to charity. I love that. So get out there and try a thrift store this week. I promise you won't be sorry!
Happy Thrifting!
XO Danielle