Today I am giving you a little tour of my kitchen. I wanted to show you how I store all those beans and grains. I also wanted to show you how I organize my kitchen, so I am always ready to whip something up for my family.
So without further ado...
Let's gets this tour underway....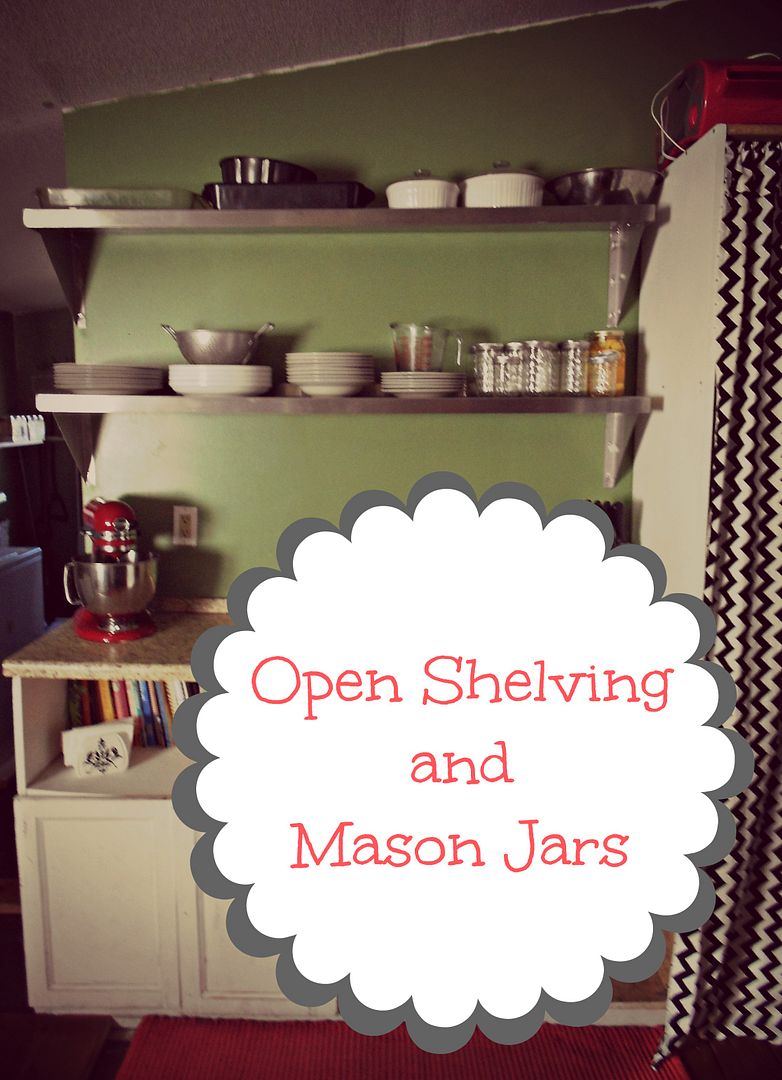 We have a very open kitchen, with a lot of open shelves. Our kitchen didn't come with shelves or cabinets. My hubby had to put all these in himself.
HERE is what our kitchen use to look like.
Last year we saved up and were able to put metal shelving into the kitchen. We purchased them from
Webstaurant.com
. I love open shelving because I can see everything in my kitchen. All my seasonings, pastas, beans, flours, and grains are visible. This means I am not wasting any food, since nothing is getting buried in my cabinets. Making sure no food gets wasted is one of the quickest ways to save money on your groceries. Wasted food means you are literally throwing your money into the trash. Set your kitchen up in a way to prevent this from happening.
Keeping your kitchen organized is a great way to not only save money, but time as well. Who wants to spend forever in the kitchen when you have a hubby or munchkins to snuggle with? Make sure that everything has a place. Keep spices and pots/pans near the stove, since that is where they will be used the most. Keep things for littles within their reach. This allows them to help out whenever they can (setting the table or putting dishes away). Place things by how frequently you use them. Put items that you use more often in easy to reach places, like on the lower shelves or cabinets. Things that get used only once a month or so, store up on higher shelves.
There is nothing worse than when crackers or cereal go stale because they were left in an open box. This is always such a bummer. We prevent this by storing all of our cereals in clear containers. I bought the
Tupperware from Wal-Mart
. I was able to get them for a great price, they are see through, and BPA free. I also store all of my
ready made mixes
in these.
I also keep a chalkboard on my fridge. This is where I write my weekly menu. I have another chalkboard on my cabinet. This is where my daily to do list goes. I am able to cross stuff off as I do it. It is a great way to keep on track with everything I want to accomplish for the day.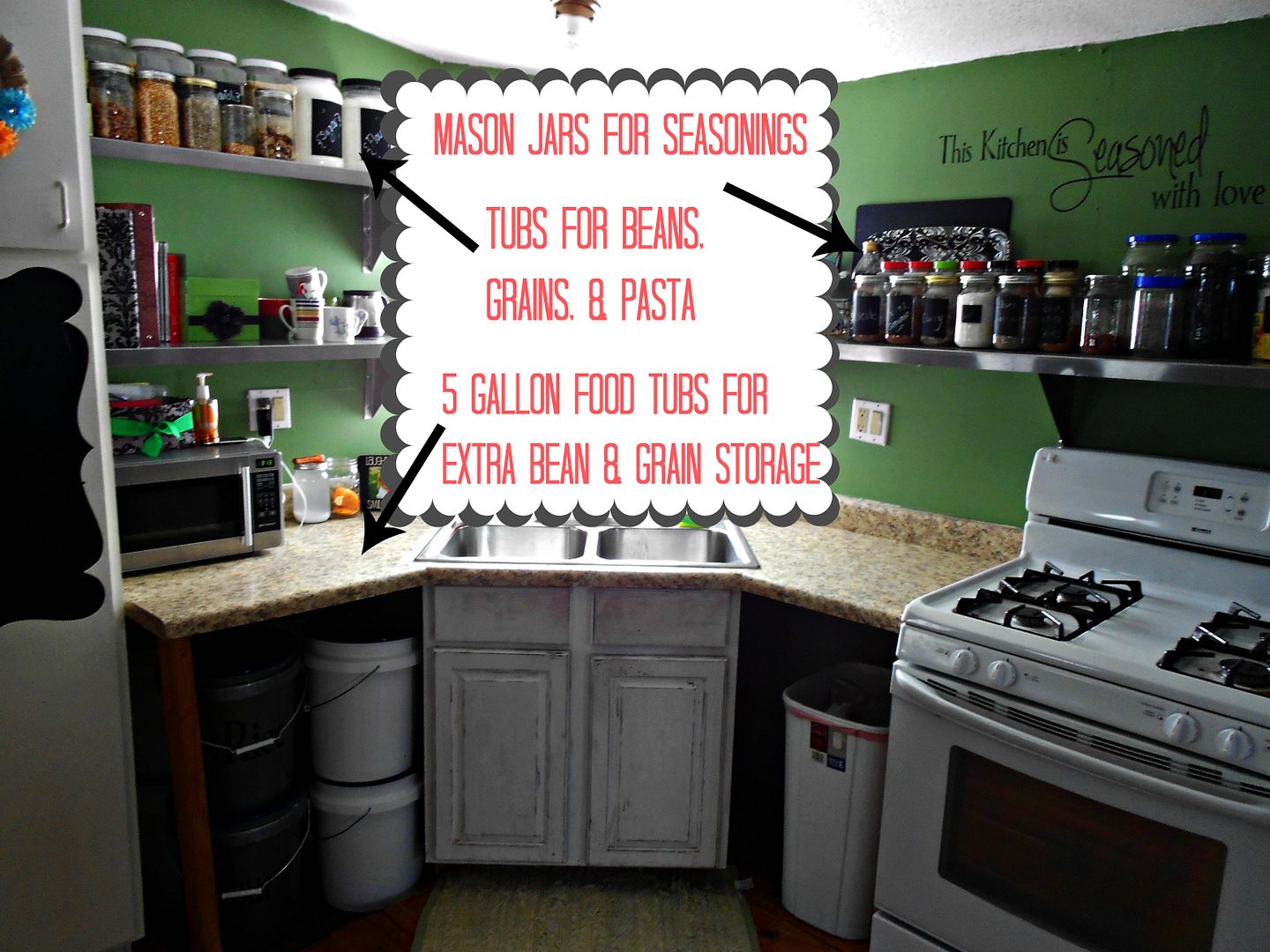 I get emailed all the time, asking me how the heck I store 100 lbs of flour. Well, I use food grade
5 gallon tubs from Lowes
. They are perfect for storing
my beans
, flour, sugar, rice, and wheat berries.I try to have at least 100 lbs. of flour, 50 lbs of brown rice, 50+ lbs of various beans, and about 25 lbs or more of wheat berries. These are great basics to have in your food storage. I get my flour and rice from Costco and my wheat berries and beans come from the
lds cannery
. I know if hard times came we could live off of this stuff and be ok. Being prepared is always key. We never know when those rainy days may come.
I also recycle everything. I reuse pickle jars, mayo jars, etc. I use them to store all of our goodies. I love to think of it as "getting more for my money". Instead of buying a storage container, I can reuse something others would throw away. It is a great way to recycle. Having clear containers leaves no guessing to whats inside. I love it!
All of my spices are above the stove. This makes it very convenient when I am cooking. I store everything in mason jars. Most of my mason jars have been purchased at thrift stores and yard sales. I use them for canning and storage. I also label everything with chalkboard labels or
canning labels
. Clothespins also make great bag clips. They cost under $2 for a pack. I use them for our
clothesline
and for making sure all of our goodies are closed up tight:)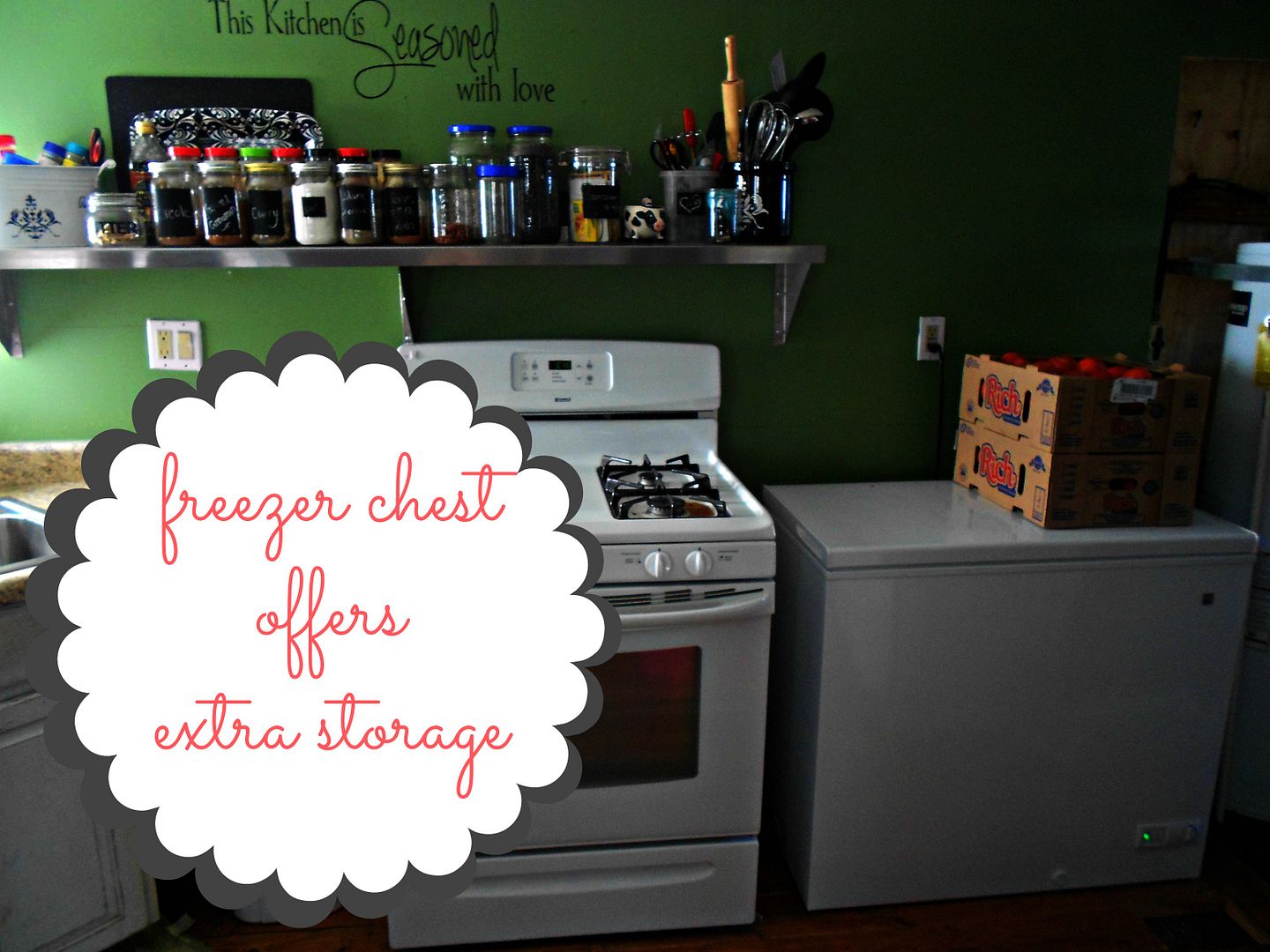 A few years ago we were given the freezer chest as a Christmas gift. It has become the best present ever. It saves tons of money, since we are able to stock up on items when they are at rock bottom prices. We then store our goodies in the freezer. We have a few months worth of foods stored in this freezer. Between our dry goods and this freezer, I know we could feed our family for about 6 months....maybe more. We are always trying to increase our food storage.
Having an organized kitchen, allows my family to save money and live within our means. My kitchen is like my arsenal for thrifty living. It is how I am able to store all of our food and
gadgets
to help me make healthy meals for my family each night.
Now that you have seen my pantry, I would love to hear about yours! Share your storage tips below. I can't wait to hear how you all stay organized in your kitchens. If you have a kitchen you would like to share on Blissful and Domestic, send me an e-mail at blissful_and_Domestic@yahoo.com Make sure you have great pictures and I would love to have you share with everyone how you stay organized and save money in your kitchen. :) I can't wait!
Have a great day lovelies!
XO Danielle