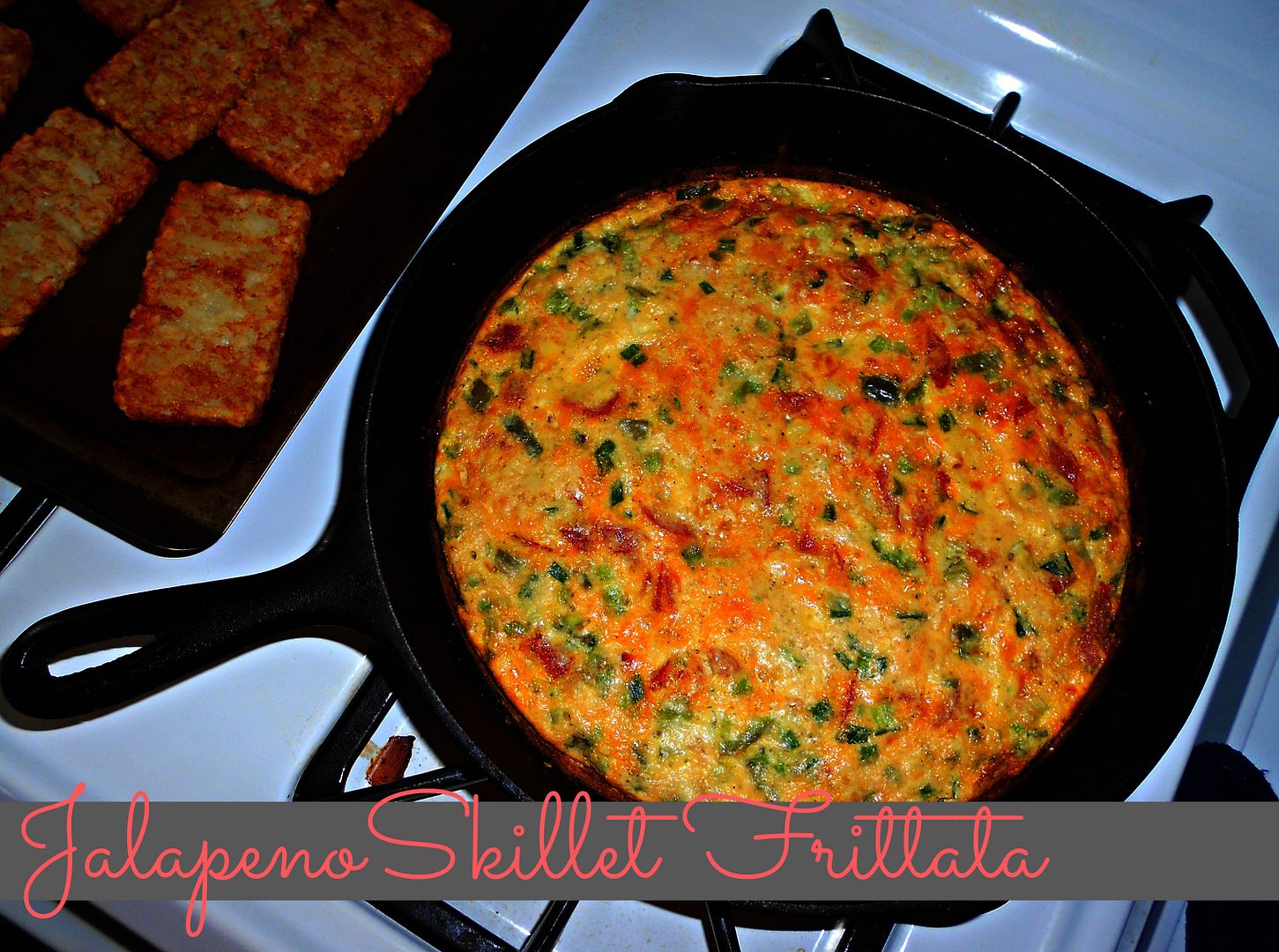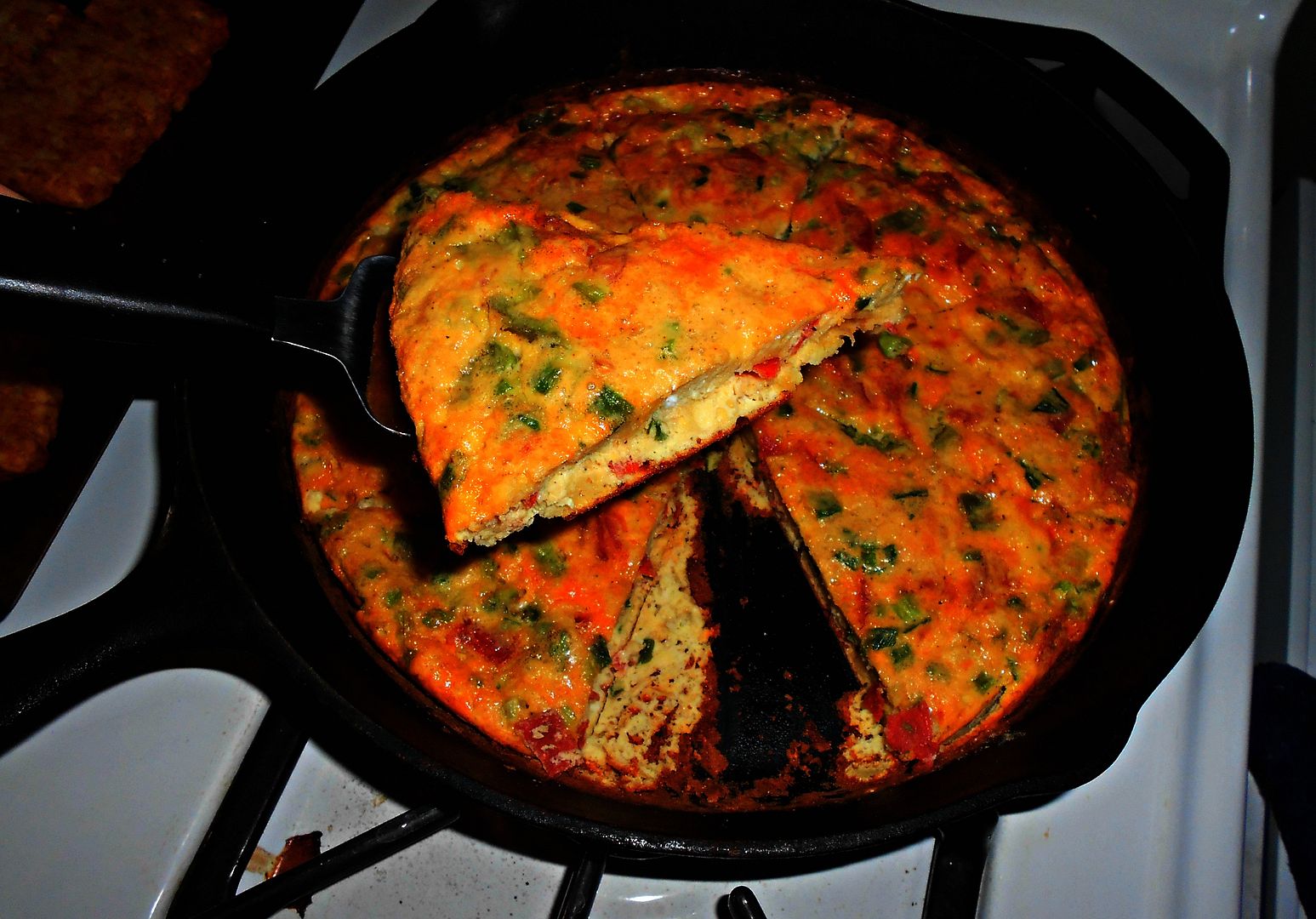 The beginning of this month I had strep and was literally quarantined for a week in a half. It was quite a feat. The first few days were semi-relaxing. I took naps and hubby took care of myself and the little kiddos. He did the laundry, cleaned, and even taught a little science. How much does my husband rock? I know right! A lot! He has been amazing, while that tonsillitis thing kicked my butt. After about three days of eating leftovers and soups, I was going a bit stir crazy. I decided I needed to get back in the kitchen to bing me a little sanity. I missed my aprons and the stove. I wanted to make something soft
(to help my soar throat)
, so I decided on a frittata. I actually use to make this alot when I first got married, since it is so simple to make. You can really use any deli meat or cheese leftovers you have + any chopped veggies you have on hand...like bell peppers, tomatoes, olives, mushrooms, etc. Be creative! It has been years since I had made this, so I decided to go a little spicy with some jalapeños I had in my freezer*. We served it with sour cream and it was great! I am definitely putting this one into our monthly meal rotation. The kids loved it, I loved it, Hubby not so much
(eggs are not his thing lately)
. I figure 3 out of 4 isn't too bad. I can't be a crowd pleaser every night. Anywho for all you newbie cooks or veterans in the kitchen...here is an easy, quick recipe to whip up for your family tonight. Enjoy Lovelies!
*Whenever I find bell peppers or jalapeños on sale, I like to buy a bunch and wash, dice, and then freeze them. This enables me to have them all the time in my freezer. I can take handfuls out and add them to soups, skillet meals, taco meat, and eggs.

Jalapeño Skillet Frittata
8 eggs – mixed well
1/3 cup flour
½ cup jalapeño peppers (for a spicy taste) or green bell peppers (for a milder taste)
½ cup green onions
½ cup chopped tomatoes
1 cup chopped pepperoni*
1 cup shredded mozzarella cheese
1 ½ tablespoon Lawry's
¼ teaspoon black pepper
Mix together all ingredients in a bowl and pour into a greased cast iron skillet or oven safe skillet. Bake at 400' for 25-30 minutes, until middle is set.
- Serve with grapefruit salad and hash-browns
-My hash-browns were purchased at Wal-Mart for $1.99. Not to bad for a side dish.
Grapefruit Salad
2 grapefruits, peeled and cut into chunks
2 bananas, peeled and cut into chunks
¼ cup brown sugar
mix together in a bowl and allow to sit for about 10 minutes in the fridge. The brown sugar will mix with the grapefruit juice and take away the bitterness usually found with grapefruits. This creates a very sweet and yummy side dish.
XO Danielle