Good Morning Lovelies! I have some yummy recipes this week...like
pigs in a blanket
. Oh my these things are good. I did a little twist on my
whole wheat breadstick recipe
and let me tell you that hot dogs have never tasted so good :) Delish folks! I have a few
other favorites
making appearances this week. There is really something for everyone. So get your menu plan on and be awesome this week!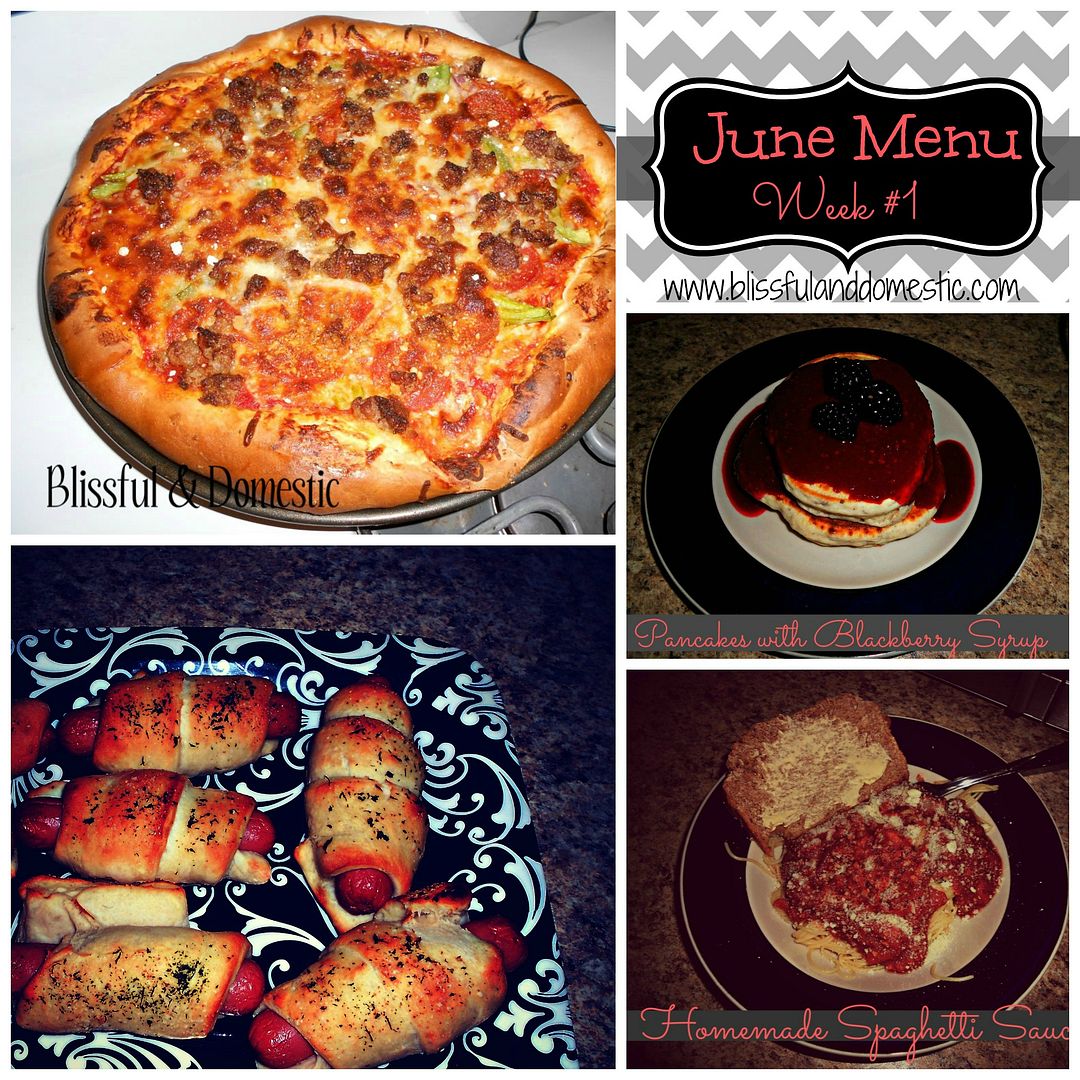 Saturday June 1- Friday June 7
BBQ hamburgers with French fries and fruit
spaghetti night (with ground turkey)
meatloaf with mashed potatoes and vegetables
pizza night
breakfast night
pigs in a blanket with broccoli salad
leftovers
Thrifty Living Tips and Tricks
-On Spaghetti Night

I will reserve 1 cup of spaghetti sauce to use on pizza night. I also only use ½ lb of ground sausage in my sauce. I save the other half for meatloaf night.
-On breakfast night I will be doing pancakes and bacon. Making extra pancakes to have during the following days for breakfast is always smart! Just store in your fridge or freezer and microwave for about 1 minute and eat on busy mornings. I store mine in gallon size freezer bags. Rinse them out when you are done and use again!
-I will also save leftover bacon on breakfast night to use in my broccoli salad. Saving leftovers and preparing ahead saves you time in the kitchen throughout the week!
All of my tips and tricks are ones I have learned from
Cut Your Grocery Bill in Half with America's Cheapest Family
. This book is my thrifty living bible :)
Also check out my posts on
Cutting Your Grocery Bill in Half
,
What to Budget for Groceries
,
living on $14,000 a year
,
Costco on a Budget
,
How I Do Fresh Produce All Month
, and
How to Start Saving $ Now
.
June 2013 Recipe List- Print
HERE
June 2013 Grocery List - Print
HERE
June 2013 Meal Plan - Print
HERE
Print My Staples List
HERE
Have a great day Lovelies!
XO Danielle