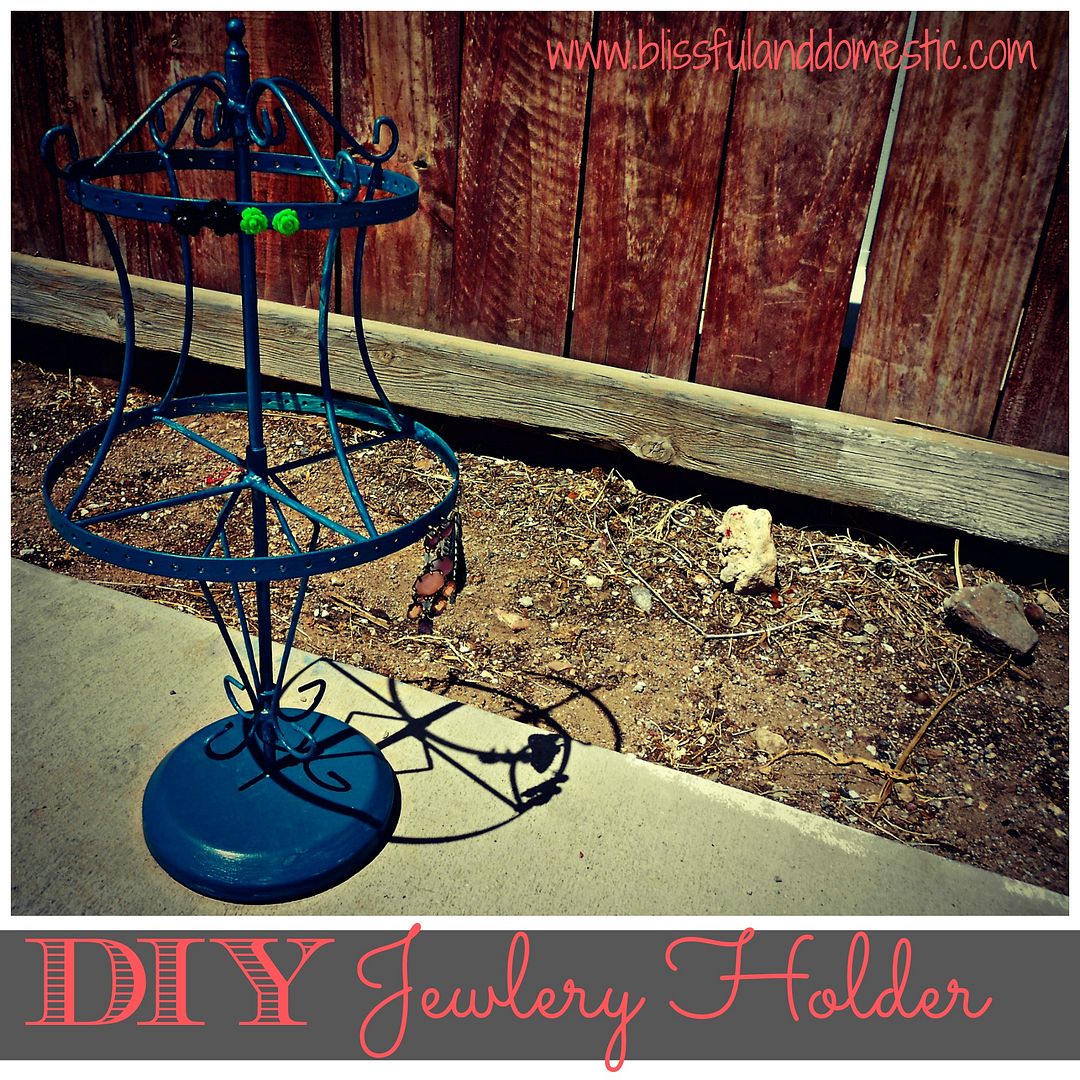 A few weeks back, on one of my thrifting trips, I found a metal earring holder. It was insta love. I was searching for something fun to display all my earring goodies in, but most of the ones I saw were not in this mama's price range. When I spotted this earring holder from across the thrift store, I knew I needed to have it. It was black and had chipped paint. It was down right ugly, but I saw the potential...the diamond in the rough. I knew that it would look perfect in teal, which would then go perfect with my bedroom. Right now my bedroom is in a "transition mode"....well it has been in this "transition mode" since we moved into this house 2 ½ years ago. I am slowly finding things at thrift stores and making things to create a beautiful room for the hubbs and me. Although it takes a long time when you're thrifting and making stuff yourself, it is so worth it when you finally have the finished project you had envisioned in your head.
When I brought my treasure home, I started working on it right away. I had some teal paint in my stash. It was one my sweet sisinlaw had given me...don't you love it when sisters share their craft toys with you? It is the BEST! I wiped the earring holder clean, with a damp towel. Once it was dry, I got my paint on. It took a few coats to make sure everything was covered. I let it dry over night and then it was finished. I should have sealed it with a clear coat finish, but I haven't gotten around to that yet. I was too excited to get my earrings on there!! I need to see my jewelery, so I wear everything. I am a visual person. If it is hidden away inside a jewelery box, then it ain't getting worn. Having a fun holder like this is perfect for my visual self.
So what do you think? Are you as in love with it as I am? I mean, I know I easily fall in love with thrift store treasures, but come on! Earrings + a teal holder.... you can't go wrong!
Oh and you see those rosettes earrings?
I got them from The Bloomers Shoppe via Sassy Steals
I love rosette earrings! They are just so stinkin classy! I am actually wearing a pair right now.
They're pink and too fun!
Since I love rosette earrings and love my readers even more, I have a giveaway for you this morning. I bought a pair of black rosettes and a pair of green rosette earrings for one of you sweet readers
(the ones pictured above)
. This is a
PIN IT TO WIN IT
giveaway. All you have to do is pin
something
from
Blissful and Domestic
. It can be a craft, sewing tutorial, recipe, or thrifty tip. Whatever you fancy. Pin it and then leave the
pinterest link
in the comments below. The more you pin, the better your chances are for winning!
This giveaway will run until Sunday July 14, 2013 @ 6 am
Remember to leave a comment for
EACH
thing you pin.
Each pin is one entry.
If you need some ideas on what to pin check out my
tutorials
,
thrifty living
, and
recipes
sections. Then pin away!
Good luck lovelies!
XO Danielle