Good morning lovelies! Have you all been entering to win the
America's Cheapest Family book
? I hope so. If you haven't, then please do so. This is one of my favorites from their book series. They have some amazing pearls of grocery wisdom in this book. I still go back and read it often. I swear I learn something new every time I do. I also forgot to let you know that yesterday I shared a new pencil skirt tutorial over at
Uncharted Territory
. Miss Emily had me as a guest and it was too fun! So be sure to check it out :)
Now onto today's post.....I promised it like two weeks ago, but you know me and well.....I keep my promises....I just take a while to get them here on the blog :) This is my go to freezer cookie dough recipe. I love the convenience of store bought cookie doughs, but at $3+ a roll, I just can't swing it. Since my budget does not allow for the store bought luxury, I do my own. I took this recipe from
Pillsbury: Best Cookies Cookbook
. The original recipe uses nuts, but I opted for chocolate chips. I mean come on ladies....who doesn't love some chocolate in their cookies. It ain't a cookie if chocolate ain't involved....
just my own personal opinion
....unless its a sugar cookie and then you can omit the chips....but back to today's recipe....This is a yummy one. Simple to whip up. I even had the littles helping. We may have lost a few chips, due to
mommy mouths
little mouths devouring the chips, but that was to be expected.
I like to make a double batch and store my cookie dough rolls in my freezer chest. When I have a hankering for cookies (like you know I do every week), I just pull a roll out. I let it thaw in my fridge for about an hour, then I bake me some cookies. I also like the whole portion control it provides for mammas like me, who have absolutely no self control where chocolate is concerned....I mean you give me a strict budget and I will follow it, but you put warm, chewy cookies in front of me and I loose all self control. The first step is admitting you have a problem right, so maybe there is still hope for my chocolate addiction? Well see right?
Anyways, whether you have self control or not, these cookies are yummy and will help you save a little dinero in that pocket of yours.
Do chocolate chips or add M and M's instead. The possibilities are endless! If you make some, post the picture on instagram using #blissfulanddomestic so I can find you. I love seeing all the goodness you lovelies create!
Now let's get our bake on!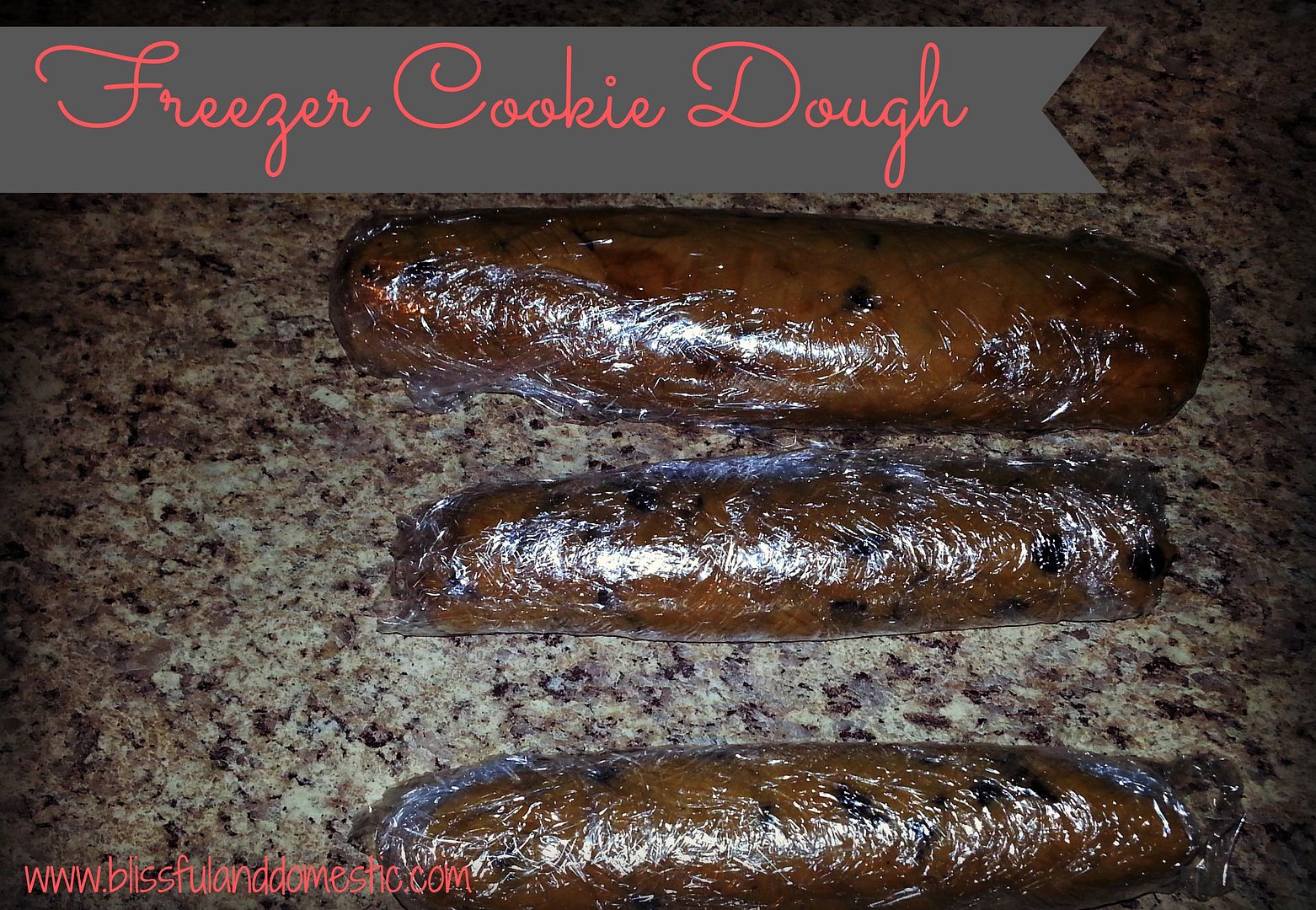 Refrigerator Chocolate Chip Cookies
¾ cup sugar
¾ cup brown sugar, firmly packed
1 cup butter or margarine, softened
1 ½ tsp vanilla
2 eggs
3 cups all-purpose flour
1 ½ tsp baking powder
¾ tsp salt
1 cup chocolate chips
In a large bowl, combine sugars, margarine, vanilla, and eggs. Beat well. Add flour, baking powder, and salt; blend well. Stir in chocolate chips. Divide into 3 equal parts. Shape each part into a roll 1 ½ inches in diameter. Wrap each roll in plastic wrap. Refrigerate 2 hours or until firm.
Heat oven to 350'. Cut dough into ¼ inch slices. Place slices 1 inch apart on a greased cookie sheet.
Bake at 350' for 10-12 minutes or until lightly golden brown. Immediately remove from cookie sheets.
Storage Tip-- Cookie dough will last up to two weeks in the fridge or up to six months in the freezer.
Have a fabulous weekend lovelies! Come back later for the Sunday Blog Hop!
Print Recipe
HERE
Find more recipes
HERE
XO Danielle