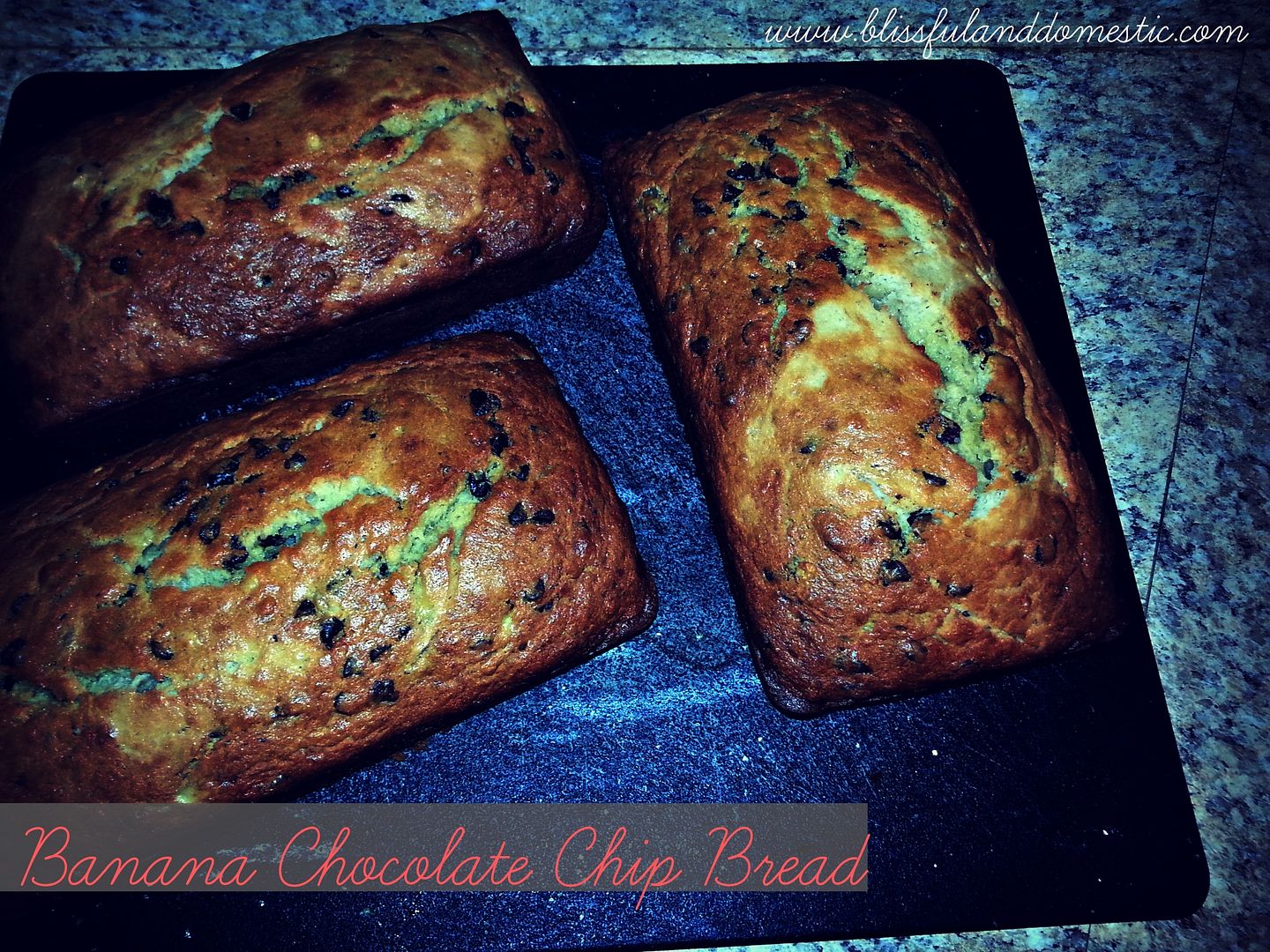 Hello Lovelies! A sweet friend messaged me on
facebook
, asking when I would be posting
new recipes
. Honestly I didn't realize it had been for-like-ever since I had shared a recipe. How the heck did that happen? I am always taking pictures of the things I make, but I guess I just hadn't been getting those recipes on the blog. Well today I am on top of it. Today I am sharing one of my most favorite recipes. It is for
banana chocolate chip bread
and let me just start out by saying...Oh-My-Heck! This is one tasty treat, breakfast, lunch, snack, you fill in the blank. My whole family loves this and gobbles it up...well except hubby. He is one of those crazy heads who hates bananas, but everyone else devours it. I usually double or triple this recipe. Sometimes I freeze the extra loaves, but usually we just help ourselves to all of it
(just keeping it real)
. So save those brown bananas and get to baking lovelies! This is a good one. Promise!
Chocolate Chip Banana Bread
1/2 cup oil
1 cup sugar
2 eggs
3 ripe bananas, mashed
1/2 tsp vanilla
1/2 cup mini chocolate chips
2 cups flour
1 tsp baking soda
1/2 tsp baking powder
1/2 tsp salt
3 tbl milk
Beat oil and sugar. Add eggs and mashed bananas. Beat well. Add dry ingredients, milk, and vanilla. Beat Well.Add in mini chocolate chips. Pour into a greased bread pan, 9x5x3. Bake @ 350 for 45-50 minutes.
* The riper the bananas, the better the flavor :)
Happy baking Lovelies!