Good morning lovelies! How is it Wednesday already? I swear I blinked and then it was already the middle of the week! I'm sure a four day weekend played a huge part in my blinking..... Having my hubby home was divine to say the least. We signed up for
Amazon Prime 30-Day Free Trial
and started getting caught up on
Falling Skies
and
The Walking Dead
. There may have been some shrieks from me during
Walking Dead
, that hubby will forever make fun of me for. While watching I may have yelled "No! He can't die!" I really thought I was thinking it, but I was not...nto even a little bit. IT was full blown outburst from this lady. Hubby had a good laugh...and well I did too! I'm just glad I was at home, where my hubby is use to me being a goofus. It is how we roll. Anyone else randomly yell, shriek, call out to characters on screen like you know them in real life? I can't be the only one right? Just nod your heads in agreement with me. It would totally make me feel less of a super dork.
Well anyways...enough of my random dork outburst during shows...Labor Day weekend was a blast and now we are couting down to school starting....like umm September first...umm like Monday...oh man it is real soon....like so soon I need to finish up our curriculum....I know what I will be doing for the next few days...but before I dive into more third grade curriculum and stuff, I want to introduce our second contributor to B and D. Guess what? Her name is Ashley too! Too funny right? No I don't only have blog friends named Ashley, but it does seem to work out that way sometimes :)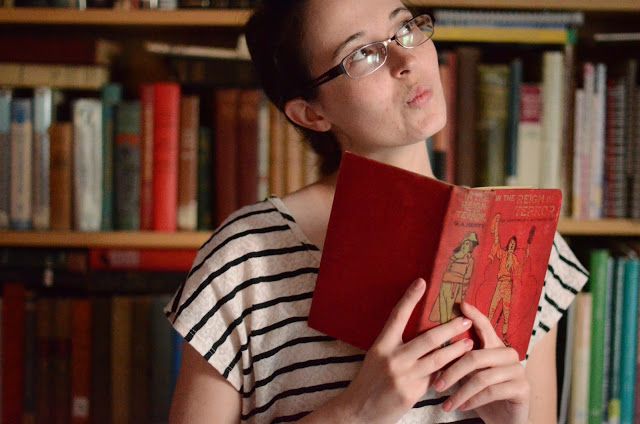 Ashely is part of the sister duo of
Bramblewood Fashion
. She will be taking over the
thrifted fashion
part of B and D.
Ashpants
and her will be bringing us thrifted fashion tips and tricks each month. I am beyond stoked!! So hop on over and check out Ashley from Bramblewood Fashion. Ashley has some
amazing Hair
and
Make-up Tutorials
on her blog. She is my new bloggy bestie and Blissful and Domestic's newest contributor. She's too stinkin cute!
Have a fantastic day lovelies! Come back this afternoon for the Feature Friday Linky Party.
XO Danielle