Hi everyone! I'm D from The Shady Porch. I've been married to my best friend/teacher-hubby for 34 years, and we have a sweet puppy named Sophie.
The other day a reader asked me, "What is Apple Crisp?" Having assumed everyone knew what Apple Crisp was, I was surprised! I still need to learn not to assume anything.
So...since it is apple harvest time at the Porch, I thought I would share my Slow Cooker Apple Crisp recipe with you. Every cook should have a recipe that's this good on hand for an easy, delicious treat. Get your slow cooker out, and let's get started!
Ingredients:
6 cups of apples - peeled, cored and thinly sliced
1/2 cup chopped pecans or walnut pieces
1 stick of butter, sliced
Directions:
Grease or line slow cooker crock. Using a zip-loc bag - toss apples slices, granulated sugar and spices until coated.
Pour sugared apples and any remaining sugar-spice mix into crock and spread evenly.
Side Note: My apples are from our harvest last year and had been previously frozen.
A quick note about freezing apples - I use an apple peeler that peels, cores and slices the apple all at the same time. I place the apple on the peeler's skewer, and start cranking the handle, the peeler does the rest. Once I've peeled, sliced, and cored my apples, I give them a quick rinse in a colander. A good shake to dry them, and into gallon freezer bags they go. I've used apples that have been frozen for up to a year, and they are still flavorful and delicious.
In a medium bowl, combine flour, oats, brown sugar, and nuts. The nuts are optional and it's a good thing since I was out of pecans (my favorite) and walnuts. Pour the oat mix over the apples, smoothing into an even layer.
Place the sliced pats of butter over the top of the oat mix and lightly tamp down with the back of a spoon.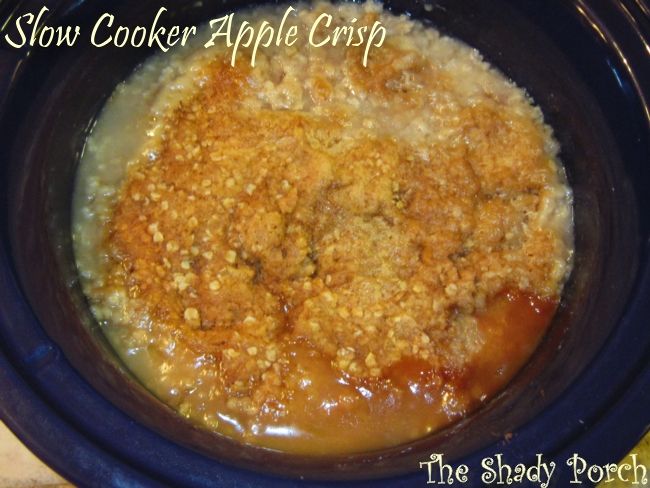 Cook on HIGH for 3-4 hours, until apples are tender. Remove slow cooker lid for final 15-20 minutes to allow the top to crisp. Serve while warm. It is a sweet comfort dessert that is delicious on its own...or, if you have some, with a scoop of vanilla ice cream.
Over at The Shady Porch, I share lots of recipes
...many are passed down from my mom and my Gran, whom were both great Southern cooks. I also share gardening adventures, along with fresh-picked Garden Harvest Recipes. I have a passion for crafting too: everything from wreaths to gourd art. When you can, stop by The Porch and say hi. I love making new blog friends! Thanks, Danielle, for your kind hospitality!
You can also find me on Facebook, Twitter, Bloglovin, Hometalk, Pinterest and Google+!
------------------------------------------------
Oh my heck that sounds sooo dang good! I just ordered some apples, via Bountiful Baskets, so I am totally making this. I am so ready for my house to smell like Fall! Oh and I didn't know about freezing apples. I am all over that now! Thanks so much for sharing D!
XO Danielle