Alright lovelies! Remember how this weekend I mentioned I was teaming up with Wilton and Joanns, to share a treat in their 13 Days of Sweet Halloween Treats? Well today is my day and I am a wee bit nervous. You see, I had big plans for my Halloween treat. Oh man.... my mind was concocting some magnificently, spooky treat. It was going to be freakin awesome, but then I talked with Miss Priss about my plans. Oh boy is all I can say! She was not having any of my ideas. She is going through an Anit-Halloween phase this season, which is kinda putting a damper on my spooky decorating and baking. Doesn't she know a blogger has to create! I guess she hasn't gotten the memo. She won't go down the Halloween aisle at stores. The spooky masks and stuff freak her out..... Like she hides her face and cries. It breaks my heart. I had gotten a super cool
Wilton skull pan
. Oh man it was neat, but Miss Priss cried. Isn't that so dang sad? I had to be a good mama and not use the pan, although my crafty blogger heart wanted to still bake with it. I mean I don't want to scare the pee out of her or anything. That's no fun. Because of Miss Priss's Anti-Halloween stance this year, I had to get creative with our treat. I told her it was a "fall treat" and she was ok with that. No more tears were there, so I was a go ahead for baking. Yes Finally!
Oh how us mamas have it hard when little emotions are involved..don't we? Don't worry though you're sill getting a sweet treat and a frugal one to boot! I wouldn't be Blissfull and Domestic if I did it any other way would I?
I decided on white chocolate rice krispie treats. Oh man lovelies these are addicting. You can't just eat one....you kinda want to eat two then four then maybe six...not that I did....I'm just saying you will want to, so be kind and share these with friends.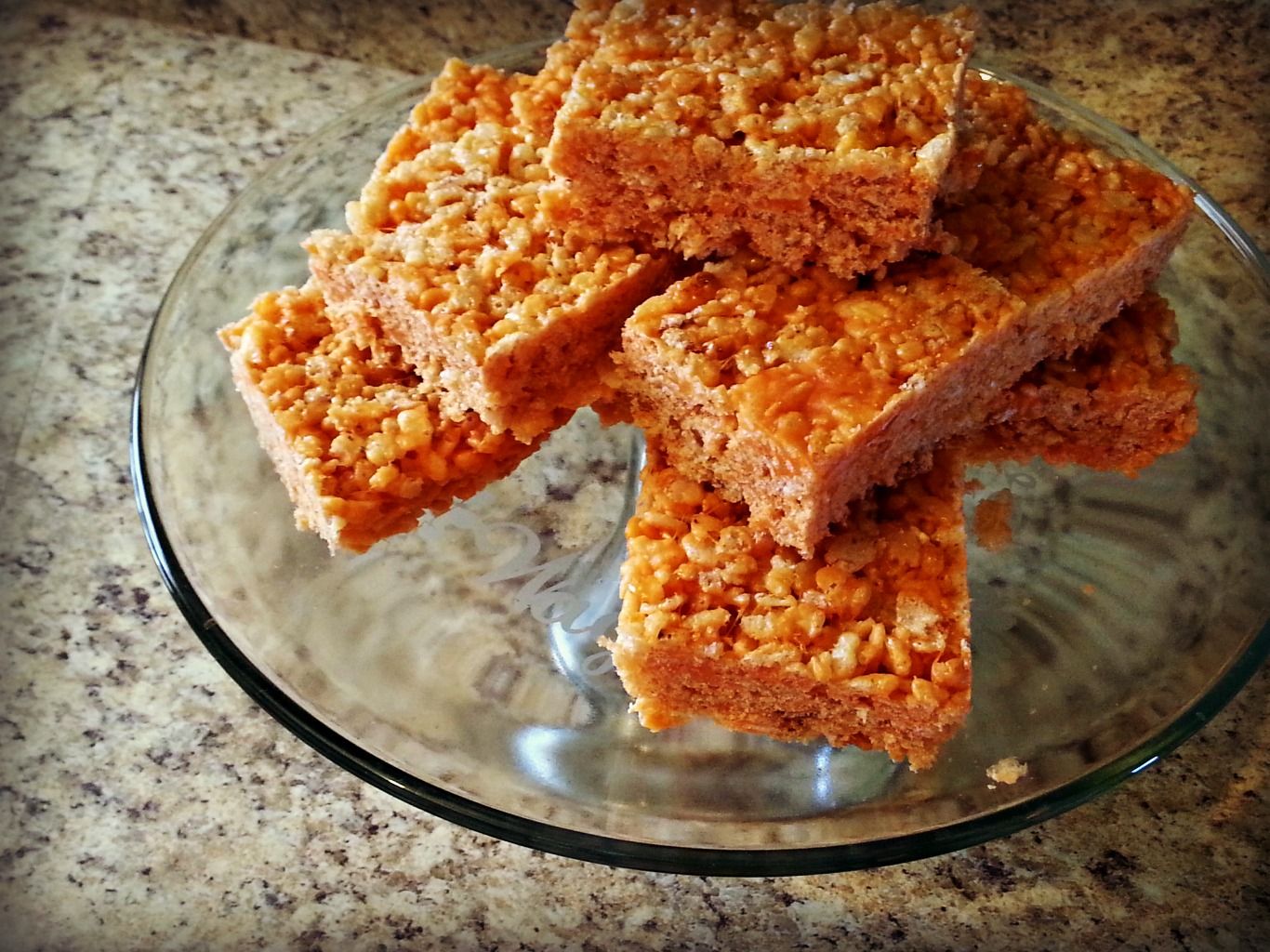 All of these ingredients were in my pantry, which is FABULOUS! I always try to keep my pantry full of baking staples. By doing this you can still get in some fun holiday baking with littles, but keep your family on that budget!
I buy my rice krispies either with a coupon or in a HUGE bag from Winco. One huge bag will last us a month or two. We eat these for breakfast (don't judge) or I bake treats with them. I also pulled butter, marshmallows, and
Wilton orange baking chocolate chips
from my food storage. (I use these as a treat to
drizzle over popcorn
,add to cupcakes, cakes, and other goodies). Once the ingredients were ready, I got my littles together and we got our bake on!
We followed the recipe below. It is my all time favorite
rice krispie recipe
, with a little chocolate love for good measure. Yum!
White Chocolate Rice Krispie Treats
1 16 oz. bag of marshmallows
4 tbl coconut oil (could also substitute margarine/butter)
5 cups rice krispy cereal.
1 bag of Wilton Baking chocolate (I used Orange)
Place coconut oil and marshmallows in a pot. Cook on low heat, until marshmallows have begun to melt. Add 2/3 bag of Wilton Chocolate. Continue to cook on low until marshmallows and chocolate have melted. Add cereal. Stir to combine and then place in a greased 9x13 baking dish. Use a double broiler method to melt the rest of your Wilton chocolate. Drizzle on top of your rice krispie treats.
Allow your treats to sit and cool. I made it about
20 minutes
before the littles and I dug in. We have absolutely no self control:) I did share with some friends. My hips thanked me:)
* I brush my pans with coconut oil. It is a healthier alternative to the sprays.
* To flatten my krispie treats, I use the back of a spatula (brushed with coconut oil).
Enjoy your rice krispie treats today and don't forget to check all the other fabulous Halloween treats!
Don't forget to check out all the oter fabulous treats this week!
XO Danielle
P.S.
Joann Fabric and Craft Store has a coupon for you to. I so heart them! Get a 50% off coupon HERE. I've already used mine to get some great goodies to make with the littles. (I will totally post about it later!)
Don't miss a post! Subscribe today!