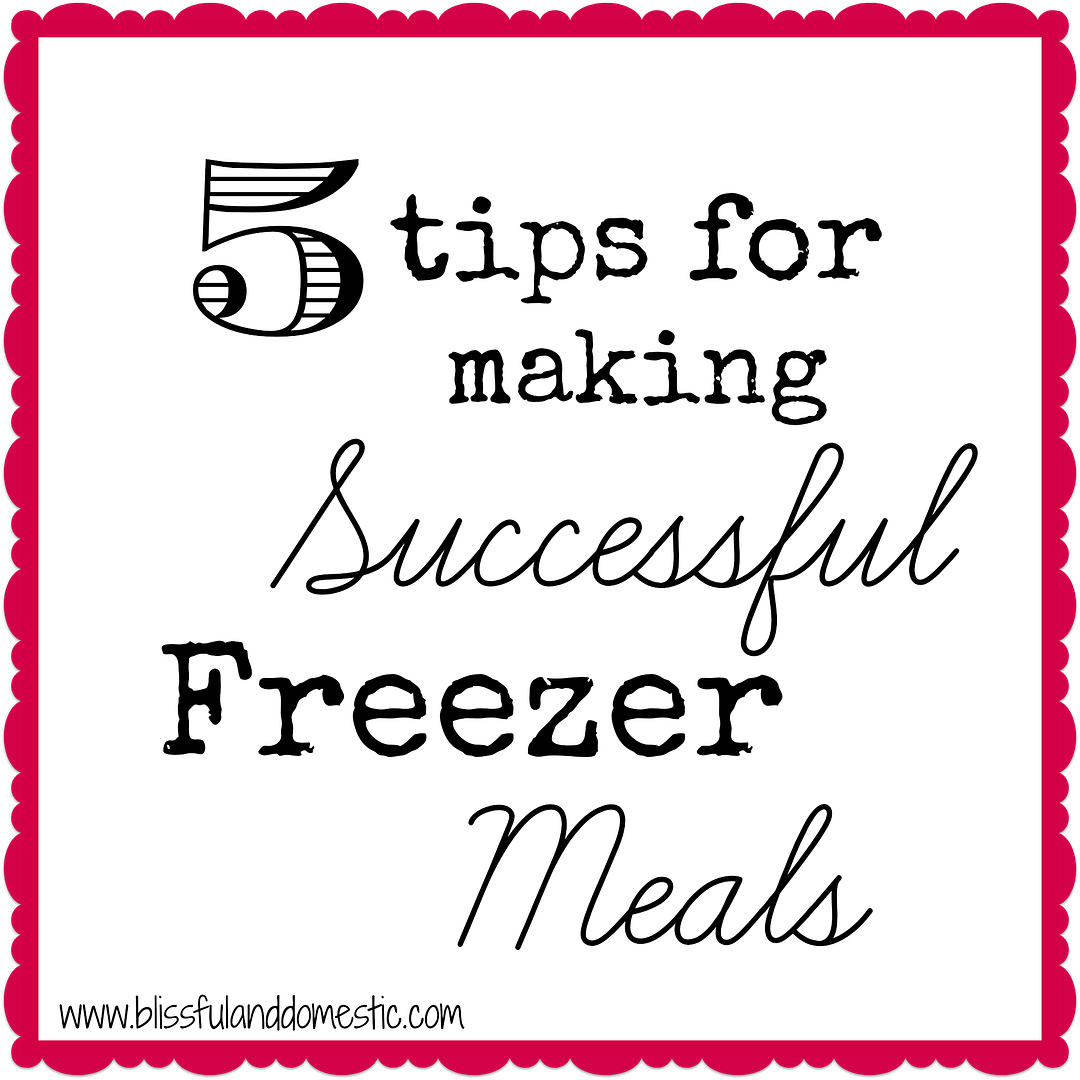 Hi everyone! My name is Cassandra Cyr and I'm stopping by from my blog
Glue Meets Paper
to give you my top 5 tips for Freezer Meals! I have a really busy schedule being a mom, working full time, and spending 2 hours per day commuting so I always hated having to make a healthy dinner from scratch every night (even though I love to cook). Thankfully I finally found a solution that allows me to have dinner on the table every night without collapsing in exhaustion at the end of the day- freezer meals! I love freezer meals because I can save time by choosing to cook dinner whenever it's convenient for me (usually on the weekends) and then pulling them out as needed. It's also a great way to save money because you can buy ingredients that are on sale in large quantities. If you haven't tried this method out yet you should- it's definitely the easiest way to get a healthy and homemade dinner on the table every night!
Prepare Ahead
A big part of making the freezer meal concept work for you is to plan what you will do ahead of time. Sit down with a pen and paper and make a list of what frozen meals you'd like to have at your disposal. Once you have a master list you can start combining meals into cooking sessions. My recommendation is to combine by protein- for example, if you have two recipes that call for ground beef you will want to prepare both of those meals in the same cooking session because it will be more efficient. You can use this list as a guide for whenever you have time to cook up a few batches of meals.
Shop the Sales
Shopping the sales is the best way to make freezer meals affordable! Wait until a protein you use often comes on sale and then stock up on meals made using that protein. Let's say ground beef is on sale for 99c/lb (I've never seen this phenomenon here in Connecticut, where food prices are outrageous, but I hear it happens to the rest of the world) and instead of buying just 1lb, you decide to buy 7lb for $7. You then look through your favorite recipes and choose to make a few batches of Chili and Beef Enchiladas; since these two recipes share many ingredients you'll save money by cooking them together. So let's estimate that you spend $50 on the other ingredients, our total cost is now up to $57. You can make approximately four recipes of chili and three recipes of enchiladas with 7lb of meat, and most recipes can feed a family of four (plus leftovers). So we've now made 7 meals for $8 each, which boils down to $2 per serving—even if the meat is more expensive where you live, it's still easily under $10 per recipe. The best part? Once your meals are assembled and frozen—you're done cooking, all you need to do is reheat and serve. Low cost and easy! Does it get any better?
Stay Organized
I stay organized a couple ways. Here are my favorite tips
·
Plan out your meals for your cooking session
: Your cooking session can be a day long ordeal that yields 30+ meals or it can last an hour or two and yield 6 or so meals. The choice is up to you and how much time and money you have to spare. My personal preference is to spend a few hours every month cooking up a variety of meals to keep my freezer full. Write down the meals and quantities you are going to make ahead of time, keeping in mind what will be on sale when you go grocery shopping.
·
Make a grocery list
: having a detailed list is incredibly important when it comes to freezer meals, especially because you might be getting quite a lot of groceries if you choose to do large cooking sessions. It's important to write down exact quantities because sometimes you might be surprised how much of an ingredient you'll require when you quadruple your favorite recipe!
·
Clear out the fridge ahead of time
: One tip I've learned the hard way is to clear out space in your refrigerator
before
leaving to go grocery shopping. Many times I've come home with bags and bags of groceries only to realize I don't have room in my refrigerator. The last thing you want to do after lugging all those groceries inside is stop and clean out dirty Tupperware dishes while your ground beef sits on the counter for an extra 30 minutes.
·
Make easily legible labels
: I've seen people label their food in many ways. One option is to write on the container or bag with a Sharpie, but this can be difficult to read either due to one's handwriting or if there's a dark color meal in the container that obscures the writing. I choose to print large white labels with the title, explicit cooking instructions, and the "frozen by" date. It's important to make your cooking instructions legible in the event that you need someone else to help prepare the meal for you or you give away the meal to another family. The name of the meal must be legible because sometimes a bag full of ingredients isn't easily distinguishable without a label. In addition, and maybe this is just the scientist in me talking, I love to look in my freezer and see all my meals perfectly organized with matching labels.
Get the right Storage
I use a variety of storage containers for my meals, but I definitely prefer reusable containers. My absolute favorites are
Glad OvenWare Trays
. These containers are great because you can go straight from freezer to oven (however, you will need to put the tray on a baking sheet first). They come in 8x8 and 9x13 sizes with tightly fitting lids and are completely reusable. If you can't find these, you can always store your casseroles in tinfoil trays. They aren't reusable, don't have a lid, and aren't as sturdy—but they certainly are cheap!
For thinner meals such as chili, I use
Ball freezer jars
. These are heavy duty and meant to be frozen. I store chili or ground taco meat in these jars as well; however, they are on the smaller side, so it's usually only four servings per jar. If I have a large amount of soup to freeze, I choose freezer safe Tupperware, such as
GLAD FreezerWare
.
Ziploc Freezer Bags
are among the most commonly used storage items. These are also heavy duty plus they hold a large amount of food. They come in different sizes, too, which is handy not only for different size meals but also for storing smaller Ziplocs with other ingredients within your main meal bag. I store stir-fry, meatloaf, meatballs, slow-cooker meals, and more in these bags
Enjoy your meals
Of course the best part is having a home cooked meal on the table after a long day of work without having to cook it from scratch! You can find some of my recipes and scheduling ideas at the following links
I'll also be coming out with a freezer meal e-Book next month filled with more tips and over 50 recipes for meals that you can freeze ahead of time. The name of the book is "Make Ahead Meals: Freezer Meal Recipes that Make Dinner Quick and Easy" and you can find out more information on its upcoming release date by following my blog,
Glue Meets Paper
.
I hope this inspires you to give freezer meals a try- they really have made my life SO much easier! Thank you so much to Danielle for allowing me to come to her blog and discuss one of my favorite topics
.
-C
-------------------------------------
Oh my heck I am so excited to get some freezer cooking done. Thanks C! I am feeling very inspired! Don forget to check out this gal on her blog!