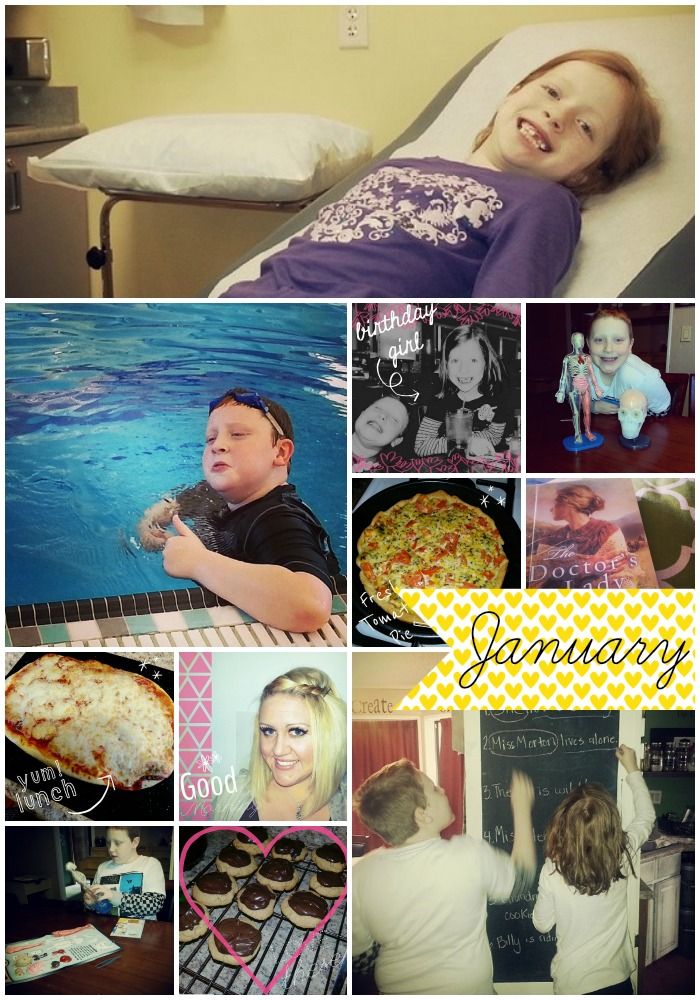 January you brought us so much. You were a great start to 2014. You brought us lots of yummy treats, many pizza lunches, and don't forget those many trips we took to the library to get new books. The boy is up to about 4 chapter books a week. Goosebumps are his favorite and he just can't get enough. It's so fun to talk about the books with him, since I read a few myself when I was his age. He is my little book nerd in training and I love every minute of it. The Miss is also developing a love for reading. Anything American Girl is alright in her book, especially the American Girl Mysteries. Those are her favorite. She use to read only when told to during school, but lately I find her cuddled with her stuff animals and her nose in her book. It makes this mama's heart very happy to see that love of reading developing in her, as it did with her brother.
This month we had a few trips to the orthodontist. Those broken brackets can be buggy at times. We also had the flu three times! Can you believe it? The flu kicked our butt this month, but we learned our lesson. Get your flu shots in September, not in January. For real!
The hubbs came home this month and started working. He is loving every minute and we couldn't be prouder of him. He supports this little family of ours and is such an amazing example to us....not to mention there is never a dull moment when he's around. He's always making us laugh.
This month we also celebrated Miss Priss's brithday. We had a simple family celebration and Sloppy Joe's and brownie cake were requested by the Miss. We're thankful for this sweet girl in our life. She keeps us laughing with her crazy antics and shenanigans. She is definitely her father's daughter and must be pay back for how my hubby acted as a child. You never know what she is going to say or where she will say it!
January, you also broguht us healing. You brought us a way to not forget, but to move on. You taught us many lessons, which some we are still learning. I am thankful for this month with my family. I am thankful for this time to remember all that we have been given...to see God's hand in everything. Those times we were low on gas, you helped us make it to a gas station. I am thnakful for money to buy that gas and put food on the table for my family. I am thankful for those little things that God bestows upon us every single day. Good friends, family, and experiences. These make us into better saints.
Thank you January for all that you have blessed us with. Thank you God for giving us this month to become better than we are....to become more like our loving savior. Thank you for helping us move forward with life and slow down, so we never forget those blessings thou gives us. Thank you always and forever.
If you have a Dear January Post to share, please leave the link to it below. This is a great way to journal your month and keep those memories for your family to read at the end of the year. I cant wait to read about your "Dear January" :)

-XO Danielle