If you missed any of my Walking by Faith series posts, you can find them here. I am reading through 52 Life-Changing Questions
and journaling about my scriptural journey here on the blog.Come along for the ride and lets inspire one another.
Over the past few weeks, I have been going through quite a trial. I wrote about it
here
. When we go through trials, it is very easy to feel lost and forgotten. I know this is how I personally feel sometimes when things are tough. Sometimes life is rocky and frankly sometimes it stinks.
When I first suspected I was having a miscarriage, my heart broke. We had waited 6 years to have a baby. Between my hubby getting a second deployment and then being out of work with no insurance...we weren't able to have another little one for quite a while. Choosing to wait was one of the hardest decisions ever. It was one where I knew Heavenly Father wanted us to wait, but I had no desire to follow that guidance. I wanted another baby so very much. Many nights I would cry, while hubby hugged me, reassuring me eventually we would be able to have another one. I watched both my sisinlaws get pregnant twice and my heart would ache, because I so desperately wanted to be able to join their prego party. It was extremely hard to want something so bad and know that now was not the time. Sometimes I was bitter, feeling I was sacrificing more than those around me, not understanding why it was so....frankly it sucked.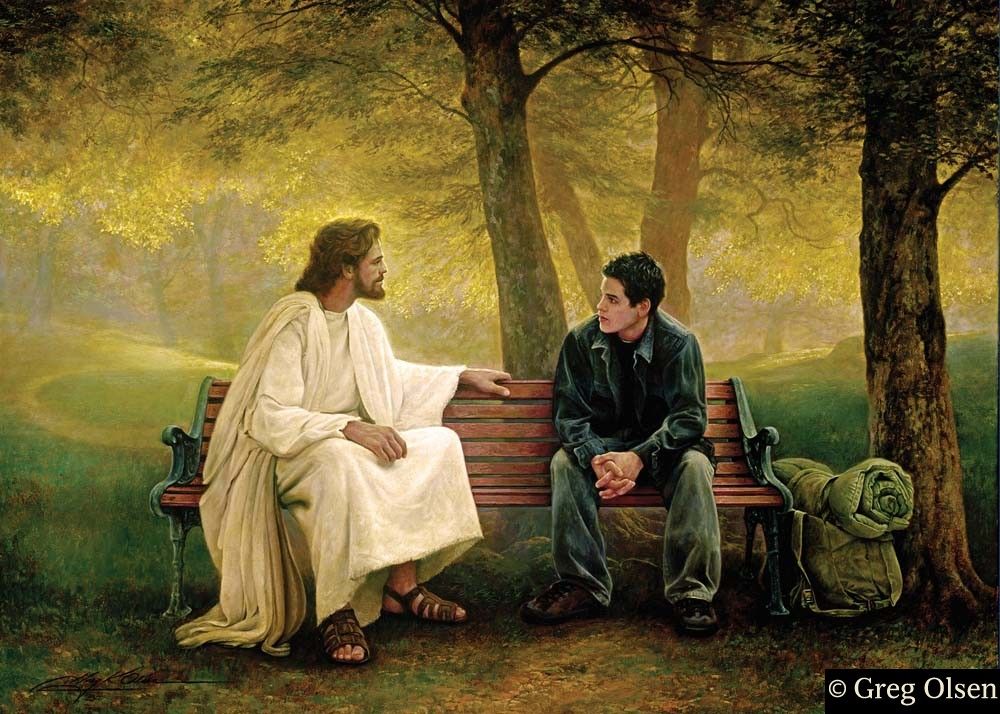 Lost and Found
by Greg Olsen
As we went through that time, where having another little one was not on the agenda, I learned to save and it was during that time my family learned to
live on $14,000 a year
. It was also during that time this blog happened. Things were tough and I can look back now and see why Heavenly Father wanted us to wait. At the time I couldn't see it. I had my blinders on, only seeing what was directly in front of me. Now though, I can look back with foresight and see the blessings God had given us. He gave us time to grow and learn. Those years that we lived on so little, were some of the greatest times of spiritual growth for my husband and I. God pushed us farther than we thought we could ever go.
One night in particular, I felt downtrodden...the lowest of the low. I had found out one of my friends had an oops pregnancy and was not too thrilled about it. My heart ached. I just didn't understand why I had to wait for another baby. I would have loved an oops baby....
in fact I was secretly wishing for one
. It just didn't seem fair, when I felt I was doing everything
He
had asked of me.
Then a scripture came to mind...
"Come unto me, all ye that labour and are heavy laden, and I will give you rest." (
Matt. 11:28
.)
I got down on my knees and prayed that He would allow us to have another little one or that he would at least bring me peace. I didn't want to be angry anymore. While saying that silent prayer, a feeling of peace came over me. I had become so angry and bitter. That feeling of peace was a welcome change. Heavenly Father had heard my prayer. In fact He had heard every single one of my prayers. That feeling of peace calmed me as I received my answer. His answer was not
no
, it was
not now
. I realized that everything we were going through, every penny we were learning to save, every trial we had to endure was preparing us. God was preparing us for the family we would continue to grow one day. After that day, things got better. I couldn't have another one right away, but Heavenly Father had comforted me in knowing that some day I would. That everything we were going through was for a reason and that
He had not forgotten me.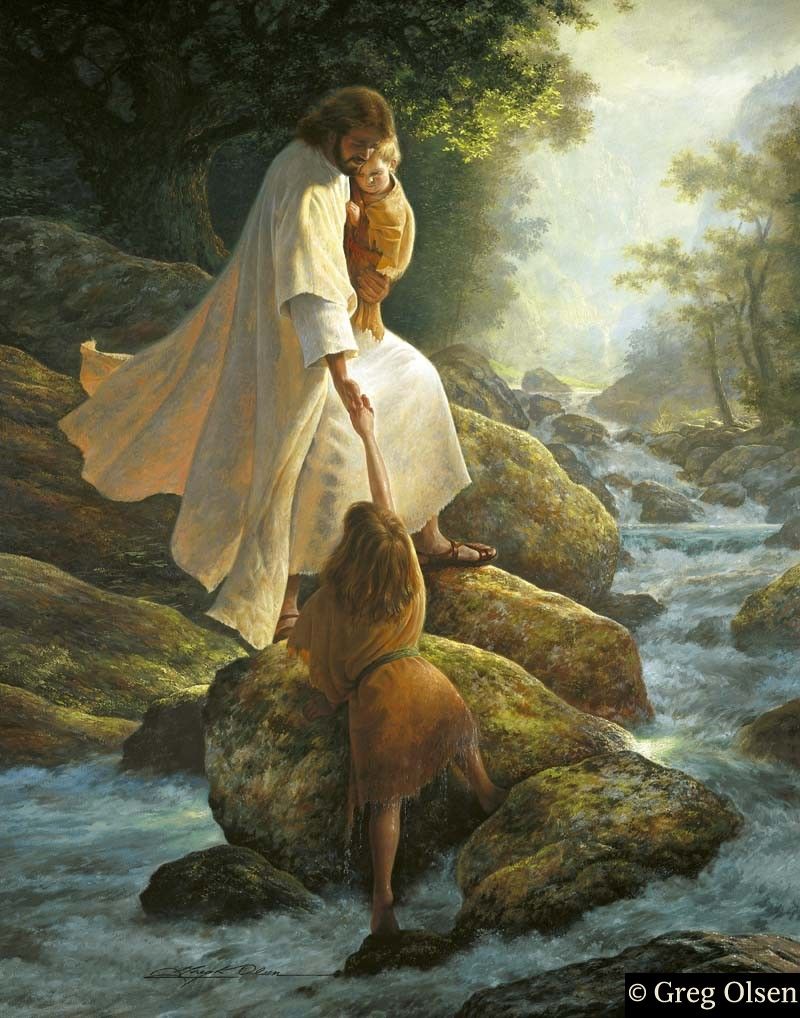 Be Not Afraid
by Greg Olsen
Why did I give you this huge back story? Well because it is that very experience that prepared me for my miscarriage. When we found out we were pregnant, I couldn't believe it. I took a test at like 5 in the morning. When I saw those double lines I started to cry....like full on sobs in the bathroom. I couldn't believe that God had finally blessed us with another sweet spirit. I jumped onto the bed and woke hubby up. I couldn't wait to tell him. Once he came out of his sleepy stupor, he rejoiced with me. Our prayer had finally been answered.
The next few weeks were amazing. I loved knowing a sweet little one was growing inside me. I couldn't wait to think that by Halloween, we would have a new little chickadee around here. The kids were excited and I seriously couldn't think of anything else. I wanted to shout it from the roof tops..."We're Pregnant!" Every ounce of nausea was completely worth it.
Then a Saturday came when I realized I was probably miscarrying our baby. My heart broke. It took a full week for the doctors to confirm it. There were a lot of ups and downs emotionally. Moments of hopefulness and then despair when we were finally told that the pregnancy wasn't viable. During those first few days of uncertainty, I just cried.....a lot. While waiting for an ultrasound, during that time, my husband texted me. He told me to stay strong and know that God loved me. He knew that we would get through this. I got out my scriptures and read while I waited. I also read chapter 3 in the 52 Questions book. One passage brought me so much comfort,
"We must remember the many things God has done for us. When we are unsure about the future, we must remember the past. When we can't see His hand in our current lives, we must remember when we have seen His hand clearly before".
I thought back on those years of praying for a baby. I thought back on the night when Heavenly Father brought peace to my heart. It was again time for me to seek His help. I couldn't go at it alone. My Savior had suffered for me. He cried my tears as He knelt in the Garden of Gethsemane. I am engraven upon His palms, just like each and everyone of you.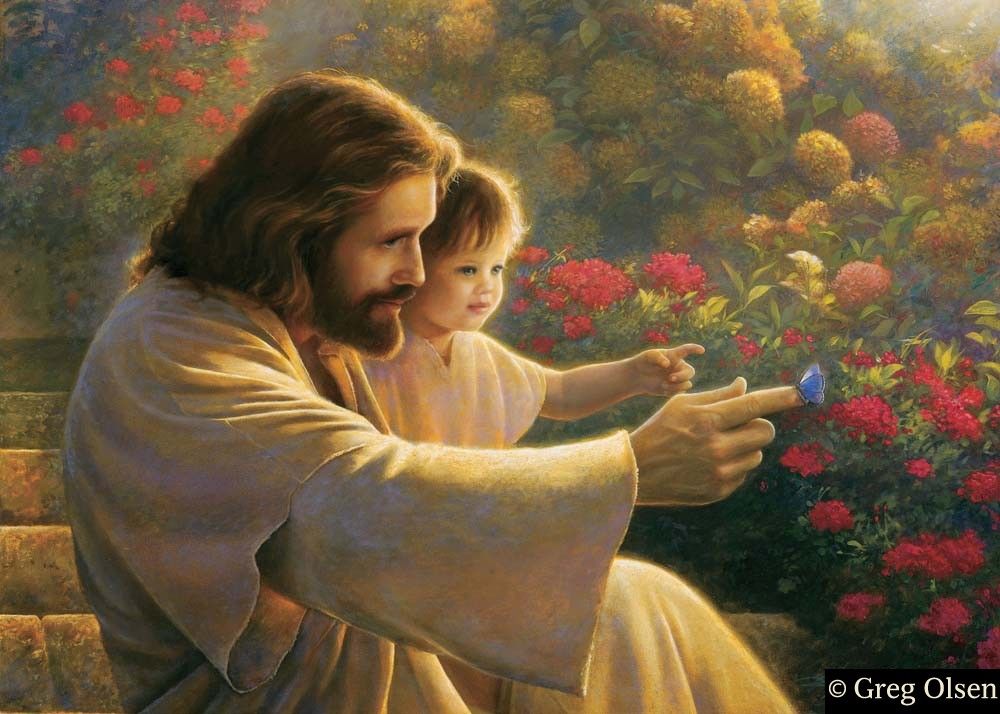 Precious in His Sight
by Greg Olsen
Our little one's body was not perfect...not the way God intended it to be. That sweet spirit is not lost. I know that soon we will be able to hold that little one, but we must be patient. "The Lord is able to do all things according to his will, for the children of men, if it so be that they exercise faith in him". I hold on to my answer, I received years ago. We will have more children and all of this is for a reason.
He has not forgotten me
and
He hears my prayers.
If He doesn't forget, than we shouldn't either. Never forget that He died for you. Never forget that when we cry, He is right next to us bearing the load with us. He knows our hearts and the burdens we bear. Turn to Him when you are downtrodden. Turn to Him when you are the lowest of the low. Turn to Him because it is through Him that all is possible.

Look back to moments in your life, where you have seen God's hand. Please know that He has not forsaken you. He loves you. No matter gender, race, ethnicity, etc...He Loves You. He hears ours prayers and will deliver us out of the trials we face. Turn to Him and find strength in Him always.

XO Danielle